Generators are a godsend, coming in handy when you're out of power. However, can it power up your entire home?
A-iPower SUA12000E is a generator that delivers power when you're in need of it. It has many amazing features that you could see in an efficient, conventional generator, including a One-touch button for an effortless electric start. The ergonomically angled control panel is easily visible and pretty straightforward that anyone can easily use it.
A-iPower SUA12000E can power up multiple house appliances from the television, refrigerator, air conditioner, to the pump – all at the same time. It could also support  4-5 power tools at a time. Moreover, it is a popular product from a reliable brand that has 25 years of experience in the field.
This product's also been included into these rankings:
Specifications
Generator type
Conventional
Engine
459cc OHV single-cylinder 4-stroke air-cooled
Starting method
Electric, recoil
Fuel tank capacity
7 gal.
Run time
9 hours (1/2 load), 7 hours (rated load)
Outlets
(4) 120V 20A GFCI-protected; (1) 120/240V 30AL14-30R Twist- Lock, (1) 120/240V 50A 14-50R, (1) 12VDC adapter plug
Dimensions
27.6 x 27.2 x 25.6 in.
Warranty
2-year residential, 1-year commercial
A-iPower SUA12000E review
This is of a conventional build and design but still offers you the best in terms of features. According to our experts, it is one of the best conventional gasoline-fueled generators. Love it for its quality and its stunning price. The Chinese made engine is similar to other popular gens like Generac but doesn't compromise on the quality.
Offering 12, 000 starting watts and 9, 000 running watts, the machine will suffice for all your basic needs. If you are not planning to use this generator for running your air conditioner in combination with other appliances, then you should not have to deal with any mishaps. It comes with an electric start that will make your life infinitely easier because you will be able to get the machine started with minimal effort.
If having a long run-time is important to you, you will appreciate the 7.0-gallon heavy-duty tank that is completely made with steel. You will get up to 9 hours of run time when you use the machine at 50% load, and that should be sufficient even for road trips. This machine was designed to be portable, and you will be able to carry it from one place to another without any hassle with the help of the Never-Flat wheels. It can withstand heavy-duty loads and plays a significant role in providing improved traction when you are traveling over rough terrain.
The cord protective cover makes sure that all the wires are concealed to make the journey safer. This also improves the appearance of the generator.
Overall performance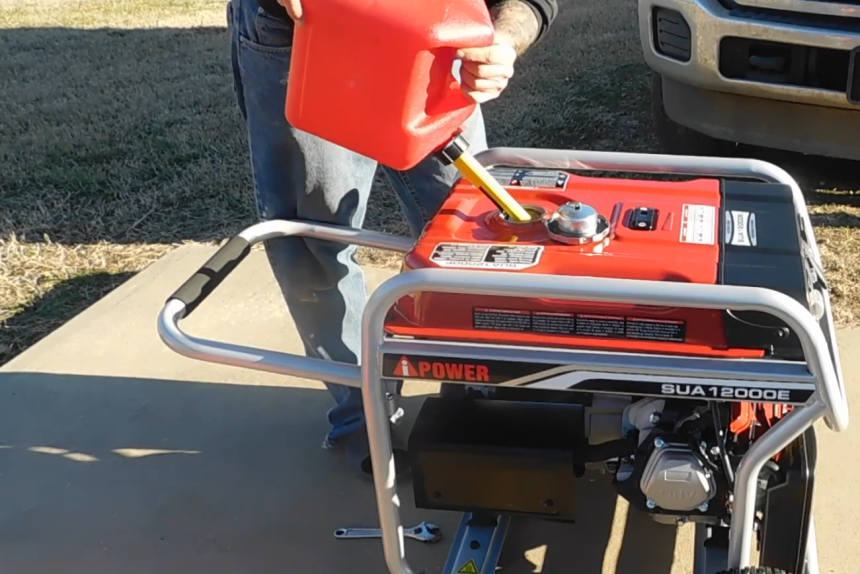 There are reviews in Amazon from reliable customers that A-iPower SUA12000E gave amazing results during hurricanes Irma and Dorian. This heavy-duty portable generator is worth every penny. It suits all your power emergencies from home blackouts to construction sites where multiple power tools are used simultaneously. It features a standard number of outlets that you can use. Setting up it is not at all complicated and it ensures safety and protection all around.
The owner's manual is well detailed and intelligible. It sports an efficient, heavy output alternator, usually found inexpensive brand name generators. It's a budget-friendly alternative for high-end generators. This was Editor's Choice from our reviews that itself speaks volumes.
Fuel tank capacity and run time
The generator sports a 7.0-gallon fuel tank with all-steel construction and a built-in fuel gauge. It runs for 9 hours at 50% load on average, a plus for heavy-duty working. It can power multiple power tools and most house appliances, which makes it the perfect product to energize your home during emergency situations. At peak voltage, it can start motor-operated appliances and devices with ease. The heavy-duty steel frame offers additional protection to the tank.
Control panel and outlets
A-iPower SUA12000E has four standard 120 V outlets, as well as heavy-duty 120/240V 30A and 50A receptacles. The Multifunction port and GFCI outlet protection are some of the latest additions by the brand in its 2017 model. These new features increase the product's safety and maintain flexibility. It is powered by a 459cc engine which provides 12,000 watts starting power and 9,000 watts running power. You can use the give DC adapter plug to charge the battery or just use a USB adapter. It's as simple as that.
For your convenience, the control panel is ergonomically angled making it more visible and easy to use. The weatherproof covers provide added protection from all sorts of pollution making A-iPower SUA12000E efficient and safe.
Ease of use
The product flaunts a keyless one-touch push button that makes starting this machine a cakewalk. The electric start makes it more convenient and it is CARB approved. The digital hour meter, notes down the runtime and also schedules maintenance intervals. There is also a built-in easy to read fuel gauge.
The Intelligent Automatic Voltage Regulator(IVR)minimizes voltage fluctuations and keeps the power consistent under load. Cast iron cylinder sleeves extend engine durability and extended run life and are less maintenance.
Safety features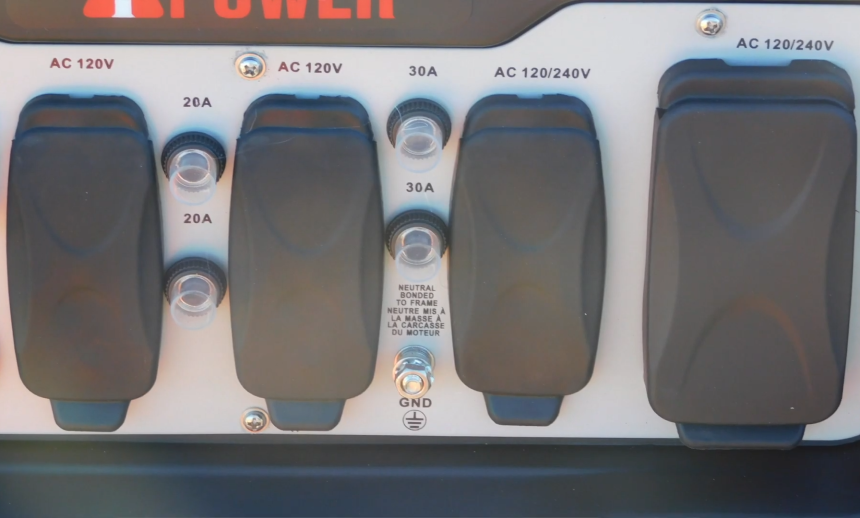 All outputs are equipped with protective covers, a special feature of this generator. The curved edges and corners are not only stylish but also purposefully done to give safety. The cord protective covering on the wires and the weatherproof covers on the circuits and switches provides added security. GFCI Protected Outlets are safe to use under damp conditions. The dual-element air filter and low oil shutdown protects the engine and prevents dangerous damage.
You can also push to reset circuit breakers to protect from overload. The fuel tank breather hose prevents accidental damage. The stainless steel fuel cap and counter-sink around the fuel filling port are designed to prevent overflow and wastage. So does the seamless welding.
Noise level
A-iPower SUA12000E provides comparatively quieter operation; the generator operates at a sound rating of 78 dB at 23 feet.
At higher loads, the A-iPower SUA12000E can become loud according to customer reviews. However, it is not a deal-breaker since it is present in most generators. Excellent noise muffling is usually seen in high-end brands.
Portability
It is awesome that this heavy-duty generator with features including the 459cc OHV engine and the 7-gallon fuel tank with all-steel construction comes under a portable design. The built-in, ergonomically crafted handle, makes it convenient for easy transportation. It helps in-home emergencies and construction sites where portability is a plus factor.
The generator can be moved from one place to another effortlessly. You will be able to carry the generator even across rough terrain without finding yourself in a difficult situation. Since it comes with large 9.5-inch never-flat wheels, it's easily portable, with the wheels sturdy and well-constructed. They will not fall apart when you try to carry your generator by putting the load on them.
In fact, they are designed to tackle heavy-duty loads so that your job is easier. They will give you better mobility and traction if you are carrying the machine over, particularly rough terrain. As the generator comes with Gfci protected outlets, it will not malfunction in case you are traveling under damp conditions.
Maintenance and warranty
You can judge how much faith a brand has in its products based on the length of the warranty period. You should not settle for a generator that does not come with a warranty period, because you would feel restricted about experimenting with it. The brand should trust its product enough to offer a warranty at least for a year in case the generator does not work properly. This model has a standard 2-year manufacturer's warranty for defective parts. This means that you will be able to approach the brand about any problems you face regarding the parts of the machine for a period of two years.
A good practice is to get the machine checked every couple of months or so. Make sure that you take care of the generator properly if you want to save money on repairs.
Price
It is one of the cheapest 10000-watt generators you can get and is more affordable than Generac, Westinghouse, or others. It is a cut above from these as its quality could be compared to the big names out there.
When it comes to getting value for money, you cannot go wrong with this model. While it may not have the most sophisticated appearance, it delivers the performance that you need. Instead of spending an exorbitant amount of money on generators from high-end brands, you can go for this model that will perform just as well.
Key features
There's a cord protective cover that not conceals the wires but ensures safe usage.
The neutral bonded frame provides extra protection
12V-14AH maintenance including free battery
Keyless one-touch push button
12,000 starting watts and 9,000 running watts supported by an electric start
2inch (32mm) diameter. Rigid tubular steel frame with a classic silver-grey finish
It has a 7.0 gallon, large heavy-duty all-steel construction fuel tank
Large 9.5in never-flat wheels giving effortless move on all terrains
GFCI Protected Outlets offers safe to use under damp conditions
Built-in DC Adapter Plug and DC charging cables included
PROS
CONS

Solid design
High wattage
Supports multiple appliances simultaneously
Up to 12 hours of continuous run time
Best value product

Noise level is a bit high especially during heavy loads
Replacement parts aren't always easy to find
Conclusion
Whether it is a power demanding construction work or a power outage in your home, generators are always a blessing. A-iPower SUA12000E is an inexpensive generator compared to the other gens of its size and works just as fine. It is an ultra duty portable generator that is safe and reliable making it a 10000-watt generator worth considering.
We find it to be an amazing alternative for all those expensive branded generators, offering most of the quality features on a budget.