When you need a small and portable generator that won't break the bank, it's hard not to notice the Briggs & Stratton P2200. This 2,200-watt inverter generator costs half of what similar generators from Honda and Yamaha retail for, while sporting many of the same features and technical specifications. So how can the P2200 be so affordable, and can it really meet all of your power needs? We'll break it down for you in our Briggs and Stratton P2200 review.
But before we dive into the full review, let's take a quick overview of the P2200, which is also considered to be the best portable generator among Briggs & Stratton models. This inverter generator is capable of powering your sensitive electronics with a pair of standard household outlets, and when needed, you can double the power by running it in parallel with a second generator. On top of that, the P2200 is quiet, producing a scant 59 dB of noise, and is lightweight and portable enough to carry to wherever you need power. However, there are a few minor compromises that come with this generator's affordable price, such as higher emissions and small fuel tank.
This product's also been included into these rankings:
Specifications
Engine
Briggs & Stratton OHV, 111cc
Fuel tank capacity
1 gal.
Run time at 25% rated load
8 hours
Dimensions
21 x 17.35 x 12.5 inches
Warranty
2-year limited (residential), 90-day (commercial)
Briggs & Stratton P2200 Review
The Briggs & Stratton P2200 is a simple yet capable portable inverter generator that can meet the needs of a wide variety of uses. But, to make sure this generator will meet your specific power needs, it's important to understand how it stacks up within its class and across the full range of available generators. Our review will take a close look at all the essential features of the P2200, from its power output and performance to details like outlets and safety components.
Overall performance
The P2200 is capable of producing 2,200 watts of surge power and 1,700 watts of continuous power. That's not a ton of power, but it's right in line with the wattage ratings of its competitors within the 2,000-watt generator class. Plus, even 1,700 watts is enough to keep a household's essential appliances running or to power most outdoor tools.
The vast majority of users found this generator to be highly reliable and felt that it performed well even when pushed to the 1,700-watt mark. However, it's worth noting right off the bat that Briggs & Stratton has some obvious production issues with the P2200. A not insignificant number of customers report issues with the sparkplug or with internal components of the engine. Thankfully, most of these issues are apparent within the first several uses of the generator and are covered under Briggs & Stratton's two-year limited warranty.
One of the things that really sets this generator apart is the fact that it is constructed with inverter technology. By converting the AC power to DC and back to AC, it smooths out the electrical sine waves and keeps total harmonic distortion under 3%. What that means for you is that you can feel safe powering your sensitive electronics, such as computers and smartphones, as well as any microprocessor-controlled tools off of this generator without worrying about power surges. Importantly, while there are other portable inverter generators in this size class, the Briggs & Stratton is priced extremely well compared to those competitors.
Fuel tank capacity and run time
One of the downsides to this generator is that Briggs & Stratton compromised on the size of the fuel tank to ensure that the generator is compact enough to take anywhere. The fuel tank is just one gallon in volume, which in turn offers a limited run time of just eight hours at a 25% load.
That means that if you plan to use this generator for a full day of work, you can't run it over 400 watts – the equivalent of one small tool or appliance. Otherwise, you can expect to be stopping work to refuel the generator every few hours.
Outlets
The outlets on this generator, like most generators in the 2,000-watt size class, are relatively minimal. For the most part, you're limited to a pair of standard three-pronged 120-volt outlets like the kind you would find around your house. There's also a 12-volt DC outlet, which can be used to charge batteries. Briggs & Stratton also include a USB adapter for the DC outlet, so you can use this outlet to charge small electronics without using up one of the more important 120-volt outlets.
The final outlet on this generator is a port for running the generator in parallel with another unit of the P2200. The capacity to run in parallel is another advantage of this generator being an inverter generator, and given its inexpensive price, it's not crazy to purchase two units. Connecting two generators in parallel allows you to double your output wattage through a single 120-volt outlet to 3,400 watts, which can be extremely helpful if you're trying to run a heavy-duty tool or appliance.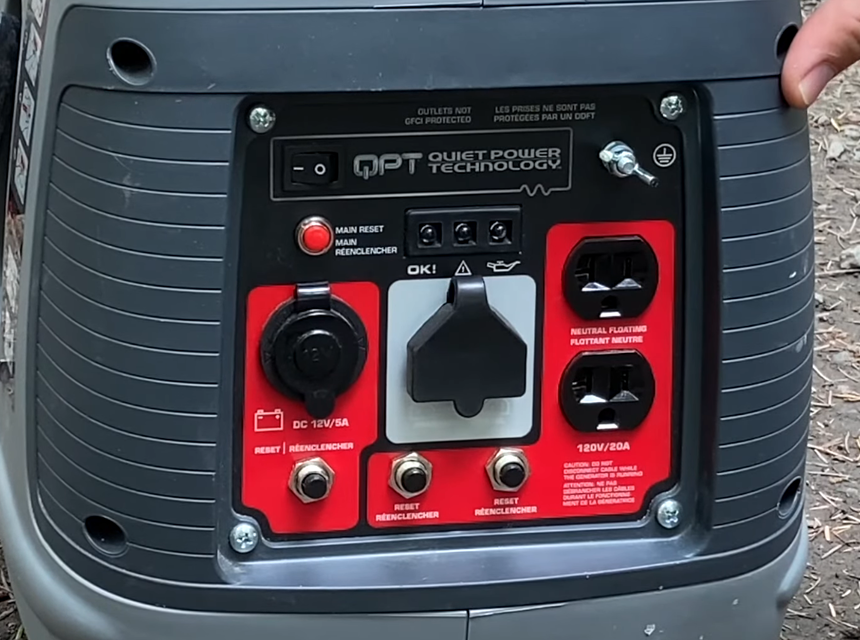 Ease of use
There aren't many special features built into this generator for ease of use. The generator starts with a recoil starter and does not have an electric push starter, although users found that the recoil is relatively responsive. The generator's panel has no LED screen or voltmeter to indicate how much power you're drawing or how much fuel you have left. The lack of a fuel indicator can be especially annoying for some users, although it's not a huge deal given that the fuel tank is only one gallon.
Safety features
The P2200 has many of the standard safety features found on modern generators, including a set of LED lights to indicate when the engine oil is low and a low-oil shutoff to protect the engine when oil runs too low.
In addition, each of the 120-volt outlets and the DC outlet are wired to breakers, which can be easily reset with a push of a button on the generator's main panel. All of the outlets are secondarily protected by a main breaker, which allows the generator to be reset without turning off the engine.
Noise level
Noise is one of the more controversial features of this generator among its users, in part because noise is somewhat subjective. The Briggs & Stratton P2200 is rated to output 59 dB of noise at 25% load, which makes it about as loud as the average conversation. However, as the power load increases, the noise can reach a point of drowning out conversations and even annoying the neighbors.
While 59 dB is relatively quiet, it's also worth noting that this is significantly more noise than more expensive Honda and Yamaha generators capable of producing the same wattage. Each of those generators produce less than 55 dB of noise at 25% load, which is a significant difference that users were able to notice in tests.
Portability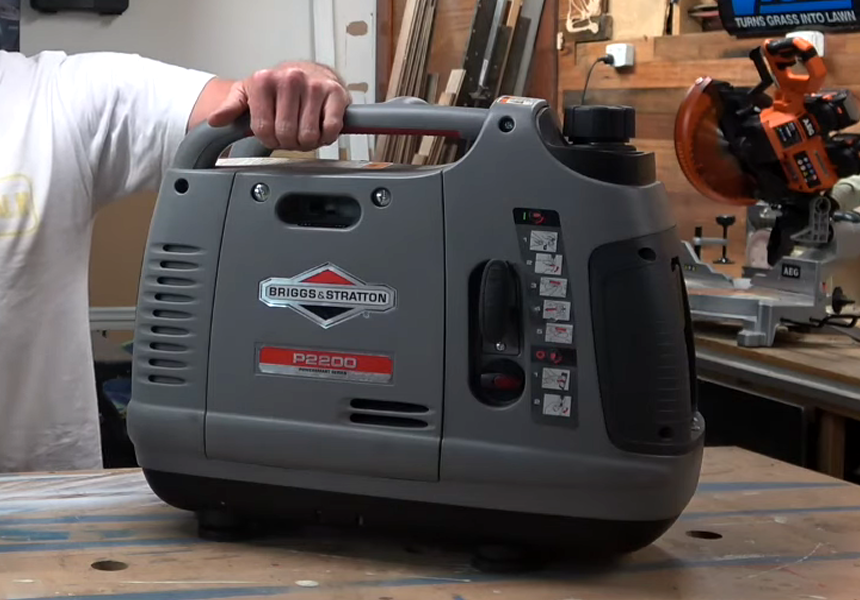 The P2200 weighs just under 55 pounds and is designed with an H-style handle on the top of the generator to give you multiple angles to grab it from. This lightweight design and convenient handle make it relatively portable by one or two people.
The generator does not have wheels, although this is not uncommon for portable generators in this size class. A set of rubber feet help reduce vibration and prevent shock when putting it down.
Maintenance and warranty
Briggs & Stratton provides a two-year limited warranty for residential users and a 90-day warranty for commercial users. Users who receive functional units found that the generator lasts well beyond two years. However, as discussed above, a number of users report receiving faulty units that fail due to unfixable engine issues within the first several uses. These failures are covered under the warranty, although commercial users may want to beware given that they receive only a 90-day warranty.
Maintenance on the generator is similar as for any other 2,000-watt generator and is primarily centered on oil changes. Unfortunately, there is no built-in mechanism to remove gasoline from the carburetor, so you will likely need to run the generator dry – which is less than ideal for the engine – in order to store it for extended periods.
Key features
2,200-watt surge power and 1,700-watt continuous power
Inverter generator
Parallel capable
H-style handle for portability
All outlets on main breaker
USB converter for 12-volt DC outlet
Two-year warranty
PROS
CONS

Relatively inexpensive 2,200-watt inverter generator
Parallel capacity
Lightweight and portable with H-style handle
All outlets on main breaker
Two-year warranty for residential users

Small one-gallon fuel tank limits run time
Production issues with engine
No LED or fuel indicator
Significantly noisier than competitors
No way to empty fuel from carburetor
Only 90-day warranty for commercial users