Briggs and Stratton is known for making high-quality generators. So it should come as little surprise that the company's P3000 generator is one of the most versatile models in its size class. This generator features four 120-volt outlets as well as an RV-ready outlet, all while producing less than 58 dB of noise.
Is the P3000 the best generator for you? In our Briggs and Stratton P3000 review, we'll take a closer look at the technical specifications of this generator to highlight its advantages and weak points. More specifically, we'll look at what the P3000 is best used for and see how it stacks up against the competition.
This product's also been included into these rankings:
Specifications
Fuel tank capacity
1.5 gal.
Run time
10 hours at 25% load
Outlets
(4) 120V Household, (1) 120V 30A, (1) USB Port, (1) 12V DC
Dimensions
26 x 14 x 21 inches
Warranty
2-year limited (consumer), 90-day limited (commercial)
Briggs and Stratton P3000 Review
A quick look at the technical specifications for the Briggs and Stratton P3000 is enough to know that this generator packs a lot of performance in. But there's more to the P3000 than specifications alone, and in our review we'll dive into the ins and outs of this 3000-watt generator.
Overall performance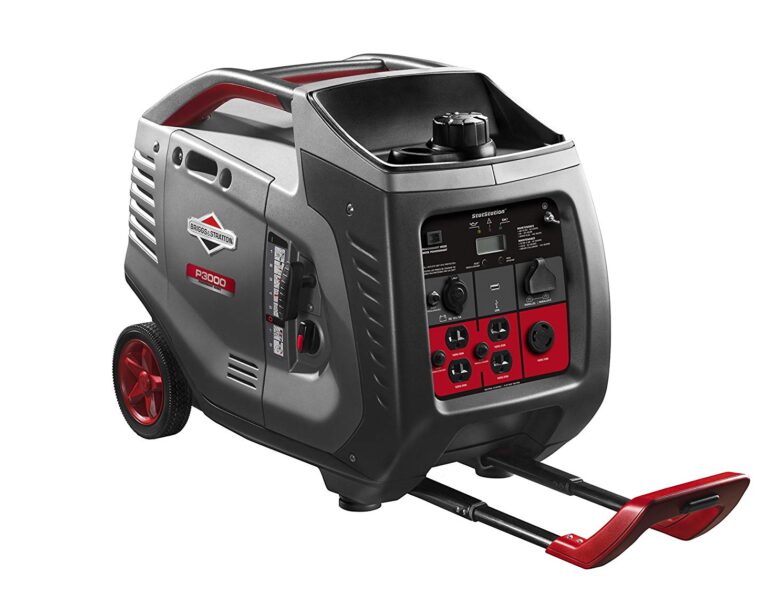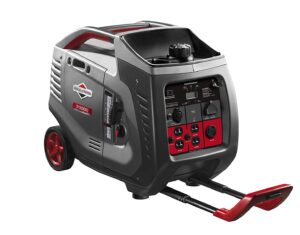 The P3000 is one of only a handful of 3000-watt generators on the market. It's an ideal size class for when you need more power than most 2000-watt generators can provide, but don't want the cost, noise, or weight of a larger 4,000-watt generator. Briggs and Stratton's model is capable of outputting 3,000 watts of surge power and 2,600 watts of continuous power.
The thing we liked most about this inverter generator is that it's quiet. The generator is built with Quiet Power Technology, which automatically adjusts the engine speed to meet your power demand. That way, the engine isn't running at full throttle when you're only using half the generator's watts. As a result, the P3000 can reduce its noise production as well as increase fuel efficiency and cut emissions. With the Quiet Power Technology activated, Briggs and Stratton rates the generator as producing about 58 dB of noise at a 25% power load.
The other thing to note about this generator is that because it's an inverter model, it can be connected in parallel to a second P3000 model. Given the modest cost of this generator, purchasing two P3000's can give you a lot less noise and more versatility than a single 6,000-watt generator. The generator doesn't come with a parallel connection cable, but it's a cheap after-market purchase from Briggs and Stratton.
Fuel tank capacity and run time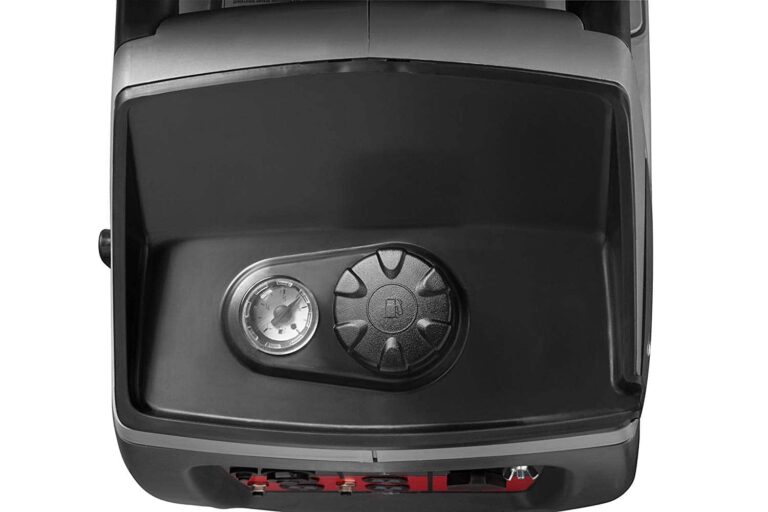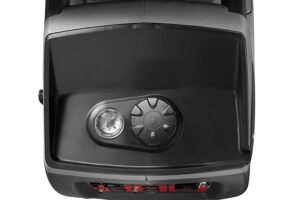 One of the few complaints we have about this generator is the fuel tank capacity. The 1.5-gallon tank is on the small side for this generator, and as a result the P3000 is limited to just 10 hours at a 25% load. That means that if you want to run the generator at full power, you'll only get a few hours of use at most.
The short runtime is definitely one of the more disappointing features of the P3000, especially if you're looking for a workhorse generator for use at a work site or for all-day power for your RV.
Outlets
Briggs and Stratton went all out on outlets for the P3000, and we'd say this generator is better off for it. To start, the outlet panel includes four 120-volt outlets instead of the usual two. Thanks to that, you can forget about plugging into a power strip and plug your devices right into the generator itself. In addition, the generator includes a single USB port for charging your small electronics without eating into your outlet supply.
We also liked that this generator is considered to be one of the best 30 Amp generators, because it comes with a 120-volt, 30-amp outlet, as well as an adapter so you can plug your RV's grid right into the generator. There's also a 12-volt DC outlet for charging a battery. Together, these outlets make this generator perfect for camping and road tripping.
Ease of use
The P3000 is pretty good when it comes to ease of use, too. Importantly, the outlet panel has a small LCD screen that shows the amount of wattage you're drawing from the generator at any time. That way, you're never in danger of accidentally overdrawing the generator and causing it to stall out.
In addition, you can use the LCD screen to show the total number of hours on your generator, which is a huge help for keeping track of maintenance – especially oil changes. A series of LED lights right above the screen will also alert you when it's time for an oil change, air filter change, or spark plug replacement. These lights go a long way towards saving frustration when the generator isn't working properly.
The only other thing we would have liked to see on the P3000 is an electric start function. This isn't a huge loss since the generator's pull cord is very easy to use and responsive. But, it's a modern feature that would have added even more to this generator's ease of use.
Safety features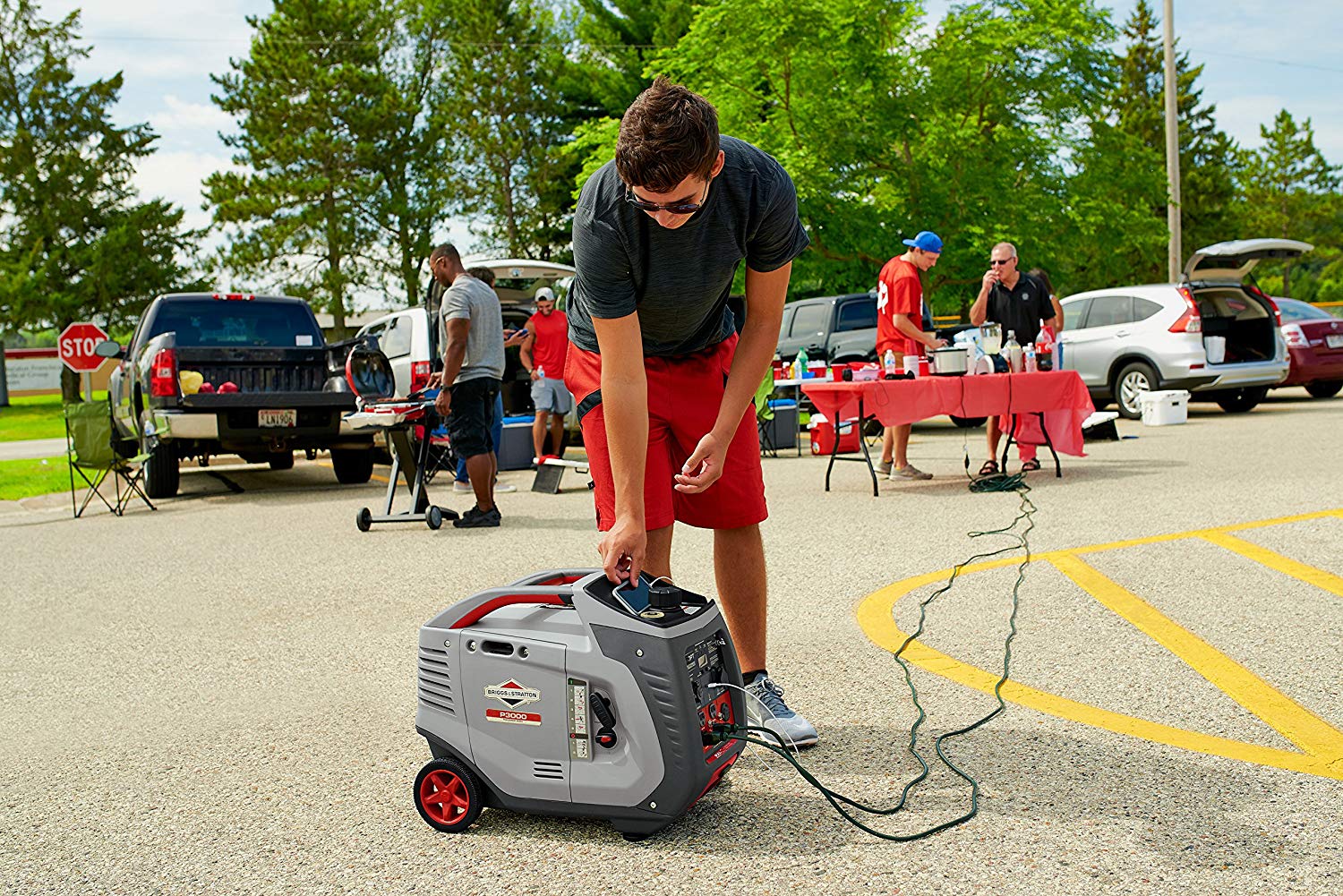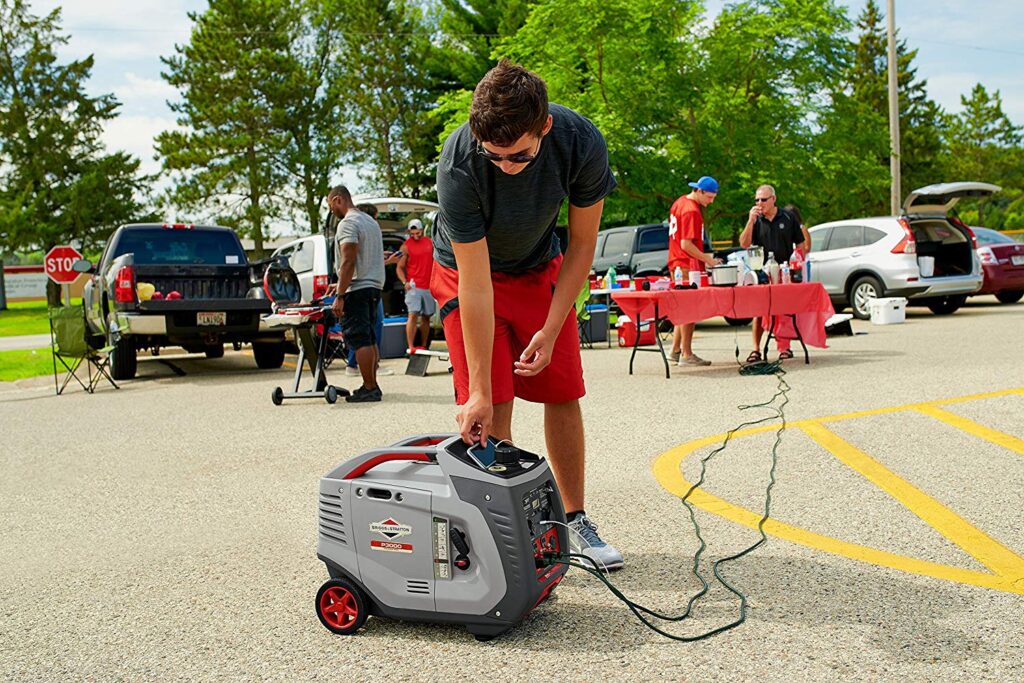 The P3000 comes with a few basic, but important, safety features. First, the low oil light above the LCD screen is a major safety tool. By ensuring that you always know when the generator is low on oil, you can protect your generator and anything you have plugged into it.
On top of that, the two pairs of duplex 120-volt outlets are each on their own reset switches in case you blow a fuse. You'll also find a reset switch for the 12-volt DC outlet. These are GFCI-backed outlets, though, so you will need to be careful about not causing a power surge. Finally, there's a grounding port on the top of the outlet panel that you can use with a grounding rod for additional safety.
Noise level
As we mentioned before, the low noise production is one of the best things about this generator. The P3000 is rated to put out just 58 dB of noise at 25% power, which compares very favorably to other generators in this size class. In addition, the P3000 has the advantage of Briggs and Stratton's Quiet Power Technology, which prevents the noise level from shooting up as you draw more power from the generator. So, while the minimum noise is around 58 dB, the maximum noise produced by this generator is still only just over 60 dB.
This is a huge advantage no matter what uses you have planned for the generator. But, it's especially important if you want to use the generator for camping with an RV. The P3000 will help ensure that you have the power you need without waking up neighboring campers.
Portability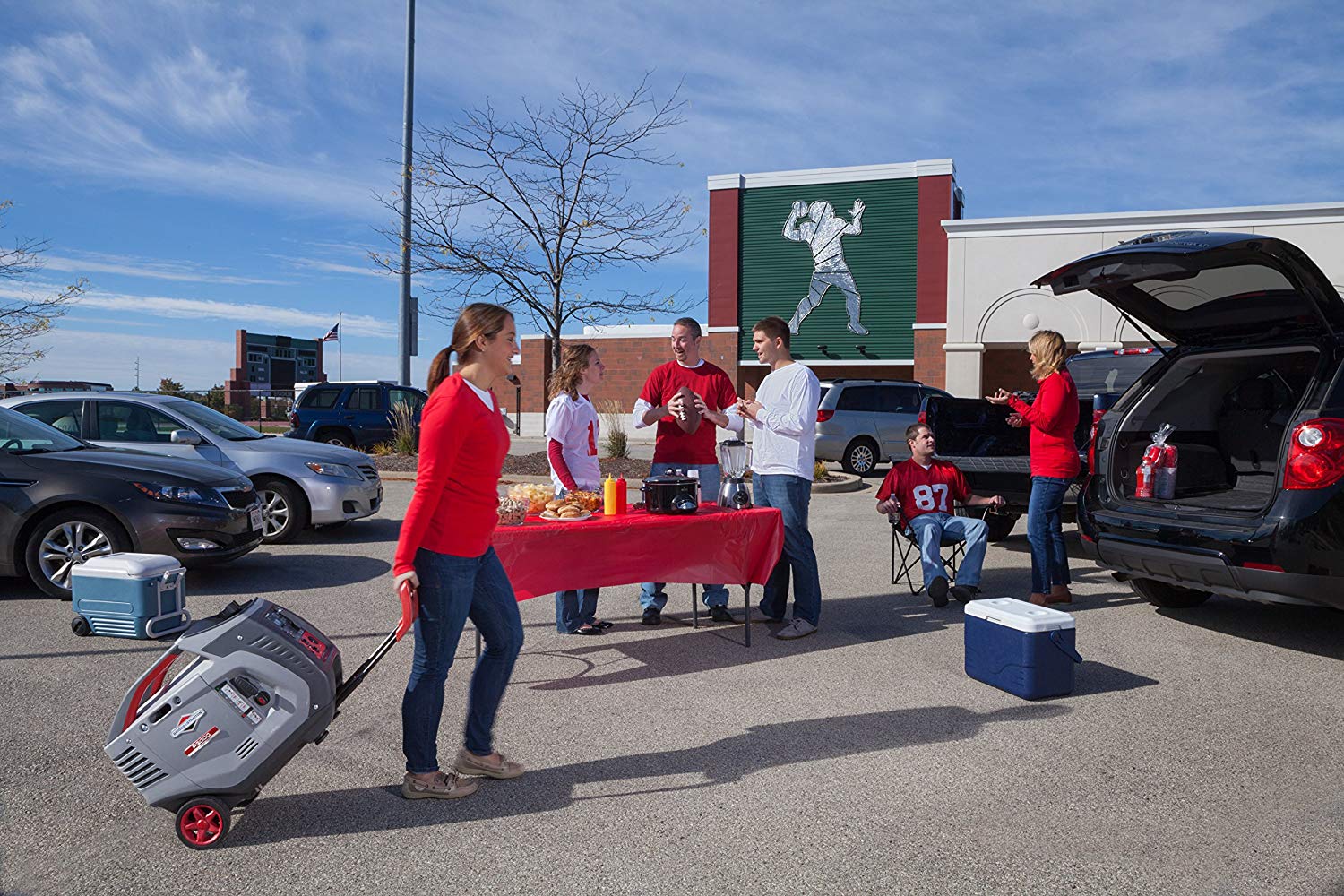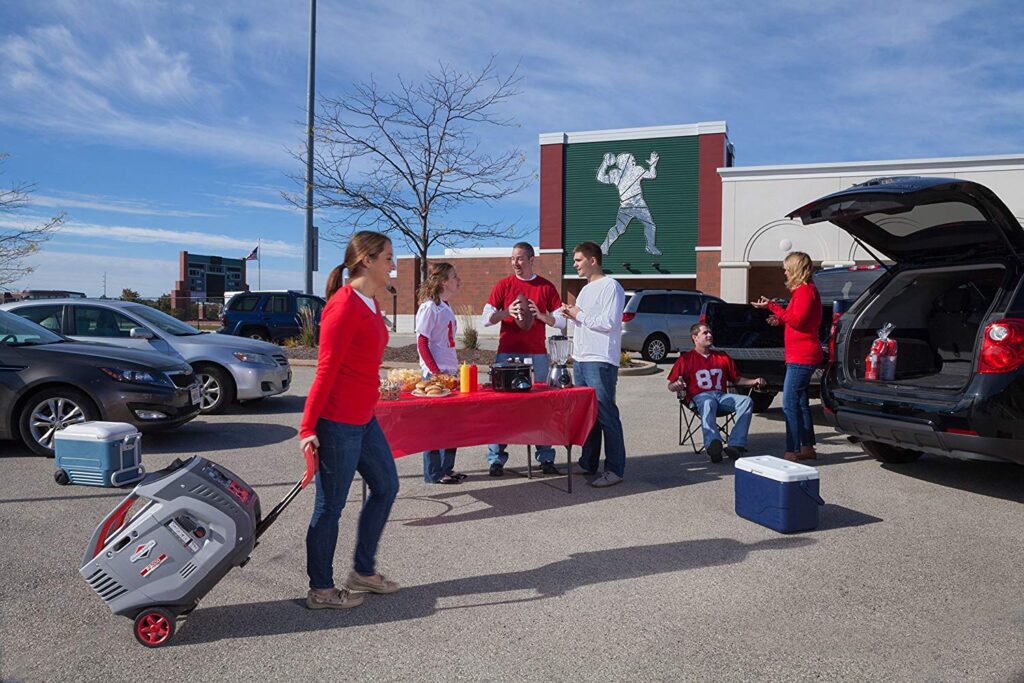 The P3000 is a bit on the heavy side at 84 pounds without fuel. But, don't let that scare you into thinking this generator isn't portable. It's mounted on a pair of tucked away never-flat wheels, which are burly enough to handle anything from grass to rocks. A telescoping handle built into the underside of the P3000 allows you to wheel it around without any trouble at all. Better yet, the telescoping handle is actually sturdy – it's built from metal, unlike the plastic telescoping handles found on suitcases.
We also really liked the design of the handles on the top of the P3000. The handles are crafted to form an H-shape, which makes it easy to carry the generator short distances by yourself or to share the handles with a partner. The handles are also set far back enough that it's easier to lift this generator in and out of a truck bed than for a lot of other generator models.
Maintenance and warranty
Briggs and Stratton stands behind the P3000 with a two-year warranty for consumers. If you're using the generator for commercial purposes, that warranty is unfortunately cut down to just one year. We would have liked to see a lifetime maintenance plan for this generator, but thankfully most repair companies are familiar with Briggs and Stratton and the generators use American parts.
Key features
Inverter generator with parallel capability
3000 watts surge power, 2600 watts continuous power
Quiet Power Technology limits noise production
Four 120-volt outlets and 30-amp outlet with RV adapter
Built-in LCD screen for wattage and maintenance monitoring
H-shaped top handles and telescoping handle
Two-year warranty

PROS
CONS

Inverter power
Quiet Power Technology limits noise and increases fuel efficiency
Adaptable for RV use
Built-in LCD and lights allow you to monitor maintenance tasks
Durable telescoping handle
Reasonable price

Short runtime due to small fuel tank
No electric starter
Slightly heavy