When you need a portable generator that is powerful, versatile, and quiet, it's hard to beat the Briggs and Stratton. In our Briggs and Stratton Q6500 review, we'll take a closer look into the features that define the Q6500 and help you decide if it's the right generator for you.
To give you an idea of why we like the Q6500, this generator boasts a variety of outlets for all uses and makes a scant amount of noise while working hard to provide you with power. Plus, the generator offers an impressive 6,500 watts of surge power and a full-day run time so you can tackle any project. Finally, at just 128 pounds, the Q6500 is one of the lightest and most portable generators in its class.
Specifications
Engine
306cc Briggs & Stratton OHV
Fuel tank capacity
5 gal.
Run time at 25% load
Up to 14 hours
Noise level
66 dB(A) at 25% load
Dimensions
25.53 x 21.12 x 21.43 inches
Warranty
2-year (residential), 1-year (commercial)
Briggs and Stratton Q6500 Review
In order to help you understand what sets the Briggs and Stratton Q6500 apart from the competition, we'll dive deep into the features that define this generator and how they can work for you.
Overall performance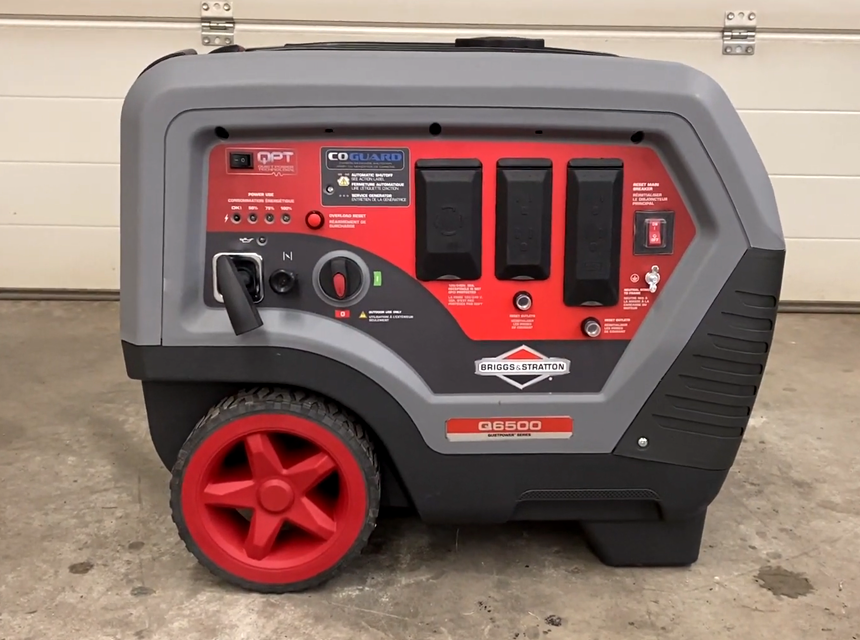 This generator was engineered for impressive performance, with a 306cc integrated engine and alternator that provides up to 6,500 watts of surge power and 5,000 watts of continuous power. The engine is surprisingly efficient given its output power – its five-gallon gas tank can last up to 14 hours at 25% load, or a full working day at half-load.
Best of all, the engine performs reliably over years of use – while Briggs and Stratton offers a two-year warranty for residential use, customers almost never report having to call in that warranty. Commercial users will want to take note that the warranty is reduced to one year, however.
One of the major differences between this generator and the competition is that the Q6500 is an inverter generator, meaning that it converts the electricity it puts out from AC to DC and back to AC before it reaches the outlets. This allows you to power sensitive electronics from the generator with confidence, since the electrical waveform has very little distortion or surging.
Fuel tank capacity and run time
The capacity of the fuel tank on the Q6500 is rather small, at just five gallons. However, this is an intentional part of the ingenious design of this generator and allows it to be approximately half the overall size of comparable portable generators. That's an advantage for anyone looking to throw this generator in their car for a day working at a field site or camping, and even allows it to be stored out of the way in an RV.
The run time does suffer slightly because of the small fuel tank – it is rated for 14 hours at 25% load, or just under a full day at half-load – but the effect is not particularly bad thanks to the highly fuel-efficient engine.
Outlets
The Q6500 exceeds expectations when it comes to being well-stocked with outlets. The generator has four 120V/20A three-pronged outlets like you would find around your home to allow you to plug in multiple appliances or tools. On top of that, there is a locking outlet capable of switching between 120V and 240V to power heavy-duty appliances and tools. Although the generator does not have an RV-ready outlet, this locking outlet can be outfitted with an RV adapter for a power output of 3,250 watts of surge power or 2,500 watts of continuous power. To help you make use of the clean inverted electricity for powering small electronics, the generator also includes two USB charging ports.
The only outlet missing on this generator is a 12V DC outlet for charging batteries.
Ease of use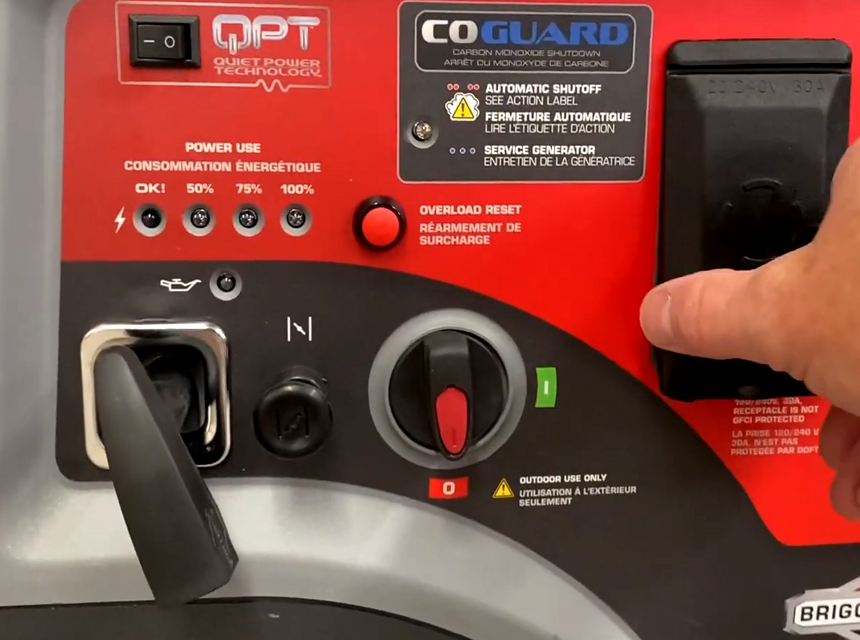 Users may be sad at first to note that the Q6500 doesn't have an electric push-start, instead relying on a traditional pull-cord to get the engine going. However, this means no having to deal with an additional battery and the starter activates the engine within the first several pulls every time.
The generator also has a series of LED indicator lights to give you an indication of how much power, relative to its maximum power, the generator is using at any time. An integrated fuel gauge also makes it easy to keep tabs on your remaining runtime so you won't be caught without power in the middle of a job.
Safety features
Another nice feature on this generator is the low-oil shutdown, which automatically turns off the generator when oil levels run too low to protect the engine and your plugged-in electronics from serious damage. There is also a low-oil indicator light on the generator's panel so that you don't reach this point.
A major difference between the Q6500 and other portable generators is that the engine is not exposed at all on this generator. Instead, a durable protective shell keeps the engine safe from damage as you're towing the generator around as well as prevents you from burning your hands on hot engine parts.
Noise level
One of the biggest selling points of the Q6500 is how quiet it is relative to other generators in this size class, in part thanks to the QuietPower Series Inverter Technology used in the engine and in part thanks to the hard noise-cancelling shell that Briggs and Stratton built around the engine.
However, quiet is relative when it comes to portable generators of this size. The Q6500 produces 66 dB of noise at a 25% load, which is roughly equivalent to the noise of a freeway or a loud vacuum cleaner. That might not be enough noise to wake up your neighbors, but it can still be problematic if you are trying to hold a conversation around the generator or using it at a campsite. Nevertheless, keep in mind that any generator offering 5,000 watts of continuous power or more will be as or more noisy.
Portability
Compact size and light weight are additional advantages to the Q6500. The small fuel tank allows this generator to be up to half the size of competitors offering as much power and similar run times. Plus, the generator comes with a telescoping, luggage-style handle and eight-inch never-flat wheels to make it easy to push or pull around the house or yard. Note that because the design leaves the generator base close to the ground, it can be difficult to transport over rougher terrain.
The generator is by no means lightweight at 128 pounds, but compared to other generators in this size class, it shaves off 50 pounds or more. That naturally makes it easier to lift in and out of a car or to tow around, although the lack of true carry handles on the top of the generator can still make lifting it a challenge.
Key features
QuietPower Series Inverter Technology – This unique inverter technology from Briggs and Stratton makes it run up to 60% quieter than competing inverter generators, while also producing clean and consistent electricity that is capable of safely powering your sensitive electronics like computers and smartphones.
Noise-reducing shell – The all-steel frame of the generator is enclosed in a thick and durable plastic shell that helps to prevent damage to internal engine components and buffer the noise produced by the engine during operation.
Compact, lightweight design – The Q6500 is up to half the overall size of competing generators thanks to the small fuel tank and integrated design of the engine and alternator, as well as shaves up to 50 pounds off its weight compared to similar generators in its size class.
PROS
CONS

Relatively quiet 6,500-watt portable generator
Inverter generator with two USB ports for powering sensitive electronics
Includes a 120V/240V outlet that can be outfitted with an RV adapter
Compact and lightweight design with luggage-style handle for portability
Reliable engine with two-year residential warranty

Runtime is somewhat short compared to some competing generators due to the smaller fuel tank
No 12V DC outlet for battery charging
Difficult to tow over rough ground and no carry handles for lifting