Cat is a well-known name in construction, and the INV2000 is a 2,250-watt generator specifically built with contractors and builders in mind. This OSHA-friendly generator caught our eye because users frequently compare it favorably to Honda's renowned 2,000-watt generator offering.
So, is the Cat INV2000 generator the right choice for your portable power needs? In our Cat INV2000 review, we'll dive deep into all of the features this generator has to offer.
This product's also been included into these rankings:
Specifications
Fuel tank capacity
1 gal.
Run time
6 hours at 1/2 load
Outlets
(2) USB ports, (1) 12V, (2) 120V 20A GFCI
Dimensions
19.6 x 12.5 x 18.1 inches
Warranty
2-year limited, 3-year limited when registered within 30 days
Cat INV2000 review
The Cat INV2000 is an inverter generator designed with contractors in mind. However, that doesn't mean this generator is just limited to work sites. It offers 2,250 watts of surge power and 1,800 watts of running power that can be used for just about anything you need.
The main adaptation that makes this generator so useful for contractors is that the 120-volt, 20-amp duplex outlet is protected by a GFCI circuit. That's important because it means that this generator meets OSHA workplace standards, which is critical for anyone using this generator for business.
The INV2000 has a lot more to offer than safety, as well. It's nearly as quiet as Honda's competing 2,000-watt generator, while costing you less than half as much and offering a few hundred more watts of power. The generator weighs in at under 50 pounds, so it's relatively easy to transport to a remote construction site or around your home. Best of all, Cat backs it with an extended three-year limited warranty.
The only real downside of note to the INV2000 is the runtime. To make this generator compact enough to carry, Cat gave it just a one-gallon fuel tank. That means you only get six hours of runtime at half-load – so, if you need the generator's full power for a full day of work, you'll end up having to stop and refuel on as many as three separate occasions.
Overall performance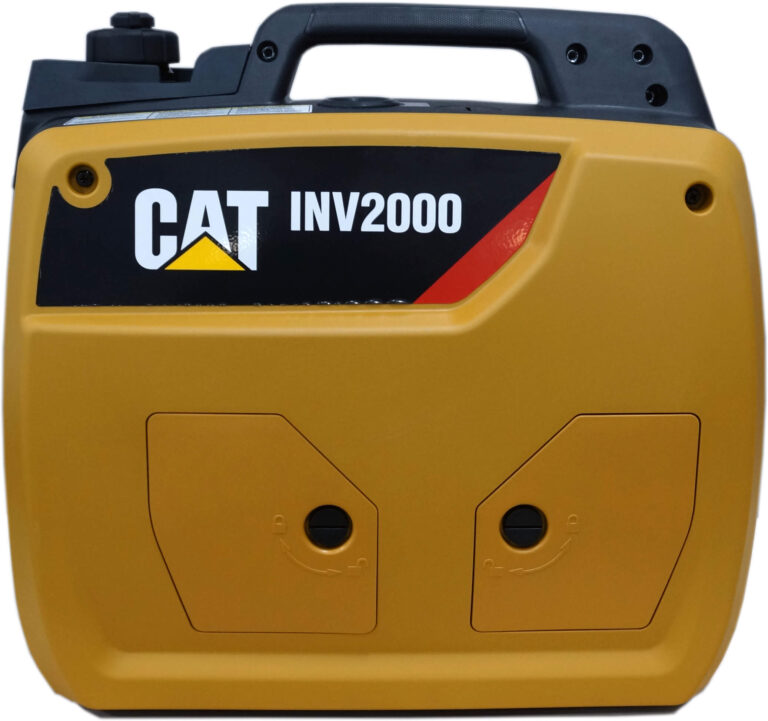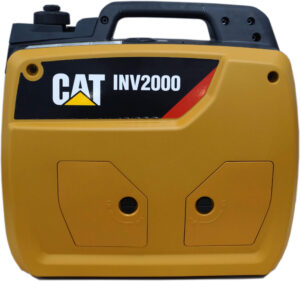 The Cat INV2000 is built with an 80cc OHV engine, which makes it something of a beast. This generator is capable of producing 2,250 watts of surge power, which is quite a lot of power within the 2,000-watt generator size class. The running wattage is significantly lower, at 1,800 watts, but it's on par with what most competing generators can offer.
On top of that, Cat built this generator with an inverter construction. So, it's safe to use not only with power tools, but also with laptops, smartphones, and other sensitive electronics. Even better, you can combine two models of the INV2000 in parallel to instantly double your available power when you need it. Particularly for contractors with a booming business, having the ability to connect a second generator is a big deal.
We were also excited to find out that this generator lives up to its promise. Users found that it can handle the demands of providing power day in and day out without breaking down or throwing engine malfunctions. Even better, the 120-volt outlets and USB ports are covered with weatherproof caps so you can use this generator even when the weather isn't being cooperative.
Fuel tank capacity and run time
The INV2000's runtime is the primary limitation to this generator. The relatively small one-gallon tank allows the generator to be pretty compact, but it also means that you're limited to just six hours of runtime at a 50% load.
That may be okay if you only need 1,000 watts or less of continuous power from the generator. However, if you need to draw the entire 1,800 watts of running power for a whole day, you're going to spend a lot of wasted time cooling the generator down and refueling. In fact, you'd have to do it three times to get a full workday of power – which adds up to more than an hour of lost time in total.
Outlets
The INV2000 includes the standard complement of outlets for a 2,000-watt generator: a 120-volt, 20-amp duplex, a 12-volt DC outlet, and a pair of USB charging ports. The USB ports are a nice touch on this generator because they allow you to easily charge a smartphone or other small electronic device without taking up too much current or requiring you to use one of the 120-volt outlets.
It's important to keep in mind that the 120-volt duplex is fully backed by a GFCI circuit. That's important because it makes this generator compliant with OSHA workplace safety standards. As a result, this generator is approved for use by contractors at work sites and in other business environments.
Ease of use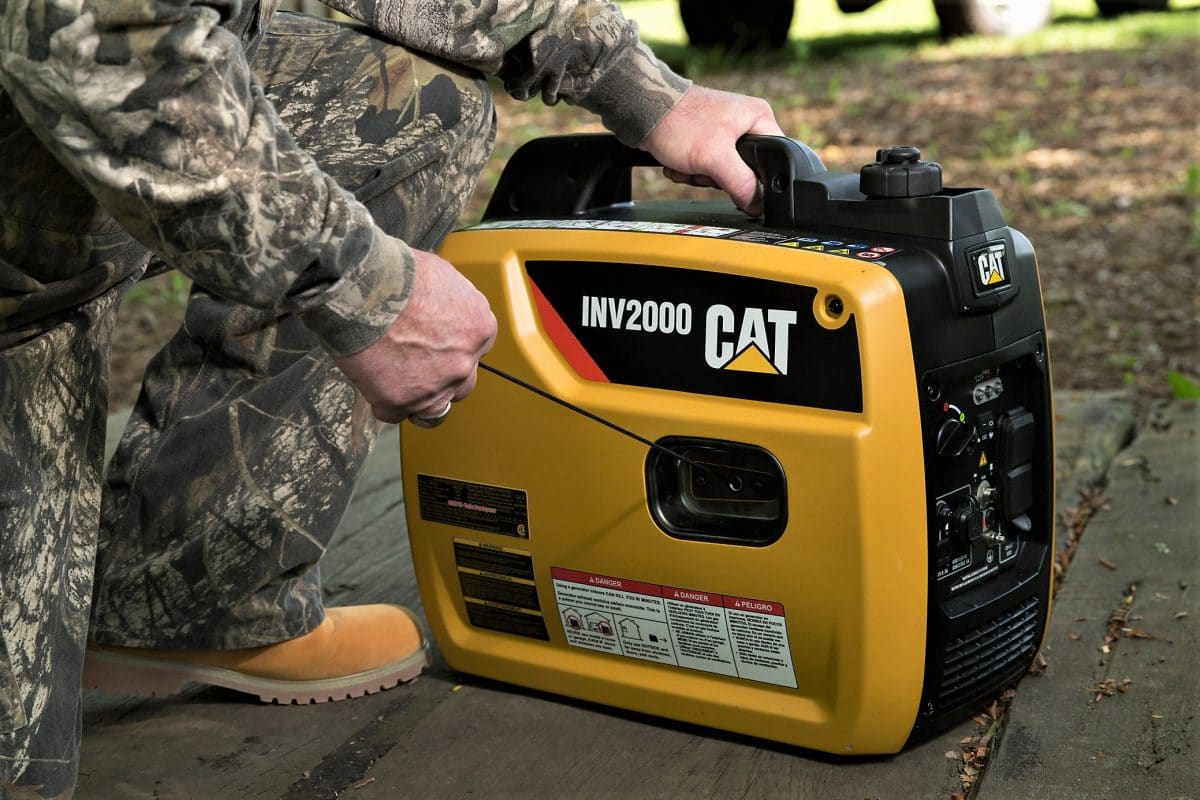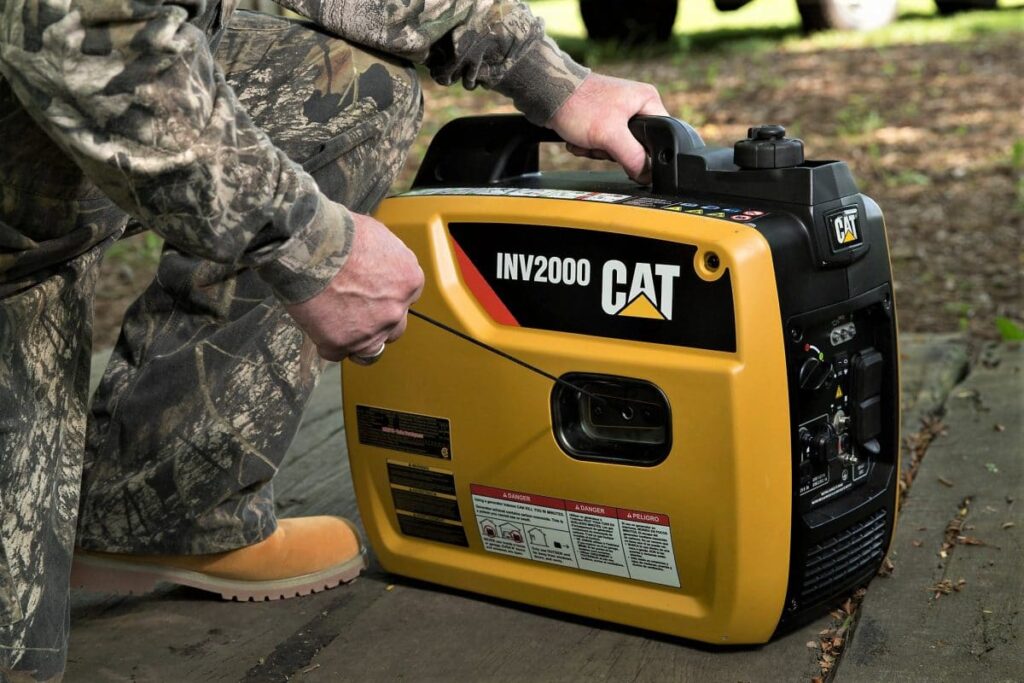 This generator is relatively simple, so even without many specific adaptations for ease of use, operation is pretty straightforward. The generator starts with a recoil cord, which users found was very reliable and responsive even when starting from cold.
There's no display to show you how much wattage you're drawing from the generator, which is a feature that we really like available on competing 2,000-watt generators. However, the INV2000 does have an overload warning light, which is helpful for finding out quickly that you're drawing too much power when you plug in a new device.
It's also worth noting that the generator has an engine smart control (ESC) switch that allows you to control efficiency. The labeling isn't completely clear on the panel, but you can turn the smart control to slow when you're only using part of the generator's capacity and to high when you need more power.
Safety features
The main draw of the INV2000 over some of its competitors is a safety feature: GFCI protection. The 120-volt duplex outlet on this generator is fully backed by a GFCI circuit to eliminate the risk of electrocution during an overload. As a result, this generator is compliant with OSHA standards and can be used by businesses as well as individual homeowners and RVers.
On top of that, Cat built this generator with several warning lights to indicate the state of the generator. The two most important of these are the overload light, which shows you when the generator is over its power limit, and the low-oil light, which warns when the oil is dangerously low. Of course, the generator also has an automatic low-oil shutoff control, which turns off the engine before any damage can be done by running out of engine oil.
Another small, but nice safety feature is weatherproof covers over the 120-volt and USB outlets. This allows you to ensure that the outlets stay dry in the rain, so that you can then use the generator in a covered space without first having to dry out the outlets and wiring meticulously.
Noise level
The INV2000 compares extremely favorably to the vaunted Honda generator when it comes to noise. The generator produces just 52 dBA of noise at a 25% load, and never gets louder than 61 dBA. That means that at its quietest, you'll be able to hold a conversation over the generator easily. 61 dBA is starting to get loud, but it's nowhere near the level at which you would need ear protection. Better yet, the generator is likely to be your quietest tool if you're using it to run power tools at a work site.
Portability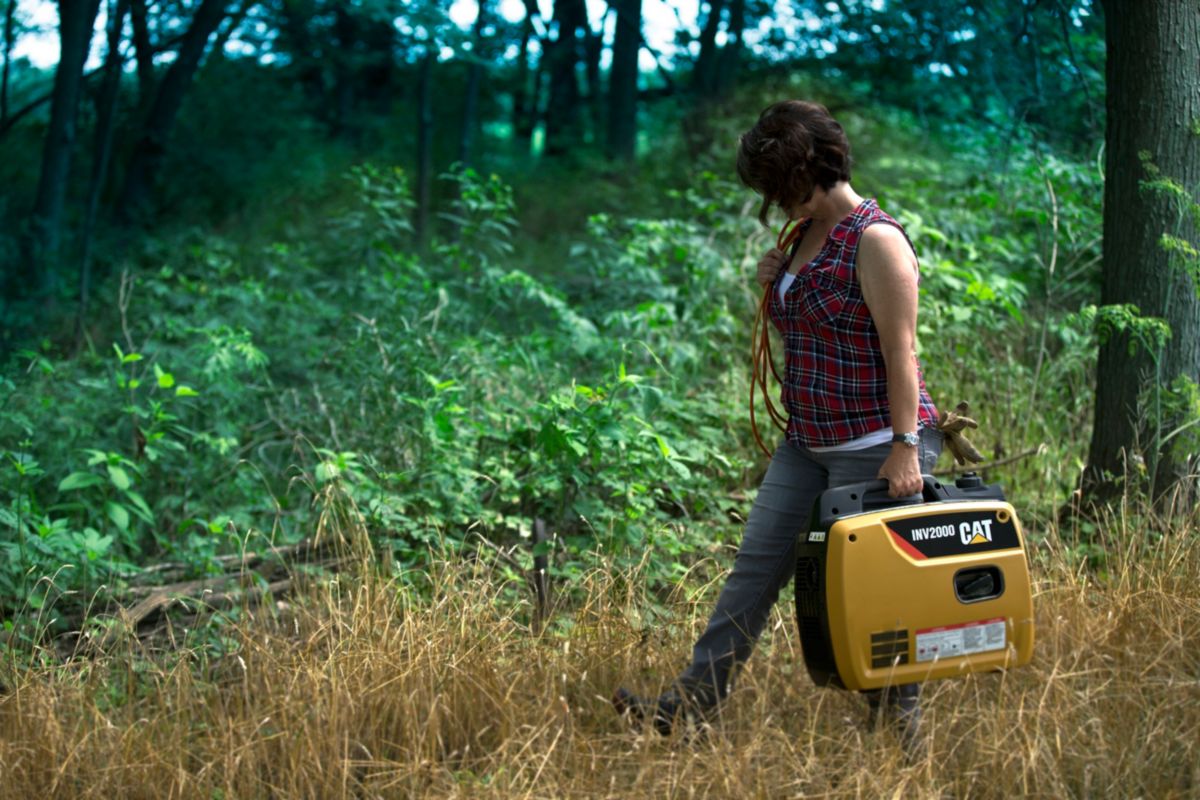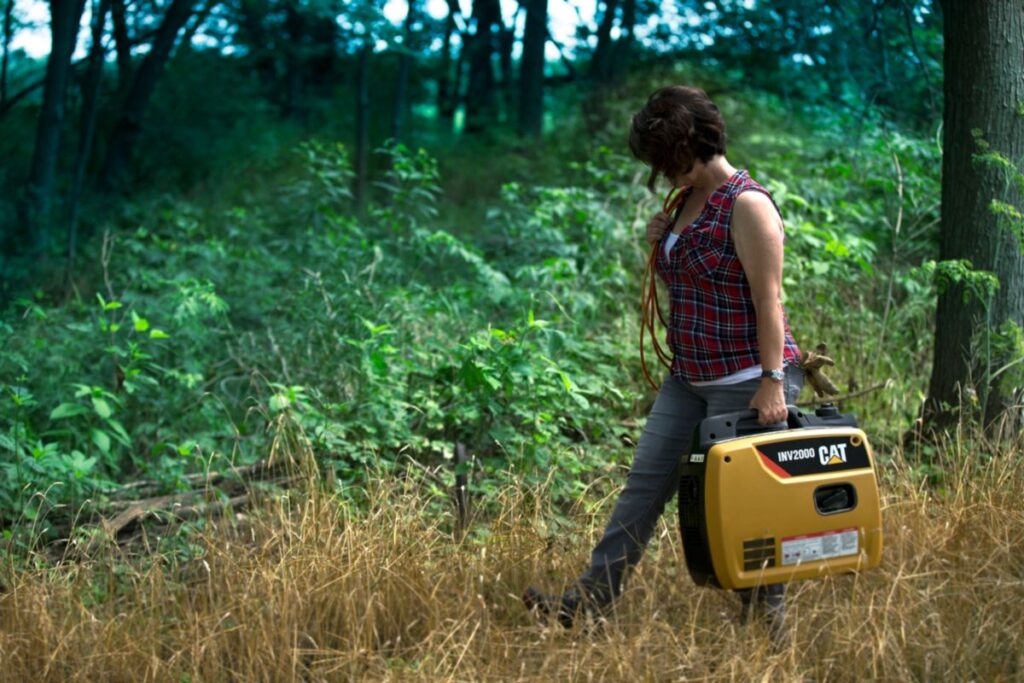 The INV2000 is reasonably easy to transport. It weighs just under 50 pounds, so it's definitely pushing what a single person can comfortably carry for more than a short distance. For better or worse, the top carry handle is designed so that it's somewhat difficult to have a second person help you carry the generator.
The generator is compact, in part thanks to the small fuel tank. This means that it fits easily in the back of a car or even in the generator compartment of an RV.
Maintenance and warranty
Many generator manufacturers limit the length of their warranties for commercial users. But not Cat – this construction-oriented generator maker offers a standard two-year warranty even for contractors. Better yet, you can extend this warranty to three years simply by registering your generator within 30 days of purchase.
As we mentioned above, users reported that the INV2000 is pretty hardy. Several owners reported neglecting maintenance for weeks at a time and having absolutely no repercussions in performance as a result.
Key features
Inverter generator with 2,250 watts of surge power and 1,800 watts of running power
Fully GFCI-backed 120-volt duplex
USB charging ports
Maximum 61 dBA of noise production
Three-year warranty with registration
PROS
CONS

2,250 watts of surge power
GFCI-backed duplex makes this generator OSHA compliant
Includes two USB charging ports
Very quiet operation, on par with expensive Honda competitor
Extremely durable and comes with a three-year warranty (with registration)

Short six-hour runtime at 50% load
No wattage display