If you are looking for a portable generator that will not back down from any challenge, then the Duromax XP1000EH might just be what you need. Exceptionally powerful and efficient, this mid-level generator will provide you with plenty of power over long stretches of time. Designed to fulfill huge electricity demands, it operates silently as compared to other models in the same price range. Expect to have a distraction-free time. Our Duromax XP1000EH review is detailed and thorough.
You get around 10 hours of run time when you use it at 50% capacity, making this heavy-duty generator the perfect model for lengthy emergencies. Since it is a dual-fuel portable generator, you will be able to use it with both gas and propane. Using propane will reduce the generator's carbon footprint and make it more eco-friendly.
This product's also been included into these rankings:
Specifications
Generator type
Conventional
Fuel type
Gasoline, propane
Surge watts
10,000 (gasoline), 9,500 (propane)
Running watts
8,000 (gasoline), 7,600 (propane)
Engine
440cc 4-cycle air-cooled
Starting method
Electric, recoil
Fuel tank capacity
8.3 gal.
Run time
10.4 (gasoline, 1/2 load), 8.6 (propane, 1/2 load)
Outlets
(2) 120V GFCI, (1) 120V 30A Twist Lock, (1) 240V 30A, (1) 240V 50A
Dimensions
40 x 29 x 27.5 inches
Warranty
3-year limited (residential), 1-year limited (commercial)
DuroMax XP10000EH review
The generator comes with a powerful 18HP engine that can generate up to 10,000 watts of power. The engine is sturdy and durable, making it ideal when you want a large power supply. The unique dual fuel system will ensure that you never have a fuel shortage. You can either use gas or propane. When it comes to the Duromax XP1000EH, you can expect relatively quiet operation for a period of more than 10 hours. You can use it around the house or for professional purposes. The elaborate control panel is easy to manage and you will have no trouble understanding the features.
Overall performance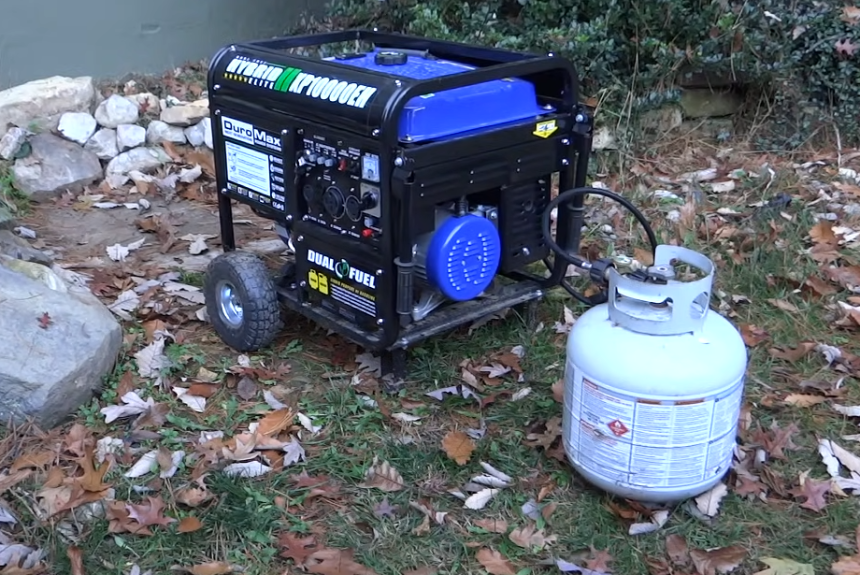 The Duromax XP1000EH is a versatile portable generator that will provide you with as much power as you need. It encompasses the perfect balance of features and functionality. Moreover, you can find the model at an affordable price that will not make a huge dent in your budget. With the Duromax XP1000EH, expect a runtime of up to 20 hours on propane. Although its size is rather large which hampers portability, it is an excellent investment.
Fuel tank capacity and run time
One of the primary advantages of this model is its tremendous performance. With 8.3 gallons full tank capacity, the model can store enough fuel to give you 10 hours of runtime when you run it on gasoline at 50% load. On the other hand, it will last you up to 20 hours when you use propane gas at 50% load.
Control Panel and outlets
The elaborate control panel is easy to understand. The Duromax voltage regulator will allow you to keep track of power usage.
The generator comes with five power points on the front panel:
120/240V 50 AMP heavy duty socket
120V 30 AMP socket
12V DC outlet
Pair of 120V 20 AMP sockets
120/240V 30 AMP twist lock socket
The voltmeter indicates if the power is about to reach its max limit.
Ease of use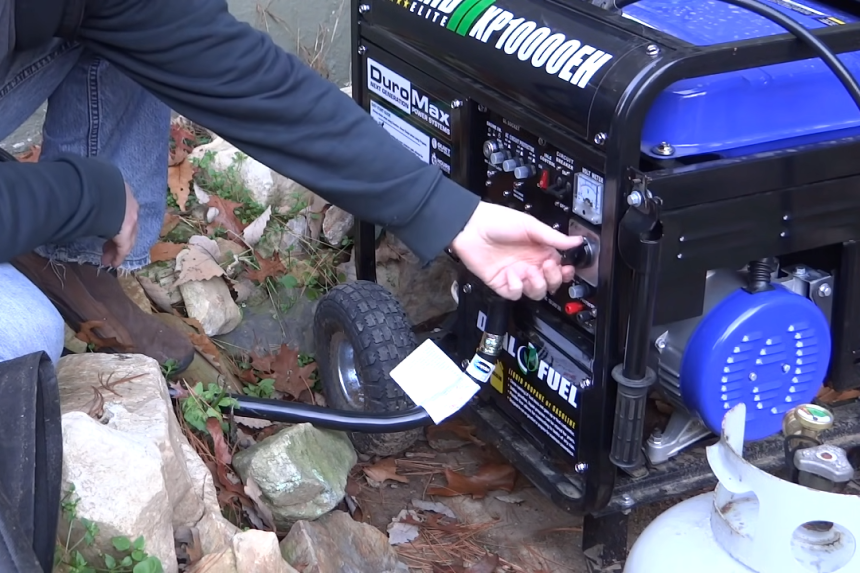 You will find that this model is user-friendly. It comes with a dual-mode start mechanism so that users have the choice to switch on the generator either using the recoil or the electric start feature. You will find an 'easy start' guide pasted on the engine's front panel, and you can just follow the instructions.
Safety features
Duromax generators are built to be safe. It has an EPA-approved design and adheres to all standards of safety. The XP1000EH has some built-in safety features like an automatic spark arrestor, a voltage regulator, and a low-oil protection mechanism. The spark arresting muffler cuts down on fire risks so that you are always safe.
Noise level
If you plan to use the generator frequently, consider the noise level produced by the machine. The DuroMax XP1000EH has a quieter operation than most other models in this price range. In fact, it just produces 72 dB sound at a distance of twenty-one feet. Considering the size of the machine, this is almost negligible, and you will not have any serious distractions.
Portability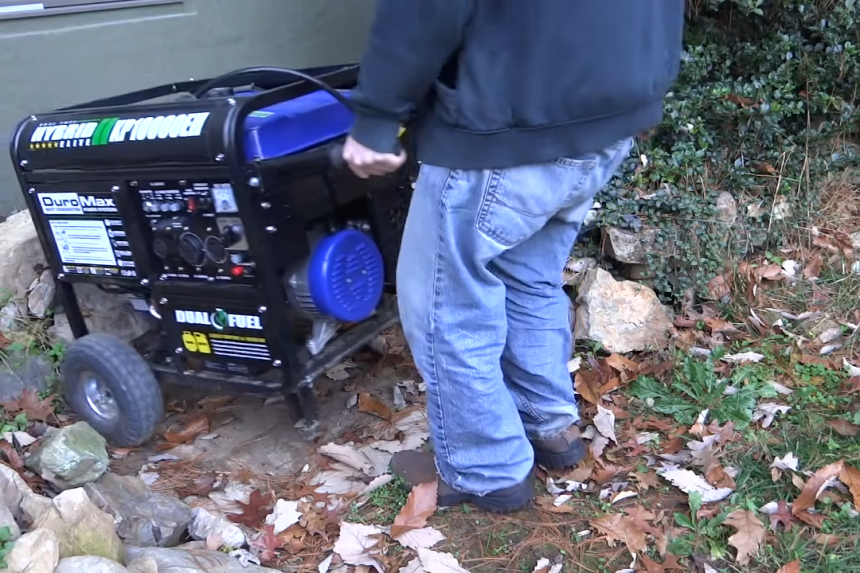 This model is rather big for a portable generator, but it is surprisingly easy to move from one place to another. The generator comes with a wheel kit so that you can take advantage of wheels when you want to move the machine. Moreover, the handles are comfortable and easy to use.
Maintenance and warranty
Duramax offers a thirty-day warranty on the XP1000EH, and the period can be further extended. It also has a one-year limited warranty on any part of the generator that might become defective. You will be happy to know that this model is meant to be a low-maintenance power tool. Both the build and the engine are sturdy and durable.
Key features
The generator runs on liquid propane or regular fuel, helpful in times of emergencies because you do not have to spend a lot of time looking for the correct fuel.
You can rely on the strong 18 HP motor to handle taking high-wattage loads easily.
The multi-purpose generator will give you value for your money. Use it in multiple ways – to provide home standby energy or take it with you on weekend trips.
Get optimum energy from both the 120-Volt receptacles. You can either choose to let them function at each 120-Volt and 240-Volt simultaneously or at only 120 with full power.
The generator comes equipped with AC and DC regulators, a spark arrestor, and reduced oil protection. The machine will be safe to use for many years to come, and it will retain all its primary function.
The model has been designed in such a way that everyone will find it simple to use the generator with the help of the electric and recoil start.
PROS
CONS

Comes with a strong core and offers reliable performance
Offers a peak output of 10,000W and 8,000W, which is massive for the price
Able to power multiple small electrical appliances or handle single heavy loads easily
Easy operation with the control panel that is elaborate but navigable
Dual-fuel compatibility that makes sure all your power needs are fulfilled even when there is a gasoline scarcity
Built-in sound muffler for silent and smooth operation
Complies with all standards and includes safety features
Comes with an automatic low oil shutoff
Easy to maintain as long as you follow all operational procedures
Eco-friendly since you can run it on propane gas
Portable in spite of its heavy build thanks to the solid-fill wheels
Versatile uses

The construction is rather bulky. It will be difficult to carry it from one place to another
The generator comes with easy-to-use guides, but you might find it a tad bit intimidating to work with it if you are not familiar with generators
Some customers complained that the generator usually ships with a dead battery and that can be inconvenient
This model is not very compatible with delicate electronic appliances. You must have a surge protection unit if you want the generator to power your valuable electronic gadgets
Conclusion
If you are looking for a powerful generator that will go the extra mile, then you cannot go wrong with the Duromax 10000-watt portable generator. This versatile generator runs on multiple fuels and has a strong core engine that is capable of handling high wattage loads. You can easily use the Duromax 10000-watt hybrid at home as a power backup, or you can use it as the power source for outdoor activities. This model is also a great fit for construction sites. The smooth and easy operation makes the Duromax XP1000EH perfect for both novices and professionals. The flexibility of running the generator on two fuels will keep you from being worried about gasoline scarcity.
The model has a solid cast-iron frame that is both durable and dependable. The range of safety features will keep the users protected in case of mishaps. The solid filled wheels and folding grip handles will allow you to shift the generator from one place to another in spite of its heaviness.
This well-designed generator is a great choice considering that the 18-horsepower engine will give you more than 10 hours of power at 8,000-10,000 watts. We hope that our Duromax XP1000EH review helps you out!