Whether you are at home, at a job site, in an RV or even out for camping, it is tough to beat the DuroMax XP12000EH generator – not just in terms of power boost, sturdy built, portability but also its affordable price and ease of use. It is an extremely versatile hybrid generator, making it a raved choice as the ultimate power backup solution. In our DuroMax XP12000EH review, we will be covering all the know-how about the generator and discuss how it stands out in the competition.
However, before we get to that, we'll give you an overview of what is special about this conventional generator and why it deserves a shot. The DuroMax engine is super powerful with fuel flexibility, delivering a stunning 12,000 watts (on gasoline) and 11,600 watts (on propane) of starting power and continuous power of 9,500 and 9,025 watts, respectively. Combined, it means that you get a rather long runtime. The multiple outlets on the power panel also make this workhouse an effective standby solution for your home needs.
This product's also been included into these rankings:
Specifications
Generator type
Conventional
Fuel type
Gasoline, propane
Surge watts (gasoline)
12,000
Running watts (gasoline)
9,500
Surge watts (propane)
11,600
Running watts (propane)
9,025
Engine
457cc 4-cycle air-cooled spark-ignition
Starting method
Electric/recoil
Fuel tank capacity
8.3 gal.
Run time
8.83 hours (1/2 load on gas); 7.2 (1/2 load on propane)
Outlets
(2) 120V 20A GFCI, (1) 120V 30A Twist Lock, (1) 120/240V 30A Twist Lock, (1) 120/240V 50A Heavy Duty
Dimensions
29 x 30 x 26 in.
Warranty
2-year residential
DuroMax XP12000EH Review
The DuroMax XP12000EH is popularly nicknamed the 'beast,' and that is not without reason. Powered by an 18 Horse Power V-Twin 457c Engine, this monster can truly power everyone and anywhere. It was built to take heavy loads. Be it from heavy-duty power tools on a worksite or high-voltage run refrigerators in homes or food trucks, consider yourself covered with DuroMax's unique MX2 switch (power booster). Users are in constant praise about the authentic DuroMax engine built to last for years and comes with a residential-warranty of 2 years and a 1-year commercial warranty.
Looking at the overall performance, the supposed weaker wheels and 74 decibel (compared to its size) is nowhere close to being a let-down for this DuroMax generator. We will break down DuroMax XP12000EH into feature categories to give detailed data on how this generator works and point out its strength and possible shortcomings.
Overall Performance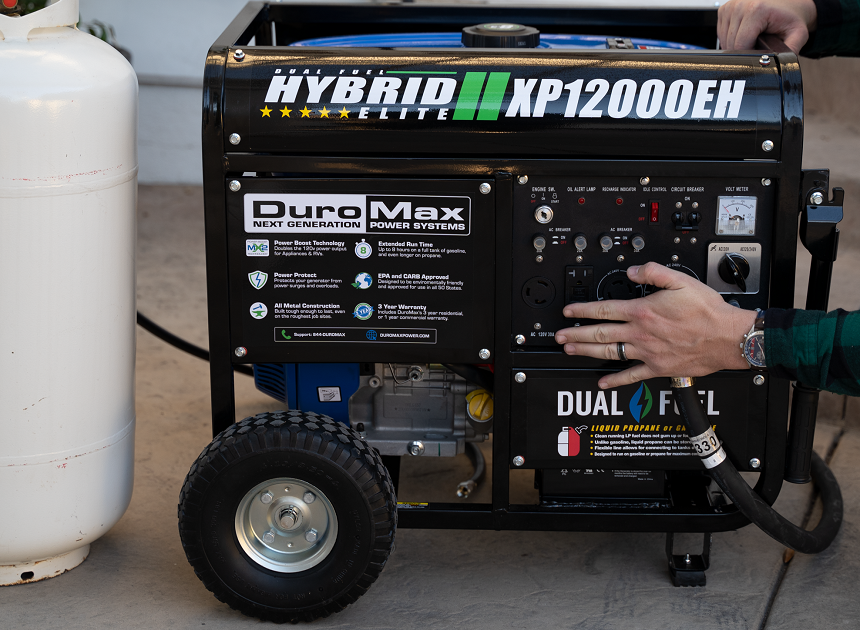 When talking about the overall performance of this power-pact generator, loose ends are tough to find. This portable generator with 12,000-watt dual-fuel power is ready for any power outage in any emergency. The OHV engine offers plenty of power to handle multiple heavy loads ranging from powering amperage power tools to home appliances with a starting power of 12,000 watts and running watt of 9,500. Most RV owners favor this DuroMax generator model as it comes with MX2 technology, which allows them to operate at 240V and 120V simultaneously or at a single 120V with maximum power.
With all its features, this machine is already not as expensive it should be, alongside, the dual-fuel technology cuts down a lot on the operating cost. The simple reason for that is- you have a choice to either run it on gasoline or propane. The latter being a more cost-effective option because you can store propane indefinitely for its greater shelf-life & is said to be more efficient (33%) than gas. When the generator runs low on oil, the low oil shutoff indicator featured on the control panel protects your investment in the engine. Besides the dual fuel option, users get the freedom of selecting from a range of outlets to match the applications in terms of compatibility.
Since power is intermittently used, specifically in worksites, DuroMax's idle control mechanism reduces the noise and saves fuel by dropping the unit's RPMs when not in use. This open-frame all-metal construction will last the roughest wear and tear at job sites. The engine can also run on low volumes without compromising power generation levels as the generator features an oversized noise-reducing muffler.
Fuel Tank Capacity and Run Time
One of the most significant up features in the generator design is its extended run time. The generator's fuel tank needs to match up to its size and long hours of run time. Despite adding to the unit's overall weight, the large 8.3-gallon (gasoline) and 40-gallon (propane) fuel tank capacity does what it is meant to do, i.e., help keep the power supply running smoothly for long. This power generator offers a longer run time, thanks to the dual-fuel system, which is beneficial for home users and contractors.
Users get the flexibility of choosing between two separate run times. On the one hand, at 50% load, you can expect 8.83 hours run time for gasoline; on the other, 7.2 hours for propane gas at the same load. That makes a total of above 16 hours, which can be great news for people who might need to run it for that much time.
Control panel and outlets
The DuroMax XP12000EH offers a wide selection of outlets on its control panel, making it both compatible and useful for various applications. It includes a total of five outlets- a 120V 30Amp Twist lock outlet, a 12o/240V 30 Amp twist-lock outlet, two 120V 20 Amp (GFCI protected for household purposes) outlets, and for more demanding needs, a 120/240V 50 Amp outlet. While you have an RV-ready outlet on this generator, it does not provide an additional 12V outlet for battery charging.
Are you facing a sudden power outage, and there is no light to operate the generator? You know that the generator is exceptionally user-friendly if you see its control or instrument panel fully lit, allowing hassle-free operation even when there is no light at all.
With the instrument panel's vast outlet options, you also have a low-oil sensor, circuit breakers, and the DuroMax MX2 power booster switch. The Voltmeter's presence on this fully-loaded power panel helps you keep a check on the voltage, preventing possible damages that an over or under voltage can cause to home appliances.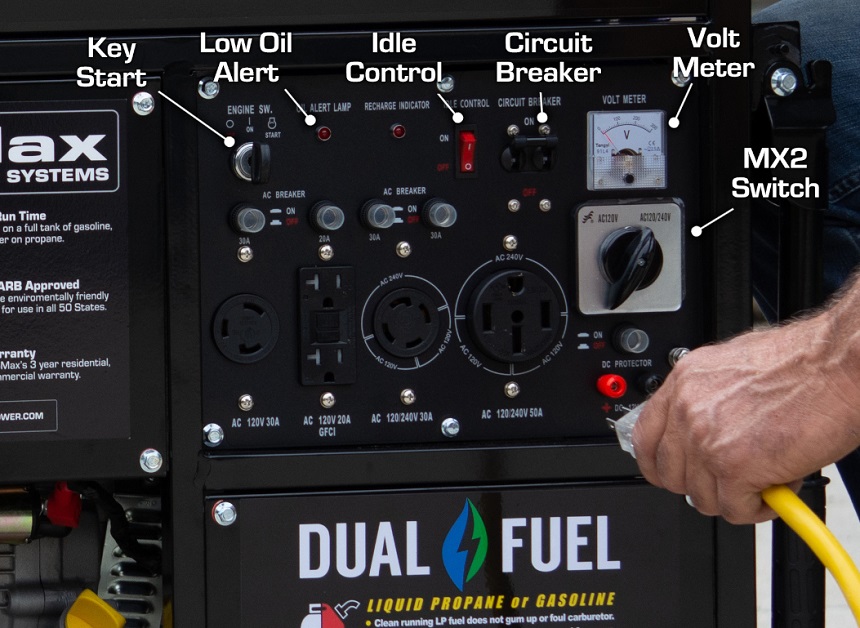 Ease of Use
Among users who do not invest and then run around with a cheap alternative, this generator is very much in the talks as it is straightforward to use. First of all, starting the engine is as simple as starting a new car; all you need is to push the start button. Do you think that a keyed electric start is not a favorable option for you? Not to worry, it is equipped with an additional recoil starter capable of starting the engine, even in freezing conditions, in about two pulls each time. So, expect to get the best of both worlds as far as the starting method is concerned.
The simple out-of-box operation is incomparable- unpack, add propane or gasoline, push the start button, that's it!
As mentioned earlier, the generator's power panel is entirely lit, enabling easy access and allowing smooth operational time even in the dark. While it is not always possible to keep a check on the oil levels, the generator can be at risk of being burnt out and severely damaged if the oil level drops massively. Using the unique power boost button, you can easily switch between 240-volt to 120-volt power output as and when required.
Safety Features
Besides the Automated low-oil sensor shutdown feature when the oil runs too low, the DuroMax XP12000EH also has a couple of other aspects that enhance both your and the engine's safety. Even though this one's a standard safety point, it is vital, too, as it saves the engine from sudden damage.
Another nice safety feature of this workhouse generator is that it features a control panel with individual outlet breakers. The good thing about that is if your engine is ever overloaded, the electronic circuit breakers will help keep everything safe. This generator model of DuroMax is specially built for reliable and safe operation with high leverage handles to transport safely, an alternative recoil-start mechanism for emergencies, and surge arresters if you need to run it in grassy fields or dry forest areas. The heavy-duty wheel kit comes in handy when you move this beast on rough surfaces. Plus, you have a DC protector when charging the battery.
You can quickly fix the machine into a secure position, thanks to the four mounting points on the steel frame. Plus, the extended warranty term also adds to the reliability factor of this powerful backup tool.
Noise Level
When selecting a portable generator, the noise level must be a significant factor to take into consideration. You cannot expect a big sized power generator to be as silent as the one generating 2,000 watts when in operation mode. However, it is still a lot quieter than most other generators with the same power generation level. The average noise volume level of the XP12000EH, approximately at 74 dB, is not more or less the same sounds that hear a vacuum cleaner makes. For an engine of such caliber, the average noise level is surprisingly low.
This practical power generator comes with a large-sized noise reduction muffler with a spark arrestor (built-in) that allows quiet and smooth operation. It means that whether in your backyard or a job site, you no longer need to yell, even if you're trying to talk near the generator. Or get your neighbors bothered, for that matter.
Portability
This beast power backup is a rather heavy one, and thus like most heavy-duty engines, it needs to be wheeled around, than carried by hand. It is an all-copper winding model designed to survive even the roughest worksites and weighs around 224 pounds. It is due to the power it packs that the unit becomes a hefty one, which, in a way, limits the ease of mobility to a certain extent. However, the model is designed with heavy-duty solid-fill rubber wheels and collapsible handles that improve its portability.
The DuroMax XP12000EH is a highly potent portable generator that you can find in the market.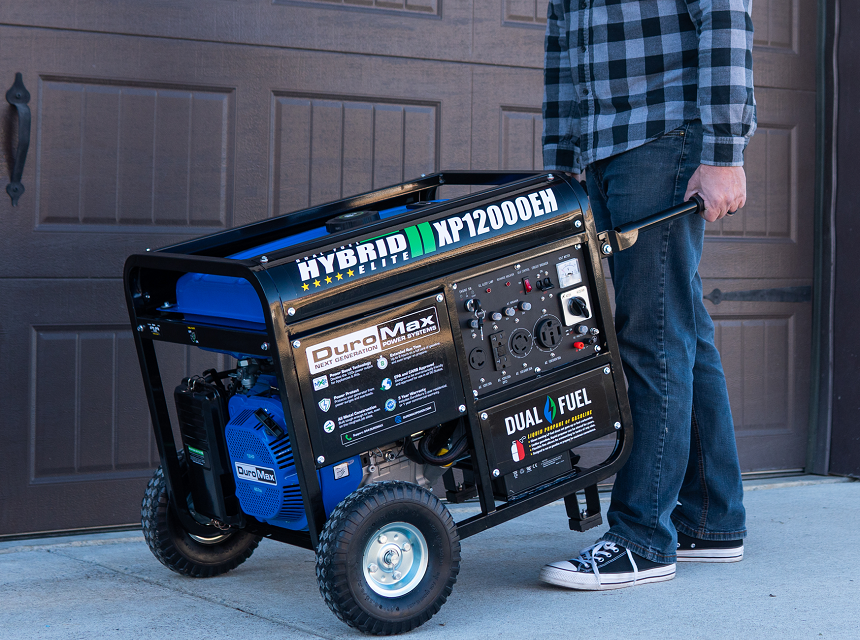 Maintenance and Warranty
This DuroMax hybrid edition beast model is the most effective within the DuroMax product line and doesn't demand very high maintenance. However, for trouble-free, safe, and economical generator operation, good maintenance is vital. Besides the monthly oil change procedure, air cleaning service (when operating in an excessively dusty environment), and the occasional spark plug service, this engine doesn't require much maintenance. Customer reviews confirm that you will have fewer black and oily stains to clean as the storage containers do not emit fumes. Plus, maintaining the unit's fuel efficiency is a cakewalk as the throttle is set on auto-control mode.
California-based renowned company DuroMax stands behind this generator model with a 2-year residential factory warranty and another year of limited commercial warranty, giving their customer base complete peace of mind. So, if at any moment during the warranty period you encounter mechanical troubles, you and well covered by the company. Unlike many of their competitors, users have strong faith in DuroMax products because they manufacture their engines. For additional user assurance, this generator's manufacturers generally offer a standard satisfaction guarantee of 30 days.
Price
DuroMax generators are raved to be available in the most affordable price ranges without compromising quality, functionality and efficiency. Considering the features that the generator offers as a whole, we have compared the beast with Pulsar G12KBN, Ford FG11050PBE, All Power America APGG12000GL, and Westinghouse WGen9500 to see which gives you the best bang for the price.
It isn't easy to find a match for DuroMax generators when considering their hybrid functionalities and powerful output. The All Power America APGG12000GL can still go one on one against XP12000EH in fuel capability and power. Despite both the generators offering a gasoline maximum starting power of 12,000 watts, DuroMax's gets an edge with its additional 500 watts of running power. The difference in average noise level production between them is slight, i.e., APGG12000GL produced 76 dB compared to the 74dB of this DuroMax model. The single notable contrast between them is that the All Power America generator lacks the 120/240 twist-lock outlet feature on the panel present in DuroMax's generator, making it more versatile.
Both Ford FG11050PBE and Pulsar G12KBN feature dual-fuel technology like the DuroMax generator, and they belong to 11,000 watts and 12,000 wat power categories, respectively. DuroMax falls short of the Ford and Pulsar generator in terms of energy efficiency, where Ford runs up to 10 hours on half load and Pulsar up to 12 hours on 50% load. However, Duromax comparably offers sturdier wheels and frame that makes transporting such a heavy-duty machine easier. There is a difference between the outlet combinations on the instrument panel of the three generators.
The DuroMax generator features two 120V 20Amp household outlets, a 120V 30Amp twist lock, 120/240V 30Amp twist lock, and 120/240V 50 Amp heavy-duty outlets each. On the other hand, the competitors have four households 120-volt 20 Amp power outlets, one each heavy-duty 50Amp and twist-lock 30 Amp outlets, but they both lack the 120V 30Amp twist-lock outlet. Despite the differences, all three of them give you the flexibility of operating the engine on either a simple electric start method or using the recoil starter. The Pulsar generator selling below $1000 comes closest in overall comparison.
When choosing the more budget option for yourself, bear in mind that Duromax as a brand is more established and raved among users than the two competitors.
The final comparison between the DuroMax generator and Westinghouse WGen9500 might seem like the clash of titans since they are both popular brands, producing superb-featured heavy-duty portable generators. While they are both almost the same as far as power ratings are concerned, the Westinghouse unit's starting surge power is 500 watts more. Also, with a gap of only 1 decibel on paper, you can hardly differentiate the noise levels produced by both. However, Duromax becomes more cost-effective due to its dual-fuel capabilities, which WGen9500 lacks. Even though much like APGG12000GL, the Westinghouse is shy on one outlet (120V twist-lock) present in DuroMax; the facility of its covered outlets can hugely influence your choice since it is excellent to have for dusty environments.
Overall, DuroMax XP12000EH takes the high ground in its price bracket, but everything ultimately goes down to personal preference.
Key Features
The OHV engine offers up to 12,000 watts of surge power and 9,500 watts of running power.
It features multiple outlets to suit different applications.
Operable in all 50 states due to the CARB and EPA compliance.
An automatic low-oil sensor protects the engine.
MX2 power booster technology allows handling heavy power loads
The Voltmeter helps monitor the voltage and prevent damage to appliances and power tools.
Equipped with surge-arrest to protect the generator unit in cases of power surges.
The individual breakers keep the engine safe.
Dual Fuel Technology comes in handy in times of emergencies.
An oversized muffler reduces noise
Allows flexibility of using either propane gas or gasoline.
The package includes a manual, generator tool kit and generator wheel kit.
PROS

CONS

Highly reliable DuroMax Engine
Massive power output
Multiple safety features
Easy to use
Portable dual-fuel generator
Includes RV-ready outlet
Extended runtime
Excellent price-quality ratio

Hefty Model
Slightly noisy on higher loads
Conclusion
We hope that it must've become clear after reading our DuroMax XP12000EH review that this dual-fuel, portable hybrid generator model has earned its nickname as the 'beast,' as it lives up to all the expectations that it creates. Overall, in conclusion, we'd say that this one's a great choice if you are looking for an affordable yet highly efficient home backup power solution.