Whether you are an avid camper or live somewhere where you don't want power outages to happen, having a generator just makes things easier. You don't have to depend on electricity always to get you going. Plus, it is an amazing multipurpose backup tool that can fire up your entire house or RV during an unexpected power outage. If you're looking for the best product to keep you warm throughout the night, the DuroMax XP4400E stands right at the top. So, is it the right generator your house? Read our DuroMax XP4400E review to find out more.
DuroMax XP4400E is one of the easiest to operate and fuel-efficient generators out there. In our review, we will go through every feature it offers and how you can use it to your benefit. Here is our review, and we hope it helps you make a researched decision.
Specifications
Engine
208cc OHV 4-cycle air-cooled spark-ignition
Starting method
electric, recoil
Fuel tank capacity
3.96 gal.
Run time
11 hours (50% load)
Dimensions
24 x 17 x 17 inches
DuroMax XP4400E Review
The generator has been in the market for a long time and updated regularly, which has made it a preferred choice across the United States. Packed with amazing features and latest technology, DuroMax XP4400E is portable and can be used for a variety of purposes including household, recreational, and work. The generator's brand, DuroMax, has several service centers across the country, so if your model breaks down, you won't have to travel a long distance to repair it.
Overall performance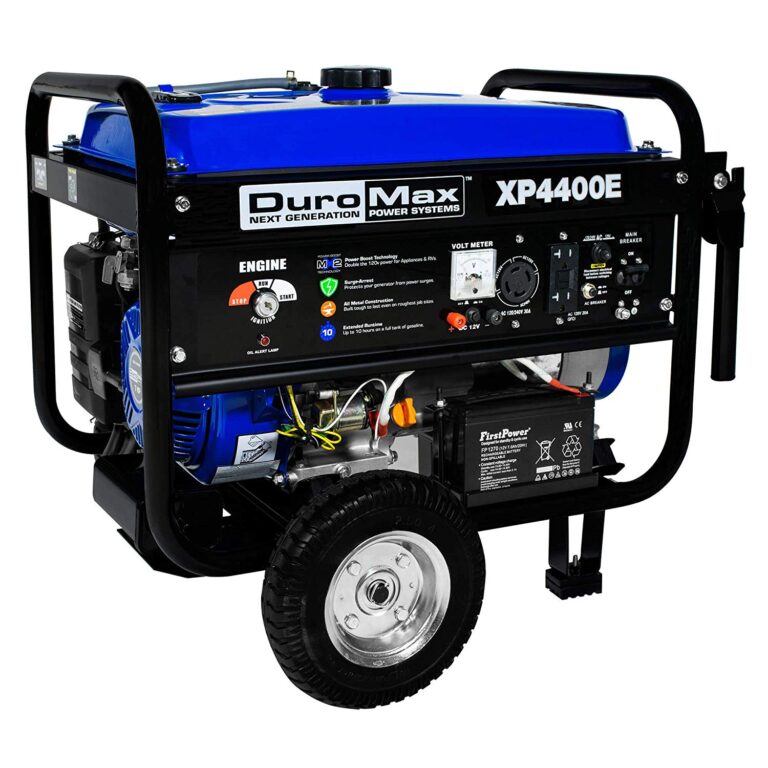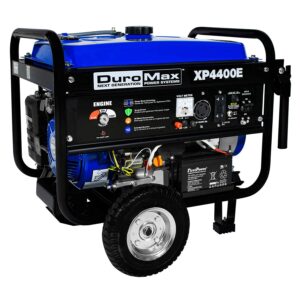 Most generators are difficult to start, especially if you are using it for the first time. You won't experience any complications with DuroMax XP4400E because it just purrs to life on the first try. When you first start it, you will see a tiny puff of black smoke coming out of it but then you have to adjust the choke to full, and it will disappear. The black smoke comes because the choke is shut off Wait for the engine to settle in the surrounding temperature and atmosphere, and you won't ever have to come across the problem again.
When compared with the other $600 price range products, DuroMax XP4400E is the most powerful model in the market. With a starting wattage of 4,400 watts and running wattage of 3,500 watts, the generator can power all major appliances from an air conditioner to a refrigerator in your house. It is primarily manufactured for domestic use, so we recommend you to not use it for commercial purposes.
It is fitted with a 208cc OHV engine that can make effortlessly handle multiple devices at once. DuroMax XP4400E is known for its durability, which combined with its stellar performance, makes it a great choice for home use.
Fuel tank capacity and run time
To say the least, DuroMax XP4400E is packed with power. It has a 4-gallon fuel tank, and at 50 percent load, the generator will run for eight hours without a refill. Since it complies with the rules and regulations of the Environmental Protection Agency and California Air Resources Board, you can use it in the state of California along with other 49 states of the country. It is also eligible to be used inside national parks.
DuroMax XP4400E is not the only environment-friendly generator by the brand, but all others are as well. The tank is protected in a stainless steel glove that prevents rusting and protects the fuel from leakage.
Outlets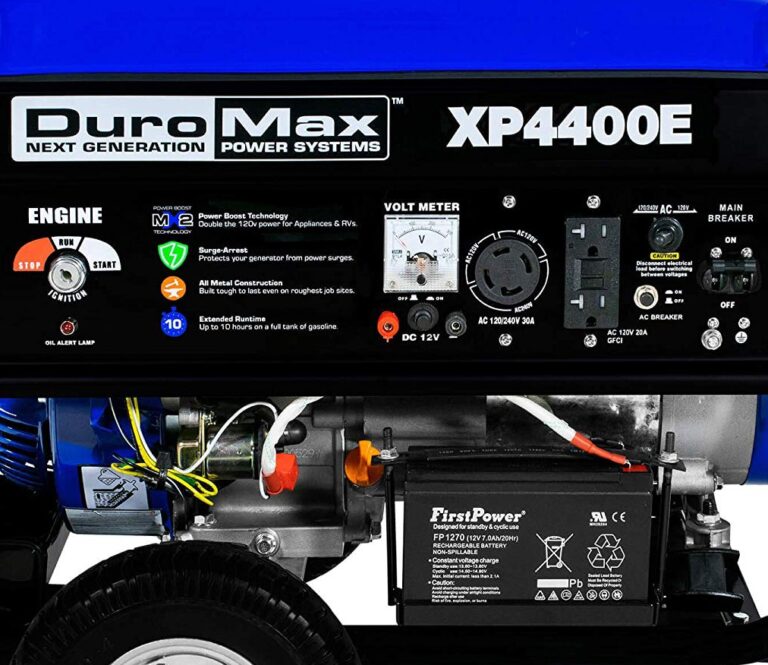 DuroMax XP4400E's power panel offers a wide variety of outlets to run your appliances including two 120V household GFCI outlets and one 120/240V 30A twist lock outlet, along with one 12-volt, 10-amp utility and one 120-volt, 30-amp twist-lock outlet. You can run two full-sized appliances and one small equipment at the same time using the generator. It allows you to directly charge delicate devices, including mobile phones and laptops as well. You will also find a voltmeter on the power control, which you can use to read the load and switch appliances accordingly.
It comes with MX2 Technology, which boosts both the 120-volt receptacle and allows you to simultaneously choose between 120V and 240V or run 120V at full power. This feature comes handy when you use the generator on a camping trip or in an RV.
Portability
The generator's durable and strong all-metal frame is supported by two never-flat wheels and a handle to maneuver it with ease. The wheels don't come assembled, but they are easy to install. You can drag the generator on a rocky surface, and the wheels won't suffer from the slightest damage.
Ease of use
DuroMax XP4400E is not the easiest to handle because it is a bulky device, but the wheels and handle make it comfortable to move around. Other than that, the control panel makes it hassle-free to manage the appliances that you want to run using the generator. It also has a low-oil shut off mechanism, which automatically stops the generator when oil levels fall down. It protects the engine from exhaustion.
You have to periodically change oil, clean the fuel filter cup, and wipe the spark plug for the generator to consume less fuel. You can start it using the electrical start button or recoil, whichever you are comfortable with. We recommend you to use the button because it is designed for your comfort. Also, the recoil can cause serious injury to your shoulder muscles.
This specific model by DuroMax is a reliable choice in forest areas where trees often cause a power outage. You can easily get 200 to 400 hours out of it every year, which is more than enough to go through the night undisturbed.
Key features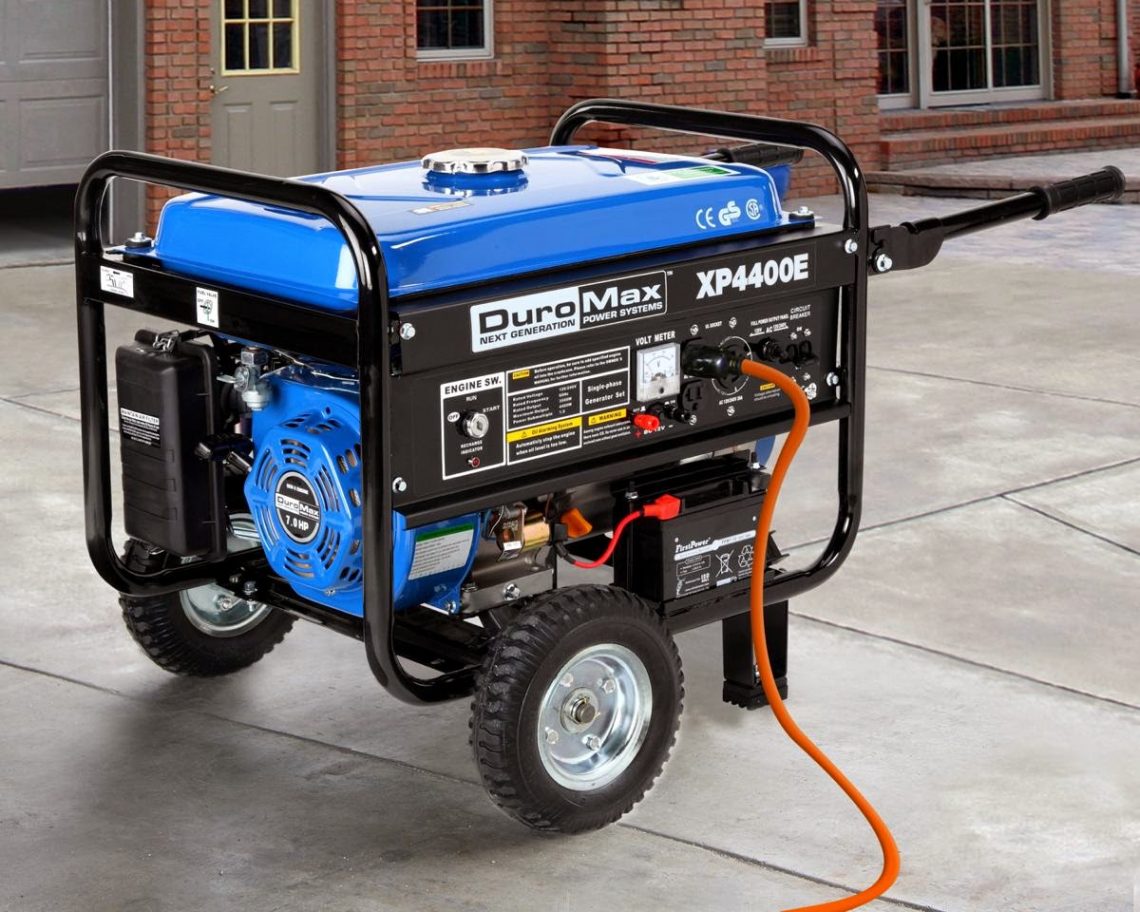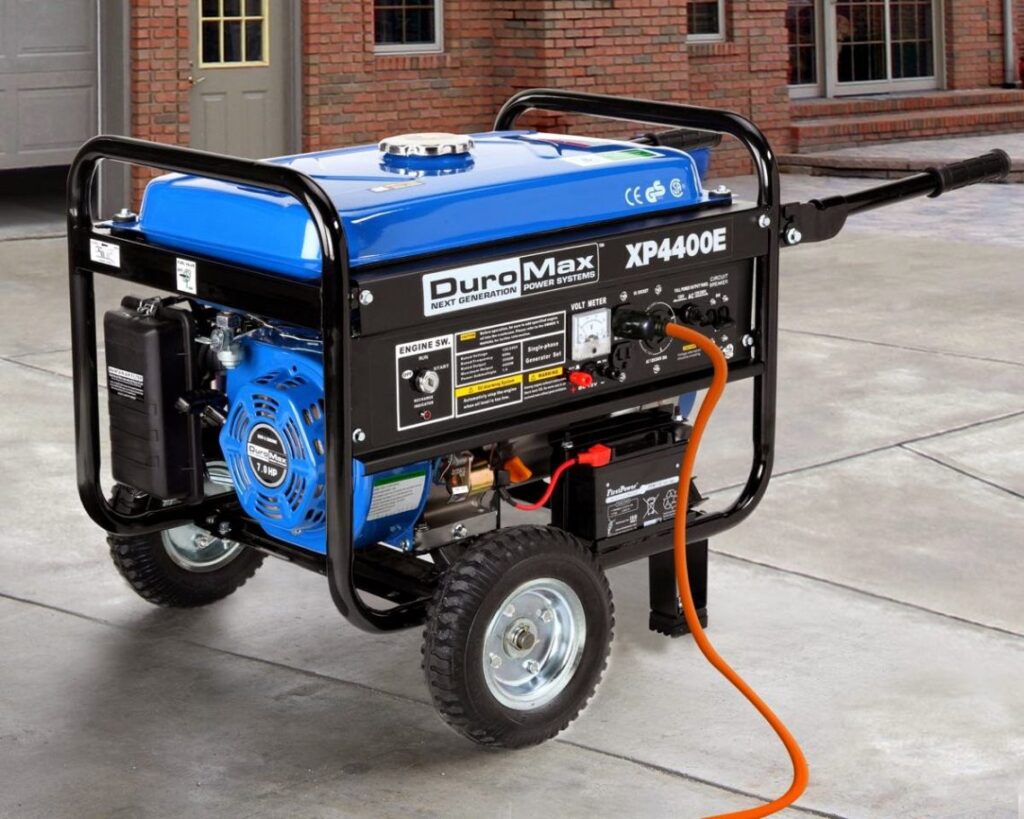 We found a lot of its features attractive. However, there were a few misses, all of which we have mentioned below, along with the key features:
MX2 Technology – Designed to optimize both the 120 Volt Receptacle, this feature enables the engine to handle 120V and 240V currents at the same time. You can also switch to a full 120V using it.
Powerful and durable 7 HP Engine – DuroMax XP4400E comes with the most advanced 208cc OHV engine, which is an expert at managing multiple appliances at one time effortlessly. You can use its power to anything from heavy-duty power tools to full-sized appliances, and the functioning will be just as smooth.
Automatic low oil shut off – One of our most favorite features, low oil shut-off comes handy when you are sleeping in the night. The feature also has an indicator, so you can refill the oil tank if you forgot to do it earlier.
Complies with emission standards – DuroMax XP4400E is EPA and CARB compliant so that you can use it in California and national parks along with the rest of the country. Unfortunately, it isn't CSA certified.
Surge operation – It produces starting wattage of 4,400 watts, which is just the right amount you need to start big appliances.
Long run time – At 50 percent load, the generator runs for eight hours, promising you a comfortable full night's sleep.
Electric start with recoil backup – To make it easy for you, the generator comes with an electric button with a recoil backup. The moment you press the button, it springs into action.
Noise reduction muffler – At 69 dB(A), DuroMax XP4400E isn't the quietest of all the generators, but a simple way to solve the issue is a noise reduction muffler. You get one with the model, and it is easy to use.
Fully functional Power Panel – The panel comes with a voltmeter, three outlets, and multiple 12V DC is charging posts to charge your mobile phone.
Three-year residential warranty – Another huge benefit of DuroMax XP4400E is its three years long residential warranty. You will also receive a 30-day return policy along with it.
PROS
CONS

Three-year warranty from the manufacturer
Long eight hours run time at 50 percent load
CARB and EPA certified
Automation low oil shut-off mechanism
Wheels and handle to move it around easy
Compact in size and a fully stainless steel body

The noisy mechanism at 69 dB(A)
Running wattage of only 3,500 watts
Small fuel tank capacity