If you have been in the market for a new generator, then you have likely stumbled upon the DuroMax XP4850EH model. This generator has been making waves in the market with its innovative Dual Fuel Technology, powerful 7HP engine, and high run times that have made consumers wonder if this model is really the great option it seems to be, or if it is too good to be true.
Being able to tell if a product is a good option can be tough when there are so many reviews online, so we wanted to take the time to do a full, comprehensive DuroMax XP4850EH review to find out if the positive feedback and comments online are correct.
In this article, we will take a closer look at this generator to find out all the different features and various specifications to determine whether this unit is really as powerful and useful as it claims to be. We hope that after reading this review, you will be able to make an informed decision about purchasing this product before ever pulling out your wallet.
This product's also been included into these rankings:
Specifications
Generator type
Conventional
Fuel type
Gasoline, propane
Surge watts
4,850 (gasoline), 4,608 (propane)
Running watts
3,850 (gasoline), 3,658 (propane)
Engine
208cc 4-cycle air-cooled
Starting method
Electric, recoil
Fuel tank capacity
3.96 gal.
Run time
10.42 (gas, 1/2 load), 8.92 (propane, 1/2 load)
Outlets
(2) 120V 20A, (1) 120/240V 30A Twist Lock
Dimensions
24 x 17 x 17 inches
DuroMax XP4850EH review
This DuroMax XP4850EH generator has many great features that make it stand out from the rest of its kind. From the fully featured power panel that offers a selection of outlets for added compatibility to the low oil shut off that automatically shuts off the unit when the oil is too low, this model has got pretty much anything you could want in a residential generator. So, let's check out the different features that this model has to offer.
Performance on gasoline
This DuroMax XP4850EH generator comes equipped with Dual Fuel Technology that allows it to run on either gasoline or propane, giving you a choice of what you would like to use each time you need it. With the use of gasoline, the generator's peak watts come to 4,850 in total with the running watts at 3,850. With the running amps at 120 volts, the output is 32.08, with the peak at 40.42.
With the running amps at 240 volts, the output is 16.04, with the peak at 20.21. This powerful performance beats the propane performance ever so slightly, making this a good choice for running the generator if you are wanting more power at once.
Performance on propane
On propane, this DuroMax XP4840EH generator has the running watts of 3,658 with the peak watts at 4,608. At 120 volts, the running amps are 30.48, with the peak at 38.40. At 240 volts, the running amps are 15.24 with the peak amps at 19.20.
Although the performance is a bit lower with propane than it is with gasoline, many users prefer it because it burns cleaner than gas, which is better for the environment and for the generator as well.
Fuel tank capacity and run time
This DuroMax XP4840EH generator comes with Duel Fuel Technology that allows you to choose between running on either gasoline or propane. So, the fuel tank capacity when running on gasoline is 3.96 gallons. If you are using propane to run the generator instead, then the suggested propane tank size is 20 gallons.
When running the generator on gasoline, the run time at half of a load is 10.42 hours in total. If you choose to use propane instead, then the run time at half of a load will be 8.92 hours. Although both can run for quite a long time, it is important to note that whether you are using the gas or propane to run the generator, you can not run the generator indoors at any time.
It is always recommended to run a generator outdoors. It is safe to run it in the garage, but there must be good ventilation with the garage door – and side door if there is one – left open for airflow. If left indoors, or in the garage without proper ventilation, there is a high risk of carbon monoxide poisoning.
Control panel and outlets
This DuroMax XP4850EH generator comes with a fully featured power panel that has a selection of outlets that allow for maximum compatibility with different applications. The three outlets that it is equipped with are two 120-volt GFCI outlets that can connect with many different household electronics, and a 120 or 240-volt 30A twist-lock outlet that must be turned into place before connecting to give added protection from being pulled out from the plug.
This control panel also comes with a voltmeter so that you can check electrical currents of the generator and the battery, and a 12-volt DC charging posts that you can use to charge external batteries if needed.
Ease of use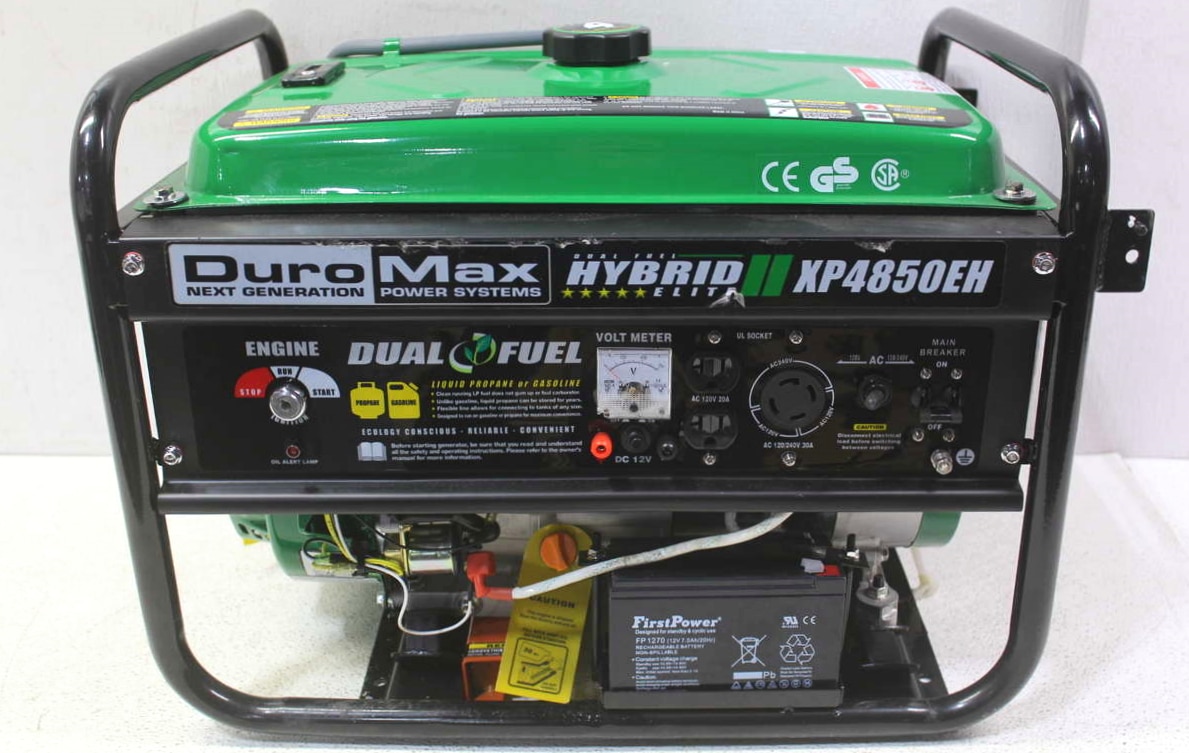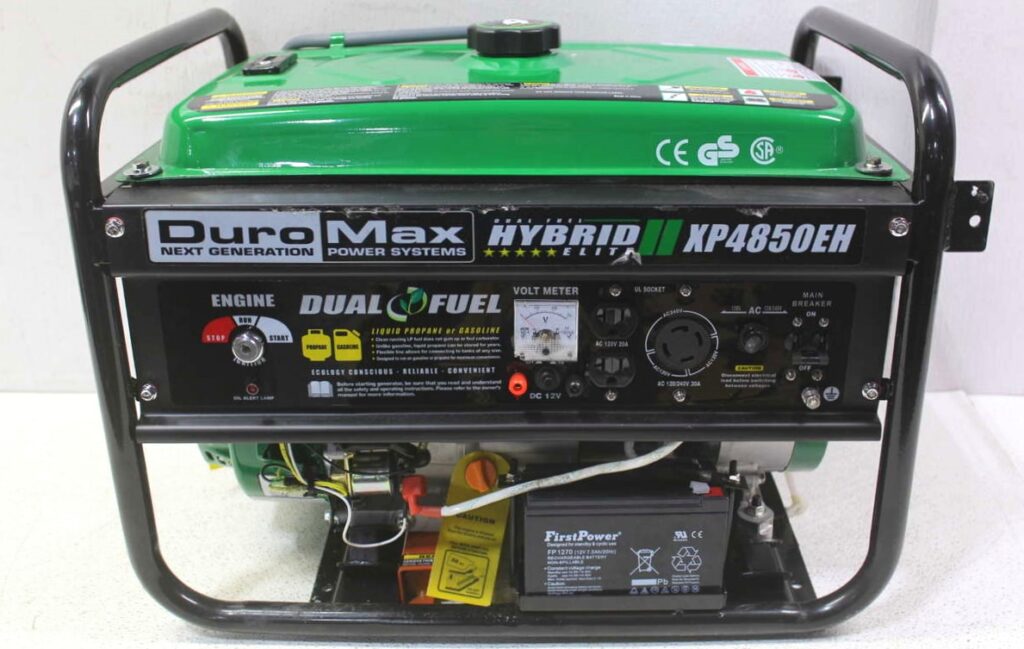 This DuroMax XP4840EH generator is a great option for anyone who has trouble with gasoline-only engines. Gasoline engines can be difficult to pull-start, and it can be especially challenging for those who have physical limitations. You don't want to be struggling in the dark, and with this generator, you won't have to.
The electric start makes it easy to crank the generator and get it up and running in no time, which is necessary in times when the power is not running. Then you can plug in the electronics that you need to keep running until the power turns back on, and you can have long-lasting generator power for up to 8–10 hours depending on which fuel you choose to run on and your power demands.
Safety features
The DuroMax XP4840EH comes with a few safety features that keep you and your whole family safe while this generator is running. The first is the low oil shutoff feature which senses the oil getting low and will automatically turn off the unit. This is important because running your generator until it is out of oil can damage it significantly and could eventually render it unusable.
Having this feature will help to keep your generator working properly, and at optimal rates, for longer. This will also make your purchase more worth the price because it will ensure that your generator runs more smoothly.
The second safety feature is the surge assist protection. This feature helps to keep your generator safe in the event of a power surge so that you will not have to deal with it blowing up on you and not being able to be used again.
Noise level
This XP4850EH generator option has a noise level of 69 dB. This means that the noise level can be compared to the sound of a hairdryer running, or a washing machine being turned on. This noise level is fairly quiet and likely won't be a nuisance.
Although, we will mention again that generators are not meant to run indoors, so you will be unlikely to hear much noise from it because of that fact. However, even if you choose to run the generator outdoors, you may keep doors or windows open that will raise the noise level. Playing moderately loud music would be likely to cover this standard noise level.
Portability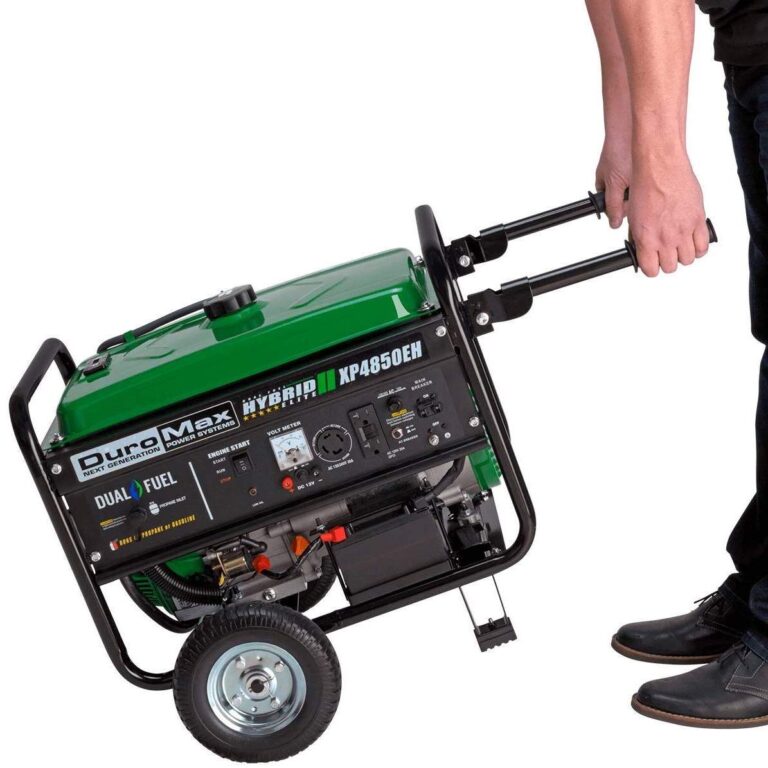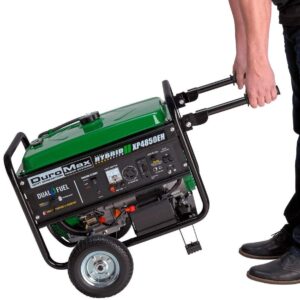 This XP4850EH generator model is highly portable because of its compact nature and lightweight structure. The dimensions of this product are 27 inches by 17 inches, which is fairly small in size compared to other options that are available on the market. This is especially true when taking into account industrial-sized models.
This unit weighs 127 pounds, which may seem like a lot, but the average weight of a residential generator can be between 250 and 300 pounds. So, in comparison, this option weighs much less than the leading competition and makes it easier to move around.
The DuroMax XP4840EH also comes with two wheels on the back end so that it can be easily pushed to wherever you want it, and makes it simple to change the position. There is a flip-up handle attached to the other side of the generator that you can pull up and use to push the unit like a wheel barrel.
Maintenance
Like all machines, there are a few things that you need to keep up with to make sure that your DuroMax XP4850EH generator will continue to run smoothly in the event of a blackout or power outage. So, the first thing that you should do is clean your unit periodically. This means that you should wipe down the unit and ensure that all dirt and dust is removed. You should also check for any leaks at this time so that you can fix them immediately.
You can choose to purchase a full cover for the generator if you want to cut down the amount of time cleaning and dusting, but you will still want to check for leaks periodically. You do not want to wait until you need the generator to check it, or else you may not be able to start it up and use it at all.
Secondly, you should change out the oil in the generator every 50 to 60 hours of use. This will improve the reliability of the oil and keep the generator running clean.
Warranty
The DuroMax XP4840EH comes with a 3-year limited warranty for residential use and does not extend to commercial or unusually heavy-use. This warranty covers all parts in the event of a failure caused by manufacturer defects or a mechanical component malfunction. The warranty is non-transferrable and only covers the original owner of the unit, so it will not be covered if you bought it used.
If you need a replacement part, you will be responsible for covering the full cost of freight for the return of the defective part and the replacement part. The warranty also does not cover the effects of normal wear and tear on the generator due to regular use, and doesn't extend to any accessories or aftermarket parts.
Price
The price of this DuroMax XP4840EH generator is $550 a unit. This price is mid-range in comparison to some of the other leading competitors on the market. Other dual-fuel generators can range from the Champion Duel-Fuel unit that costs $450 apiece to the premium-priced Champion DH Series that costs $600 a unit.
With the DuroMax generator having a mid-range price, it is budget-friendly for many customers who would like a powerful option that won't come with a premium price tag. Also, with the 3-year warranty, the price comes with replacements parts. Although, you will have to cover the costs of shipping even with replacements parts under warranty, so take this into consideration when making your purchase.

Key features
For those who want a quick snapshot of the main features of this DuroMax XP4850EH generator, we have compiled a concise list of the most important points below. This will give you an overview of all that this generator has to offer.
The generator comes with a powerful engine that has a maximum speed of 3,600 RPM.
The Dual Fuel Technology allows you to choose between either gasoline and propane.
The MX2 Technology allows you to choose between running the generator at 12- volt full power, or 120 and 240 simultaneously.
The low oil shut-off will automatically shut off the generator when it senses low oil level.
The Fully Featured Power Panel comes with two 120-volt GFCI outlets and one 120/240-volt twist lock outlet for more compatibility.
The generator complies with both EPA and CARB high emissions standards and are both eco-friendly.
It comes backed by a 3-year limited warranty that covers the replacement and service of broken parts due to manufacturer's defects of electronic malfunction.
PROS
CONS

A budget-friendly option for families
Easy to use with a simple start-up
Wide compatibility for use with multiple electronics
Long-lasting power for up to 10 hours
Low maintenance needed for proper upkeep
Dual fuel technology allows for more choice and versatility
Equipped with safety features that ensure safe use
Comes with a 3-year limited warranty for all parts

Warranty does not cover normal wear and tear costs of maintenance
You are responsible for paying for freight costs even for replacement parts under warranty
Checking and filling the oil may be difficult for some due to it being hard to reach
The tires may not be nearly as durable as the rest of the unit
Customer service is known for not being top-notch
About DuroMax
The Duramax company has been around for years and is dedicated to offering power options to those who need it. Whether you are looking for an air-conditioning unit or generator for your home, table saws and sanders for your construction job site, or you are looking for outdoor camping gear, you can find all you need on the DuraMax website.
The mission of the DuraMax brand is to provide power option products that focus on reliability, quality, and durability so that you and your family, or co-workers, have what you need to power through the job at hand. They believe that providing dependable power whenever you need it can help give you peace of mind and allow you to feel safe and secure even in a power outage.
DuraMax offers generators focus on high-quality portable power so that they are easy to transport and position so you can get back to what you were doing even with the power going off.
The DuraMax brand has also been one of the company's who has taken the lead on working to create cleaner-burning products that have less of a negative impact on the environment. Many Duramax products aim to be eco-friendly and help to reduce your ecological footprint while using power. With generators that offer a choice of gasoline, or cleaner burning propane, the impact is smaller even when you need extra power.
All DuraMax products are up to the highest ecological standards by meeting the EPA (Environmental Protection Agency) and CARB (California Air Resources Board) standards, which makes their products better and safer for the environment. This means that you can use their products knowing that you are not causing a large impact.