Every household needs a backup generator, not just in preparedness for the unknown. A generator can come in handy during routine garden maintenance, during summer camping, or for construction workers. Then, in this case, just any generator wouldn't do. One of the best all-around portable generators is the DuroStar DS13000EH. This versatile generator is a workhorse conventional generator that makes use of two types of fuel. But how efficient is it as a portable power generator? In this DuroStar DS13000EH review, we will be taking a look at the machine and everything it offers.
Specifications
Generator type
Conventional, dual-fuel
Fuel type
Gasoline, propane
Surge watts (gasoline)
13,000W
Surge watts (propane)
12,350W
Running watts (gasoline)
10,500W
Running watts (propane)
9,975W
AC voltage
120V / 240VAC and 12VDC
Engine
500cc 3,600 RPM 4-cycle air-cooled spark-ignition
Starting method
Electric, recoil
Fuel tank capacity
8.3 gal.
Run time
8.6 hours (gasoline), 6.5 hours (propane) @ 25% load
Outlets
(2) 120v household GFCI outlets, (1) 120v 30A twist-lock, (1) 240v 30A, (1) 240v 50A, (1) 12V automotive
Dimensions
29 (L) x 30 (W) x 26 (H) inches
Warranty
3-year limited (residential), 1-year limited (commercial)
DuroStar DS13000EH Review
The portable generator is advertised as a home backup and RV-ready model. But does it live to its name? In this review, we will see whether it lives to expectation.
Overall Performance and Versatility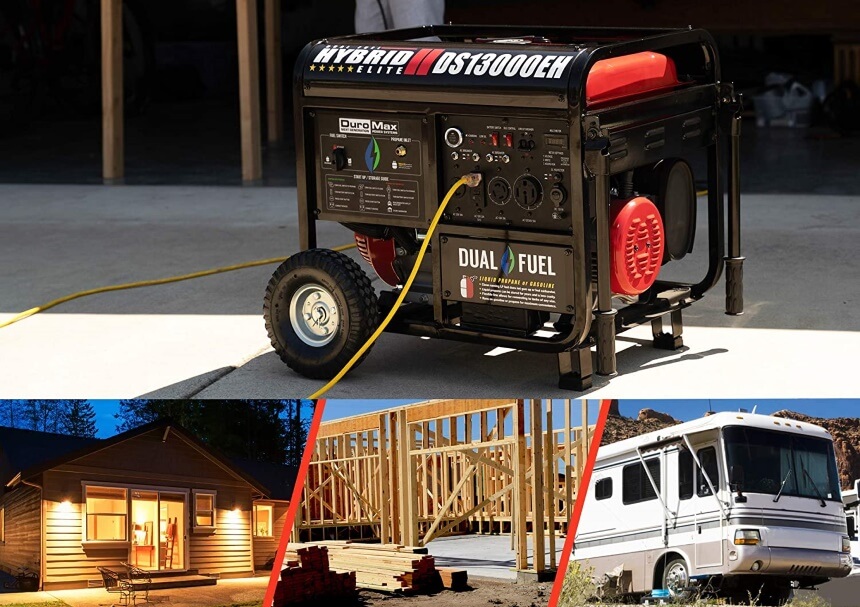 The Durostar product is truly a dual fuel generator that makes use of either gasoline or propane. It's a super-powerful generator that can power almost all types of electrical appliances at home, from a 5-ton air conditioner to the heaters, TVs, among others.
The secret to its immense power generation is the 500cc overhead valve engine that delivers a lot of power for handling multiple jobs. It can power high voltage electrical appliances to really heavy-duty tools used in construction sites.
The engine of the machine delivers plenty of power. It produces a peak or starting power of 13000 watts. And while it's stabilized, the power generation will go steady at 10500 watts. Therefore, it can handle all your lights, a refrigerator, a powerful home air conditioner as well as other power tools with high amperage, which makes it a very versatile dual fuel generator.
One of the features of the generator which ensures its good value for money is the idle control. This serves to lower the generator's revolutions. Hence, unlike most conventional generators which waste fuel when you're running under 50 percent of load, you will be able to save fuel while reducing noise by putting it in idle control.
The generator is suitable for job sites where you would need an intermittent power supply.
The generator is a bit louder than normal, considering that it's an open-frame conventional generator that produces up to 13,000 watts. However, it complies with emission standards and is available for sale, purchase, and use in all 50 states of the United States. The generator is both approved by the Environmental Protection Agency (EPA) and the California Air Resources Board (CARB). It's not just good for your family's health but beneficial to the planet.
Fuel Tank Capacity and Run Time
The DuroStar DS13000EH is a big-sized generator that has a fuel tank capacity of 8.3 gallons. We already mentioned that the generator uses two types of fuel: propane and gasoline. However, when running at around 25 percent of the load on propane, you'll be able to run the generator for about 6.5 hours.  When running at around 25 percent of load on gasoline, you'll be able to run the generator for about 8.6 hours. Propane offers the benefit of being generally less expensive while gasoline will run for a longer time.
Many users liked that this runs on dual fuel as this can come in handy for RV use when camping in a place with scarce resources.
Whether it's gasoline or propane that is accessible to you, you can always be rest assured of power generation. If you decide to run the generator on propane, all you need is a full tank and a propane hose.
Control Panel and Outlets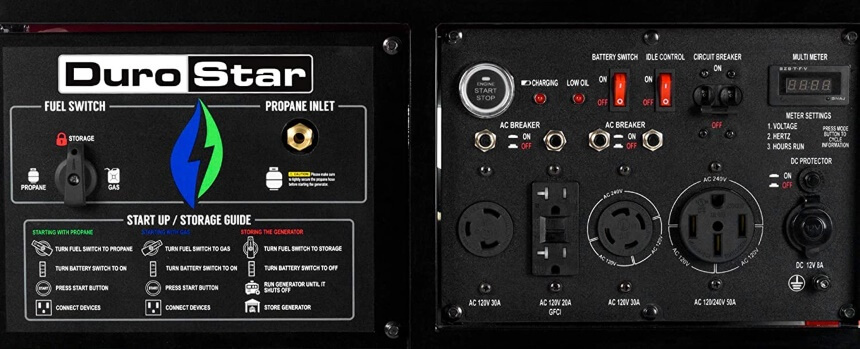 The generator features a power panel that includes all basic outlets for safety reasons and functional uses. The outlets here include two 120 volt household ground fault circuit interrupter (GFCI) outlets. There is also a 120-volt 30-ampere twist-lock outlet, one 240 volts 30 amp outlet, and one 240 volts 50 amps outlet. There is also a 12-volt automotive outlet as well as a panel that features one digital voltmeter that monitors all the voltage outputs.
Ease of Use
The generator is generally easy to use in terms of transportability, starting, and maintenance. It's a pretty heavy generator that weighs up to 236 lbs. Looking at it, that may be really heavy. However, Durostar has made this to be really easy to use in terms of portability. The generating set is equipped with a set of large wheels as well as a set of two handles that make it easy to move the generator to the point of use.
Also, starting it is a breeze. It features the traditional starting recoil technology which involves a rope. If this is too much of an effort for you, there is the electric starter which involves just the push of a button, as long as the battery remains charged.
Safety Features
The Durostar model also includes some features which ensure the safety of the users, generator, as well as your appliances. The power panel has multiple outlets that include two 120 volt household outlets that are protected by GFCI. These can protect the users from electric shock Trusted Source Honda Adds GFCI Feature to Additional Generator Models Honda Power Equipment announced today that it has added ground fault circuit interrupter (GFCI) technology to three of its most popular generator models for commercial, rental and residential applications. hondanews.com as they shut down the power circuit when they detect that power is flowing through an unintended path.
Noise Level
The Durostar model is not a quiet generator. It produces a noise rate of 74 decibels, which can be a bit high, compared with other portable generators. However, it's a conventional generator with an open frame design that cannot trap or insulate noise. Still, the idle control should help reduce the high noise by reducing the engine revolutions and therefore the noise. So, if you're not running a lot of appliances, the feature can help reduce noise.
Portability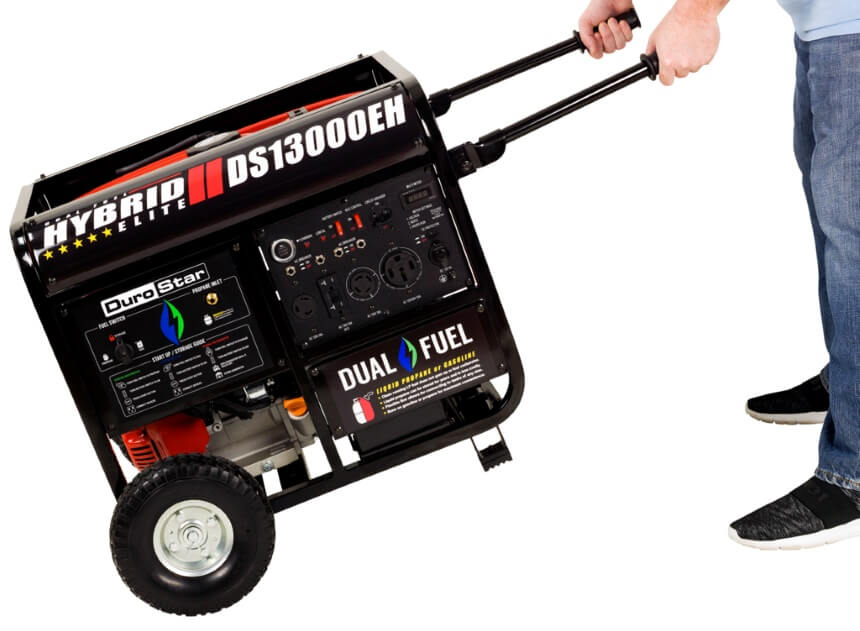 This is not a compact generator nor a lightweight one. It has a dimension that measures 29 inches in length, 30 inches in width, and 26 inches in height. However, it weighs about 236 lbs (or 107 kilograms), which can worry a lot of users who don't intend to use it in a fixed place. Nonetheless, the included wheels and handle beings a lot of portability.
Maintenance and Warranty
There is nothing much required as far as maintenance is required. The generator's wheels require no maintenance. All you just need to do is make regular oil changes and drain the tank during winter.
The product comes with three years of warranty for residential use as well as one year of warranty for commercial use.
Price
As of the time of writing, the Durostar generator is sold for less than $1,500 on Mac Tool, Amazon, Generator Factory Outlet, Electric Generator Depot, and Factory Authorized Outlet. That's a lot of money but for the power it offers, you can't argue for a lesser price.
Key Features
Some of the key features in the DuroStar DS13000EH are highlighted below:
13,000 watts of peak power: The generator comes with a lot of power, reaching 13,000 watts in peak power generation and stabilizing at 10,500 watts. It can therefore handle high voltage devices such as air conditioners, heaters, and work tools.
Propane and gasoline-fueled generator: The model runs with dual-fuel technology, which means you should be fine with gasoline or propane, whichever is available.
Fuel switch: On the front of the machine, you can control the fuel used by just using the switch. Here, you can set your propane or gasoline to run gas out into the carburetor.
Idle control feature: For reduced speed and noise, you can lower the generator's power by reducing the revolutions of the engine, therefore, saving you fuel use. This is therefore handy for use in job sites where you only need intermittent power.
PROS
CONS

Compliant with CARB and EPA
Can be used in all 50 states of the USA
Features GFCI outlets for safety
Shuts off automatically after sensing low oil level
Very powerful
Ideal for home, construction, and RV use

Quite heavy
Price is steep
Conclusion
The Durostar generator is an ideal backup generator for use to power your home, in the RV, or job site where powerful tools are used, but intermittently. The product comes at a relatively high price but this is a piece of rugged all-metal power equipment that comes with an assurance of reliability with a three-year maximum warranty. Overall, it's recommendable and the feeling among users about this machine is quite positive.
References
1.
Honda Adds GFCI Feature to Additional Generator Models
Honda Power Equipment announced today that it has added ground fault circuit interrupter (GFCI) technology to three of its most popular generator models for commercial, rental and residential applications.