Having a backup plan when the electricity goes out prepares you for the worst storms and snowfalls. You can keep the refrigerator, air conditioner or heater, and phones and laptops running and make the situation as comfortable as possible for your family. When it comes to finding an affordable and efficient generator, there's no better than DuroStar DS4000S – confused whether it is the right choice for your family or not? Our DuroStar DS4000S review is here to help you out.
Fitted with a gas-powered, and air-cooled 7hp engine, the generator is known for its durability and quiet operation. It comes with a number of sophisticated features including circuit breaker, low oil shut off, surge arrest, low oil warning, and voltage meter, all of which make operating it easy and hassle-free.
In our DuroStar DS4000S review, we cover all important features of the generator, including its overall performance, fuel and fuel tank capacity, portability, and ease of use, among others. DuroStar DS4000S is versatile and perfect for emergencies. But how beneficial is it in the long run? Let's find out.
This product's also been included into these rankings:
Specifications
Engine
DuroStar 208cc OHV 4-stroke single cylinder
Fuel tank capacity
3.96 gal.
Run time
12.3 hours (50% load)
Dimensions
24 x 17 x 17 inches
DuroStar DS4000S Review
With its rugged design, easy-to-use features, and reliability, DuroStar DS4000S is a preferred choice among off-grid campers, RV users, and median homes for emergency purposes, especially when taking into account the fact, that it is also considered to be one of the best generators under $500 and 4000-Watt generators. We don't recommend it for commercial use because it is a small generator and might not be able to bear the load. Its four-gallon fuel tank can power two big appliances, one small appliance, and a few light bulbs simultaneously for eight to ten hours before requiring a fuel refill.
Let's take a look at different features that DuroStar DS4000S has and whether they suit your needs or not.
Overall performance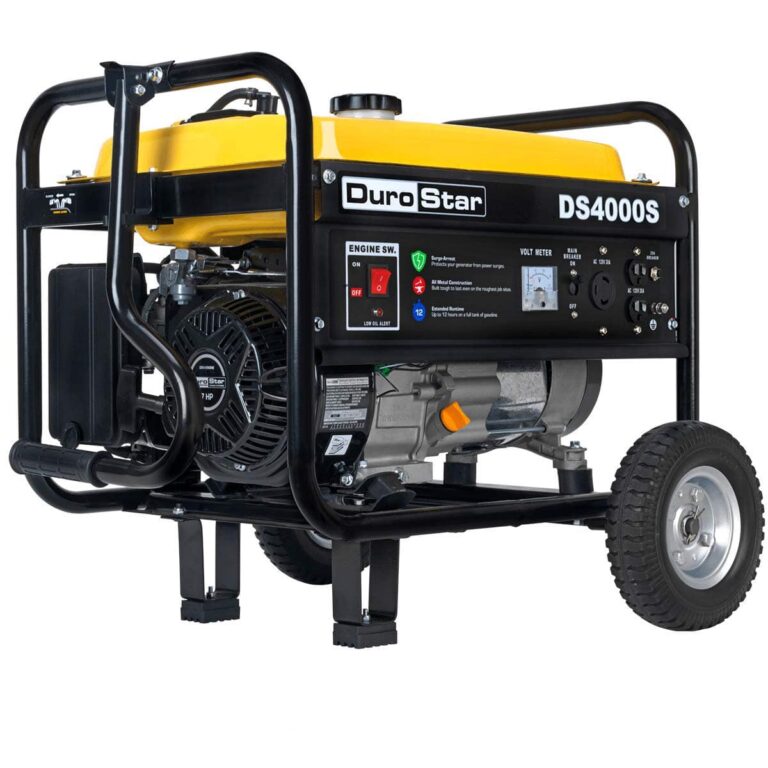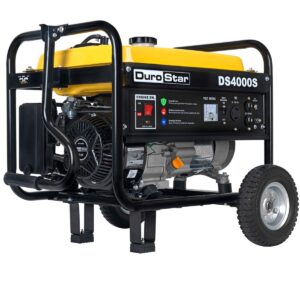 DuroStar DS4000S has a 7hp, 208cc OHV engine that produces a surge wattage of 4,000 watts, which is just the perfect amount you need to start big appliances like refrigerator, air conditioner, washing machine, and central heater. It generates 3,300 running watts, which is enough to keep all these appliances run smoothly for an extended period.
Measuring at 23 x 18 x 17.5 inches, DuroStar DS4000S weighs only 92 pounds, which makes it easy to carry around. Unfortunately, wheels aren't included in the purchase, and you have to purchase them separately from the manufacturer. Installation is super easy and won't take you more than 10 minutes. The wheels are never-go-flat tires, so once you assemble them, you won't ever have to worry about pumping air into them.
The motor is isolated on a mounted area inside the heavy duty metal frame, which plays an instrumental role in reducing noise levels. It might be the most silent small generator we have tested until now, and we aren't complaining. It sounds like using a lawn mower inside a closed room with a silencer. We weren't sure how durable it would be since it is a China import, but the generator stays true to its promise.
One of the things that we didn't like about this generator was that needs an oil change every 20 hours. It makes the generator a little inconvenient to use, but you can easily avoid the situation by stocking up on oil cans. Also, draining the used oil is slightly complicated because the drain spout is situated underneath the frame. You might need another person's help to lift the generator from one end, and then you can drain the oil.
The generator comes packaged poor, which increases the chances of it getting damaged during shipping. One simple way to avoid this is by asking the manufacturer to pack extra packing.
Fuel tank capacity and run time

DuroStar DS4000S has a fuel tank capacity of four gallons and runs for 12 hours at 50 percent load, which is quite impressive because you get a peaceful night's sleep without having to refill the tank. At 25 percent load, expect the generator to run for at least 18 to 20 hours. Several customers highlighted its fuel efficiency. Some customers also mentioned that if they limited the number of appliances to two big and one small, the generator lasted for almost 14 hours.
There's a fuel gauge located next to the fuel tank, which you can use to check the fuel capacity and prevent the engine from exhaustion and overheating. When compared with other similar generators, DuroStar DS4000S is not only the cheapest but also the most fuel-efficient model you can find in the market. Champion 3500-Watt RV Ready Portable Generator, which is $80 more expensive at $351, offers the same fuel capacity and run-time. It doesn't make sense to purchase something more expensive when you get the same features with DuroStar DS4000S.
We also compared it against the premium products in the same wattage range. The two models we compared against include Champion 3800-Watt Dual Fuel Generator and DUAL FUEL XP4850EH and still preferred to use DuroStar DS4000S. The first model has a run time of only nine hours at 50 percent load, while the second model runs for eight hours at 50 percent load.
Outlets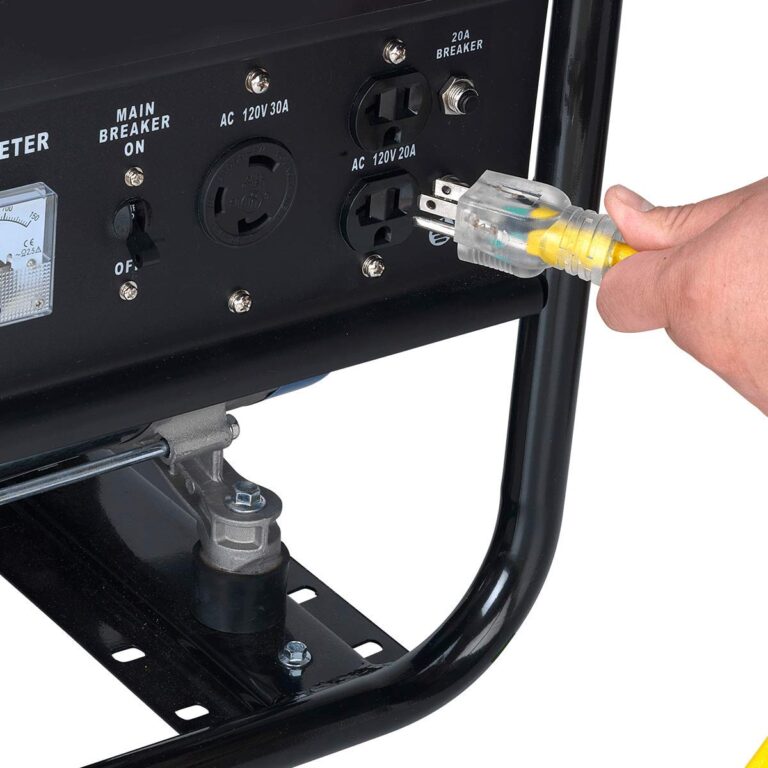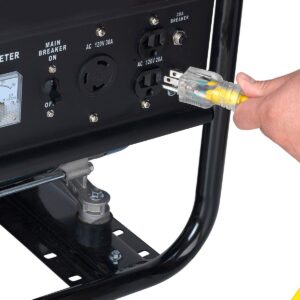 Since DuroStar DS4000S is equipped to run two large and one small appliance at the same time, it has three outlets to get the job done. These outlets include one 120V 30 amp AC outlet and two 120V 20 amp AC outlets.
If you are planning to use the generator in your RV, you will have to use an adaptor to use the 30 amp receptacle. Other than these, you will also find a voltmeter and 12V DC charging ports for charging your phones and batteries. We also liked the arrangement on the power panel.
Portability
DuroStar DS4000S is lightweight but not quite portable because it doesn't have wheels. There's not a lot you can ask for the price, but it would have been a great deal if the wheels were included in the package. If you go camping regularly or want to fit it in an RV, you will need to purchase the wheels separately and install them. You can carry the generator by holding its strong steel frame. You will need two people to carry it around, so it isn't the best portable generator out there.
Ease of use
Despite not having an electric start, DuroStar DS4000S is quite easy to use. It has a recoil pull starter which doesn't impact your shoulder or back muscles in any way. The starter has a start switch and display hub to check if the generator is working or not.
There are many other features, including low oil shut off and fuel level indicator, which reduces the guesswork and makes the generator easy to use.
The generator is the Environmental Protection Agency approved and California Air Resources Board certified, making it safe to use in California along with other 49 states of the United States. Unfortunately, it isn't CSA certified.
Warranty
The warranty policy isn't the best and is something that might make you rethink your decision of purchasing it. Only one year of manufacturer's warranty is a downside, especially if you don't use it regularly. If you are going to get good use out of it or planning to use it only for a limited period, DuroStar DS4000S is the best generator for you.
Key features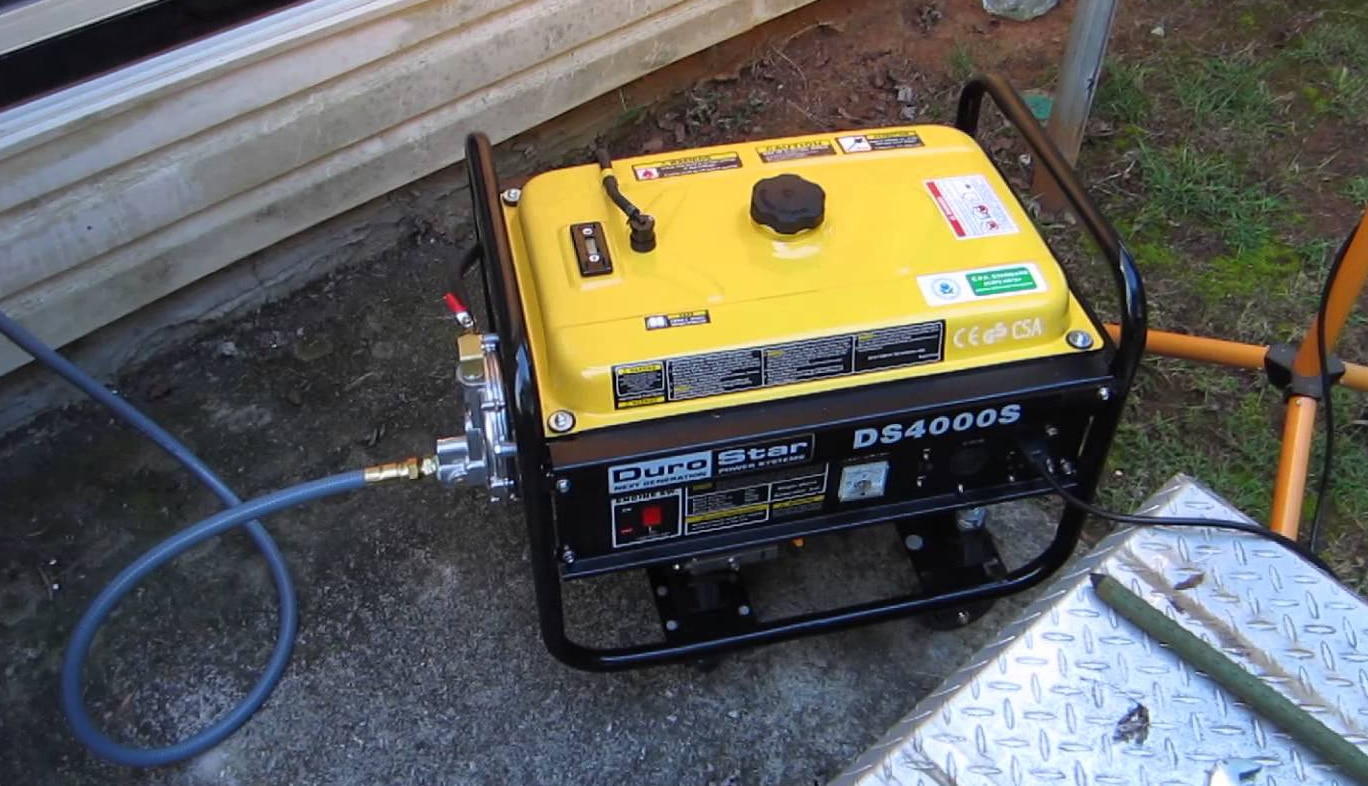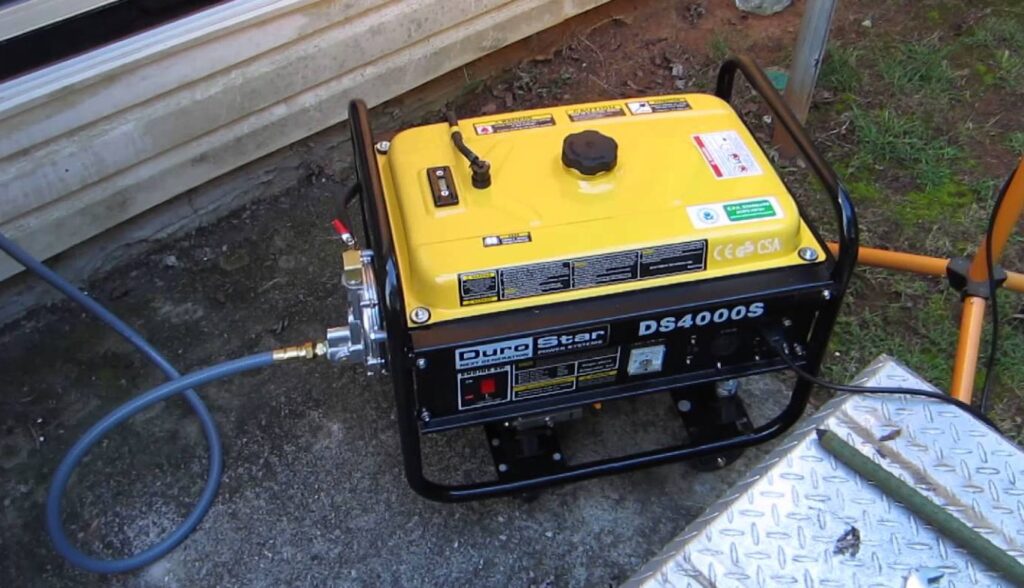 Let's take a look at the most impressive features of DuroStar DS4000S:
Automatic low oil shut off – When the oil level drops, the generator will automatically stop working. The safety features protect the engine and motor from overheating. DuroStar DS4000S has a 20-hour oil cycle, which means you have to change oil every 20 hours of use.
Superior 7hp engine – The DuroMax 208cc OHV engine is the best engine to fire up your house during a blackout. It has a starting wattage of 4,000 watts and running wattage of 3,300 watts, which is the perfect amount of surge power you need to start big high voltage appliances.
Designed for RV use – DuroStar DS4000S is compact in size, making it an ideal choice for RV use or camping. Make sure to use a 30 amp receptacle to prepare the generator for RV use.
Environment-friendly – The generator has received all important certifications and approvals, including CARB compliance and EPA approval. They allow you to use the generator in California.
Fuel gauge – This feature allows you to check the fuel level in the fuel tank without needing to open it again and again.
Voltage meter – With the voltage meter, you can easily check the power output of the generator.
Built-in spark arrestor – It protects the generator and its surroundings from dangerous sparks that can cause a fire. This feature enables you to use the generator in national parks, while camping or in a cabin.
Durable steel frame – The solid steel frame protects the engine and fuel tank from damage and also acts as a handle to lift the generator for carrying it around.
PROS
CONS

Runs for 12 hours at 50 percent load
Low oil indicator and automatic shut off
Fuel gauge to check fuel level
One of the quietest 4,000 watt generators
Compact and RV ready
Built-in spark arrestor for protection from dangerous sparks
Power panel has three outlets along with multiple charging ports
The heavy-duty steel construction makes it durable
EPA and CARB compliant
Perfect for residential use

No wheels included in the package
Only one-year manufacturer's warranty
Not recommended for demanding electrical or commercial work