Power outages are experienced in different parts of the world for many reasons. When this happens, for some people, it can be really frustrating waiting for the problem to be fixed. How long would you have to wait to be connected to the power supply again when you can easily get a backup power like the Generac GP1200i.
In our Generac GP1200i review, we will be looking at the benefits of getting this portable inverter for your home.
There are many options for portable generators, but only a few are noiseless and comfortable to have around. The Generac GP1200i portable generator will come in handy during emergencies. It is recommended for tailgating, camping, and recreational purposes. This small generator will serve as a good backup when you need a power supply urgently. Let us look at some of the fantastic features that speak for this generator.
Specifications
Engine
54cc single-cylinder 4-stroke
Fuel tank capacity
0.8 gal.
Run time
5.5 hours at 50% load
Outlets
120V 20A receptacle; 1 AMP USB port; 2.1 Amp USB port
Dimensions
18.5 x 10.2 x 15.7 lbs
Warranty
3-year limited (residential), 1-year limited (commercial)
Generac GP1200i Review
This Generac portable generator is one of the best you can get on the market. It is recommended for everyone and has gathered lots of positive reviews from users. The Generac GP1200i comes with a lot of features, and we will be looking at the essential ones in this review.
Overall Performance and Versatility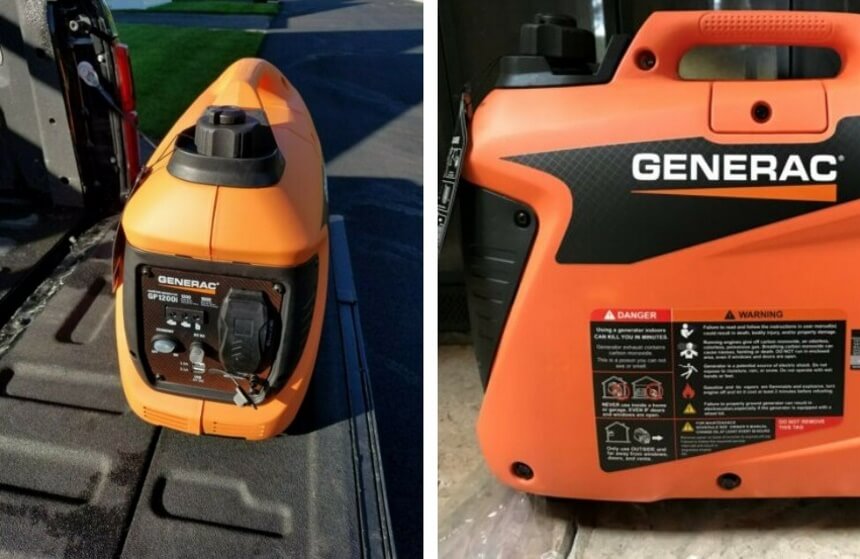 The Generac GP1200i is a small quiet generator that you can use without disturbing the people around you. If you want a regular and stable power supply during a power outage, you can trust this generator's excellent performance. Overall it is worth getting this equipment because of its lightweight design, which makes it versatile. You can use it anywhere and take it out to complete your jobs. It may not be a heavy-duty generator, but still, it comes in handy to give a clean power supply. In terms of efficiency, the generator is fuel-efficient and will save your fuel consumption. Its economy mode is designed to provide stable power and low noise combined with low fuel usage.
Considering how affordable this generator is, you should know that you can hardly find a portable inverter generator coming at this eye-catching price.
Fuel Tank Capacity and Run Time
The generator unit can hold enough fuel as its construction comes in a 0.8-gallon fuel tank capacity. Furthermore, the generator delivers an output of 1200 watts Trusted Source 1200 Watts to Volts | 1200 Watts in Volts | How many Volts in 1200 Watts 1200 Watts to Volts: Here's all about the 1200 watt to volt conversion, including the formulas for DC and AC circuits, examples, as well as a calculator. voltstowatts.com with enough gas to run for up to 5.5 hours. On economy mode, the generator can provide excellent fuel management while at the same time still noiseless. The generator runs at 50% load and will work with most of your home appliances. If there is any sign of overload, it immediately notifies you of this through its light alerts. We recommend this generator for camping, fishing, and hunting trips where you need to stay connected to a power supply. Considering what you will find within this range in the market, getting this generator is a good deal.
This generator will help you preserve your food in the freezer and provide you with light so you are not left in the dark. The run time is sufficient. This efficient generator can run for days, although it is advisable to give it some rest to avoid overheating. It uses gasoline which you can always top up when you are running low on fuel.
Control Panel and Outlets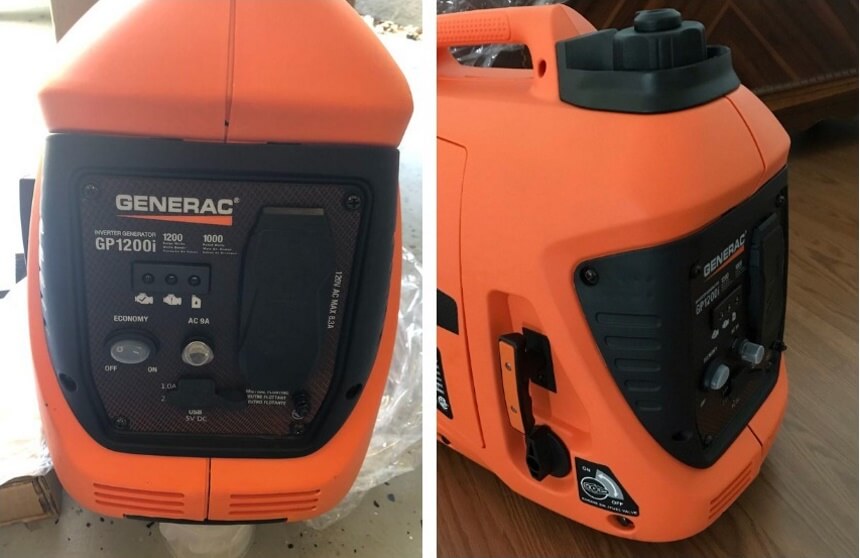 The Generac GP1200i generator comes with a standard control panel which makes it easy to locate and operate. On its control panel, you will find three status lights indicating when the fuel is low or needs more engine oil. The LED alerts will also come on when there is power overload and also show its indicator when it is ready to be used. When the oil level is low, the engine would automatically shut down until you top it up. The functions are easy to identify, and if you are having any difficulty operating the generator, you can always refer to the manual. Generac has responsive customer service, and you can always reach them in case you have any inquiries.
Ease of Use
Another thing you will like about this portable generator is that it is easy to use. Although the manufacturer already included a manual to help users through the process of operating this generator, still everything is designed to make it look easy. You can easily identify the battery, where to turn it on, and it won't be difficult changing or topping the engine oil. The indicator also makes it easy for you to know when the generator needs more gas, and so you can use it without any issues.
Safety Features
One of the things people need to know when using generators is its safety precautions. The good part about the Generac GP1200i generator is that it is safe to use. The company already indicated the type of fuel needed to run the generator. It uses gasoline, and no other fuel type should be used in its place. Also, the LED indicators notify you when there is power overload, low oil, and other issues that might require your attention.
The outlets of this generator are properly covered to ensure that you stay safe.
Noise Level
Although Generac does not publish its decibel rating, however, it is one of the best low noise generators you can get. We can say that the engine is quiet enough and runs at the same level of normal conversation. The noiseless feature is one of the perks of having this generator. Your neighbors won't be at your door complaining because it does not disturb the environment as most gasoline generators do.
Portability

The GP1200i inverter generator is not only lightweight but also compact. When you weigh the generator without any fuel in it, it is just 33lbs. The compact design makes it easy to take this generator out in your car. You can use it, especially if you don't have a lot of space to spare for a large size generator. Even when you place the generator in your trunk, you still have a lot of space to keep your other items, and the weight won't pull your car down. You can also store the generator in a good place when not in use, and it won't take up any space in your home.
Maintenance and Warranty
One of the things that make this generator stand out is the ease of maintenance. The Generac GP1200i generator won't give any issues, and it is easy to maintain it without calling a professional. The basic maintenance will be changing the oil or adding more oil and topping up the gas. This is easy to do and the instruction manual points you in the right direction making the job easy. The manufacturer has a 3-year limited warranty for people using the generator for residential purposes. However, for commercial use, it will be limited to a 1-year warranty. The generator, however, is very durable and will last. This Generac generator is made with quality materials and will provide stable power when you need it.
Price
This generator is one of the most affordable and portable units within its range. Especially for a gas-powered generator, the Generac GP1200i comes at a great price. If you are on a budget and need a small generator as backup or camping, we recommend this portable generator. You won't be breaking a bank to get it, unlike the high-ranged options.
Key Features
Compact size with an easy-to-carry handle.
The generator comes with covered outlets for protection.
Noiseless design and excellent power capacity.
LED alerts for overload, low and general use.
Equipped with economy mode for fuel efficiency.
PROS
CONS

The efficient and portable generator
It's very quiet and lightweight to use anywhere.
Affordable and gives users value for money.
Easy to use with LED alerts

 

Some users experienced leakages
Conclusion
If you have been looking for a portable generator to buy, we hope that you find this one meeting your needs. The Generac GP1200i is a high-quality generator and can serve many purposes. You can use it at home as a backup power supply, take it for camping trips or your hunting trips. Hopefully, we have covered all of its many features in our Generac GP1200i review.
One of the perks of getting portable generators like this Generac generator is that it comes in handy when you need to use power anywhere. The generator is affordable, and that is one of the reasons why many people use it today. You can have it running without disturbing your neighbors. If you haven't already got it, we recommend you get the Generac GP1200i.
References
1.
1200 Watts to Volts | 1200 Watts in Volts | How many Volts in 1200 Watts
1200 Watts to Volts: Here's all about the 1200 watt to volt conversion, including the formulas for DC and AC circuits, examples, as well as a calculator.