Power outages tend to occur all of a sudden, without prior notice. If you have an automatic home standby generator already installed, there is nothing to worry. However, if not, owning a heavy-duty portable generator can be a lifesaver in such situations when you are in immediate need of a power backup solution. The Generac GP15000E portable generator can do you good in such emergencies. Generac generators have been around for long, and this model is one of their high-quality, robust units, making it an easy favourite among commercial and residential users alike. In this Generac GP15000E review we will be getting down to this generator's nitty-gritty and see what separates it from the competition.
Before moving forward, let's look at a quick outline for why this model is unique. Compared to its impressive power delivery of 15000 watts, it is quieter on average load. No wonder this is considered as one of the best picks for tailgating. Plus, this gas-powered backup machine flaunts a versatile design with portable add-ons, making it an ideal choice for construction work and wildly unexpected blackouts at home.
Specifications
Generator type
Conventional
Engine
992cc Generac OHVI
Fuel tank capacity
16 gal.
Run time
10 hours (1/2 load)
Outlets
(2) NEMA L5-30R 120V 30A; (1) NEMA 5-20R 120V 20A; (1) NEMA 5-20R 120V 20A GFCI; (1) NEMA L14-30R 120/240V 30A; (1) NEMA 14-50R 120/240V 50A; (1) 12V 12A DC
Dimensions
48.5 x 31 x 39.5 in.
Warranty
2-year residential, 1-year commercial
Generac GP15000E Review
The Generac GP15000E is extremely capable as a generator unit with and advanced OHVI engine and superior technical features – which explains its higher price compared to the competitors. Consumers love the genuine Generac engine that comes with a limited two-year warranty but, it is engineered to last & work reliably for 25 years or more with proper maintenance. Besides its heavyweight, it is almost impossible to find an alternative to this Generac unit regarding power output and quality. In our review, we'll examine GP15000E based on several classifications to provide you with detailed information about this powerful generator's strengths and weaknesses and how it works.
Overall Performance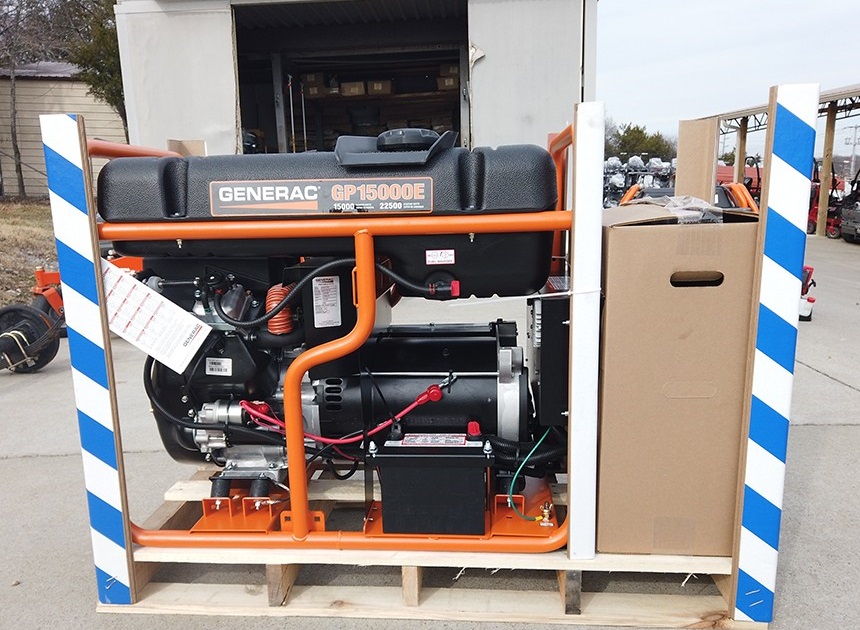 This Generac generator is rated at 15,000 watts with a maximum surge output of 22,500 watts, which is enough juice to cover a wide range of home appliances and power tools. Such magnitude of power can be expected from this size class but, what makes this unit stand out is its Generac 992cc OHVI engine. Customers who have been using this generator for more than ten years without an engine knock-out can swear by its quality and durability. The OHVI engine endures at least three times longer than its competitors being exclusively designed for heavy-duty generators. The full-pressure lubrication system helps the engine use the spin-on automotive-style oil filter to sift out unnecessary dirt, ensuring its long life. Plus, thanks to the X-Torque governor, the engine delivers maximized performance without stalls.
It offers up to 10 hours run time on 50% load with a fuel gauge incorporated 16-gallon fuel storage tank, contributing to its durability. It means you can relax with long hours of stable electricity, making a massive difference in powering sensitive electronics. Its electric ignition facility makes for an easy start-up. You can expect this rugged generator with a hardened steel-tube open frame to ensure smooth performance years even after frequent travels. The low-oil shutdown technology and in-built fuel gauge help safeguard the engine from possible damages.
Fuel Tank Capacity and Run Time
One of the most significant high points of this unit is its large fuel tank capacity of 16 gallons. You might argue that it adds hugely to the overall weight, but the extended run time it offers is undeniably useful to power up your house in emergencies. The resin tank features an automatic oil control system as well as a built-in fuel gauge. While the fuel gauge allows quick fuel-level monitoring, the idol-control minimizes noise output and fuel usage to match extended run time.
In occurrences of extended blackouts caused by natural happening like snowstorms or even technical faults, portable generators with longer run times can come in handy. Fortunately, this gas-powered heavy-duty backup unit comes with a maximum run time of 10 hours at a stretch, under ½ load.
Control Panel and Outlets
This generator's output control panel showcases a minimalistic and comprehensive design and has enough combination of outlet sets for multiple use compatibility. This emergency-grade power unit features a total of 7 outlets that include: one 12-volt DC battery charger, one 120V 30 Amp twist-lock (up to 3600 power watts), one 120/240V 50 Amp heavy-duty, and two each of generic 120-volt and 120V GFCI (up to 2400 watts each) outlets. All the overload-protected outlets are ready to use except for the 30 and 50-Amp receptacles that require separate generator cables for operation.
However, the panel does not include an RV-ready outlet but has a digital hour meter enhancing the maintenance factor.
Ease of Use
Users don't need to be intimidated by this rugged power backup unit's size because it is incredibly user-friendly. Unlike several portable generators where it is difficult to access the controls due to inconvenient location (especially in the dark during blackouts), the GP15000E has carefully considered the placement of its control set for the ease of access. The controls are relatively comprehensible enough to use. The simple electric starter solves the frustration that can come with manual recoil alternatives. Other than that, the manufacturer has also added maintenance reminder features for easy operation, like the fuel gauge offering fuel monitoring at a glance or the hour meter.
Safety Features
Generac has secured this generator with multiple safety features to ensure a longer life. Users are always alert about the fuel-levels due to the fuel gauge. The receptacles on the control panel are all overload protected with individual circuit breakers, enhancing the engine's longevity. On the one hand, AC outlets have push-button breakers; on the other, a toggle-type breaker protects the heavy-duty 50 Amp receptacle. The full pressure lubrication system of the OHVI engine also prevents damages and ensures longer engine life. While all of this safeguards the generator's interior, the exterior is protected by the 1 ¼ inch steel tube cradle.
Noise Level
Considering the size and the vast power generation capacity of this unit, expecting a lack of noise would be a mistake. However, the idle control reduces the noise, and like any top-rated generator, the low-tone silencer or muffler keeps the volume down and ensure an ultra-quiet operation. Mufflers are said to make units run on comfortable noise levels, blending into the background. It cuts down at least 10 to 15 decibels. Thus, the GP15000E can be easily used to power your home without bothering the neighbors.
Portability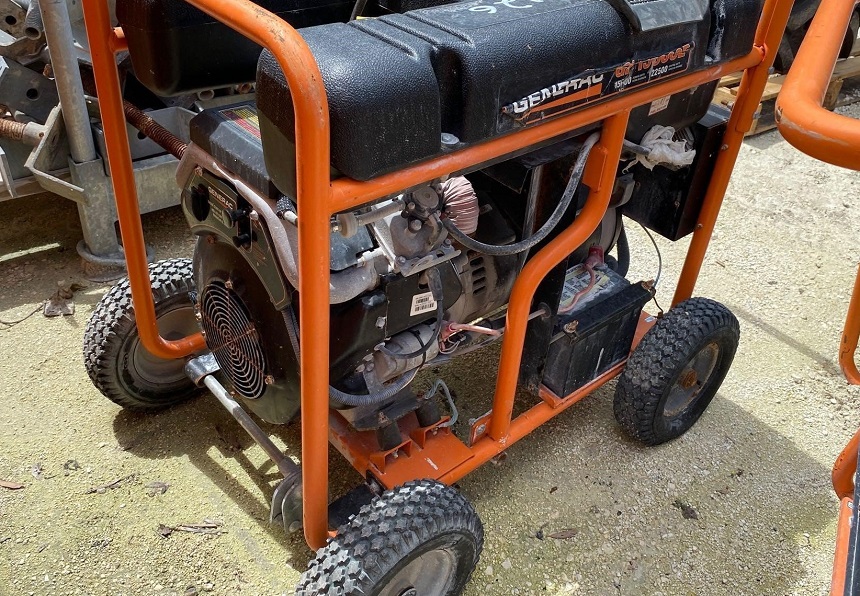 Like most generator units in the 15000-watt size class, this Generac unit is on the heftier side. However, that does not limit its mobility. The package includes a wheel kit that features a pair of never-flat pneumatic wheels that can travel on all terrains. The portability of the machine doesn't end there. This robust generator has a 1 ¼ inch thick hardened steel-tube cradle framing with lifting eye handles for secure and easy transportation on the job site, be it an outdoor camp or a construction site.
Word of advice: A serious generator calls for serious setup. When you unpack, make sure you have help to unbolt the generator from the pallet and lift it to attach the wheels.
Maintenance and Warranty
As mentioned earlier, the sturdy power backup engine is backed by the company with a limited warranty of two years. It includes limited parts and labor warranty coverage for consumer and commercial applications in the first year of operation and in the second year the warranty covers limited parts only.
What we have here is a low-maintenance generator model that allows simple operation through the years. Besides the hour meter that enables easy tracking of the maintenance intervals and a quick fuel-level monitor with the in-built fuel gauge, this overhead-valve industrial-strength unit boasts other features making for easy maintenance. That includes the dual-element air filter guarding the engine against dust and unnecessary particles, and the pressurized lubrication facility keeps all critical parts of the engine lubricated. Together, they keep maintenance needs at a minimum and maximizes the overall performance of the generator.
Price
A higher capacity power unit model can be found in the Generac GP series, but finding a fitting match in terms of power becomes difficult when it comes to other brands. However, priced at above $2,500, the DuroMax XP15000E gas-powered portable generator comes closest in comparison. The GP15000E produces unbeatable power in comparison to the 12,000 continuous and 15,000 starting watts of XP15000E. While both are gas-powered engines, the Generac model is way more fuel-efficient-thanks to the idle control system. The Generac unit also features a larger fuel tank capacity with more maximum run time. Only in surge arrest technology and RV-readiness, the Generac unit can fall short of the Duromax model. Everything finally comes down to your personal choice.
The pricey Generac generator may not have plenty of stand-out features, but it is all business, and the Frame built-in handle, the wheels and a simple electric start makes it much more convenient to use.
Key Features
Full pressure lubrication prevents wear during device start-ups, extending the life span.
Idle control increases fuel efficiency and reduces noise
992cc OHVI engine is engineered explicitly for generators
It offers an array of outlets, each with overload protection circuit breakers for safety.
Lifting eye handles and a 12″ all-terrain wheel pair makes up the portability kit.
The engine starts with a simple electronic button press (battery included).
It delivers 22, 500 watts of starting electricity and 15000 watts running output.
A Low-tone muffler blends the noise level into the background.
PROS

CONS

Fuel-efficient model (idle-control)
Durable and rigid build
Convenient controls
Overload-proof outlets
Full-compression lubrication
Includes battery charging jack
Low oil-level automatic shutdown
Up to 10 hours of run time
Large fuel-tank capacity
Requires low maintenance

Very heavy
Cannot be sold in California
Some say it is not so quiet.
Conclusion
The bottom line of our Generac GP15000E review is: you can easily bank on Generac GP15000E for long hours of electricity backup with its 30HP. Lighter models are susceptible to quick breakdowns, but this fuel-efficient model can handle all the demanding needs of your home in case of blackouts or even when you plan to work with your heavy-duty power tool in the backyard. Given the engines' ability to replace the power output, generally offered by commercial lines, the generator is as small as possible. Thus, if you're looking for a real workhorse with an easy-start mechanism, don't look further- go for this sturdy Generac generator.