If your house is electrified to get supply from the public grid and you have experienced a power outage for days at a time, perhaps due to a tornado, a hurricane, or some other type of storm, then a generator might be right for you. Generac is a leader in power equipment manufacturing and needs no introduction.
One of its most powerful portable generators is the Generac GP17500E. This is a high-performance and vetrsatile generator that pumps out 17,500 watts of continuous power. This is enough for residential or commercial use. In this Generac GP17500E review, we are going to see what the generator houses and what it offers in terms of performance, safety, portability, after-sales services, among other key criteria.
Specifications
Generator type
Conventional
Engine
992cc OHVI 3,600RPM
Fuel tank capacity
16 gal.
Run time
10 hours (50% load)
Outlets
1) 50A 120/240V, (1) 30A 120/240V Twistlock, (2) 30A 120V Twistlock, (2) 20A 120V GFCI, (2) 20A 120V, (1) 12V DC
Noise level
Not specified
Dimensions
48.5 x 31 x 39.5 inches
Warranty
2-year limited (residential), 1-year limited (commercial)
Generac GP17500E Review
The Generac GP17500E is the Rolls Royce of Generac's portable generator lineups. In this review, we will touch every aspect that makes it remain a valuable machine, more than a decade since its first release.
Overall Performance and Versatility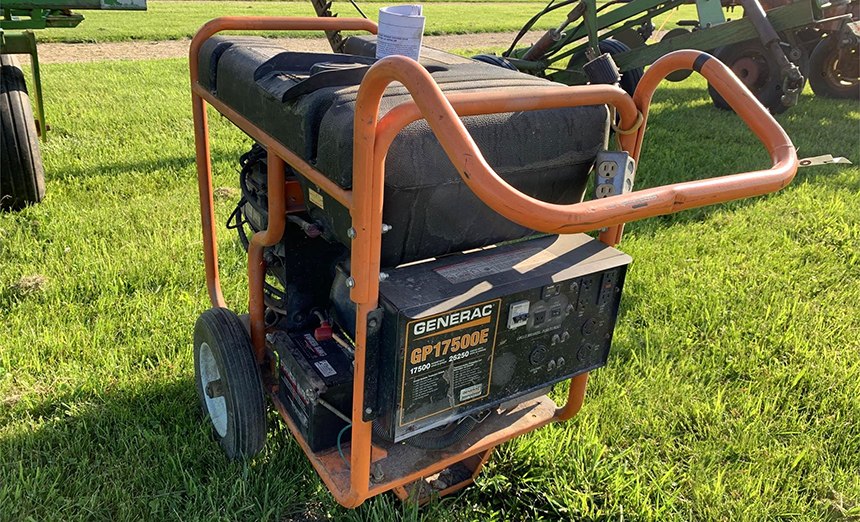 The Generac GP17500E is a powerful electric start generator with plenty of power, enough for use as a whole-house generator and as a commercial generator for use in construction sites and other professional uses.
The conventional generator has a surge capacity of 26,250 watts and a running capacity of 17,500 watts. When you compare this with most portable generators, this is two to 10 times more powerful. So, you will no longer need to parallel two smaller generators to power up all the appliances you want in your home, recreational vehicle, or commercial setup.
Made for use in commercial setups and residential areas, the conventional generator is a very powerful model. You will no longer be left in the dark without power if you have this Generac generator. The food in the refrigerator will not spoil and you will continue to have heat and ventilated air.
For example, you can use this machine to power up a 5-ton air conditioner from any brand. It's also a good choice for use in job sites or places with high power requirements.
The secret to the generator's highly powerful performance is its engine. The generator has the Generac 992cc overhead valve industrial engine that runs at 3,600 revolutions per minute, which is close to about 30 horsepower. This is why it's one of the most versatile portable generators on the market. The engine also has an oil cooler and a pressure switch. Also, to make it more durable and long-lasting, the generator has a complete copper winding.
The engine also has an automatic switch for idle control. If you turn this feature off, the generator will run at full blast. If you turn it on when no wattage is required, the generator will be idle. So it's a very nice feature for those looking to reduce the engine speed and noise, as well as increase the run time of your fuel.
Fuel Tank Capacity and Run time
The Generac has a 16-gallon fuel tank and a fuel gauge on top. The generator can only use gasoline. It is unlike dual fuel generators which usually make use of gasoline and propane. However, with a full tank of gasoline, the generator can run for 10 hours on a stretch.
Control Panel and Outlets
Taking a look at the output panel of this generator, you'll find out that you can connect your transfer switch. There is also a 240 volts AC output at 50 amps. The control panel also features the circuit breaker for that output.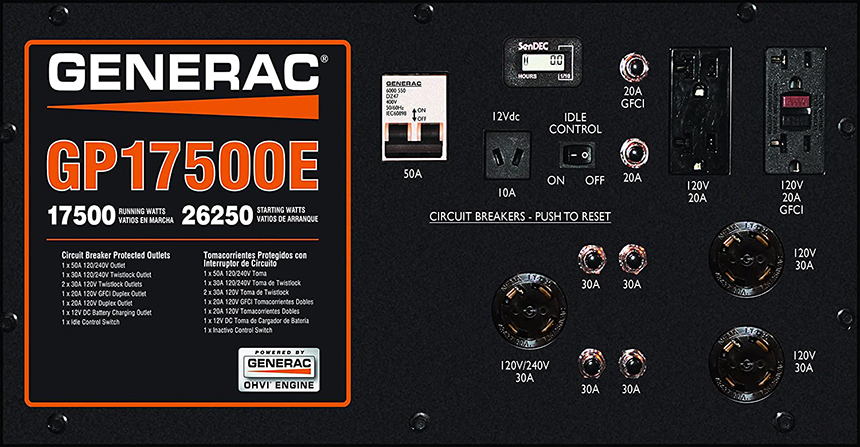 The generator also has a 12-volt DC output at 10 amps, a 120 volt AC 20 amp output, and a ground fault interrupter kit. There are 220 volt AC 30 amp twist slot receptacles and here is a 120 volt or 240 volt 30 amp twist slot receptacle.
Each circuit has its own circuit breaker. Also, the control panel includes an hour meter and an auto control switch.
Ease of Use
The generator is quite easy to start and maintain. To start it, you just need to push the start button. Note that the generator does not have a pull cord otherwise called a recoil starting technology. That's a manual starting method that can get frustrating. Instead, it has an electric starting feature that depends on the lead-acid battery included. So, always keep the battery maintained with a trickle charger.
To start the generator, fill it with fuel, turn the fuel supply on, pull the choke and crank the engine with the electric start. Them, let it run for a few minutes. You can use the idle control switch so it will run at a slower speed, ensuring a quieter operation and better fuel economy.
You will need a cable plugged into the transfer switch. You don't want to connect a generator to your house's electrical panel without using the transfer switch. With the transfer switch, you'll be able to isolate electricity from the appliance and your generator.
Remember, never run your generator indoors. It is designed for use outdoor only in a well-ventilated area.
Safety Features
Being the powerful generator it is, it's normal for the model to come with several features that protect the machine, your safety, and that of your plugged appliances. Some of the receptacles are ground fault circuit interrupters (GFCI). The GFCI is designed to trip and shut power off Trusted Source Why Is My Portable Generator Tripping? In general, there are two devices that can "trip" (shut off power) on a portable generator – the Ground Fault Circuit Interrupter (GFCI) receptacles and the circuit breaker. Both are protection devices, but they serve different purposes and detect different problems. www.cat.com when it detects a leak. This protects against fire, electric shock, electrocution, and burns.
The low-oil shutdown will prevent your engine from knocking for running with low oil. For this, there is the shutoff valve that is supposed to always stay in the on position. Just ensure the valve is out to ON.
Noise Level
The noise level of the generator is not specified. However, the noise is very loud but remains tolerable in a residential area. Nonetheless, many homeowners said they don't care about the noise level as much as it's the most powerful portable generator on the market. Still, the noise level is rated 3.5 out of a possible 5 by users. The machine also has features that ensure it runs as quietly as possible. One of these is the idle control switch which when put ON, can keep the generator idle, running at a slower speed, while reducing the use of fuel.
Portability
This is a 390-pound portable generator on wheels. On the scale, portability, and transportation-wise, it's a very heavy machine, you would say. Considering that portable generators are said to have an average weight of around 250 to 300 lbs, this may no longer be termed as "portable".
However, considering the amount of energy this is designed to produce, you can't say it's too heavy for this type of generator. But the wheels are a relief for users. Nonetheless, it's more portable than most whole-house generators that are designed for stationary use.
In addition, it has a lifting hook in case you happen to have a crane handy.
Maintenance and Warranty
Maintaining the generator is relatively easy. There is an onboard hour meter that lets you keep track of maintenance intervals. Fueling the generator is seamless, like in most generators. Also, you don't have to keep track of the oil gauge. The generator has a low oil pressure sensor that shuts down the engine when the oil gets below operational level.
The generating set comes with a one-year limited warranty for commercial uses. However, users in residential homes have a longer warranty coverage that stretches to two years.
Price
The Generac GP17500 watts generator, as you would expect, is nowhere near a budget-friendly or cheap generating set. The generator is sold for less than $3,600 by the manufacturer, which means it's not designed for every family. However, it's a good fit for construction sites that have power hog devices. When you compare this with the DuroMax XP12000HX for example, you'd find out that the Generac is more expensive (more than twice the price of the former).
Key Features

Some of the key features available on the Generac are explained below:
30 HP 992 cc OHVi engine: The generator is powered by a very powerful engine that is rated as a 992 cc type which equals a 30 horsepower at 3600 revolutions per minute. The engine has overhead valves and there is a dipstick to check your oil level. However, you don't always need the oil level checked manually as you can monitor this with the meter. And if at all, there is always the low-oil shutdown feature.
Extra maintenance kit: It also comes with an extra oil filter and two bottles of oil. In addition, while the generator comes with a spark plug as required, Generac also includes an extra spark plug.
Oil drain hose: The machine also comes with an oil drain hose. This is nice because you don't have to get oil all over your machine when you change the oil. The hose has a cap on the end that is easy to remove. You can move the hose out to the side and drain the engine oil.
De-icer valve: The generator has a de-icer valve for use in the wintertime. When the temperature is below 40 degrees, it just needs to be pulled out. And in the summertime when it's above 40 degrees, it should be pushed in.
Extra-large fuel tank: It has a 16-gallon gas tank that can be of good use if the generator is required to run for a long period of time. At full tank, it can run at half the load capacity for about 10 hours.
Idle control shut-off: There is the idle control shutoff so that when the generator starts up, it will start at full speed. Then you will need to put the idle control on and let it idle down. The idle control reduces noise level and makes your fuel last longer.
Electrical panel with 2 receptacles: The electrical panel has a lot of good features. You will get two receptacles of 120 volts and 20 amp. One of them is a ground fault circuit interrupter. You also have two matching 120-volt 30 amp outlets. You have circuit breakers all up and down. There is a 12 volt DC 10 amp outlet and a 120 volt 30 amp receptacle. There is also an outlet that you can run your welder on because it's a 50 amp circuit.
Hour meter: On the same control board is an hour meter that gives you a lot of information. It keeps track of the oil, the hours, and several other things.
PROS
CONS

Very versatile and high-performance generator
Very powerful; can power a 5-ton AC
Has a grab bar and wheels
Extra-large fuel tank ensures long runtime
Has automatic shutdown feature when oil is low
Also ideal for use in wintertime

Not CARB compliant
Pricey
A bit heavy
Conclusion
The generator is powerful enough to run all the electrical appliances in the entire house. You will be able to run your air conditioning and heating appliances. After this, there should be a lot of power left. Now that we've seen with our Generac GP17500E review how the GP series machine works and what the generator offers, we recommend this generator to anyone who needs a backup generator for emergencies in residential homes. Also, it can be used for commercial purposes (for example, to power a welder). However, this reduces the normal two-year warranty to one.
References
1.
Why Is My Portable Generator Tripping?
In general, there are two devices that can "trip" (shut off power) on a portable generator – the Ground Fault Circuit Interrupter (GFCI) receptacles and the circuit breaker. Both are protection devices, but they serve different purposes and detect different problems.