More and more people are investing in portable generators. As well as providing a potentially life-saving source of energy in emergency situations, these units can help to make your camping experiences more enjoyable, power up your tools for working projects, and provide energy for other appliances around the home too. The Generac GP2200i is a very popular model of portable generator, and our Generac GP2200i review will tell you all you need to know about this model.
A gasoline powered inverter generator, the Generac GP2200i features a recoil starting method, an 80cc engine, and some impressive performance statistics, able to offer more efficient and safer running than conventional models. But how effective really is this generator and should you choose it over the other options out there? Read on to learn all about the Generac GP2200i, including its features, run time, portability, noise level, and overall performance.
This product's also been included into these rankings:
Specifications
Fuel tank capacity
1.2 gal.
Run time
7 hours at 50 % load
Outlets
1x Duplex 120V 20A (5-20R), 1x 12V 8A, 1x 5V USB port
Dimensions
19.7 x 11.4 x 17.9 inches
Warranty
2-year limited (residential), 1-year limited (commercial)
Generac GP2200i Review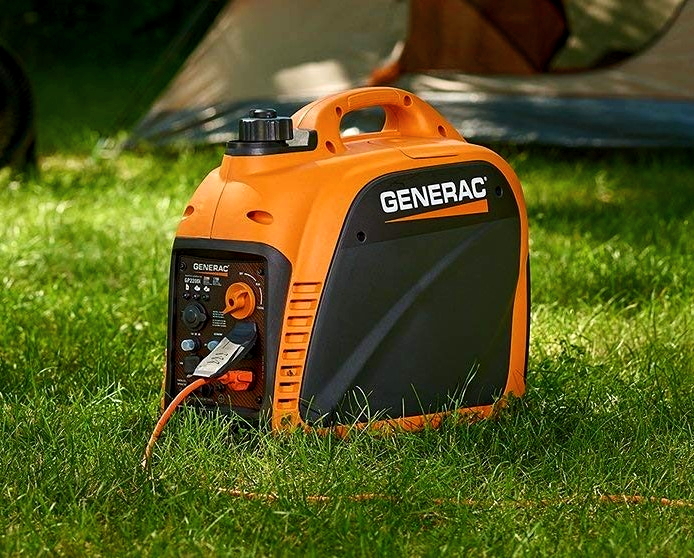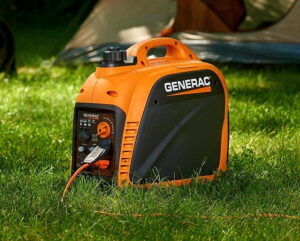 The first thing to notice about the Generac GP2200i is just how lightweight and compact it is. Weighing in at under 47 lbs, it's one of the lightest portable generators you can find today, able to be picked up and carried around from place to place. It's also very versatile, offering a great range of outlet options to suit a wide selection of devices and appliances. Plus, it's super silent, with a noise level of just 51 dBa. See below for more information on the various features and aspects that set the GP2200i apart from the competition.
Overall performance
The most important question of all in regard to any portable generator is what kind of overall performance can it offer? With a powerful, reliable, 80cc engine under the hood and TruePower Technology from Generac, the GP2200i can offer clean, stable power with no fluctuations and peak levels of 2200 watts. It's perfect for powering up sensitive electronic devices, tools, and appliances, and it even has an Economy Mode to help save energy, cut down on fuel usage, and even make the generator quieter too. This portable generator is also parallel ready, so you can invest in a GP2200i Parallel Kit to connect two units together and enjoy double the power and double the performance.
Fuel tank capacity and run time
The fuel tank capacity is an important factor for many portable generator owners, as it tells you how often you'll need to refill the tank. It's always more practical and convenient when you don't need to stop the generator for constant refills, and the Generac GP2200i, as an inverter generator, is very energy efficient and has features to optimize its fuel usage. Its tank is relatively small, at 1.2 gallons, but you won't need to refill it too often, thanks to how efficient it is. In terms of run time, it can offer 7 hours of constant performance at 50% load.
Outlets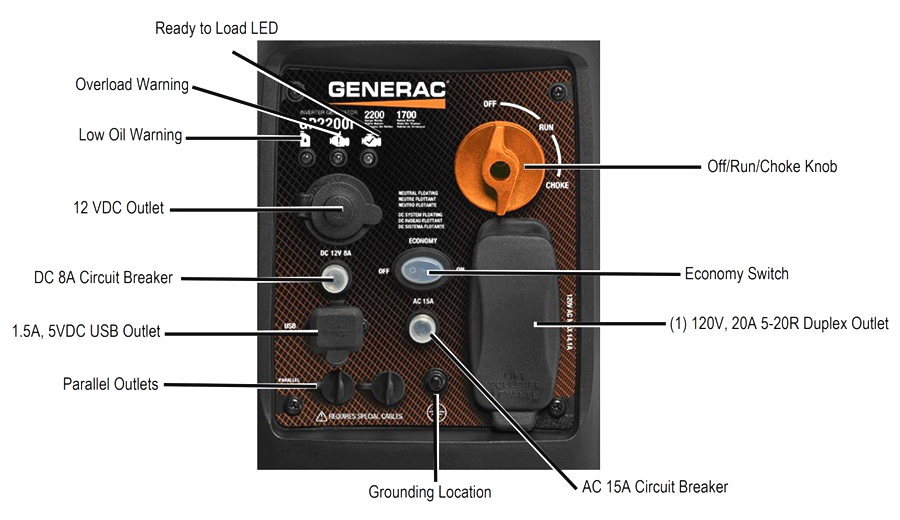 Having more outlets on your portable generator gives you more options in terms of the devices and appliances you can use it with, and the Generac GP2200i really excels in this department, boasting no less than four different outlets. It comes with two 120V 20A (5-20R) outlets, a 12V 8A receptacle, and a 5V USB port for USB powered devices and battery charging. All of the outlets are covered to keep them safe from dust, bugs, and the elements, and the generator gives you enough options to power up everything from big appliances to handheld gadgets.
Ease of use
If you don't have too much experience with generators and are worried about getting to grips with the Generac GP2200i, you don't need to worry at all, this particular model is considered to be one of the best Generac generators not for nothing. This inverter generator is very easy to use, being designed with simplicity and seamless operation in mind. It comes with a range of LED indicators to let you know all you need to know, at a glance. The LED lights will show you when the oil tank is getting low, when the unit is overloaded, and when it's ready to use. The GP2200i also features a simple recoil start system, as seen on many other generators.
Safety features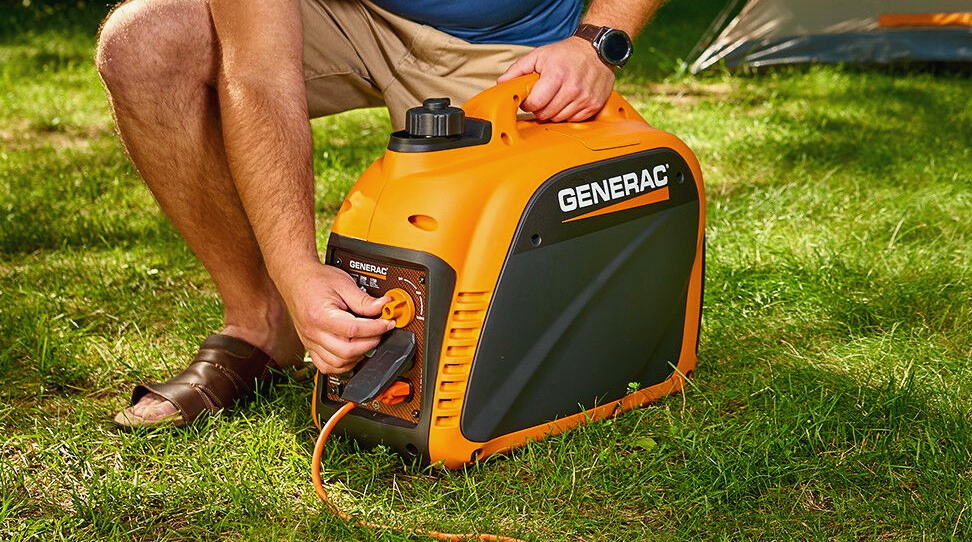 Safety is a vital aspect to consider when investing in a portable generator, and one of the main reasons many people choose inverter models over conventional counterparts is that inverters tend to have better safety ratings. As mentioned above, the Generac GP2200i comes with LED lights to let you know if the unit is overloaded and give you an indication of when it's ready to use, and it also has those covered outlets to prevent any interference or interruptions in your power supply. It comes with a low-oil level shutdown too, automatically protecting the engine when the oil gets too low, and the whole thing is housed in a tough, durable body that can withstand extreme conditions with ease.
Noise level
As well as safety, efficiency, and eco-friendliness, one of the key aspects that helps to make inverter generators better than conventional generators in many ways is their reduced noise levels. The Generac GP2200i is a perfect testament to this, as it has a noise level of just 51 dBa. For reference, many conventional generators have noise levels in excess of 70 dBa, so it's clear to see that the GP2200i is veritably silent compared to a lot of the competition, and you won't need to worry about it bothering you by being too loud while running.
Portability
If you're looking for a generator you can carry around with ease, transporting from place to place without any real inconvenience, the Generac GP2200i is a terrific option to choose. It measures up at 19.7 x 11.4 x 17.9 inches and weighs in at only 46.6 lbs, making it one of the smallest and most lightweight generators on the market today and definitely one of the most compact models from Generac Power Systems. It even comes with a handle on the top, letting the user lift it up and carry it around with ease, ideal for situations like camping trips.
Maintenance and warranty
The Generac GP2200i is a very low maintenance portable generator that mostly takes care of itself. All you'll really need to worry about is ensuring that the fuel tank stays above the low levels (but the automatic shutdown feature will handle this if you forget) and treating the unit with care. The generator is designed to be extremely resistant, with its covered outlets and durable housing, so it won't need much maintenance at all. If you do encounter any issues, the GP2200i also comes with 2-year limited (residential), 1-year limited (commercial) warranties.
Key features
Parallel ready for double the power
LED indicators let you know when oil is low and unit is ready to use
Super quiet with a very low noise level
TruePower Technology and Economy Mode for energy efficient, high-power performance
Very compact and lightweight with carry handle too
Multiple outlets, all featuring protective covers
Low-oil automatic shutdown safety feature
USB port for charging devices like smartphones
PROS
CONS

Very small and portable
Whisper quiet operations
Economy Mode helps save you money and fuel
Eco-friendly and efficient
No power fluctuations
Plenty of outlet options
Durable, long lasting design
Parallel ready

Gasoline only
Not the longest runtime