Are you looking for the perfect generator that will meet all your power needs? The market is flooded with different options, and you might have to search for a while before you can narrow your list down.
The Generac GP3300 is one of the best generators on the market at the moment in a medium price range. It is more suited to meet small power needs inside the house or on camping trips. The engine is sturdy and durable, which means that you will be able to use it for long stretches of time. Our Generac GP3300 review covers everything that you need to know about this machine!
Specifications
Generator type
Conventional
Fuel tank capacity
3.35 gal.
Run time
10.25 hours (1/2 load)
Outlets
(2) 120V 20A GFCI 5-20R Duplex; (1) 120/240V 20A L14-20R Twist Lock
Dimensions
24.2 x 22.5 x 21 in.
Warranty
2-year residential, 1-year commercial
Generac GP3300review
The Generac GP3300 50 ST comes with a heavy-duty 207CC OHV Engine that does not fall prey to wear and tear easily. Offering surge watts of 3750 and running watts of 3300, the generator has been designed to provide you with power for extended periods. You can switch on the machine within a few seconds using the recoil method. With a fuel tank capacity of 3.35 gallons, the generator will be able to store a large amount of fuel that will provide a run time of 10.25 hours at 50% load. It comes with many portability and safety features so that users do not face any problems when handling the machine.
Overall performance
Generac has yet again managed to release a quality product into the market. Most users have found this generator to be dependable and simple to ease. While the machine is by no means devoid of flaws, it does provide incredible performance for the price. It takes just about two pulls to get the generator started even during winter. Most users have found it remarkable that the generator is able to run continuously without any glitches. This model from Generac has a very simple design, which makes it easy to use for consumers who are not used to dealing with generators. You will be able to power a wide range of appliances with the help of this generator and get 10 hours of run time at 50% load.
Fuel tank capacity and run time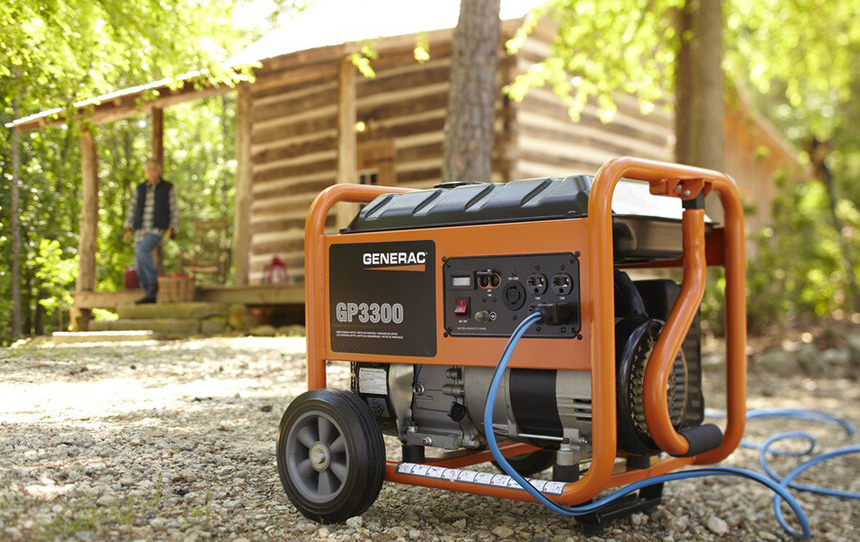 When you are buying a generator, you simply cannot overlook the importance of choosing a machine that provides you with adequate run time. If you are sure that you will use the machine for heavy-duty purposes at a continuous stretch, then this product might not be for you. On the other hand, if you just want to use the generator moderately to power appliances that do not use more than 1600 watts, this might be the one you should be looking at. The 3.35-gallon fuel tank is made of steel and is very sturdy. It can provide you with a continuous flow of power for 10.25 hours when running at 1/2 load.
Control panel and outlets
The control panel of the generator is easy to use, and you should be able to navigate through it without any difficulty. The Hour Meter allows you to keep track of the usage of the generator so that you are aware of how long you have used the machine for. The On/Off Switch lets you switch on the machine within a matter of minutes. There is a 14A 2P Circuit Breaker that connects the two legs of the 120V sockets. The generator features both 120V 20A 5-20R Duplex outlets and 120V 20A GFCI 5-20R Duplex outlets. You will also be able to locate the 120/240V 20A L14-20R Twist Lock Outlet on the control panel. The 20V-to-30V RV adapter gives you the freedom of using the generator even when you are traveling.
Ease of use
You will find that this generator is user-friendly, and you really will not have to spend a large amount of time trying to learn the basics. Once you know your way around the control panel, you will be able to use the machine smoothly. The machine does not run into any problems once it is running, and it gives a consistent supply for over 10 hours when you use it at 50% load.
Safety features
Generac has taken extra steps to ensure that you do not suffer any unanticipated injuries when using the generator. The machine comes with individual breakers that are built inside the mainboard, and they will trip when you overload the generator. This will prevent serious accidents from taking place. You will be able to adjust the necessary settings and then use it again. The engine also comes equipped with the low-oil shut-off feature. Whenever the machine detects that there is not enough oil left in the engine, it shuts down. As a result, the engine does not have to work twice as hard to keep the machine going. It does not suffer a lot of wear and tear which will save you repair money in the long term.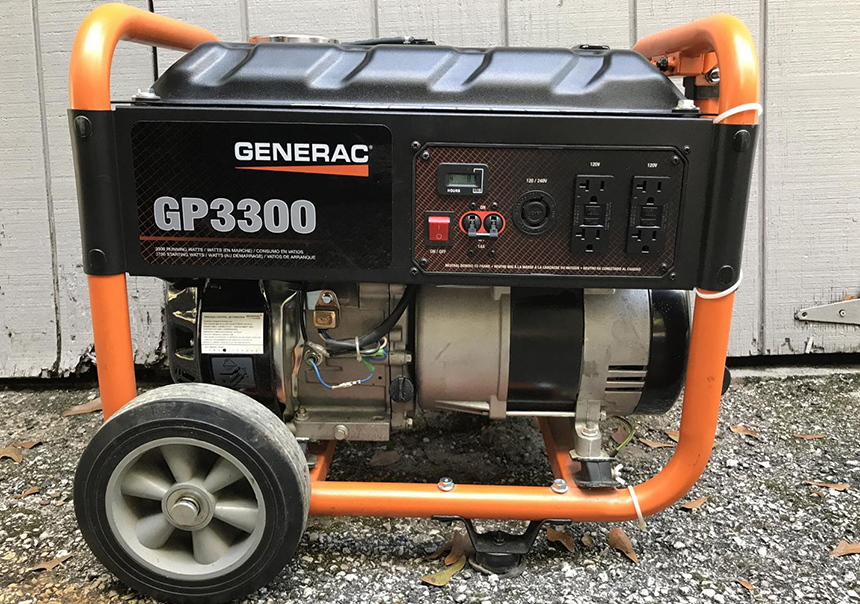 Noise level
Generally, most traditional generators tend to produce a lot of noise when running. However, recent technologies have allowed the use of mufflers, which cut down on the sound and keep the user from being disturbed when the generator is switched on. You will no longer have to worry about having your work interrupted when using a generator if you opt for the Generac GP3300. It makes very little noise, which also makes it ideal for camping trips.
Portability
There is no point in buying a portable generator if it cannot be easily carried from one place to another. This model has a sturdy construction and is very durable. While the hard and steel frame makes the machine rather weighty, it ceases to be a problem when you use the folding handle that is integrated into the steel frame. It comes with never-flat heavy-duty wheels that will be able to carry the machine on rough terrain.
Maintenance and warranty
This generator comes with a 2-year residential warranty and a 1-year commercial warranty. Generac is known to be very thorough with their warranty offers.
Price
The GP3300 50 ST surpasses many other models in this price range by providing superior features. It encompasses a mix of safety and portability features that sets it apart from its competitors. The engine is also advanced and durable.
Key features
It works perfectly with different kinds of recreational applications. Since it has the perfect size for camping, power tool use, and tailgating, it can be easily carried during trips.
The Generac has an OHV engine that offers splash lubrication. As a result, you are guaranteed a long engine life so that you can gain maximum value for your money.
Equipped with a large-capacity fuel tank made of steel, the generator also comes with an incorporated fuel gauge. This will allow you to keep track of the usage of fuel, and you will not have to worry about refilling.
The generator has a solid construction and is durable. It can provide you with extended run times.
As a safety measure, the generator comes with the low-oil level shutdown feature. Whenever the machine senses a shortage of oil, it automatically shuts down the machine so as to safeguard the engine from damage.
The generator comes with a hardened steel tube cradle that provides extra durability and strength.
It comes with a fold-down handle that is easy to use.
Highly portable, the generator can be stored in a compact manner, making it perfect for users living in small spaces.
It comes with heavy-duty wheels that are never flat. They are reliable and will be able to withstand the pressure exerted by the machine during motion.
The generator comes with a 20A to 30A RV adapter that established compatibility between your RV and the generator.
Certified by the CSA and CARB, the generator is safe to use.
PROS
CONS

Excellent value for money
Excellent warranty and support
Lightweight and portable thanks to the fold-down handle and never-flat wheels
The heavy-duty engine is durable and will not break down easily
Large-capacity steel fuel tank
The integrated fuel gauge increases the durability and run time
Safety features like low oil level shutdown
Works with an RV without any glitches

The power is split into two circuits, but the company fails to make it clear. As a result, many customers end up buying this product expecting a different generator altogether.
Power capability is rather restricted
Conclusion
The Generac GP3300 Portable Generator has been constructed in such a way that it provides you with premium features at a reasonable price. If you do not plan to use your generator for multiple heavy-duty purposes, then this product will suit you just dine. As a brand, Generac has established a solid reputation over the last few decades, and you can trust them to give you only high-quality products. This generator is perfectly compatible with all average household items and small RVs.