For contractors and backyard workers who need portable power, the Generac GP5500 delivers quite a lot of it while offering all of the basics you'd expect in a quality generator. In our Generac GP5500 review, we'll take a deeper look into the technical specifications and features of this generator.
What sets the Generac GP5500 apart from the competition? First, it offers an impressive 6,875 watts of surge power to shoulder the burden of heavy-duty power tools and even home appliances. Second, the generator offers the ability to switch between 120- and 240-volt electricity. Finally, the Generac GP5500 is no-frills, with few of the unnecessary convenience features that can cause your generator to break early.
Specifications
Fuel tank capacity
7.2 gal.
Dimensions
27.25 x 27 x 25 inches
Warranty
2-year (residential), 1-year (commercial)
Generac GP5500 Review
The Generac GP5500 is packed with features, although on this generator in particular the best aspects are hidden under the hood. Our review will take a closer look at the performance of this generator and how its design is uniquely suited for powering heavy-duty tools and appliances.
Overall performance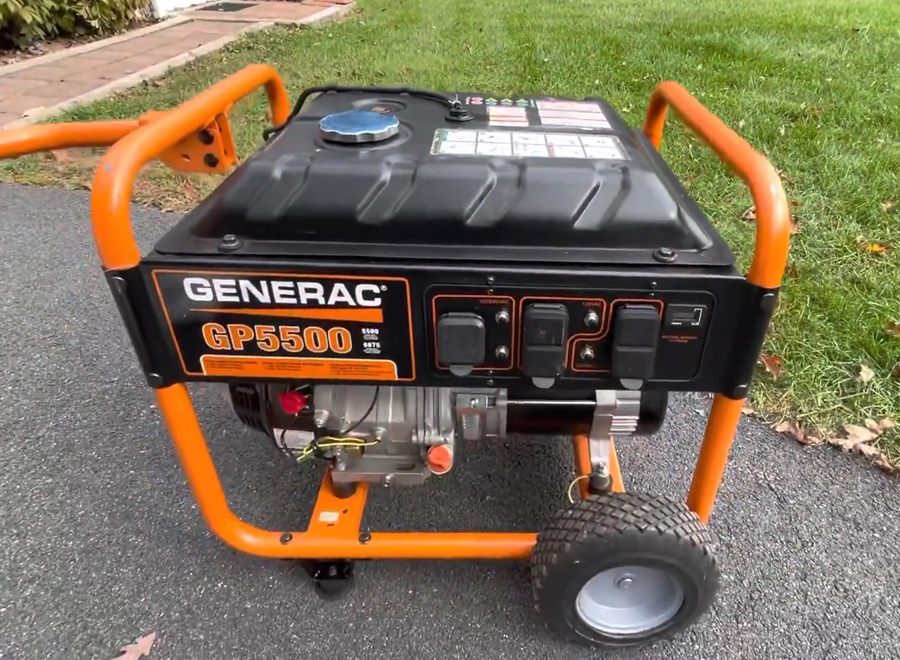 The Generac GP5500 soars past the competition in its size class with a massive 6,875 watts of surge power. For any contractors looking for a generator that can handle a field site's worth of power tools or a homeowner in need of an emergency power source, that impressive surge wattage offers a lot of versatility. In addition, the 5,500 watts of running power is nothing to scoff at and can satisfy the needs of nearly any standard work site or home during a short power outage.
The heart of the GP5500 is the 389cc OHV Generac engine, which is built with longevity in mind. This engine is designed to run for years without an issue and comes with splash lubricant to prevent any of the interior parts from wearing down early. Unfortunately, Generac didn't pay as much attention to the components that the engine relies on – leaks between the carburetor and engine are a common complaint among owners of this generator, and repairing a leak can be costly after investing in the generator itself.
While this generator performs well and reliably as it approaches a full load, there are still a few drawbacks. The GP5500 is not an inverter generator, which helps to keep the cost reasonable but makes it unsafe to use with any sensitive electronics. In addition, the generator is quite noisy even when running at relatively modest power loads.
Fuel tank capacity and run time
The downside to the high-output engine on this generator is that it's something of a fuel hog. Even at half-load, the generator guzzles down 7.2 gallons of gas in just 10 hours. That means that if you're using the generator for an entire day in the field and working the engine on a number of power tools, there's a good chance that you'll need to let it cool down and refuel. However, for anyone using the generator for work deep in the yard or contractors who only need to power a handful of smaller tools, the large fuel tank should provide enough runtime to see you through the work.
Outlets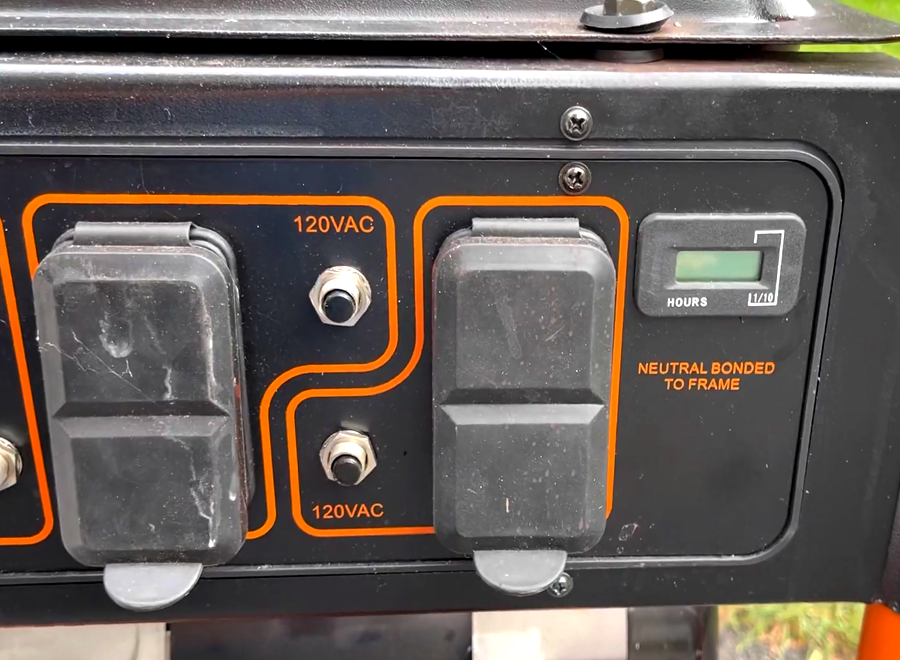 Generac didn't splurge on the outlets on this generator, but they hit exactly the outlets they needed for use at home and in the field. The GP5500 has five three-pronged outlets, four of which operate at 120 volts and one of which can be toggled between 120 and 240 volts to handle power-hungry tools and heavy-duty appliances. However, the generator lacks a 12-volt DC outlet for charging batteries, which can be an issue for field use for contractors who rely heavily on batteries. RV owners and road trippers will want to stay away from this generator, since it lacks an RV-ready twist-lock outlet.
Portability
There's no way to make lifting a 180-pound generator into the back of a truck, but besides that the GP5500 is made to travel. The durable steel frame includes a fold-down, locking handle for towing it across a work site or the yard. Meanwhile, the wheels are constructed from thick rubber that doesn't need to be inflated, is nearly impossible to puncture, and rolls easily over any terrain.
Ease of use
While recreational generator users might balk at the lack of an electric push-start, seasoned generator users like contractors know that an electric start is just another part that can break and require expensive repairs. Instead, Generac built this generator with a pull-cord starter and made sure that the engine catches within the first few pulls – even from cold in sub-freezing weather.
Key features
There are a few additional features that help to set the GP5500 apart:
Digital hour meter – this gives a simple readout of how much fuel the generator has left and takes the guesswork out of figuring out how long you have until needing a refueling break.
Steel tube cradle – the 1-¼-inch steel cradle makes it easier to lift the generator into a truck bed and is extremely durable to being banged around with heavy work equipment.
Low-oil shutdown – this mechanism built into the generator automatically powers down the engine when the oil volume runs low, preventing the engine from suffering costly damage.
Covered circuit breakers – Generac designed this generator to work outside and covered the outlets with watertight lids to prevent water damage to the generator's wiring.
PROS
CONS

Impressive 6,875 watts of surge power
Durable, powerful 389cc Generac engine
Long 10-hour runtime at half-load
Includes five three-pronged outlets and 120V/240V outlet
Digital hour meter shows remaining runtime

Engine is relatively noisy
Leaks between carburetor and engine are common
Guzzles fuel
No 12V DC outlet for battery charging