Generac isn't new to the power equipment market. The American manufacturer has almost all types of generating sets for all types of consumers' needs. The brand designed the Generac GP6500 open frame conventional generator for campers, construction workers, and homeowners who need a backup power generator in the case of emergencies. But how much load capacity can it deal with? What type of fuel does it use, what is the fuel capacity and the respective runtime, how portable and durable is it, and what are the special features or technologies in this generator? In this Generac GP6500 review, you'll find out if the generator was designed for you or if it will adapt to your needs.
This product's also been included into these rankings:
Specifications
Generator type
Conventional
Engine
389cc OHV 3,600 RPM
Fuel tank capacity
7.9 gal.
Run time
11 hours (50% load)
Outlets
(2) 120V 20A 5-20R GFCI Duplex, (1) 120/240V 30A L14-30R Twist Lock
Noise level
Not specified
Dimensions
27.2 (W) x 27 (D) x 26.5 (H) in
Warranty
3-year limited (residential), 1-year limited (commercial)
Generac GP6500 Review
Here in this review, you'll find out everything about the performance, portability, onboard features, working conditions, price, and other aspects of this generator. Keep reading to find out!
Overall Performance and Versatility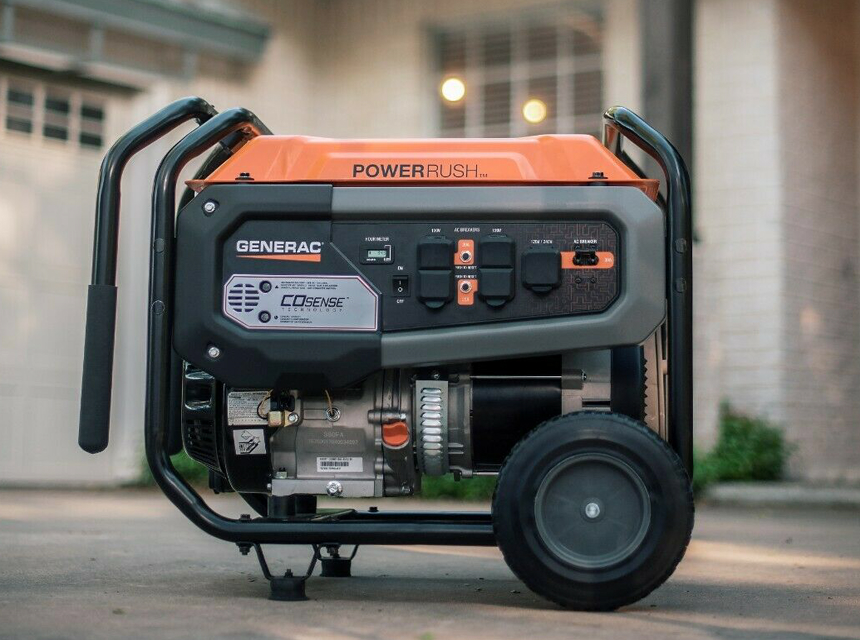 The Generac GP6500 is a portable 6500-watt generator that you can use to power your household projects. It can be used to provide power to work tools in the garden, farmhouse, or construction site. It has sufficient power to supply essential electricity to the whole house in the event of a sudden power outage.
The affordable power generating solution comes with premium features that increase its overall performance. One of these is the PowerRush technology, a trademark of Generac which offers 40 percent of cranking capacity.
It is powered by an overhead-valve 389cc engine that can make 3,600 revolutions in a minute. It can therefore generate a peak power of 8,125 watts and a continuous power of 6,500 watts.
In addition, it features the COsense® technology which offers optimal protection from harmful chemicals such as the killer carbon monoxide. What the technology does is, when carbon monoxide is detected, it automatically shuts down the engine. So, this is a good generating set ideal for use in residential areas. Asides from that, it is very friendly to the planet.
Fuel Tank Capacity and Run Time
The conventional general runs on gasoline, its only fuel of operation. However, it consumes considerably lower fuel when you compare it with other competitive products on the market, whether from the same brand or other manufacturers.
It has a 7.2-gallon fuel tank and ensures an operating time of around 10 hours provided only 50 percent of the load capacity is used.
You can use the generator to power almost all types of equipment found in use at home. It can be used to charge batteries of vehicles such as cars, motorboats, and motorcycles.
Control Panel and Outlets
On the control panel are several outlets designed for various functions. There are plugs for various tools, cables, and devices.
There are two 120 volt outlets with ground fault circuit interrupter duplex and one 120 or 240-volt outlet, as well as a 30 amp L14-30R Twist Lock.
Thankfully, there is a GFCI outlet. However, what is lacking on this control panel are 12-volt outlets and USB ports that can let you directly connect to the generator.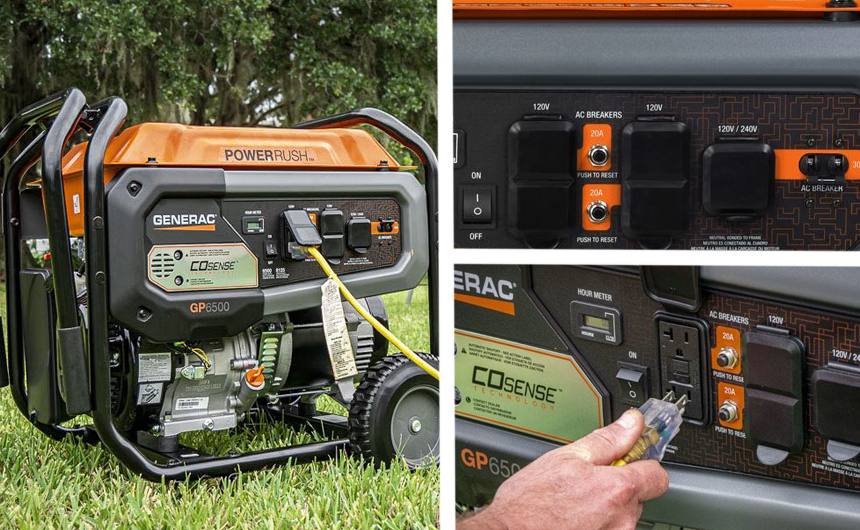 Ease of Use
We think where the generator seems easy to use is in terms of transportability. If you have to get it out from your store to the yard, from your store to the RV in preparation for a summer camp, or from your vehicle to a construction site, this should not be a problem, despite its size. It comes with a set of wheels as well as a set of two handles that make transportation from point A to B a breeze. You wouldn't even realize this is a 170-pound heavy-duty machine.
However, we think it's not the best in terms of ease of use relating to starting the generator. As you can see from our specification table, the generator only has the old-fashioned recoil starting method. This can take a lot of effort and is never as easy as having to start it with the push of a button, the turn of a key, or the pressing of a button on a dedicated remote controller. Asides from this, there's nothing wrong with the machine.
Safety Features
The Generac GP6500 comes with a lot of safety features that not only protect the generator but protect you and your family as well as your connected appliances.
First is the overload protection also called the surge protection in electronics. This technology sets a maximum load capacity, limiting electrical charge.
It also has a fuse that prevents risks and protects sensitive equipment in the event of power volatility or even power surge. The generator set also has overheating protection that prevents damages from occurring in heat-sensitive areas or corners.
The model also has a mechanism for stabilizing the output power, hence, ensuring a continuous power supply that is devoid of fluctuations that can damage plugged appliances.
Noise Level
Technically, there is no standard for testing generator noise levels. It would get even more complicated since any test would mean putting a load on the generator and this means that we have to run some kind of equipment and increase the noise level. The manufacturer doesn't indicate what the noise level of this generator is. That said, you can still run some tests. But here is a caveat: if you're looking for a quiet generator, unfortunately, this is not it!
Three things are working against this possibility on the generator. First, it is an open frame generator; second, it is not an inverter generator; thirdly, it's a very powerful generator. Closed frame inverter generators with power production capacity between 1,700 watts to 4,000 watts are usually the best ultra-quiet generator models. For a conventional, open-frame generator with a peak watts rating of 8,125, it's almost impossible for it to be quiet.
But it's not the noisiest either. And despite the features we mentioned, we were quite amazed that the product could manage not to exceed 62 decibels in a noise test. According to All Time Power, a team of backup power installers, the average range of noise power equipment make is between 70 and 100 decibels at 23 feet distance from the generator. This means the Generac GP6500 is tolerable when used in residential areas.
Portability
This is not the smallest or lightweight generator on the market, but it is portable; that is, you can move it from one point to the other as it pleases you. The portability is ensured by the large wheels and the two carry handles. Then there are two supporting back feet that give the generator a good balance when it's stored or is in operation.
The generator frame is made of a 1 1/4 inch steel tube, which gives it a lot of rigidity and strength. The 9 1/2 inch wheels allow you to easily roll on most surfaces.
Maintenance and Warranty
Open frame generators are a lot easier to clean, run checks on, and cared for than closed frame models; although the closes frame models rarely develop needs for maintenance as the conventional generators such as the Generac GP6500. However, there's nothing much to do on day-to-day running maintenance other than fueling the generator. You don't have to check the oil level each time as the device has an automatic shutdown system in case the oil drops below the required level for operation.
However, if the product develops a problem other than the usual need for fueling, and you've used not used the model for up to three years, you can invoke the warranty provision which should be active for three years, provided you have not voided this. Meanwhile, if you've deployed the generator for commercial uses, the warranty only lasts for a year.
Price
Currently sold for less than $850 by the manufacturer, the Generac GP6500, considering the power capacity and the included technologies, has an attractive price. It's a lot inexpensive than the Ryobi RY906500S, sold for more than $1,000, and the DeWalt DXGNR6500.
Key Features
Some of the key features you can find on the Generac GP6500 are:
389cc OHV engine: The generator has a built-in overhead valve engine that makes 3,600 revolutions per minute, generating 8,125 watts continuously.
COsense technology: The generator has carbon monoxide monitoring technology which shuts down the engine automatically when carbon monoxide production becomes too high.
Low-oil shutdown: Another feature that automatically shuts down the engine for safety reasons is the low-oil shutdown, a feature present in most modern generating sets. This prevents the product from engine damage.
Digital meter display: You can find an hour meter on the control panel side of the generator. It keeps track of the machine's maintenance intervals.
PROS

CONS

Quiet generator
Massive power capacity
Carbon monoxide monitoring technology
Built in a solid frame
Very versatile generating set

Not CARB or EPA compliant
Conclusion
Our Generac GP6500 review should have by now helped you know whether the generator can adapt to your needs. The major highlight of this model is the COsense technology. It's not something you see all the time in a generator. Added to the high power capacity, this is a bang for the buck product. It's certainly not the best portable generator on the market, but it's a great 6,500-watt generator for the job site, whole-house use, or camping.