Are you looking to go camping? Worried where you would hold that great party outdoors? Portable Generators are a welcome addition to any place, be it work, home or a fun gathering. They provide critical backup power whenever needed and make camping and other activities fun and enjoyable. In this Generac GP5700E review, you are about to find out the features and important characteristics of this portable generator. The generator offers a long engine life – ensuring nothing comes in the way of your fun. With a consistent power supply, it can withstand long hours of heavy power usage efficiently and effectively.
Specifications
Generator type
Conventional
Starting method
Electric, recoil
Fuel tank capacity
7.5 gal.
Run time
11 hours (1/2 load)
Outlets
(2) 120V 20A 5-20R Duplex GFCI; (1) 120/240V 30A L14-30R Twist Lock
Dimensions
27.25 x 27 x 25 in.
Warranty
2-year residential, 1-year commercial
Buying advice
While purchasing a generator, look for the specifications. Typically, you use generators for different reasons, apart from using it indoors.
Use it for outdoor activities,
For backup of power
In construction sites
For the party in your backyard
First, decide if you need an electric start or a pull-starting mechanism. Sometimes you have to buy wheels since they are not provided with the generator by the manufacturers. While most generators run on gasoline, some run on natural gas or propane tank. You will need a fuel gauge as it gives you the measure of fuel in the tank. Also, check the generator certification. Hopefully, with this review on Generac GP5700E, you will have a better knowledge of this generator.
Generac GP7500E review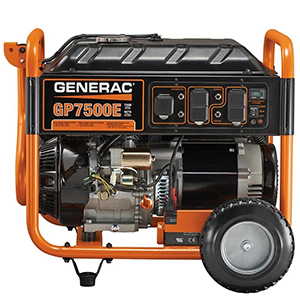 The Generac's OHV engine provides long life, and a run time of over 11 hours.
Using gasoline as fuel, it is environment-friendly and cheap to run. Gasoline, for one, is cheaper compared to other non-renewable fuels out there. Also, gasoline is considerably more efficient than diesel and other fuels commonly used in a generator. Wouldn't you want your generator to consume less fuel? The Generac GP5700E provides continuous power supply so that you can enjoy your outdoor recreational activities without any hassle.
The hour levels keep a check on the maintenance intervals and immediately points out if maintenance is due. The long-capacity steel fuel tank has an incorporated fuel gauge offering durability and excellent runtime. Its low-oil level shutdown immediately shuts down the generator in case of low fuel supply safeguarding the generator from any damage. The covered outlets provide safeguards to the environment and while working in rugged conditions.
Heavy-duty hardened steel tube cradle gives extra strength and durability to the generator helping function properly under intense conditions. The generator comes with unique fold-down hands and flat wheels that provide extreme portability making it easy for you to transport to places where you want to get!
Overall performance
Running at around 9,375 watts, this gas-powered generator offers an electric start with recoil backup. You don't have to manually start the generator in case you need backup power supply under harsh climatic conditions. The circuit breaker protected outlet guards against circuit overloads.
Should there be a heavy circuit overload, you don't have to worry. The circuit breaker will safeguard not only the generator but also everything around it. With the flat wheels, it allows amazing portability, so that you can easily move the generator to your desired location without the need for a group of people helping you shift the generator.
The generator is CSA certified, tested and certified to meet the standards for safety or performance. There is also a plug-in charger jack that keeps the battery charged, ensuring you can use the generator whenever you need it.
Fuel tank capacity and run time
With over 7.5 gallons of a fuel tank, this generator provides over 11 hours of run time at 50% load. So you can efficiently and easily use the generator for over 11 hours that also at 50 % load supply. The generator doesn't run quite efficiently after excessive usage. After approximately 20 hours of high usage, the generator can burst and splutter oil all – something you would want to avoid.
Control panel and outlets

The generator has dimensions 28.8 x 26 inches and weighs over 191.5 pounds. It is shipped in the U.S. except for California and other few states outside the U.S. While it's not that light, we do think it's one offering some good features.
Ease of use
If you are looking for an easy to use generator then this generator is what you have been looking for. Generally, generators, a source for backup power don't necessarily provide for too long hours without rest. Some do provide for long hours, weeks or even months but without end, they can easily perish. This generator runs effectively for 11 hours at 50% load, though some customer reviews claim that the generators burst after 20 hours.
Safety features
In terms of safety, the generator features a low-oil level shutdown that immediately turns off the generator in case of low oil supply avoiding any damage. The low-oil level also detects the decrease in oil levels and indicates the user to add more fuel to the generator.
Noise level
As compared to other alternatives, this generator produces more noise. It has an extremely loud frequency and can cause trouble to people around you. If you are looking for a quiet generator, it's not one we can recommend.
Portability
With the never-flat wheels, you get the reliable portability you need. However, the generator does feel quite heavy though you do have a handle in the front that you can use to pull the generator.
Maintenance and warranty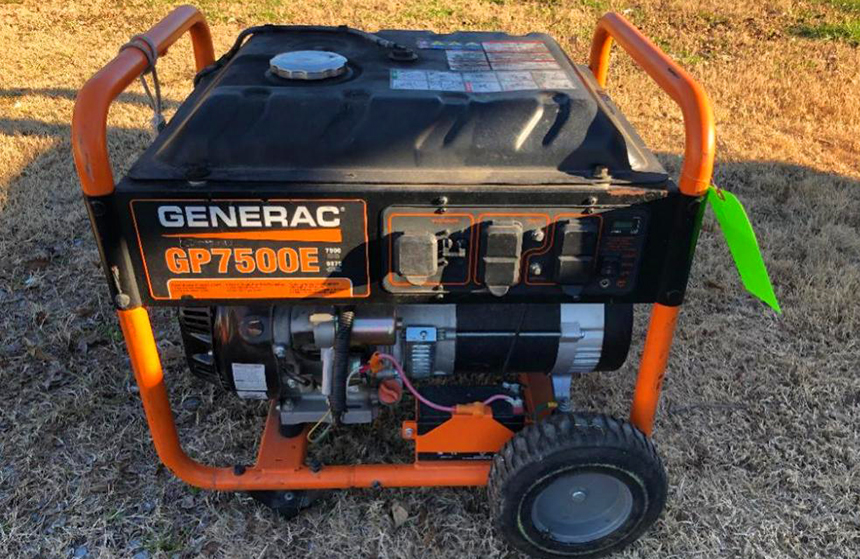 Taking better care of the machine will help translate to longer shelf life. Don't forget periodic checks on the generator. Keep removing the worn-out parts or upgrade your generator.
You also need to keep an eye on the fluid levels. For Generac GP5700E, the low-oil level indicates and detects the absence of fluid but you should keep an eye on the fluid level so that the next time you need a generator, it is ready to be used.
Have a thorough inspection of the battery, especially if you've been using it for a few years. Also, check the connections periodically to see if the generator is working properly or not. Additionally, keep changing the fuel and air filters – it helps prolong the engine's life ensuring it remains debris-free.
Did we mention that this Generac model also has an hour meter that tracks the usage between the maintenance sessions?
Price
The generator is an ideal investment if you are looking for low usage efficient generators.
Key features
Long engine life and consistent power
Single touch electric start provides hassle-free start-up
Locking handle for easy portability and compact storage
Never-flat wheels offer reliable portability
A heavy-duty hardened steel tube that offers more strength and increases the durability
Electric start with recoil backup
The circuit breaker protected outlets guard against circuit overloads offering more protection from the environment
Heavy-duty hardened steel tube cradle gives extra strength and durability
The low-oil shutdown feature can help stop the generator automatically when it detects low oil levels
Powers large appliances with ease
PROS
CONS

Long engine life
Consistent power
Single touch electric start
Hassle-free startup
Electric start with recoil backup
Long runtime

Loud
Not for sale in California
Conclusion
Although the generator has some good specifications, it does have a few sidekicks. With an amazing electric start, this generator has a massive fuel tank that has 7.5 gallons of fluid that work for long use. Plus, the pull-start mechanism requires a little more effort as compared to the electric start. A long engine life allows you to use the generator for long periods. With its power, it can run large appliances like refrigerators, freezers, and more smoothly.
The only cause of worry is the loud noise emanating from the generator when in use. And the fact that since this is a non-CARB device, it's not something you can get hold of in California.
Apart from that, the low-oil level indicator detects the absence of oil – so that you can refill the generator as you need. It's one feature that we found particularly useful and sort of a must-have in any generator that you should buy. You don't want the generator to burn out simply because you forgot to put in some oil – and you shouldn't have to buy a new one for that. There is also a single touch electric start, offering you a hassle-free startup.
Do note that you shouldn't use it for more than 20 hours, as it can cause an oil spillover. So, if you are looking for one that runs longer, this isn't the one you should get. That being said, the generator is an ideal buy for the price that it comes for.