When you are looking for portable generators, it is easy to get overwhelmed by the number of options available on the market. The one brand that you can trust is Generac, as they manufacture powerful portable generators that are not too heavy on the pocket. They are able to provide electricity across your entire household when there is a power outage. Since they are portable, they can be carried outside if you want to take part in outdoor activities.
Most high-quality generators cost a fair amount, but the Generac GP8000E will give you value for your money. The robust build makes it durable, and it is equipped with every feature that you will need. The manufacturer has made sure that the model is safe and easy to use. With the reduced noise level and high engine quality, it makes for a great buy.
Specifications
Generator type
Conventional
Starting method
Electric, recoil
Fuel tank capacity
7.5 gal.
Run time
9.5 hours at 1/2 load
Outlets
(4) 120-Volt 5-20R, (1) 20/240-Volt L14-30R Twist-Lock
Dimensions
28.8 x 27.25 x 25.75 inches
Warranty
2-year limited (residential), 1-year limited (commercial)
Generac GP8000E review
The Generic GP8000E portable generator can be used both indoors and outdoors. The 8, 000-Watt gasoline-powered model will give you long-lasting electricity when you need it. The 7.5-gallon fuel tank is able to store enough fuel to allow your portable generator to run continuously for about 12 hours. Since the machine comes with a low-tone muffler, it does not make a lot of noise when it is switched on. The integrated fuel gauge in the generator will inform you when you need refueling. The generator comes with an ergonomic fold-down handle, which is sturdy and lockable. It is easy to store because of the compact design. The heavy-duty wheels make it easy to transport the generator from one place to another.
The generator comes with circuit breaker protected outlets so that you are safe when operating the machine. Also, you can rely on the hour meter to keep a record of your maintenance intervals.
Overall performance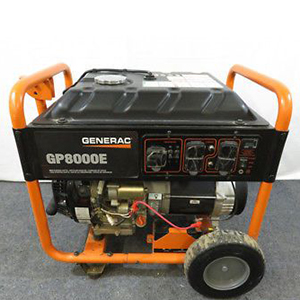 The Generac 6954 GP8000E is not the portable generator you buy when you want a specialized machine that has a few attractive features. It is the generator that you can rely on when you need power at all times. It is portable and encompasses all the basic features you need. The versatility factor makes this the best generator to possess when you do not have any specific purpose in mind. It offers a decent run-time, and the engine runs smoothly. The smooth lubrication ensures that the engine does not suffer from excessive wear and tear. Additional features like the auto shut-off make sure that you do not unintentionally damage the machine.
Fuel tank capacity and run time
The fuel tank capacity should be a major concern when you are examining a portable generator. If you are looking for a portable generator that will run for a significant amount of time, then this model fits the bill. It operates on gasoline and is easy to operate. The fuel tank capacity of 7.5 gallons is enough to accommodate fuel to power all your important appliances. This generator will run for 9.5 hours at 1/2 load. You can use it overnight as long as you only use it to power basic lights and fans. It also provides excellent coverage, which means that it can supply electricity to your entire house.
Control panel and outlets
For a mid-range portable generator, the generator comes with a user-friendly control panel that you will be able to use even if you are not familiar with generators. The control panel on the model is easy to navigate, and you will get adjusted to the different settings soon. It comes with covered outlets that are safe. You will appreciate the hour meter that will give you reminders for maintenance. The electric start is very convenient when you want to use the generator in a hurry. The fuel gauge keeps you updated about when you need to refill the machine. The GP8000E comes with 120-volt 5-20R outlets.
Ease of use
As mentioned before, the Generac 6954 GP8000E is easy to use. You will not struggle when trying to operate this machine even if you have never used a generator before. The control panel is navigable, and you will have no problem locating all the necessary settings. Be aware that the battery cannot charge itself, and you will have to charge it externally from time to time. The electric start button on the machine will save you time and effort. The low-oil level shutdown will save you the hassle of tracking the fuel in the generator. You will be notified when you have to refill or when the generator needs maintenance.
Safety features
This generator is rather weighty, and you will find the ergonomic design helpful in transporting it. The fold-down locking handle makes the machine portable without putting you at risk. Moreover, the covered, circuit breaker protected outlets will provide additional protection both from the environment and rough working conditions. The engine is extremely efficient, and the generator protects it against wear and tear. The machine shuts down automatically when it detects the low fuel level. This prevents engine damage by keeping it from working too hard.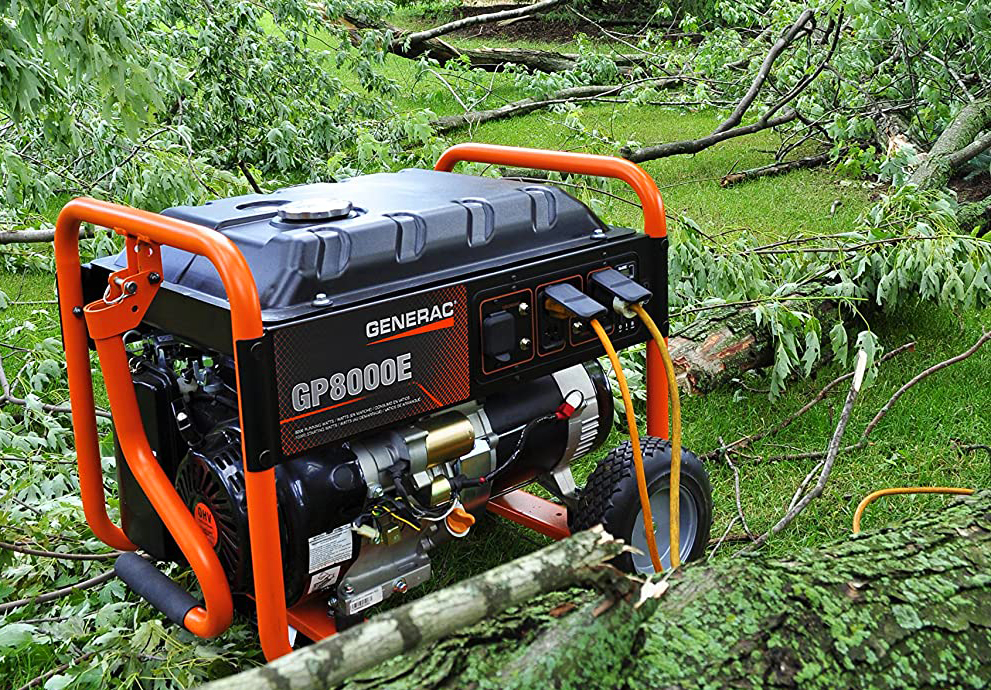 Noise level
The generator comes with an in-built muffler that is extremely effective. The machine operates quietly and does not disturb you. In fact, it makes lesser noise than most models in this price range. If you plan on using the generator for long stretches of time, then this will prove to be a useful feature.
Portability
If portability is your first priority, then you should check if a generator is easy to handle before making a purchase. The Generac 6954 GP8000E comes with a hardened 1-1/4″ steel tube cradle, which provides durability and added strength. You will enjoy the fold-down, locking handle that allows for easy and stable portability. The ergonomic design of the machine is such that you can store it compactly without any hassle. The generator comes with heavy-duty wheels that never lie flat as a result of which it is easy to transport.
Maintenance and warranty
The company provides 2 years of warranty on this portable generator. You should have no problem asking the customer service to take care of your problems. With this model, you do not have to be worked up about maintenance either because it has an hour meter that tracks maintenance intervals.
Key features
It is equipped with the PowerRush Advanced Technology that is responsible for giving you up to 30% more starting capacity.
The electric start option makes the generator easy to use.
Since the Generac's OHV engine comes with splash lubrication, you can be assured of long engine life.
The engine is safeguarded from damage by the low-oil level shutdown mechanism.
It comes with a large-capacity steel fuel tank that has an integrated fuel gauge.
The generator is durable and provides up to 11-hour run-time.
The never-flat wheels are sturdy, and they make for easy portability.
It has a compact design and is easy to store.
Covered outlets give you added protection.
PROS
CONS

Fuel-efficient, and the engine can run all night when you are just powering the essential appliances
Comes with many portability features that make this generator manageable in spite of its weight
The electric start makes the generator even more user-friendly
Many extra features like the fuel gauge, automatic low oil shutdown, and hour meter.
The quality of the engine is premium, and it will definitely last you for a fairly long time
Does not make a lot of noise because of the muffler that suppresses the operation sounds

Does not come with a DC power outlet that would let you charge a battery
It has a THD value of 5%, which makes it unsafe for sensitive electronics
The battery is unable to charge itself, which means that users will have to charge it via external resources
The battery removal process can take up a lot of time
Conclusion
When you think about the Generac GP8000e, you think of reliability. This model will not stun you with its amazing features. Instead, it will give you the comfort of knowing that it will always perform when you need it to. It is an all-rounder model and can adapt to all situations. The versatility of the generator is one of its many advantages.
When it comes to technical specifications, it is on par with other models in this price range. In fact, it offers you a host of features at an affordable price. If your priority is that the portable generator should work perfectly under all circumstances, this might be the one for you. It is a worthy investment and a user-friendly option. Instead of incorporating some standout features, the company has given this model a variety of useful features.