If you're looking for or thinking about buying a gasoline-powered portable generator, you've come to the right place. In the following Generac IQ2000 review, I'm going to walk you through the features this generator offers and talk about any issues and notable attributes too.
By the end of this article, hopefully, you will have a better idea of what the Generac IQ2000 brings to the table and whether or not it's the generator for you.
The Generac IQ 2000 Portable Gasoline-Powered Generator is a convenient piece of kit to have around the worksite, the campsite, or even the home that is prone to frequent or occasional electrical power outages and problems.
This generator from Generac is powered by an efficient and quietly confident 79 cubic centimeter engine in Overhead Valve formation. This motor is a robust four-stroke version with low oil level protection and automatic maintenance alerts.
The Generac IQ 2000 is extremely light in terms of its overall weight and is easy to move around, wherever or whenever you need to move it. The whole thing comes packaged in a durable, lightweight casing, and everything you need has been thought of by the designers.
While it does suffer from a lack of USB charging ports – which seems a massive oversight – the unit does the basics very well and provides power via a dual 120 Volt outlet plate. Electronic starting is not an option on the Generac IQ 2000, which is a shame. However, again, it does do the basics very well.
The Generac IQ 2000 comes with a reasonably comprehensive warranty which lasts for a period of two years and covers mechanical failure during normal use.
This Generac IQ2000 review is designed to be an aid to buying. If you're looking for a portable power generator for any purpose, we hope to make your search a little easier by providing the essential and relevant facts in this guide. Please read on; we're about to look at the Generac IQ 2000 in more detail.
This product's also been included into these rankings:
Specifications
Engine
4-stroke, 79cc, OHV
Fuel tank capacity
1.06 gal
Run time at 50%
5.7 hours
Dimensions
20.0 x 12.6 x 16.9 inches
Warranty
2-year (residential)
Generac IQ2000 Review
Portable generators are an essential part of many setups, be that for purposes associated with the home, using for trade or work, or experiencing the great outdoors without giving up all of the comforts of the modern world. For backup power, nothing beats a portable generator. When the lights go out, having a generator can prove to be priceless.
If you do a job that takes you outdoors regularly, and you're often short of available power, generators can provide seamless working with zero downtime and loss of earnings.
As an alternative to running costly power extensions over long distances, they're the perfect option. You won't suffer the voltage drop problems that many tradespeople experience. Neither will you struggle when trying to distribute electrical power to more remote locations.
The excellent Generac IQ 2000 Gas Powered Portable Generator is a brilliant addition to the equipment of any tradesperson, homeowner, or vacationer and it is considered to be one of the best Generac generators as the Budget Pick. It provides a massive and very useful 1,600 continuous Watts of power – enough to run multiple items of equipment such as freezers or tools. When you opt for the Generac IQ 2000, you get Generac's great 79cc OHV engine.
That's engineered with their unique splash lubrication system, which provides extra-long engine life by ensuring that all engine components are protected quickly and efficiently during starting and running conditions.
This machine comes fitted with a very robust steel fuel tank which can hold 1.06 gallons of gasoline and provides the perfect combination of durability and running time. There is no messing around with fuel caps on the Generac IQ2000 either – the unit comes with a built-in fuel gauge to make keeping this thing running a breeze.
All that fuel capacity means that you get an ample 5.7-hour runtime while the machine is operating at 50% of its full capacity. That's enough runtime to keep this generator going overnight, and that's a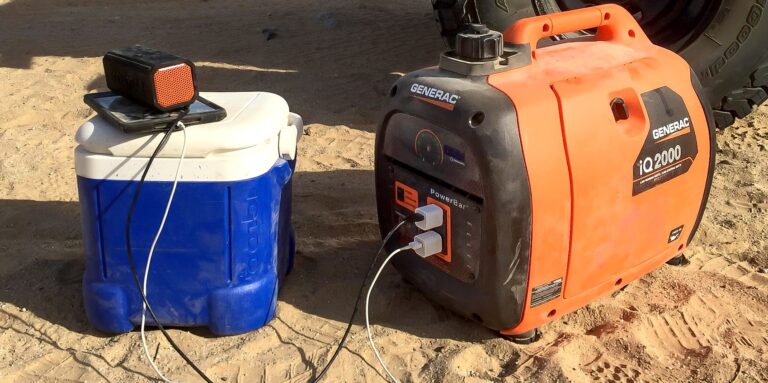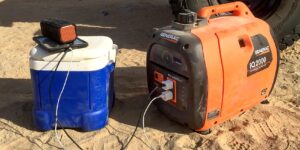 great feature when you're camping or experiencing a power outage at home. You can set this machine in the evening and get a good night of sleep without having to attend to the generator until morning. If you're using this unit for work, you can be sure that the Generac IQ2000 will put in the same solid working day as you do – no more stopping and starting jobs to top up the generator with fuel. This machine will work continuously – just like you!
For peace of mind, the Generac IQ 2000 comes fitted with a very useful hour meter, which clocks up running hours and provides maintenance alerts at specified times. That means you can easily maintain the generator to perfection and prolong its working life. You won't forget to service the Generac IQ 2000 – because it won't let you. This generator practically looks after itself!
As if all of that wasn't enough, the Generac IQ 2000 comes with a vital Low-oil level shutdown capacity built-in. This technology will swiftly and automatically turn off the engine if the oil level drops below a certain point to protect the mechanicals from damage.
The whole Generac IQ 2000 package is encased in a durable casing which makes for one mean machine that can go anywhere without you having to worry about damage from knocks and bumps.
On a building site or a campsite, this machine has the features and the toughness to last a long time. Couple that durability with the never-flat wheels on the Generac IQ 2000 and you have a portable, durable and practical machine that will serve you well for many a job, trip, or electrical power outage.
Fuel tank capacity and run time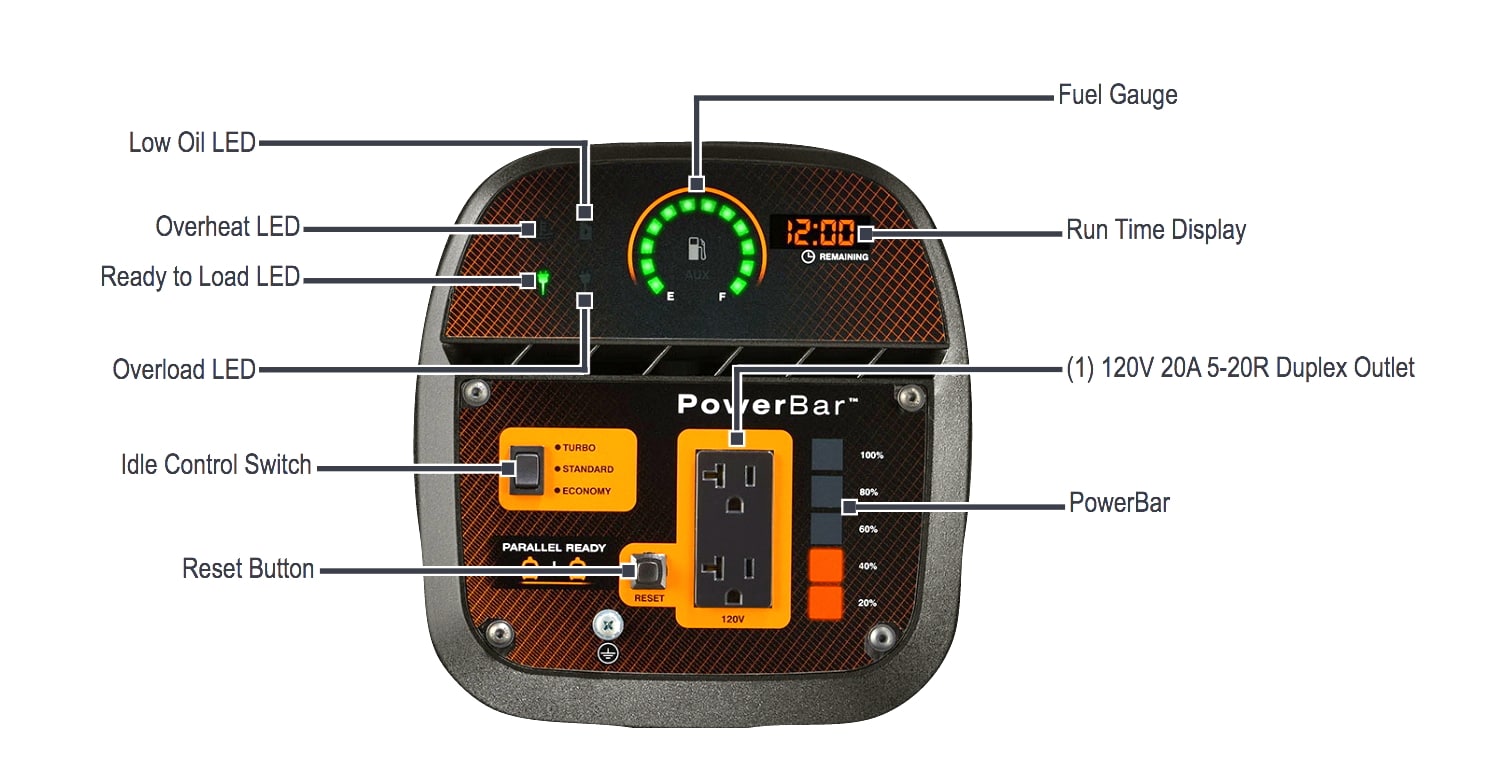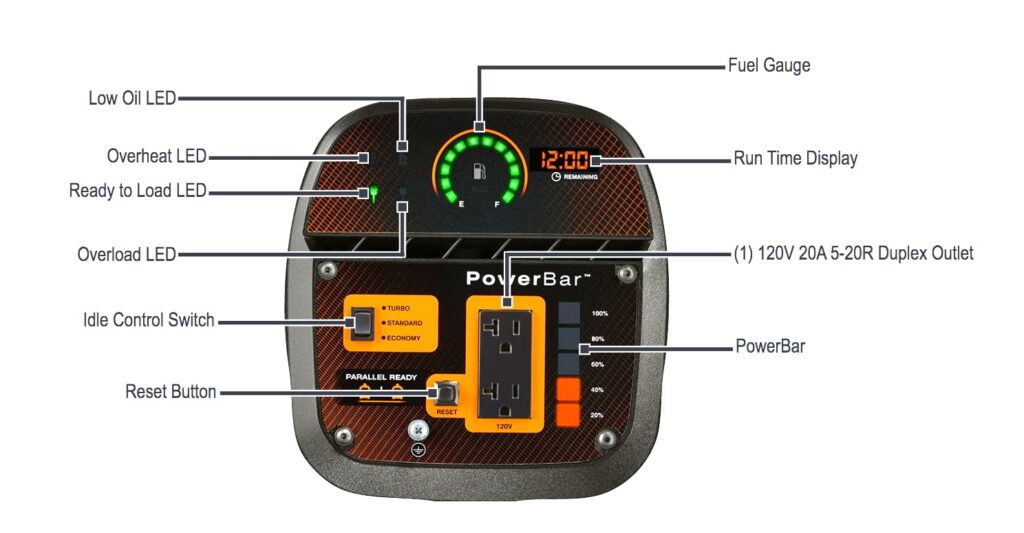 The Generac IQ 2000 comes with a decent 1.06-gallon fuel tank installed. That's enough fuel to run this generator for extended periods between refuels. When you are operating the Generac IQ 2000 at half of its running capacity, you will get a full 5.7 hours of operation without having to reach for the gasoline can. That's an excellent asset for camping, working, or in the home.
Outlets
The Generac IQ 2000 comes equipped with two 120V sockets. That fact is perhaps a little disappointing, and it would be nice to see at least a USB socket or two here. Let's face it, everybody uses portable devices and mobile phones these days, whether they're at home, at play, or work.
The outlets on the Generac IQ 2000 are protected by a circuit breaker, however, which is a great safety feature when it comes to outdoor activities with electrical equipment.
Portability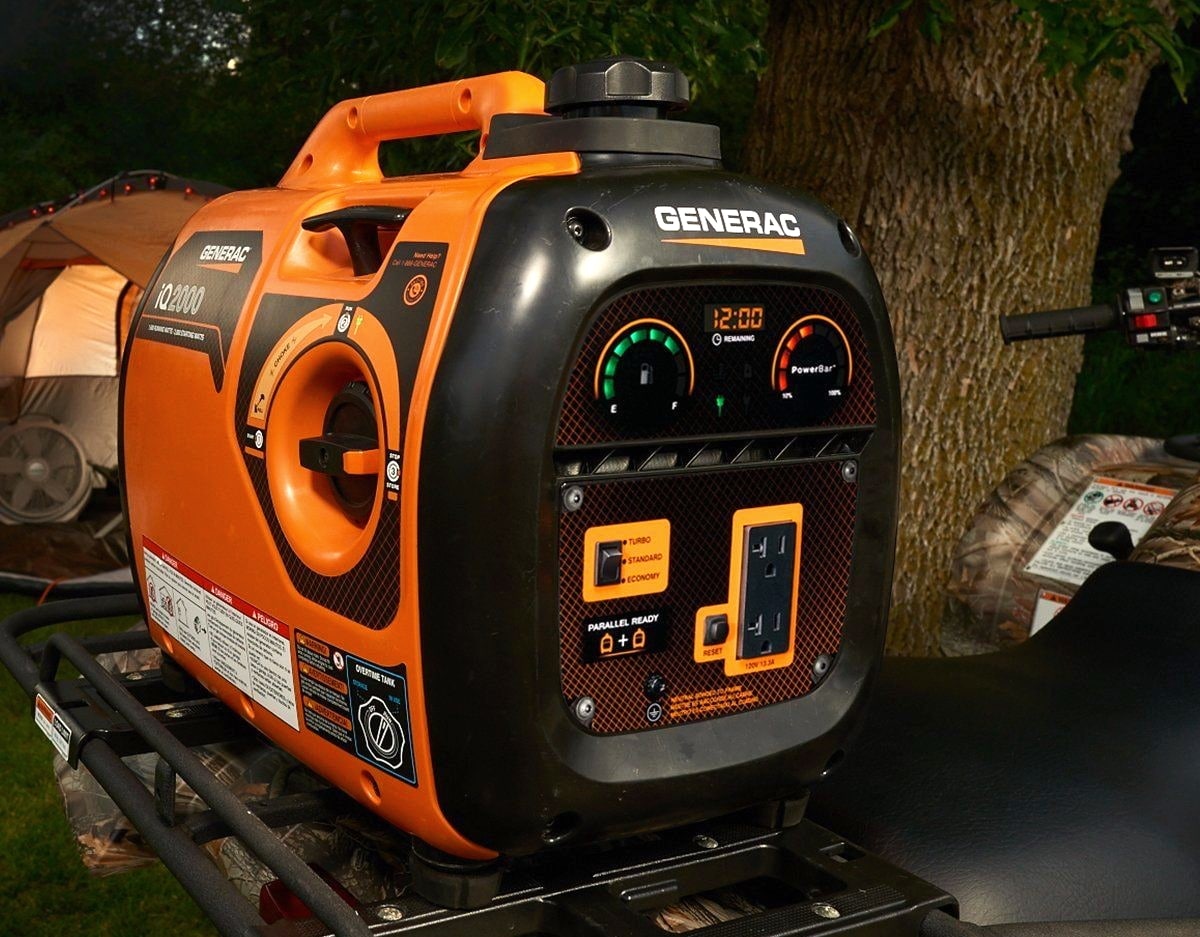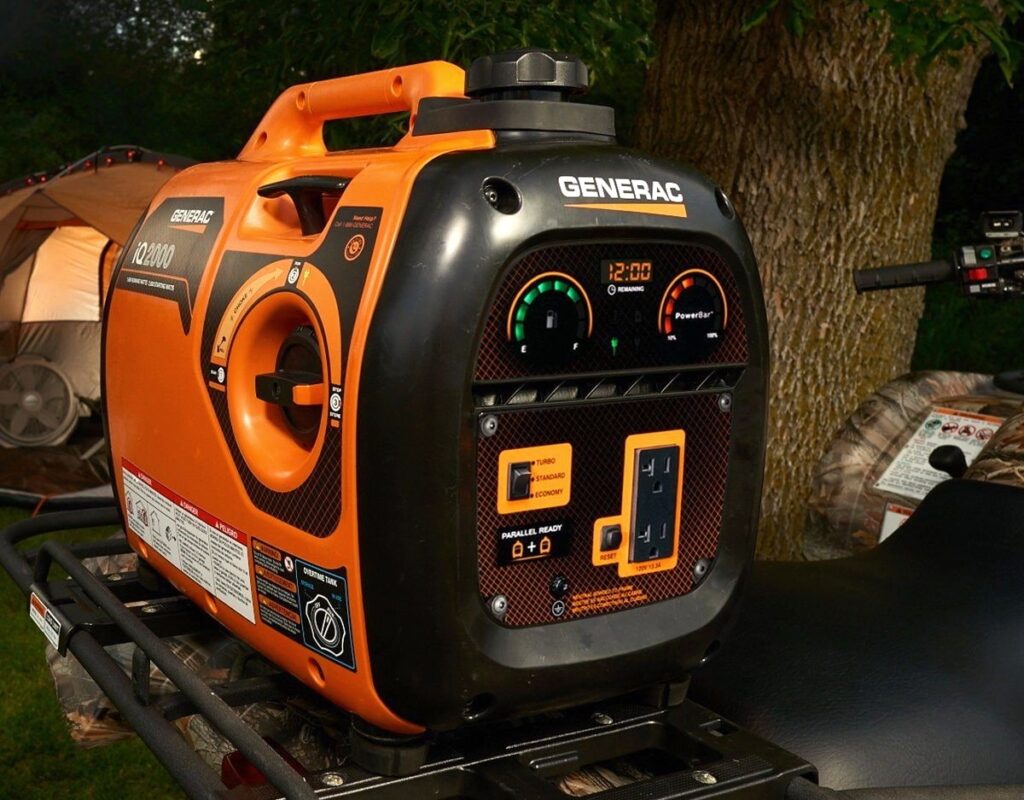 The Generac IQ 2000 generator is extremely easy to transport because it comes with a super handy and convenient handle. It is relatively small in terms of size, weighing in at an incredibly low 46.2 pounds.
This generator won't be a problem for people on the move, and it will stow quickly away in a truck or a car for transport purposes. Some generators fail when it comes to the business of portability; it often costs more to design and engineer a unit which is convenient to transport. However, Generac hasn't rushed the process with the IQ 2000, and the result is something that's an excellent option for frequent movement.
Ease of use
With its small size and its low weight, the Generac IQ 2000 will effortlessly keep the lights burning no matter where you need to take it. Everything is easy on this generator, including the maintenance. This machine even alerts you to the fact that it's due a service. The many readouts on this machine are a mine of constant information, and that's going to save a lot of monitoring time. Peace of mind is standard on the Generac IQ 2000.
Key features
Low oil level shutdown technology incorporated
Extensive two-year warranty
Lightweight
Portable
Durable casing and construction
Long, long running time
Excellent power output in continuous use
Never-flat tires
Parallel kit available as an extra
PROS
CONS

Low oil level shutdown protection
2-year warranty
Never-flat tires
Steel cage construction
Great power output
Long-running time between refuels
Portable
Lightweight
Operates in parallel (Kit is an extra purchase)