The Generic IQ3500 is an ultra-quiet generator with 3,500 starting watts and 3,000 running watts. Generics usually make really quiet generators. So, in this Generac iQ3500 review, we're going to put this generator to the test and see how quiet it is. We are also going to look at how well it performs, the power capacity, the run time and fuel use, among other features it comes with.
This product's also been included into these rankings:
Specifications
Starting method
Electric, recoil
Fuel tank capacity
2.6 gal.
Run time
8.9 hours (50%, Eco Mode)
Outlets
(2) 120V 20A 5-20R Duplex, (1) 120V 30A L5-30R Twist Lock, (2) USB
Noise level
Not specified
Dimensions
23.7 (D) x 21.7 (H) x 18 (W) inches
Warranty
3-year limited (residential/commercial)
Generac iQ3500 Review
Knowing how difficult it can be to find a 3500-watt silent generator of different brands and models in the current market, we have done an extensive review of the Generac IQ3500.
Overall Performance and Versatility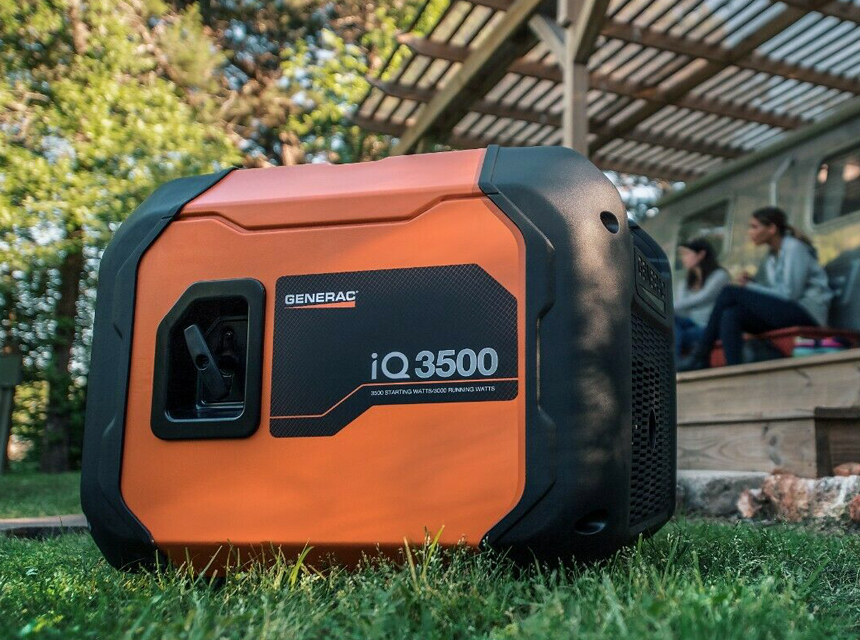 The Generac iQ3500 is a portable generator with inverter technology Trusted Source Pros and Cons of Inverter Generators - Consumer Reports Consumer Reports shares what you need to know about inverter generators. These machines come at a premium price, but they run longer, quieter, and more efficiently. www.consumerreports.org and a 212cc 4-stroke OHV engine. It is one of the newest lines of quiet portable inverter models in the Generac catalog. It can produce approximately 3500 watts of electricity at the first start.
The generator is well built, ultra-quiet, and also comes with a limited three years of warranty. It is indeed up to 40% quieter than most models within its competition and has a good value. The unit is quite portable. It can be used to power a yard, your campsite, or your tailgate. It is great for many mobile applications. Being an inverter generator, you also find some nice clean electricity.
To make the first startup, you have to hook up the battery. Once you get your battery connected, you can go ahead and switch the choke.
Hit the start button. Again, the generator has an Eco Mode function that keeps the noise level low and the fuel consumption at a minimal level. It's usually in an off position. Switch it on and you will have great fuel economy.
As an inverter power generator, the Generac generator is also suitable for supplying voltage-sensitive devices, e.g. for operating a TV set or a laptop. There is also a 12 volt DC output. This connection is used to charge batteries. However, you need a special cable for this.
With a continuous output of more than three kilowatts, the generator supplies your devices reliably and for a long time. The tank holds 2.6 gallons of petrol. One tank of fuel is enough for approximately 9 hours of operation. The eco mode is exemplary. In addition, this technology makes the generator a real power whisperer:
The sound level is just 51 decibels. Since only the energy required at the moment is produced, fuel consumption is reduced – which is easy on your wallet.
Fuel Tank Capacity and Run time
The Generac has a 212 cc engine with a 2.6 gallons (or 12 liters) tank above it. At a full tank, you will have a runtime of 14.1 hours on a 25 percent load. At 50 percent of load, you can get 8.9 hours of run time.
Control Panel and Outlets
On the control panel of the generator are two 20 amp plugs, one 30 amp twist lock, and two USB cable ports. The generator is parallel capable. The control panel also features an Eco-Throttle switch and an electric start.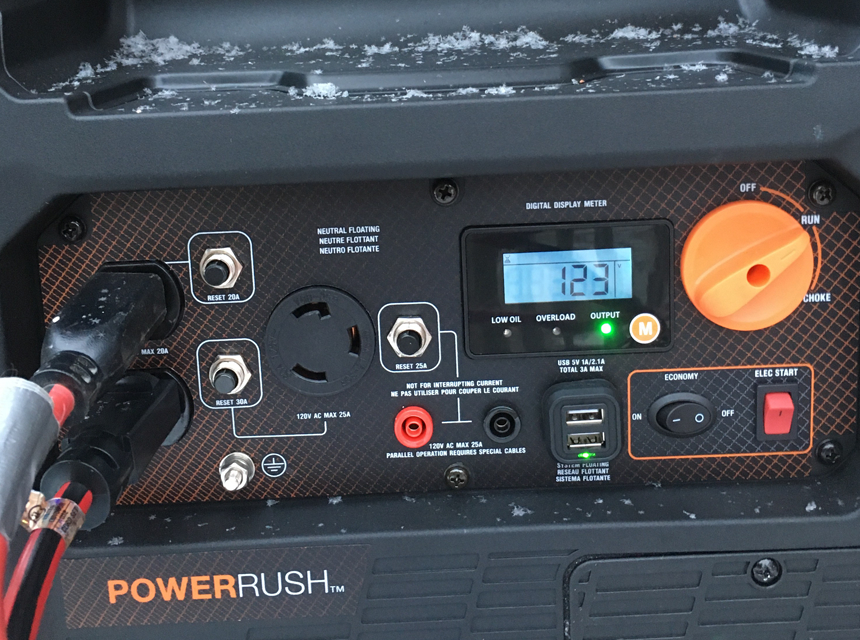 Ease of Use
The engine of a generator set is usually started using a cable. Some models are also equipped with an electric start button, possibly even with remote control. This is practical because no effort is required here, as is the case when starting with the cable pull. However, a starter battery is required for an electric start.
Thankfully, the generator comes with two starting methods. So, getting started with the IQ3500 is easy. The two options, either pulling the rewind cord or pressing the electric start button, don't require a lot of work, and that's very cool.
To start the generator after it's fueled and oiled, begin by opening the fuel tap which is shut off by turning it down.  Put the choke to run so you can start it. You can start the generator by using a simple electric starter. There is also the recoil starter which involves using the pull cord.
The front of the Power Rush is where your battery is located. Turn the cover aside and you will have access to the recoil starter. However, it's a heavy generator that can't be moved except you get some help or use a carrying tool.
Safety Features
One of the safety features of this generator is the automatic shutdown system that activates when the machine senses a low oil level. Asides from that, the generator lacks a ground fault circuit interrupter (GFCI) outlet on the control panel.
However, the generator produces clean power and is also safe for powering or charging sensitive devices such as your tablets, laptop, smartphone, LED lamps, and more. There are also USB ports for directly charging your mobile devices like smartphones and tablets and other small electronic items.
Noise Level and Emissions
At Eco Mode, during a routine test, the generator runs at 51 decibels. At 20 feet on Eco Mode, it runs at 46.8. When you take it off Eco Mode, at 20 feet, it runs at 51.3 decibels.
As you can see, even when it's not on Eco Mode, it's absolutely quiet. The Generac IQ3500 is therefore one of the quietest generators on the market. Some testers also said it measured 55 decibels at 23 feet distance.
Most power generators produce electricity using an internal combustion engine. The environment is accordingly polluted. On the one hand, there are exhaust gases, on the other hand, the noise level is high in many devices. Some companies such as Generac are therefore developing more environmentally friendly technologies – apparently with success.
The device adapts to the output power required and regulates the speed of the motor accordingly. This is good for the environment as it reduces the emission of exhaust gases. But there is no CARB or EPA compliance here. However, it is compliant with the CSA.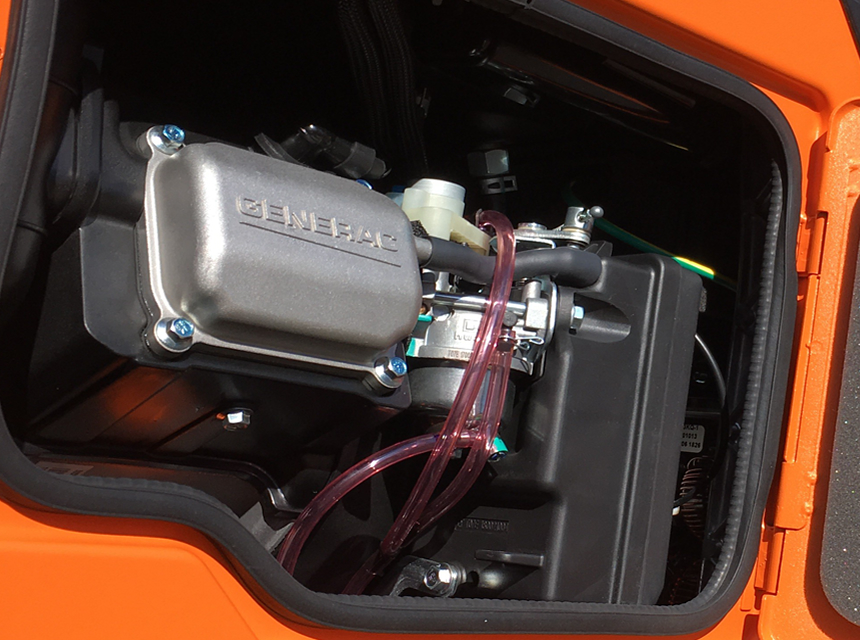 Portability
With the 3,500 watts inverter power generator, you get a compact, high-quality and versatile product delivered to your home. The shape is somewhat reminiscent of a compact square box. The side handle is practical, but with a heavyweight of more than 100 pounds. So, the generator is not suitable for frequent transport.
The generator weighs 109 pounds (or 50 kg) which is very heavy considering its power capacity. This is because the frames are made of metal. However, a lot of plastics are also used in the handles, control panel board, and other areas. Meanwhile, it's small in size, measuring 23.7 inches in depth, 21.7 inches in height, and 18 inches in width.
The generator does not come with wheels and is kind of heavy to move by yourself except you have a little dolly.
Maintenance and Warranty
The generator is a closed frame generator. This makes it more compact and even more quiet. However, maintaining the generator can be an issue as you wouldn't have to loosen some screws when you want to do some cleanups or other maintenance.
What we also liked is that the generator comes with a three-year warranty. This warranty applies to both residential and commercial uses. However, this warranty may be useless as the generator is already built like a tank. But you can never say!
Price
The generator is a bit pricey. It's sold at a price below $1500. Now, for a 3,000-watt generator, that is quite expensive and would not be a choice for many households looking to beat the blackouts that come after a storm or hurricane.
We really think the generator could be sold for a lower price. The Powermate PM3000i is also a closed frame inverter generator with 3,000 starting watts.
Meanwhile, if you want a more inexpensive model, choose the Generac GP1200i which is sold for less than $400, or the Generac GP2200i that is sold for less than $500.
For the extensive equipment and high quality of this power generator, the price is not that expensive and has high value for money. At least that's how the numerous satisfied customers see it.
Key Features
3,000 running watts: The generator has 3,000 watts of running power and 3,500 watts of power when starting. The generator can run most of your basic appliances at home such as a refrigerator, television, laptop, microwave, coffee maker, lights, small air conditioner, dishwasher, and a small space heater.
Powerrush Technology: The generator also features the Powerrush technology. This gives the device 50% of additional starting power to start your gear.
Ultra-quiet generator: The generator is truly ultra-quiet as advertised by Generac. With no Eco Mode function put on, it runs at around 51 decibels. It's 40 percentage quieter than Honda generators, according to the manufacturer.
Eco Mode function: The generator features the Eco Mode technology. When turned on, you'll be able to save fuel and reduce the noise level to as low as 46.8 decibels.
Low-oil shutdown: The IQ3500 from Generac comes with other advantages. An automatic switch-off ensures the safety of the device after the detection of low oil.
Recoil and electric starting technology: There are two ways to start the generator. You can either use the push-button electric start or pull the cable rewind.
Digital display: The generator has a digital display meter that shows your low oil, overload, and other parameters.
Parallel capable: The IQ3500 generator comes with two 20amps 5-20R sockets, two USB sockets, one 30amp L5-30R socket, as well as a 25amps connection point to parallel-connect two Generacs collectively for combined power output.
PROS

CONS

8.9 hours of operation at 50% electrical load
It's practically silent
Has parallel capability
Two ways to start it (push-button electric start or cable rewind)
Shuts down automatically at low oil level
High power capacity
Features a digital display
Conclusion
The only thing that would make this generator perfect is a wheel kit. Generac sees it as a small generator but it's much heavier than even some larger open frame generators with predominant steel materials.
However, if you're looking for a quiet generator for use around residential areas without your neighbors filing a complaint, this is it! It has to be the quietest generator model within the 3,000 watts and above range.
References
1.
Pros and Cons of Inverter Generators - Consumer Reports
Consumer Reports shares what you need to know about inverter generators. These machines come at a premium price, but they run longer, quieter, and more efficiently.