Finding that perfect portable generator is not an easy task, but don't worry too much. It is all about finding the perfect model for yourself. The Honda EU1000i is an excellent generator if you are looking to invest in a premium model. Coming from the trustworthy house of Honda, this super-quiet inverter generator will serve all your needs. The generator's ideal for both recreation and emergencies.
It is versatile enough to be used both indoors and outdoors. Plus, it is lightweight and portable, fuel-efficient and, therefore, environment-friendly. You end up saving some money. This generator is perfect for camping, tailgating, and any other tasks that do not require a lot of power at once. However, are there any downsides to this generator? In our Honda EU1000i, we're trying to figure it out.
This product's also been included into these rankings:
Specifications
Engine
49.4 ccHonda GXH50
Fuel tank capacity
0.6 gal.
Run time
7.1 hours at 1/4 load, 3.2 hours at rated load
Noise level
42 dB(A) at 1/4 load, 50 dB(A) at rated load
Dimensions
17.7 x 9.4 x 15 inches
Warranty
2-year (residential), 1-year (commercial)
Honda EU1000i review
This lightweight inverter generator from Honda runs on gasoline and is easy to use. With a fuel tank capacity of 0.6 gallons, this model is perfect for smaller emergencies. One of the biggest advantages of this generator is its quiet operation. It produces a maximum noise level of just 59 dBA when the machine is at full power. As a result, it can be used in residential areas and even campsites.
The Honda GHX50 4-stroke 49cc engine is of high quality and will not wear down easily. The design is reliable, and you can expect the generator to give you many years of reliable service. You will get about 3.8 hours of run time when you use the generator at full capacity. If you use the generator at a 25% to 50% load, you can get a runtime of 8 hours or more.
The power output stands at 900W for continuous load, but the peak load capacity is 1000W. You can use the generator to power televisions and computers easily. The Honda EU1000i will not limit you in terms of power output. You will have access to parallel connection ports so that you can connect the generator to other Honda inverter generators with the same feature. Hence, you will be able to increase your power outlet.
Overall performance
The Honda EU1000i works very well even in rugged conditions. It has all the provisions to be functional both indoors and outdoors. The portable generator produces very little noise, and you can use it for long stretches of time without any problem. You can expect 1000 starting and 900 running watts.
Fuel tank capacity and run time
The fuel tank capacity of the model stands at 0.6 gallons. While that is not massive, it will be sufficient for small emergencies. You can expect 7.1 hours of runtime at 25% load and 3.2 hours of runtime at full capacity.
Control panel and outlets
Most of the controls on the model are placed in one panel, which is easy to navigate. You will find that the engine switch and the starter grip are located on the side. Every button can be distinguished without any trouble. The Eco-Throttle switch is helpful when you want to make the generator more fuel-efficient. It will adjust the engine speed according to the load on the machine.
You can also use the parallel connection outlets to connect your model with another and increase the power output. The generator comes with two standard 120V power outlets and an 8A 12V DC outlet. You do not have an electric starter on this model, but that does not pose a problem.
Ease of use
You will find that the EU1000i is very easy to use. You will have no problem understanding the control panel. You can track the performance of the generator easily. The absence of the electric start means that you have to use the traditional recoil method to switch on the machine.
Safety features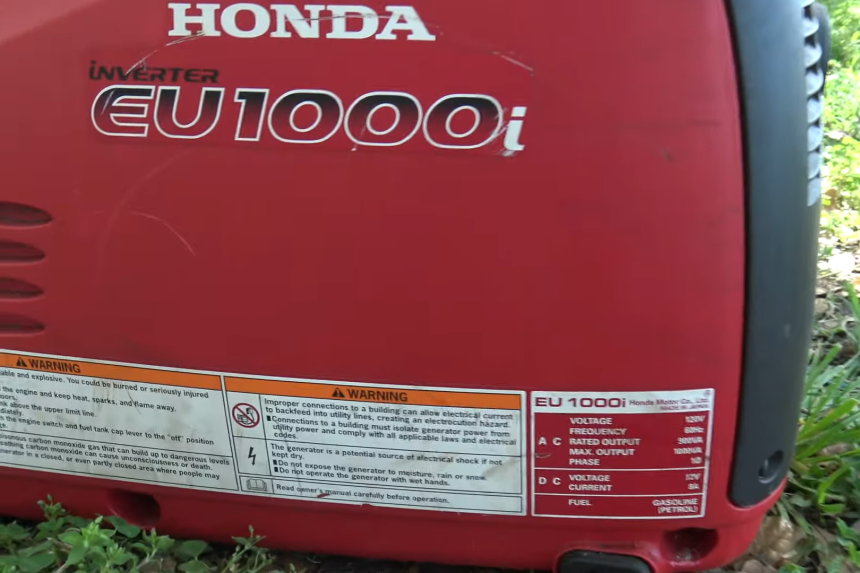 The generator comes with basic safety features to make the experience more secure for you. The DC Circuit Protector shuts off the circuit automatically if the battery gets overloaded. The Overload Indicator signals when the generator is overloaded and cuts off the power supply. The Low Oil Indicator shuts off the engine when it detects an oil shortage.
Noise level
One of the quietest models on the market, the Honda EU1000i will not disturb you in any way when you are working. The system cuts down on noise very well. In fact, the generator makes about 53 dBA of noise when it is running at around 50% capacity. The noise rises to 59 dBA when the generator is at full power.
Portability
You will find that this model is highly portable. Firstly, the size of the generator is small, with dimensions of just 22.3 x 13.2 x 19.8 inches. You will be able to fit it in any room you want. It will also not cause a problem when you carry it during your camping/RV trips. Additionally, the Honda EU1000i weighs just 29 pounds, which means that it is very lightweight. You will have no problem taking it from place to place manually.
Maintenance and warranty
The company offers an excellent warranty on this product. You will get two years of residential and one year of commercial warranty.
Key features
The Honda EU1000i is equipped with an original Honda GXH50 49.4 cc engine that is of premium quality and will run for a long time.
This generator comes with a motor that can deliver up to 1000 starting watts along with 800 running watts of power.
You can use this generator to run a variety of appliances. You will even have the flexibility of running sensitive gadgets like laptops with the help of this model.
It comes with the standard combination of outlets, a 12V DC output, and a 120V 8.3 amps AC.
You have to use the traditional manual recoil mechanism when you want to start the generator.
The compact and small design of the generator makes it lightweight and easily portable. Weighing just 29 pounds, it can be used both indoors and outdoors.
This is an appropriate generator to use in more rugged conditions.
The construction of the generator is of high quality, and you will find that it is very sturdy and durable.
The generator produces just up to 50 dB of noise even at the highest load so that you can be free of distractions.
The Honda EU1000i comes with parallel connection ports, which means that you will be able to connect it one or more Honda generators that have the same feature.
PROS
CONS

Exceptionally lightweight, compact, and portable
Negligible noise at the time of operation, with the sound level ranging between 53 and 59 dBA
Perfect to take on camping trips, especially when you are traveling in a recreational vehicle
Highly advanced inverter technology providing stable and clean power
Auto shut-off preventing the engine from excessive wear and tear
Eco-throttle system that adjusts the engine speed according to the power load in order to save power
Can be used for up to 8.3 hours at a stretch

You will find that this Honda inverter generator is on the pricier side. The brand focuses on giving you the best quality products as a result of which the price tends to go up
Unlike many generators in this price range, this model does not come with an electric start option