Whether you're looking for an emergency power source in case of natural disasters or blackouts, a generator for your RV and camping trips, or finding yourself in need of a portable generator for some other reason, there are a lot of different options out there. One model you might be considering is the Honda EU7000is and our Honda EU7000is review will tell you all you need to know about this portable, gasoline powered, inverter generator.
The Honda EU7000is generally regarded as one of the most reliable and efficient generators out there right now, with both residential and commercial users relying on this model on a daily basis. While many inverter generators have relatively low power outputs and minimal outlets, generally used for DIY or camping purposes, the Honda EU7000is is sold as a generator you can use day in, and day out, no wonder that it is considered to be best whole-house generator among Honda gens. Does it live up to the hype? Read on to find out.
This product's also been included into these rankings:
Specifications
Starting method
Recoil/Electric
Fuel tank capacity
5.1 gal.
Run time
18 hours at 25 % load
Outlets
2x Duplex 120V 20A (5-20R) GFCI,1x 120/240V 30A (L14-30R), 1x 120V 30A (L5-30R)
Dimensions
33.4 x 27.6 x 28.4 inches
Honda EU7000is Review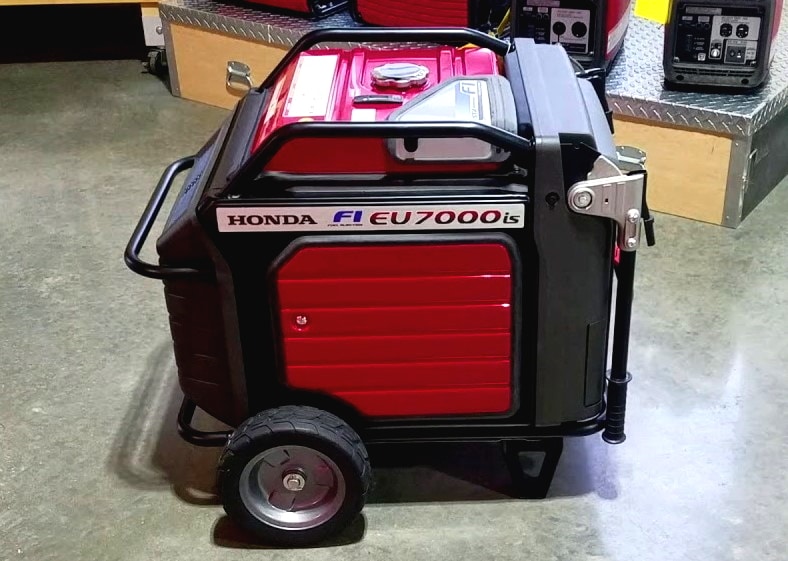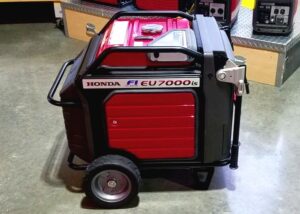 A generator is one of the most vital tools to have at home or at the worksite, but it's vital to choose the right model. Is the Honda EU7000is the perfect choice for you? We'll cover all of the different aspects of this generator down below, from its run time and overall performance to its range of outlets and its security features too. By the end of this review, you'll have a full and complete understanding of what the Honda EU7000is brings to the table, able to make an informed decision on whether or not to invest in one of these inverter generators.
Overall performance
The most important thing for many users when shopping for a portable generator is its overall performance and how much power it can provide, and it's important to consider what you're going to be using the generator for and how much energy you'll need to power up your devices and appliances before you make a decision and settle on a model like the Honda EU7000is.
If you're only looking for something to provide power to some power tools for DIY projects or to boost your appliances for a simple camping trip, you might not need too much power, but if you're looking for a unit that can tackle even working conditions, you'll need a robust, high powered generator.
The Honda EU7000is definitely falls into the latter category. With a super strong and reliable 389cc engine under the hood, this is a generator designed with power and performance in mind. It can generate up to 7,000 watts, with a general running wattage of 5,500. This gives it more than enough power to support several large appliances simultaneously, as well as some smaller devices too.
One of the most unique features of this Honda generator is its iMonitor data center, featured on the control panel. This unique and highly useful feature gives you lots of information regarding the current power output, voltage, and remaining run time. It even comes with a built-in fuel gauge to show you exactly how much gas is left in the tank, which is only a small feature, but a very handy one for those moments when you just want to simply glimpse at the panel and get an idea of when the generator might need a refill.
Speaking of gas, it's important to note that the Honda EU7000is runs exclusively on gasoline, so you won't be able to put propane or other fuel sources in the tank of this portable inverter generator. This might be seen as a flaw for some users who favor propane, but gasoline is typically cheaper and more accessible, so the lack dual fuel functionality in the EU7000is isn't really a big issue, but there are users out there who would appreciate the propane option.
Safety features
Even the toughest generators can encounter technical faults and failures over time and need to be fixed or repaired, or even replaced. It's also important to remember that a generator, when used incorrectly, can be a dangerous piece of equipment, so it's always good to have some smart safety and security features to keep the device and the user protected. You never want to have to worry about your device failing, so safety is a feature that should never be overlooked.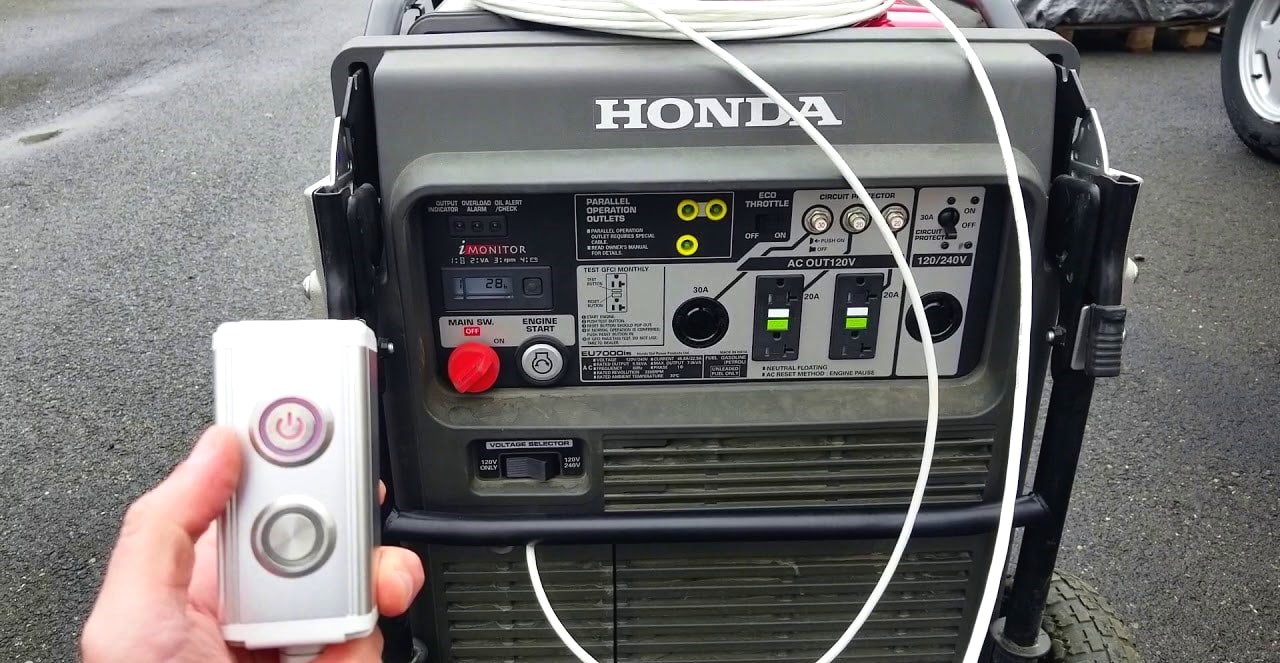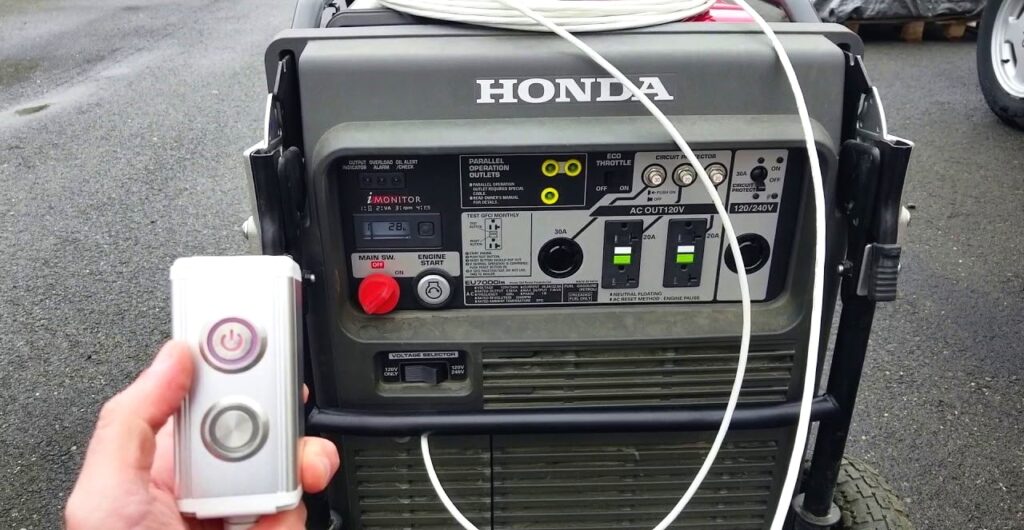 One of the main reasons people choose inverter models of generators over conventional alternatives is the fact that they tend to be safer and stronger, and this is true of the Honda EU7000is too. It has an automatic shutdown feature, for example, which will force the unit to turn itself off if the oil pressure drops too low. Without this feature, the generator could fail, but with it, your unit will be safe.
It also has features to automatically shut itself down in cases of electrical overload, and you'll find three LED lights on the main control panel to indicate why your generator has turned off, if you're unsure. Overall, the Honda EU7000is is one of the safest portable generators you can buy today, and the manufacturers clearly put a lot of time and consideration into ensuring that their unit is safe for general use, even by those who have limited or no experience with generators.
Fuel tank capacity and run time
The fuel tank capacity is another important feature to think about when shopping for a portable generator, as this lets you know how much fuel the unit can handle and how often you'll need to fill the tank back up. Generators with small, 1 gallon tanks need to be filled up all the time and tend to have quite short run times, which can be frustrating and inconvenient, especially if you want to simply load up the generator and leave it running all day or all night.
In the case of the Honda EU7000is, the tank can hold up to 5.1 gallons of gasoline. This is one of the largest tanks we've seen on an inverter generator, ensuring that users of this particular model won't need to worry about filling it up over and over again. Plus, the Honda EU7000is is super energy efficient, making the most out of every single gallon of gasoline, so it really can run for hours on end before needing a refill.
In terms of runtime, it's always better to have a generator that can run continuously for a longer period of time, especially if you plan on using a high powered generator like the Honda EU7000is to support your motorhome, home appliances, or charge up your devices. The EU7000is can run for a whopping 18 hours on 25% load, or less on higher loads.
If you've only got one or two devices attached, this unit can go for almost a whole day long before needing a refill, and even with all of the outlets taken up, it offers impressive overall runtime. There's also an eco-throttle switch which forces the generator to use less fuel. This decreases the overall power output of the unit, but it does give you longer runtimes, so it's a good compromise and a useful feature to have around.
Outlets
Before buying a generator, it's vital to consider what kinds of devices, tools, and appliances you're going to be using it to power up. These days, generators can come with all kinds of outlets to support everything from ovens and washing machines to smartphones and games consoles. If you're only getting a generator to power up things like tools or a motorhome, you won't necessarily need all of the different outlet types, but if you want to have a versatile generator that can handle any situation, it's always good to have outlet options.
The Honda EU7000is comes with a good range of connectivity options beside its control panel. First off, you'll find two regular 110V plugs, the kind you'd see in a standard home, and these can support all kinds of appliances and devices. Then you'll also find a separate 30A 125V locking plug and a 125V/250V locking plug too.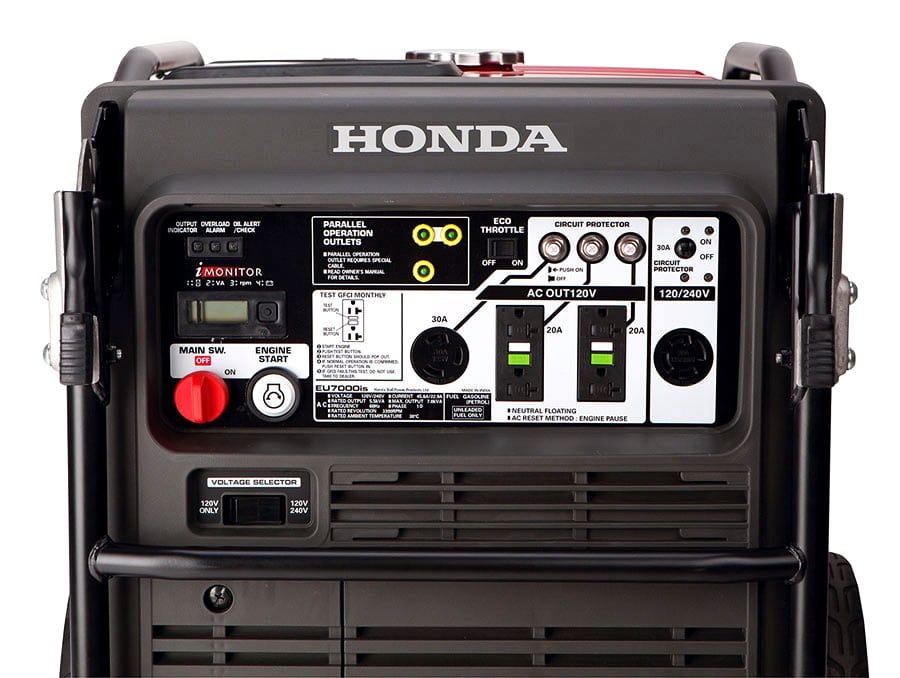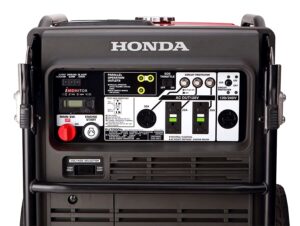 The various outlets on the Honda EU7000is work with everything from fridges and freezers to furnace fans, sump pumps, RV air conditioning units, TVs, DVD players, hairdryers, coffee machines, computers, garage door openers, lights, fans, and more. It also comes with a 120/240V selector switch, allowing you to manually adjust between 120 and 240 volts and giving you all the benefits of both, giving you access to even more appliances with larger wattage requirements than standard 120V devices.
The position of the voltage selector switch is actually a very important part of using this generator. When the switch is in the 120V/240V position, the circuits operate in series, effectively functioning as two separate generators instead of one, which each generator supplying up to 22.9A to certain receptacles. This means that you'll want to balance the load. In the standard 120V mode, the power circuits function in parallel, sharing the load around the receptacles, meaning there's no need to balance the load. Each outlet is rated for 30 amps, and anything exceeding this limit can cause damage to the outlet.
Ease of use
Not everyone has experience with generators, and for some people, the Honda EU7000is might be the first generator they've ever bought, owned, or used. This is why you'll be happy to hear that it's one of the easiest generators around in terms of how simple and seamless it is to start using. The first step of any portable generator is turning it on.
Most generators come with recoil starting systems, in which you have to pull on a ripcord to get the generator running. Those systems are simple enough, but the EU7000is goes even further, with a fully electric starter. To boot up this unit, all you have to do is move the switch to the 'On' position and hit the start button. It'll start up straight away, usually with the very first push, making it a good option for both generator experts and newbies.
If you care about ease of use, you'll also be glad to hear about the Honda EU7000is' control panel and display. It has a full LCD display showing you a range of information regarding the overall operations of the unit. This display tells you the current overall output, voltage, and general power use.
This is a really useful addition to a portable generator, and if you're switching from a simpler model to this one, you'll be impressed at just how much use you can get out of the iMonitor display. It gives you accurate information on how hard the generator is working at any one time, letting you make informed decisions about whether or not it can handle another appliance or device.
The Honda EU7000is also comes with an Oil Alert feature. This is essentially an automatic shutdown in which the generator will turn itself off when it detects that the amount of oil inside the tank is getting too low. Other generators without this feature can suffer faults and failures if you let them run too long with low oil pressure, but that's not something you'll need to worry about with the EU7000is.
It also comes with protection against electrical overloads, so you won't have to worry about that common generator issue either. And it's fitted with a fully USDA-approved spark arrestor, making it totally safe for use in forest and park environments.
Noise level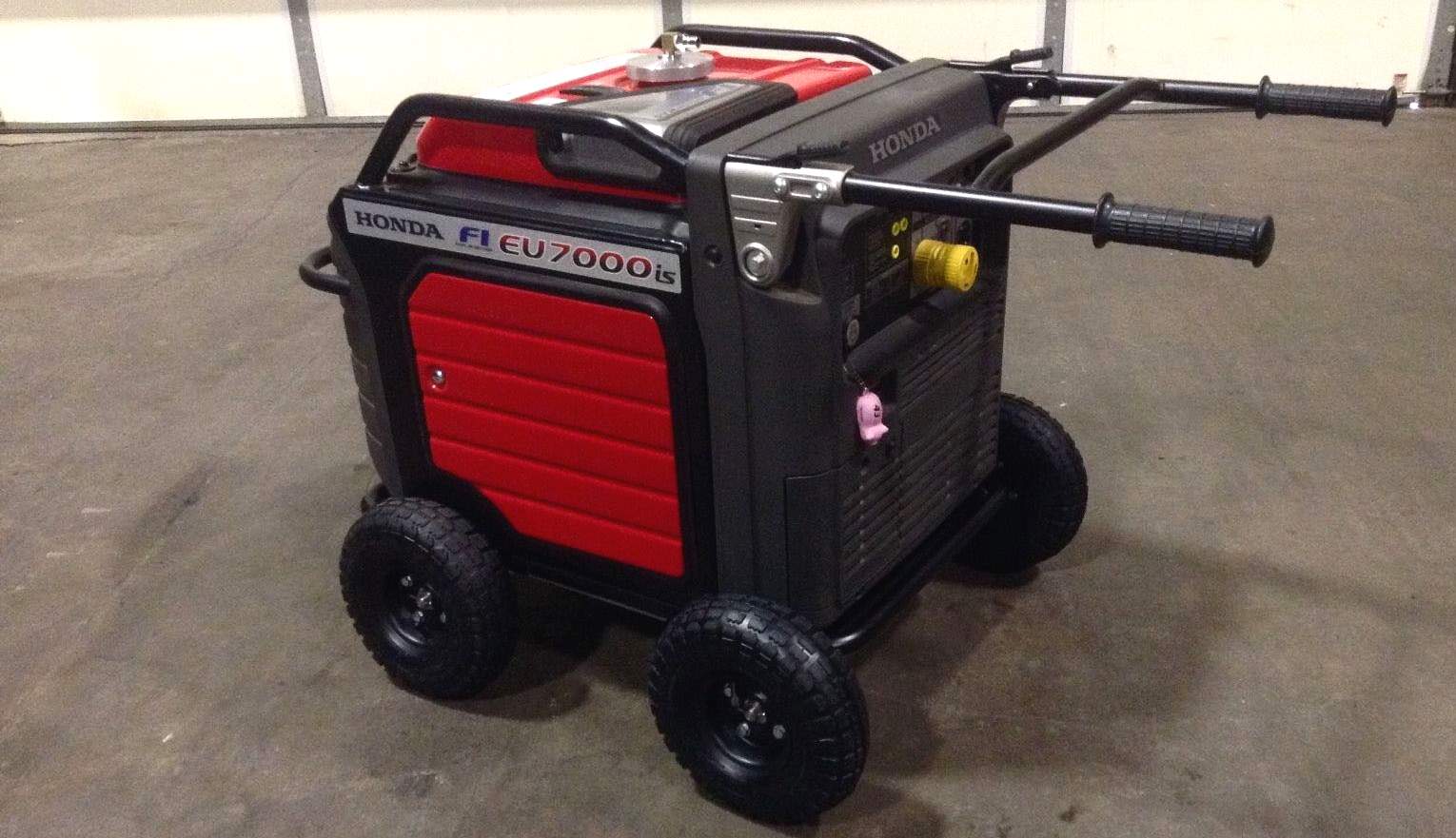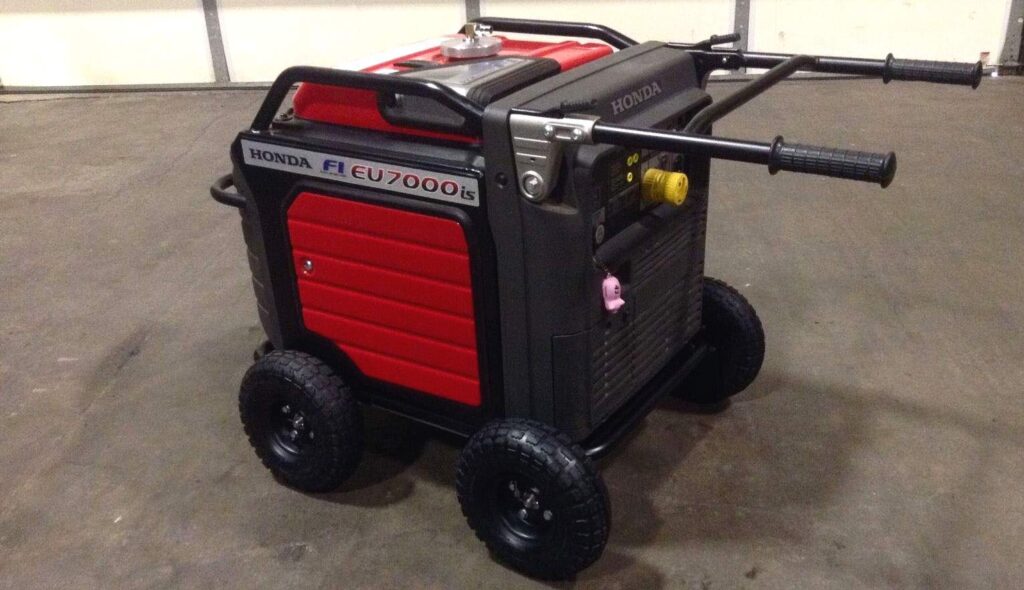 Many portable generators can be quite noisy. This isn't always a problem, but if you're using the generator on a campsite, for example, and want to keep the noise down so that people can sleep and not be disturbed, it's good to have a quieter unit. There's also the fact that many people are easily bothered by noisy appliances and prefer quieter alternatives whenever possible.
The noise levels of portable generators are measured in dBa. For reference, something like a rock concert or power drill can be measured at over 100 dBa, a vacuum cleaner is usually rated at around 70 – 80 dBa, and general conversation is ranked at around 60 dBa. Many portable generators have noise levels of 65-75, but inverter models tend to be quieter than their conventional counterparts, and the Honda EU7000is is a perfect example of that.
It has a noise level of just 52 dBa, so it ranks about the same as light conversation on the sound scale. It's one of the quietest portable generators you can buy today, vastly outperforming the competition. In real life tests, users have found that, when standing about 20-30 feet away from the generator, they can't even hear it at all.
It's super silent and this is one factor that will be greatly appreciated by people around the generator and any neighbors you might have if you're using it while camping. It's even fitted with a high end muffler system to reduce the sound by the greatest possible amount.
Portability
When it comes to portable generators, size matters and weight is a very important factor to think about too. The whole point of a portable generator is that it's portable, so you need to find a unit that can be moved around from one place to another with relative ease. Some units are super portable, weighing in at less than 50 lbs and being light and compact enough to be picked up and carried around by a single person, while others can be a lot bigger, heavier, and more awkward to transport around.
It's often the case that inverter generators tend to be smaller and lighter than their conventional counterparts, but the more high powered models, like the Honda EU7000is, can still be quite hefty. At first glance, you could be forgiven for thinking that the EU7000is might be relatively lightweight. It's designed in a relatively compact and convenient way, not being too bulky or cumbersome, especially when you consider the size of the fuel tank and the power of the engine inside it.
So, in terms of size, measuring up at just 33.4 x 27.6 x 28.4 inches, the Honda EU7000is isn't too bad. It's narrower than many other generators out there, but a little taller than a lot of the competition too. However, you definitely won't want to try and pick this unit up without any help. It weighs in at a whopping 261 lbs, making it one of the heaviest inverter generators on the market right now.
Fortunately, the manufacturers have taken steps to off-set the weight of this unit and make it easier to transport. The Honda EU7000is comes with two folding handles and tough wheels on the base. The wheels are entirely rubberized, giving them good traction on a range of surfaces and allowing them to roll over almost anything with ease like gravel or dirt.
The handles, meanwhile, are large and folding. Folding them down allows the generator to remain relatively compact when it's not in motion, and it's nice to see that Honda added heavy duty metal brackets to the handles too in order to prevent them from snapping or wearing down over time. The handles are big and chunky too, feeling comfortable in the hands and making it easier to lift and move the generator.
Maintenance and warranty
When buying a portable generator, it's always important to think about the long term. You want your generator to last for many years, providing you with reliable power and performance during an extended period of time and ready to cope with varying situations and circumstances. Generators aren't cheap and often represent significant investments for many people, so it's vital to choose a model that can go the distance.
With its great range of safety features and strong overall design, the Honda EU7000is a particularly tough and durable generator. It can cope with many conditions and, most impressively of all, requires minimal maintenance due to its tough, strong housing and well-made components.
All you mostly need to worry about is keeping the fuel tank filled up with gasoline, and even if you happen to forget this, the generator has the aforementioned automatic shut down feature if ever the oil pressure gets too low. It also has overload protection, so it's very rare that these units encounter any kind of issues, and the vast majority of users have reported no problems at all while using the Honda EU7000is.
Another important aspect to consider in regarding to the long term life of your generator is the manufacturer warranty. Some generator manufacturers only offer short warranties of just a year in some cases, leaving you in a tough spot if your unit suffers some kind of fault of failure after that first year passes by. Fortunately, Honda is quite generous with its warranties.
The Honda EU7000is comes complete with a very impressive 3 year limited warranty. This means you'll be covered for the whole of the first three years of your ownership of this unit. If anything happens during that time, you can get your unit repaired or replaced. When compared to many other leading brands and models, the EU7000is' warranty is one of the best around, so if you care about peace of mind, this is a good option to choose.
Key features
Suitable for a wide range of uses like home, backup, RVs, events, and work sites
Electronic fuel injection technology provides superior fuel efficiency
A minimum noise level of just 52 dBa
A run time of up to 18 hours on half load 5.1 gallon fuel tank capacity
iMonitor system with LCD display to let the user see current power usage
Multiple outlets and 120/240V switch for larger wattage appliances
3 year warranty for both residential and commercial purchases
Parallel ready with optional parallel kit (sold separately)
Rubberized wheels and heavy duty handles for transportation
Oil Alert automatic shut down when oil pressure gets low
Electronic circuit breakers protect against overloads
A fuel gauge for monitoring the current fuel supply
PROS
CONS

Easy to transport around despite large weight and size
High power output
Very impressive maximum runtime
Large fuel tank requires minimal refills
Energy efficient
Super silent with advanced muffler technology
Lots of useful features like Oil Alert and fuel gauge
Easy to use
Very adaptable for different situations and appliances

Extremely heavy
Gasoline only