The convenience that power stations offer with big battery backup in compact form is unmatched. The Jackery 1000 is one of the largest portable power stations in the industry. It is the flagship model of the Jackery portable solar generators. It weighs 22 pounds and has a capacity of over 1000 watt-hours. If you are an outdoorsy person in need of power backup on your adventures, it is the ultimate alternative to a noisy, dangerous, and bulky gasoline generator.
The Jackery 1000 is just as stylish as it is functional. It comes in an attractive design with an orange and grey body with a handle. Although it is hefty, it is super-easy to carry with the handle. The Solar generator can power nearly all electronics you can pack for your camping trip, from your mini-fridge and laptop to a coffee maker. Our Jackery 1000 review sheds some light on all the nooks and crannies of the famous portable solar generator. Read on to see if it is what you are looking for.
This product's also been included into these rankings:
Specifications
Capacity
1002Wh (46.4Ah, 21.6V)
AC Output
3*110V, 1000W (2000W peak)
USB Output
2*USB-C ports with PD, 1*USB-A port, 1*quick charge 3.0 port
DC Input
8 mm DC, 12V~30V (200W Max)
Dimensions
13.1 x 9.2 x 11.1 in
Operating Temperature
14-104°F (-10-40℃)
Jackery 1000 Review
The Jackery 1000 was the first portable solar generator by the brand. The brand is named the leader of innovative portable power by the renowned Scitech and Digital News. Trusted Source Jackery Celebrates Its 8th Anniversary and Announces a Sale on All Jackery Solar Generators - SDN - Science & Digital News Founded in California in 2012, Jackery specializes in providing solar generator products for the explorers. As an industry leader in eco-friendly portable power, Jackery aims to developing green energy solutions that power outdoor life experiences as well the commitment to a sustainable future. scitechanddigital.news Although it is a bit pricey, the generator is a worthy buy. Plus, as with all solar-powered generators, only the initial cost is hefty. According to research done by LinkedIn Trusted Source Solar or Petrol Generators - Which is really cheaper? In the cause of proposing solar solutions to leads, I usually get this question – Why should I spend millions on a solar system when I can easily buy a petrol (or diesel) generator for 10% its cost? My answer is simple – You are not looking at the whole picture. Most people compare the purchase price of both petrol generators and solar systems (panels, inverters, charge controllers, batteries) without considering the "Total cost of ownership". Since solar panels last more than 10 years, it is only fair to do a life-time comparison to show the full picture. www.linkedin.com , solar power generators are not only eco-friendly but are also much cheaper to own compared to fuel generators. The unit pairs well with the Jackery SolarSaga 1000 watt portable solar panels for off-grid charging. Although portable, the Jackery 1000 is not easy to tote around as it is somewhat hefty. It is the size of a small 12-pack cooler but worth carrying to your camping or backpacking trip. Here are some of the crucial features that set the portable generator apart.
Overall performance and functions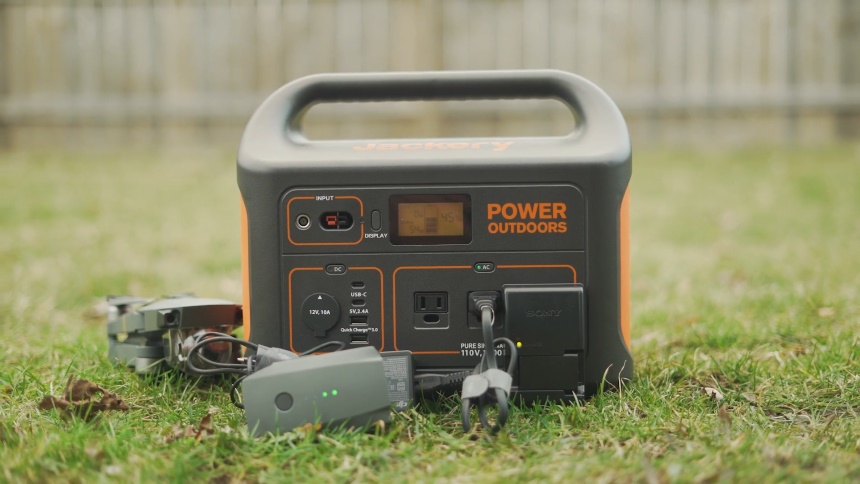 Thanks to its three 110V pure-sine wave outlets, the generator is safe to use with sensitive electronics. Therefore, you can power up a mini-fridge, blender, or coffee maker.
Another praiseworthy feature of the Jackery 1000 is its pass-through charger that allows you to charge your devices and top up the unit simultaneously. With the handy input and output display, you will be able to see the amount of power you are using and putting in.
Moreover, you can charge all of your gadgets directly via the two USB ports. The generator has a decent battery capacity and an advanced inverter that give it a solid overall performance. It even comes with a flashlight that can come in handy when you are out in the dark. With this unit, you will stay connected and continue to work even if you lose power at home for days. Plus, as it is a solar generator, you will enjoy clean and less noisy power. Overall, the Jackery 1000 is a compact powerhouse that offers excellent value for money with unparalleled top-notch performance for its price range.
Capacity and endurance
The Jackery 1000 distinguishes itself from other portable generators with a large battery capacity that can power multiple gadgets and electronics simultaneously. Some of the electronics you can run with the generator include; an electric grill for 50 minutes, camping lights for up to 76 hours, and a mini-fridge for up to 66 hours. You can also charge your laptop eight times and your iPhone 100 times before the battery dies. A small desk lamp with an LED light bulb will last stay on for over two days before the power station goes on. You may use the station to power a vacuum cleaner, but it won't output the highest amount of watts needed to give it full functioning power.
Moreover, the power station comes with a standard wall charger that charges it in a span of 7 hours and 45 minutes. You can also charge it via the 12V outlet in your car for about 14 hours.
The unit has a total capacity of 1002Wh, and it can output up to 1000W with a surge rate of 2000W. If you plug in anything above the capacity, the power station will shut down automatically as a safety feature.
Versatility
The Jackery Explorer 1000 comes second to none in terms of versatility. It offers seven ways of charging devices thanks to the added flexibility of its different ports. The seven ways include 2 USB ports, a quick charge, 2.4amp ports, and 2 USB-C ports that support 18w power delivery, which is the best for charging laptops on the go.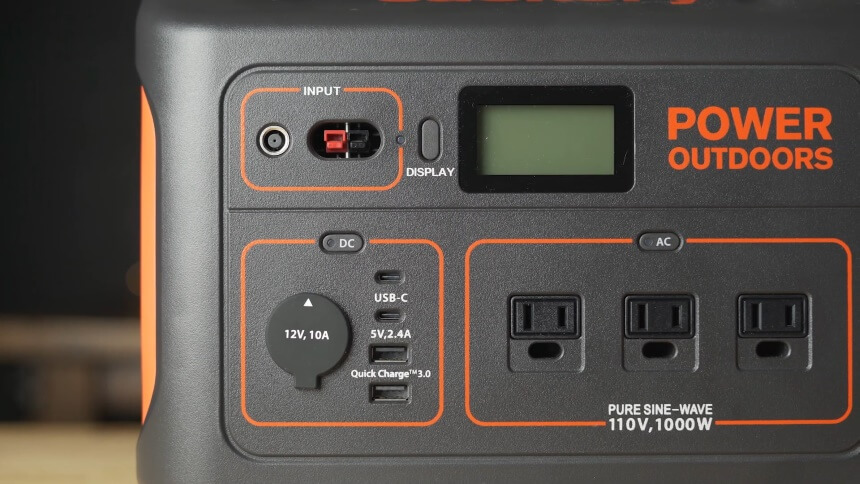 As if that's enough, you also get a 12v car plus and two 230v pure sine wave plugs that make the station compatible with nearly all electronic devices. It is better than many of the cheaper inverters that provide a modified sine wave output that can be less kind to devices.
Power
The Jackery 1000 is one of the most powerful portable generators on the market. It can provide up to 1000w at any point, thanks to its large-sized battery. The increased wattage means you can not only charge your devices longer but also plug in higher-powered devices.
The best thing about the Jackery 1000 is that you can run your electronics and top them up simultaneously. It has a pass-through charger that allows you to have your devices running as you top it up. Plus, the LCD displays the input and the output so you can see the amount of power you are using and topping up at the same time.
You can recharge the power station by connecting it to 2 SolarSaga 100W solar panels with an adaptor cable. The cable comes with the unit, but the two solar panels you have to buy separately. The energy-efficient solar energy system makes the generator an ideal option for outdoor use. You can use it for outdoor parties, a simple stay-at-home in the evening, or a wild camping adventure in the woods.
The solar panels are portable, and you can use them as standalone devices. They are iP55 rated, thus water resistant but not waterproof. The solar panels feature foldable legs that allow you to angle them correctly in the sun's direction. Moreover, they come with a bonus type C and USB port in the wire pocket that you can use to charge other devices.
Connecting the solar panels to the generator is such a breeze. It is just a matter of plugging in the cable, and you can use the adapter to connect the two panels for a better solar charging capacity. The unit's 1002Wh battery capacity offers unmatched running time for various appliances. You would never have to worry about wasting work hours or being unreachable.
Output
Jacker Explorer 1000 is a top-of-the-line compact powerhouse that can power even large appliances like a fridge, provided it runs below the 1000-watt mark. Its large power output makes it a reasonable backup plan in case of emergencies. Even in the case of a statewide blackout, the Jackery 1000 can pull its weight. You will be able to see the amount of power the station is outputting on the back-lit display. Every output has its own on/off switch, so you can choose the parts to provide power.
Portability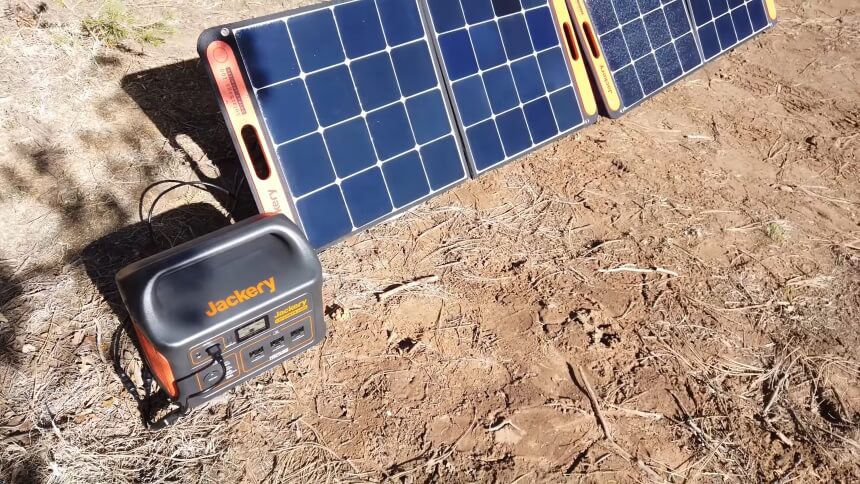 The generator features a sturdy handle that makes moving it from one point to another easy. It also has rubber feet that make it easy to place indoors and outdoors. In addition, the power station comes with a premium quality carrying case. The bag has high-quality zips and handles and is large enough to carry the station together with the charging cable and solar panel adapter.
The solar panels are also easily portable. One solar panel only weighs 4kgs and measures 54 by 61cm when closed and 54cm by 123cm when open. If you are planning to use the power station outdoors, keep in mind that it is not waterproof. Even the solar panels are not waterproof; they are just water-resistant and can only withstand light splashes of water.
Durability and warranty
Like other Jackery explorer generators, the Jackery 1000 offers solid durability. It is well-designed with thick, durable plastic, and there is no doubt it will give you years of service if you treat it with moderate care. However, the unit isn't exactly ruggedized. Therefore, you don't want to drop it even from a modest height. Luckily the handle is sturdy enough to allow easy pickup and carrying around. You can leave it outside the campsite, it will survive, but with its heft, you cannot drop it.
The only concern with the station's build quality is a lack of water resistance. Even the solar panels are not water-resistant. According to the Jackery user manual, Trusted Source Never forget to check the accessories that come with your device. cdn.shopify.com you should keep both devices away from water, meaning if you go camping in rainy weather, you might not make the most out of it.
Further, the power station comes with a 2-year warranty. The warranty period begins on the date of purchase. 2 years is a reasonable amount of time to use the unit worry-free. Plus, the warranty is linked to a free shipping and return policy that allows you to buy and send back the power station with ease. To top it all off, Jackery Explorer has an amazing team that offers top-tier professional service. You can contact them directly to help you with various issues, including repairs, refunds, and replacements.
Eco-friendly
The Jackery 1000 is a competitive product in the notorious environmentally aware market. It doesn't require gasoline or an engine to operate, and its functionality does not emit any harmful substances into the environment. According to Linked Group Services Trusted Source Benefits and Disadvantages to Portable Solar Generators Solar power generators are an exciting new environmentally friendly alternative, to what has up until now been filled by fossil fuel driven portable generators. They're compact, portable, and require very little maintenance. linked.net.au , a leading provider of trade services and renewable energy in Australia, portable solar-powered generators are the only way to enjoy clean solar energy while conserving the environment at the same time.
Price tag
At the moment, the Jackery 1000 retails at slightly below $1000. Each SolarSaga panel retails at $260. The entire kit will cost you a little under $1600. Is it a worthy buy? Hell yes! Although it is pricier than most portable power stations, the Jackery Explorer 1000 is well priced for what you get. It is a top-of-the-line product with unlimited power potential that allows you to work and stay connected anywhere. It's a shame there is no bundle kit offers for the station, but it still is a high-value purchase. If you are a digital nomad, RVer or van life nomad, camper, or road-tripper who hates to be tied to the nearest gas station, the Jackery 1000 is a worthy investment. It remains unmatched even for scientific field pursuits and robotic tests.
Noise Levels
The Jackery Explorer 1000 compares favorably to gasoline generators when it comes to noise. Gasoline generators are quite noisy and can be a nuisance when you are hosting an outdoor event or you need a quiet trip. Your kids may also get disturbed during a blackout.
Luckily, Jackery 1000 is a battery-powered generator with a system is powered by 100w solar panels. Solar energy doesn't need any gasoline or an engine. Therefore, the power station runs quietly that you will hardly notice it is on. This makes it ideal for use in various environments, including at home, on a camping site, an RV, or an outdoor event. What's more, unlike gasoline generators, there is no danger linked to their functionality. The only noise you will get from the Jackery 1000 is from the internal fans. The fans will generate some noise when they kick into high gear every time the battery is putting out full power or taking in full charge.
Key features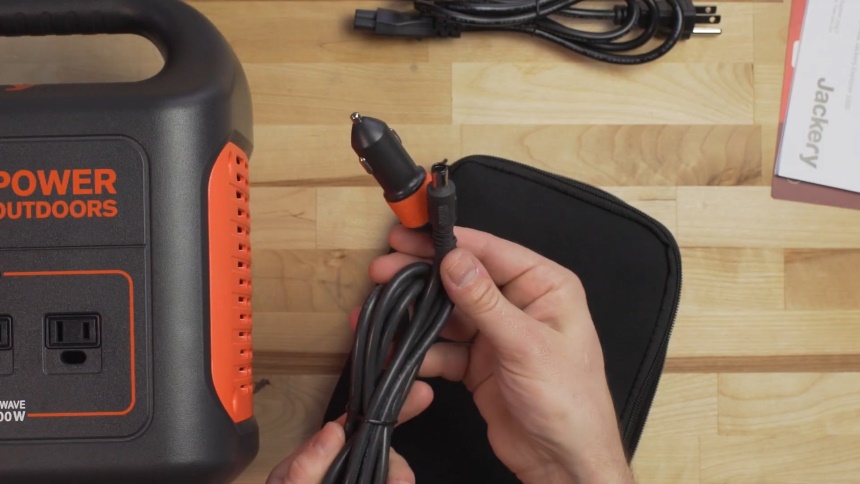 1002Wh capacity and 1000 wattage
Sturdy carrying handle
Three pure sine wave AC outlets
2 USB-C
One quick-charge 3.0 port
1 AC adapter
One car charger cable
A SolarSaga parallel adapter cable
User manual
2-year warranty
PROS
CONS

Easy to use
Noiseless
Durable construction
Powerful and versatile ports
Safe to use with delicate electronics
Large capacity and impressive endurance
Unlimited power
Legit solar panels
Multiple accessories
2-year warranty

Heavily built
On the pricey end
FAQs
Is Jackery 1000 the best portable power station?
The market is flooded with portable solar generators, and Jackery 1000 is not the best but a top-shelf option. It has an advanced inverter and a large battery capacity which makes it an excellent performer. Many inverter generators on the market outperform the Jackery 1000 in terms of wattage and weight, but they also lack in other areas. The Jackery 1000 would probably be best overall if it has a more efficient solar battery charger with better input and larger portable solar panels. Within its price range, Jackery 1000 sure is the best that money can buy.
How long does the Jackery Explorer 1000 take to recharge fully?
You can recharge the Jackery 1000 in a matter of 8 hours. If you are preparing for an outdoor event, you can charge the generator a day prior. If you are connected to two solar panels, you will go from 0% to 100% battery level in just under 8 hours. A single solar panel will take approximately 17 hours to recharge the unit fully. Charging with a single solar panel takes longer, resulting in similar functionality and the number of usable hours. What's more, you can charge the generator from AC outlets and 12V car accessory ports. The charging hours shouldn't bother you because you can use the generator while charging it simultaneously.
Conclusion
Our detailed Jackery 1000 review reveals the unit as a compact powerhouse. The off-grid generator is a valuable product in the competitive eco-conscious market. Although it is on the pricey end, its high-powered battery will keep your devices and gadgets going anywhere you bring it with you. With seven ports available, the station's versatility is unmatched. Plus, you can charge it and power your devices simultaneously. The fact that you wouldn't have to buy extra batteries for different devices like your camera, drones, or laptop is enough to convince you that the Jackery explorer 1000 is worth every penny.