Having a portable generator can be so useful in many situations, for powering up the RV when you go camping to serving as an emergency backup power source in times of need, and more and more people are opting for inverter generators for the cleaner energy and more efficient performance levels they can provide, and if you're looking for an affordable, efficient inverter generator that can handle anything from camping trips to power tools, the Predator 2000 is a very interesting option to consider, and our Predator 2000 Generator review will tell you all you need to know about it.
The Predator 2000 one of the top rated inverter generators out there, produced by a leading brand in the form of Harbor Freight. Fitted with a reliable engine, strong safety features, and impressive overall tech specs, this generator seems to be a big winner in many categories, but how good is it really? And should you choose it if you're shopping for an inverter generator and want the best value for money? Read on to learn all about this generator, starting with the specifications table below.
Specifications
Fuel tank capacity
1 gal.
Run time
12 hours at 25 % load
Outlets
1x Duplex 120V 20A (5-20R), 1x 12V 8A receptacle
Dimensions
22.6 x 12.6 x 18.5 inches
Predator 2000 Generator Review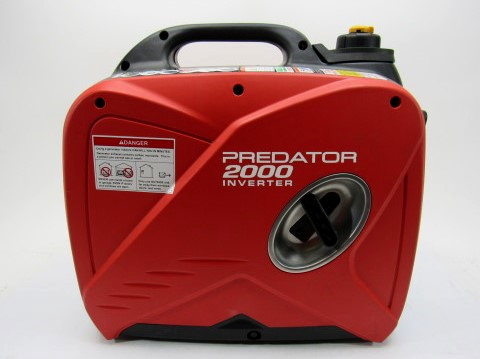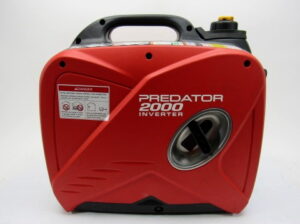 The first thing we notice about the Predator 2000 is its lightweight, compact nature. Like many inverter generators, it's smaller and more portable than conventional models, with a relatively small fuel tank capacity but a very efficient and impressive run time. It comes with multiple outlets for all your appliances and devices, and some impressive extra features too. Read on to learn about the specific features and aspects of this popular inverter generator.
Overall performance
The Predator 2000 comes fitted with a 79.7cc air-cooled OHV engine and is capable of peak wattage of 2,000, with 1,600 running watts. It offers strong overall performance levels for an inverter generator, with no power fluctuations like you might expect from a conventional model. It's also very eco-friendly, cutting down on carbon emissions and getting more efficient use out of the gasoline in the tank.  This inverter generator is also parallel ready, able to be hooked up with another Predator 2000 for double the power and twice as many outlets if you want to power up lots of devices all at once.
Safety features
One of the big advantages of inverter generators over conventional models is that they tend to be a lot safer, with various security features in place and more durable designs too. The Predator 2000 is a perfect example of this. It's fitted with a fully enclosed, high impact housing to shield it from the elements and other potential threats or risks in the outside world like dust and bugs. It also comes fitted with electronic overload protection, a useful feature to have if you prioritize safety when using a portable generator.
Fuel tank capacity and run time
The fuel tank capacity of a portable generator is always a vital feature to think about, as it lets you know how often you're going to need to refill the unit and how much it can handle at any given time. The capacity for the Predator 2000 is just 1 gallon. This is enough for an impressive runtime of 12 hours at 25% load, and it helps to ensure that the unit is lightweight, portable, and energy efficient. However, it does also mean that you'll need to refill it more often than you would on a model with a larger tank capacity. Also, the runtime can suffer a little at higher loads, so this is something to be aware of.
Outlets
A vital aspect to consider when investing in any portable generator is what outlets it has to offer. A greater number and variety of outlets is always better for when you want to use different devices, but if you're just looking for simple usage, the Predator 2000's outlets are all you need. This inverter generator comes with two 120V 20A (5-20R) outlets and a 12V 8A receptacle, making for a grand total of three outlets. This allows the user to power up two big appliances and one smaller device all at the same time. There are generators out there with many more outlets, but for most situations, these three are all you need.
Ease of use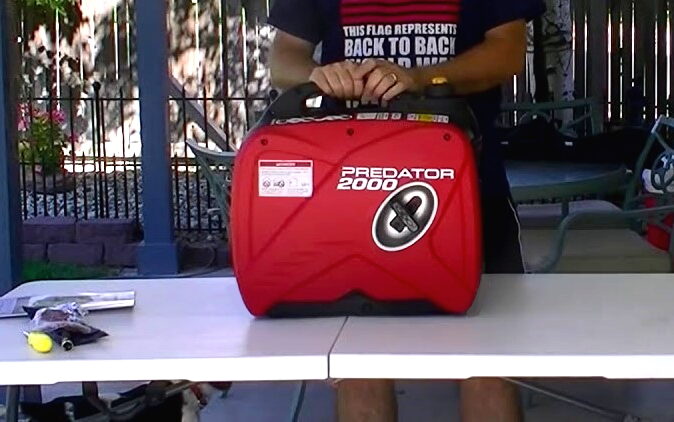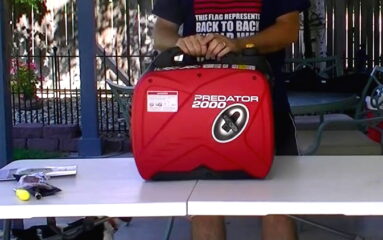 Many users have reported that the Predator 2000 is one of the easiest generators to use they've ever had the pleasure of owning, and also don't forget that it is one of the most affordable models on the market today, so, no wonder it is as well one of the best Predator generators as the Budget Pick. Not only is it a compact and lightweight unit that can easily be carried out, but it also comes with a lot of useful features to make it more intuitive and straightforward too, like low oil indicator alerts to let you know when the oil tank needs filling up. Like many portable generators, it has a recoil starting mechanism, so is very approachable and accessible for all users, even those with minimal generator experience, and the outlets are easy to access too. It has electronic overload protection too and the aforementioned parallel connectivity feature if you need a power boost.
Noise level
When shopping for portable generators, many people worry about the noise factor, and it's true that there are a lot of generators out there causing a whole lot of commotion when they're in operation. Fortunately, the Predator 2000 isn't one of them. This affordable inverter generator is actually relatively quiet, with a noise level of just 65 dBa. Many other generators go above and beyond the 70 dBa mark, so the Predator 2000 compares favorably to a lot of the competition, and it's quieter than something like a vacuum cleaner, so you won't be too bothered by the sound while using this one.
Portability
Definitely one of the best aspects of the Predator 2000 Generator is its portability. When we think of a typical portable generator, we think of something heavy and awkward to carry around, but the Predator 2000, thanks to its compact design and lightweight nature, is highly portable and convenient in all the right ways. It measures up at just 22.6 x 12.6 x 18.5 inches and weighs in at only 47 lbs, making it one of the most compact and portable generators you can hope to find. It even comes with a handle on top to let you carry it around from place to place.
Maintenance and warranty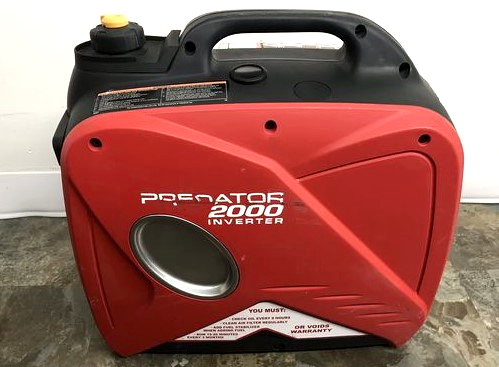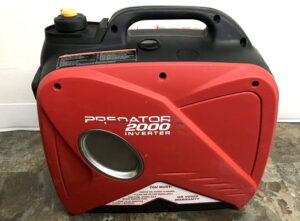 One of the big advantages of choosing an inverter generator like the Predator 2000 is that it requires less maintenance than a conventional model, so you shouldn't have to worry too much about spending a lot of time or resources on this unit. Plus, as mentioned previously, it comes with the low oil indicator alerts to let you know when it's time for an oil change. The Predator 2000 is also covered by a 2-year limited warranty, giving you the peace of mind that comes from knowing your unit will be repaired or replaced if it has any technical faults or failures within that timeframe.
Key features
An impressive runtime at 25% load
Key safety features to protect against electronic overloads
Peace of mind from 2-year limited warranty
Three outlets for multiple simultaneous device connections
Relatively quiet when compared to other generators at 65 dBa
Recoil start for simplicity
7cc air-cooled OHV engine
2,000 peak watts
1 gallon gasoline-only tank
Handle and lightweight design for portability
PROS
CONS

Eco friendly and energy efficient
Very portable and practical
Quite quiet
Easy to use
Strong safety features
Decent runtime
Impressive warranty