When it comes to choosing a portable generator, power, noise, portability, and runtime always seem to be at odds with one another. But Harbor Freight appears to have broken that mold with the company's Predator 3500 generator. This generator promises features like electric start and continuous 3,000-watt power, all while keeping noise under 60 dB and weight under 100 pounds. To sweeten the deal even more, the Predator 3500 costs just $800 – a steal by any measures.
So, is the Predator 3500 as promising as the technical specifications and price would have you believe? In our Predator 3500 generator review, we'll take a critical look at what this generator has to offer and whether it's the best solution for your portable power needs.
Specifications
Engine
212cc air-cooled OHV
Fuel tank capacity
2.6 gal.
Outlets
(2) 120VAC grounded, (1) 120VAC Twist-Lock, (1) DC-12V Two Pin
Dimensions
22.75 x 17.3 x 20 inches
Predator 3500 Generator Review
The Predator 3500 has a lot going for it. While producing up to 3,000 watts of power, a switchable ESC throttle allows it to keep fuel efficiency as high as possible. As a result, it's able to run for 11 hours at a 25% load, or half a day at full power. On top of that, noise isn't a problem with the Predator 3500 – it's one of the quietest 3,000-watt generators we've come across.
Given that all of this comes at a pretty reasonable price point, we're big fans of the Predator 3500. Importantly, users agree – the Predator 3500 is a much-loved generator for those who find themselves needing more power than a typical 2,000-watt generator can provide, but who also want to stick with inverted power. Actually it"s no wonder that this mdoel is considered to be one of the best Predator generators in a whole.
Overall performance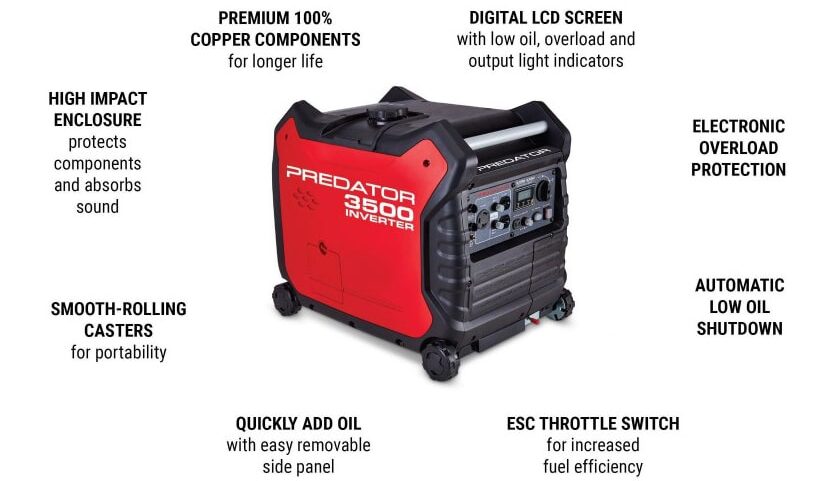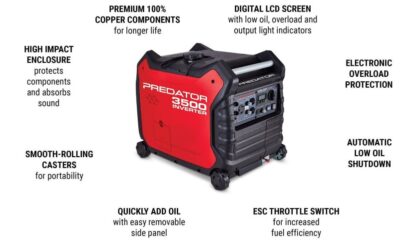 The Predator 3500 is constructed around a 212cc air-cooled OHV engine. That's a big engine for just 3,000 watts of continuous power, but it ensures that the generator is cruising smoothly rather than struggling when you draw its full available power. In the long run, that means this generator is likely to hold up better to abuses and commercial use.
Importantly, the Predator 3500 features an ESC throttle switch that increases fuel efficiency. You might not want to use this generator when you're running at full power, as it will put some unnecessary wear on the engine. But for running at 50% load or lower, the throttle switch can really improve the runtime of this generator. Plus, the switch is easy to toggle on and off as needed.
Because it's an inverter generator, the Predator 3500 is also able to connect in parallel to a second model. Buying two of these generators isn't cheap, but it's a far more economical option than buying a 7,000-watt generator if you already own one Predator generator. The parallel conversion kit doesn't come with the generator, but it's cheaply available from Predator.
Fuel tank capacity and run time
The runtime of this generator isn't anything to write home about, but it's not bad, either. Predator built the generator with a 2.6-gallon fuel tank, which provides a nice balance between runtime and compactness for the generator body.
With the ESC throttle engaged, the generator can run for up to 11 hours at a 25% load. You can get pretty close to a full day's work in with the generator running at 50%, although you'll need to stop and refuel partway through the day if you run the generator at full power.
In reality, though, users found that the runtime was far longer than what Predator advertises. Many users report using the generator for five hours or more and using only a fraction of the fuel tank. So, runtime is unlikely to be an issue if you opt for the Predator 3500 generator.
Outlets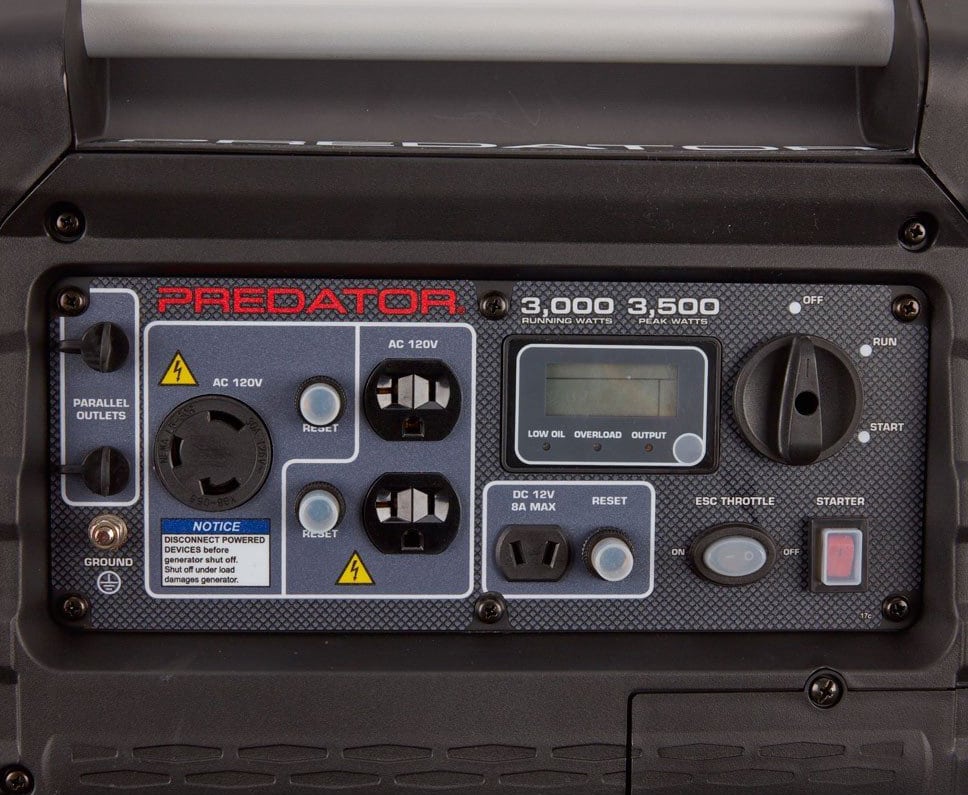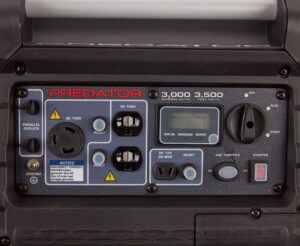 The generator includes a pretty nice selection of outlets. There's a single 120-volt duplex for your standard appliance. It also has a 120-volt, 30-amp twist-lock outlet that you can use for power tools or to adapt for use with an RV. That's ideal given that this generator is the perfect size and power capacity for a lot of medium-sized RVs. Finally, the generator has a two-pin 12-volt DC outlet for charging batteries.
Still, there were a few other outlets we wished for on this generator. Some USB ports, in particular, would be great so that you could charge your small electronics without using up one of the 120-volt outlets. You'll probably want to bring a surge strip to use with the generator, too, since only having two 120-volt outlets can be pretty limiting.
Ease of use
When it comes to ease of use, Predator seems to have thought of everything for this generator. First, it comes with a simple starter switch. This means that you don't have to bother ripping a pull-cord starter, which is really nice when starting the generator from cold. The throttle knob is also clearly labeled, so you can simply switch between the starting throttle position and the running position with a quick turn. Note that there is also a pull-cord on this generator, so if the battery dies, you will have a way to start the generator.
We also really liked the LCD screen built into the outlet panel on the Predator 3500. It allows you to easily switch between monitoring your wattage draw and the remaining runtime based on your fuel consumption. In addition, right below the LCD screen are lights that indicate when your oil is running low or when the generator is in danger of being overloaded.
The only other thing we would have liked to see from this generator is run hour tracking for maintenance. However, this is a pretty unusual feature to find on generators, so it's not that surprising that Predator didn't include it. The low oil light goes a long way to making sure that you perform needed maintenance on time.
It's also worth noting that the generator doesn't come with any fluids inside it. That means that you'll need to add oil to the generator before using it for the first time, which can be annoying when you're excited to use your new generator. The battery is also wrapped in plastic inside the machine when it first arrives, and you'll need to access it and connect it to the terminals in order to start the generator. Still, these are one-time issues and the other features of the generator far outweighed them for the majority of users.
Safety features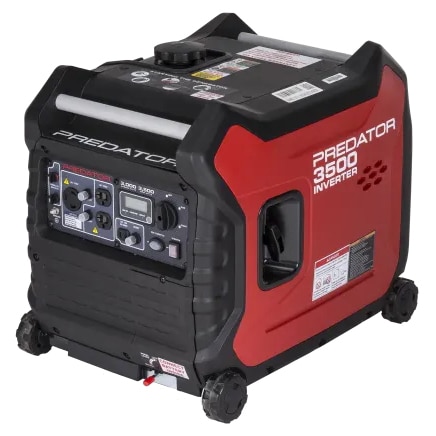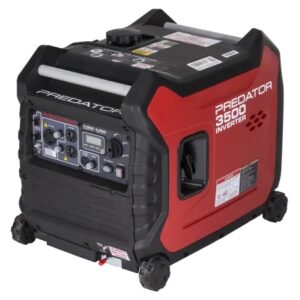 The Predator 3500 has all the basic safety features you could want. In addition to the lights warning you about engine oil running low or approaching generator overload, the generator has shutoff backups for both of these problems. So, if you ignore or don't notice the warning lights, the generator will automatically turn itself off to protect the engine and your electronics.
The outlets aren't protected by a full GFCI circuit, but they do come with breaker reset switches so that you don't have to turn off the generator after an outlet is overloaded. In addition, there's a grounding port on the outlet panel so that you can ground your generator with a grounding rod for added safety.
Noise level
For a generator capable of producing 3,000 watts of power for hours on end, the Predator 3500 is surprisingly quiet. It puts out just 57 dB of noise at a 25% power load. The noise definitely ratchets up as you draw more power from the engine, but it tops out around 65 dB.
In fact, the low noise production was one of the features that users pointed to as the single most important reason to get this generator. Many compared it to generators produced by Honda, which cost more than twice as much as this model. Other users reported being able to stand next to the generator and easily hold conversations. Given the size of this generator and it's large 212cc engine, that's quite the praise.
Portability
The Predator 3500 is heavy – nearly 100 pounds – but we had mixed feelings on the adaptations that the company added to make it more portable.
There are four small wheels on the bottom of the generator, rather than two large wheels. This is good if you're on flat ground, since the front wheels essentially allow you to steer the generator as you push it around. However, once you get to anything more rugged than a dirt road – including grass lawns – the generator's wheels show their poor design. They're simply not big enough to raise the generator off the ground, so they become pretty useless.
It's also worth noting that you literally have to push the generator. There's no telescoping handle, and the single horizontal bar over the outlet panel requires you to crouch down at an awkward angle to pull by it. No matter which way you approach it, moving this generator around on the wheels feels awkward.
Even more bizarrely for a generator that seems to have thought of everything else, there's no other carry handles on the top of the machine – just another horizontal bar on the back. So, that horizontal bar over the outlet panel is your only option for picking it up. Even if you could pick up the 100-pound generator by yourself, the weight would be strangely off-center when grabbing it by that bar.
So, you are essentially forced into having two people to carry the generator. This is pretty annoying when you just want to move the generator a few feet, and need to find a partner in order to do it.
Maintenance and warranty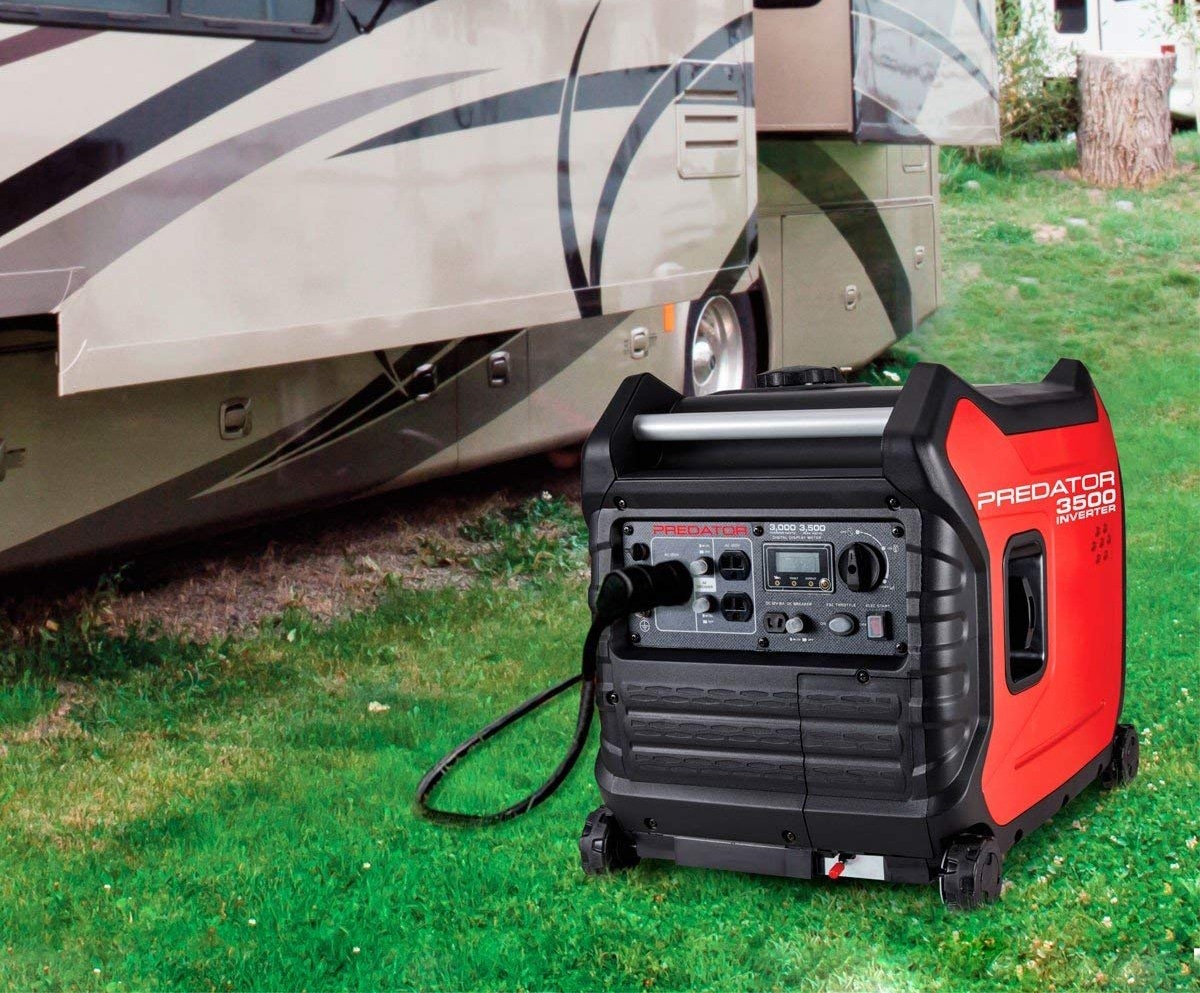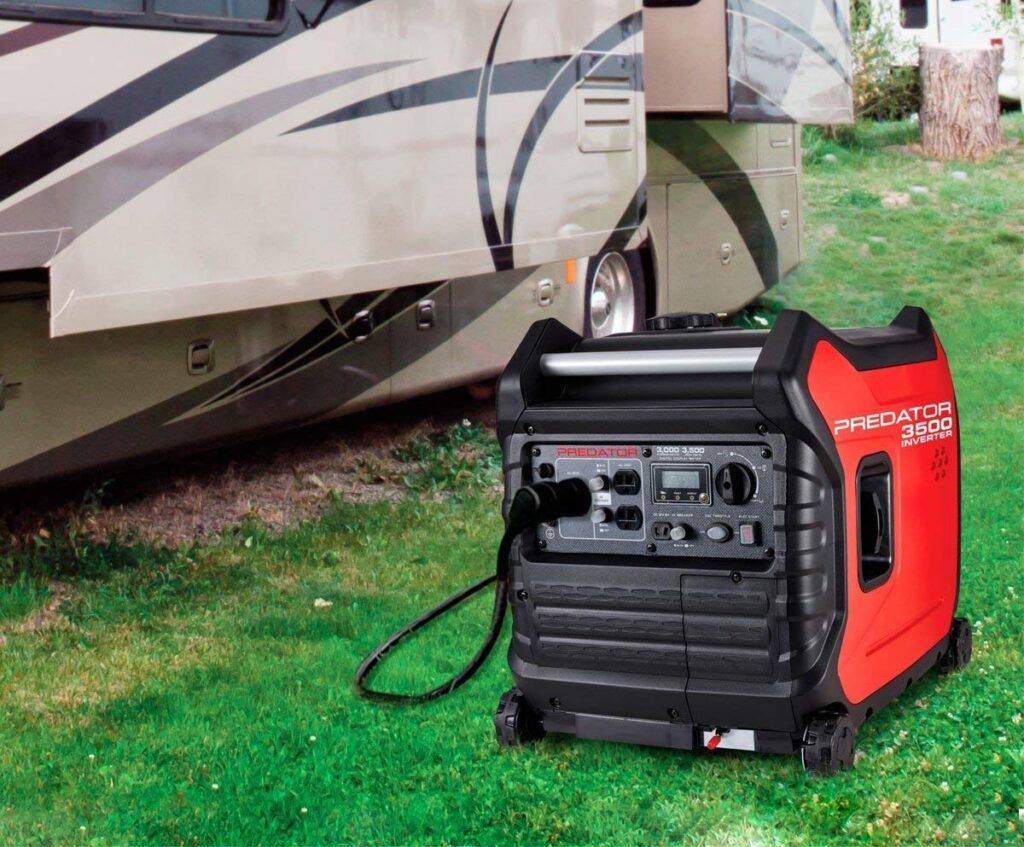 Users report that the Predator 3500 is one of the most durable generators they've used, which isn't by accident. Predator used only 100% copper components in the guts of this generator, which last much longer than cut-rate alloys.
The warranty on this generator is only okay at best, though. The company warranties your entire generator for the first 90 days after purchase. Beyond that, the warranty only covers the engine – and that warranty lasts just two years. Given how solidly this engine seems to be built, we expected a slightly longer and more comprehensive warranty policy from Harbor Freight.
One thing that users note about using this generator is that it seems to work better and run into fewer engine issues if you stick with non-ethanol fuel. While this can sometimes be difficult to find, it may be worth the extra expense of 100% gasoline when using the Predator 3500.
Key features
3,500 watts surge power, 3,000 watts continuous power
ESC throttle for fuel efficiency at lower power draws
Includes 30-amp outlet with RV adapter
Simple electronic switch start
LCD screen and maintenance warning lights
Very low noise production at high wattages

PROS
CONS

Relatively inexpensive 3,000-watt inverter generator
ESC throttle for increased fuel efficiency
30-amp outlet with included RV adapter
LCD screen for monitoring output and runtime
Electronic start
Very quiet for its size and price

Wheel design is not good for anything other than pavement
Impossible for one person to lift
Warranty policy is somewhat short
No USB outlets