Ryobi is best known as a toolmaker, but the company has recently launched a line of generators to provide power for its own tools and more. With a focus on budget-friendly generators, can Ryobi upset the myriad of engine companies that have taken over the generator game?
Today, we'll look specifically at the Ryobi 2300 generator. This compact and relatively inexpensive generator is designed to connect to an app on your smartphone using Bluetooth, which makes it extremely unusual. In our Ryobi 2300 generator review, we'll look closely at how useful this wireless connectivity is, as well as the rest of the generator's technical specifications. Most of all, we'll help you answer the question of whether the Ryobi 2300 is right for you.
This product's also been included into these rankings:
Specifications
Fuel tank capacity
1.2 gal.
Run time
10.3 hours at 25% load
Outlets
(2) 120V AC 20 Amp, (2) 5V DC 2.1 Amp USB
Noise level
57 dB to 67.9 dB
Dimensions
22 x 18 x 12 inches
Ryobi 2300 Inverter Generator Review
When you first look at the Ryobi 2300 generator, there are a couple features competing for your attention. First, it's hard to ignore the price tag on this model – at just $550, it's one of the cheapest inverter generators on the market today. That's a big deal if you're only looking for a generator for occasional use and don't want to spend thousands.
In addition, it's hard not to notice that this generator comes with Bluetooth connectivity. That's unusual for generators, and it's more than just a gimmick. With the GENControl App (available for iOS and Android), you can remotely monitor your generator's power consumption and remaining runtime, reset breakers that have tripped, and even turn off the generator.
Unfortunately, this isn't the quietest generator in the world – while it starts out producing just 57 dB, it ramps up noise production all the way to 68 dB at full power. It's also short on runtime. With just a 1.2-gallon fuel tank, this generator can only offer you up to 10 hours at low power, or a few hours at full power.
Those drawbacks aside, we were pretty impressed with the Ryobi 2300 generator. Granted, it's not the single best generator in the world. But, at a price that any generator enthusiast can afford and with a unique wireless app control, this is definitely a generator worth considering for your garage.
Overall performance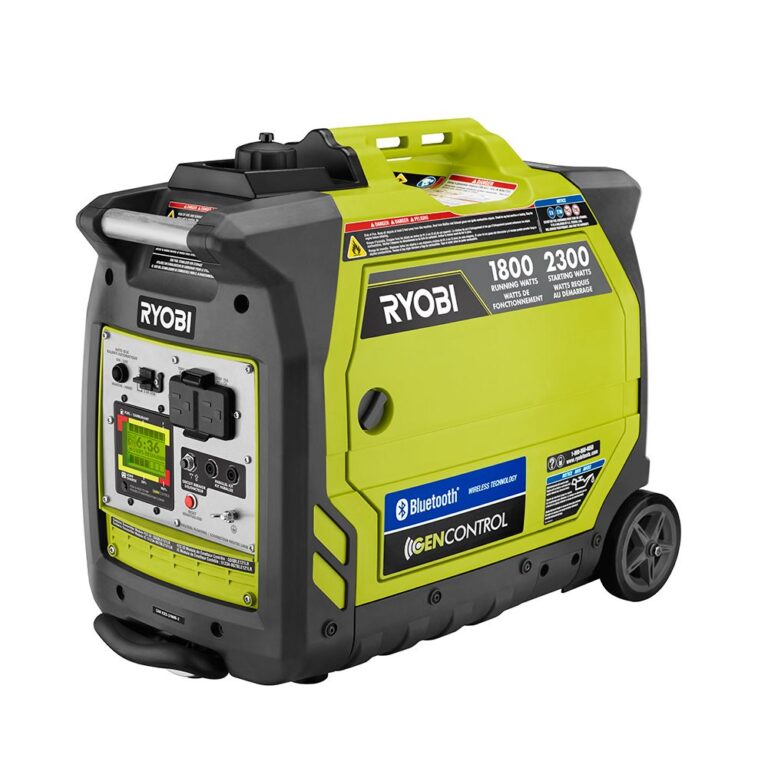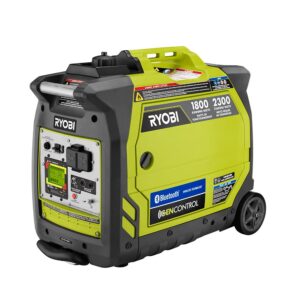 The Ryobi 2300 is solidly in the popular class of 2,000-watt inverter generators, so it has a lot of competition. This generator is capable of producing 2,300 watts of surge power or 1,800 watts of continuous power. The engine is a relatively small 80cc OHV engine, but users noted that it seems to stand the test of time and performs rather well.
Importantly, the Ryobi 2300 is equipped with Idle-Down Technology. This technology automatically adapts the engine speed to your power demand, so the engine isn't spinning at full power when you're only drawing a fraction of the available watts. As a result, the Ryobi 2300 is one of the more fuel efficient 2,000-watt inverter generators we've seen. Unlike similar technologies on other inverter generators, though, the Idle-Down Technology doesn't seem to do anything to control noise production by the Ryobi 2300.
In addition, it's important to note that the Ryobi generator is capable of running in parallel with a second unit. Ryobi sells parallel kits separately, but they're inexpensive. Parallel capacity is particularly attractive on this generator because it's so cheap – you can essentially run two Ryobi 2300's together for less than the price of a competing Honda or Yamaha generator.
Fuel tank capacity and run time
The single biggest disadvantage we see to the Ryobi 2300 is its short runtime. To reduce the size and weight of the generator, Ryobi built it with just a tiny 1.2-gallon fuel tank. As a result, the generator can only run for around 10 hours at 25% load – even with the Idle-Down Technology helping you conserve fuel. If you want to run the generator at full power, you'll be limited to just a few hours of juice before you have to power it down and refuel.
That may not be a problem for a lot of uses. But, it really limits the Ryobi 2300 if you need a generator to power essential home appliances during an extended outage or if you need a generator to power a remote work site.
Outlets
The Ryobi 2300 is also pretty limited in terms of outlets. It comes with a standard 120-volt, 20-amp duplex, which is good for most appliances and tools. But, there's no 30-amp outlet, which means that you won't be able to use this generator with an RV or with some larger power tools. This further limits the number of cases in which the Ryobi 2300 is the best generator available.
That said, we did like that the generator comes with a pair of five-volt USB outlets. Chances are that you'll be tempted to charge your phones and other electronics off your generators, and these ports make it easier. Plus, you can charge your phone without using up one of the valuable 120-volt outlets.
Ease of use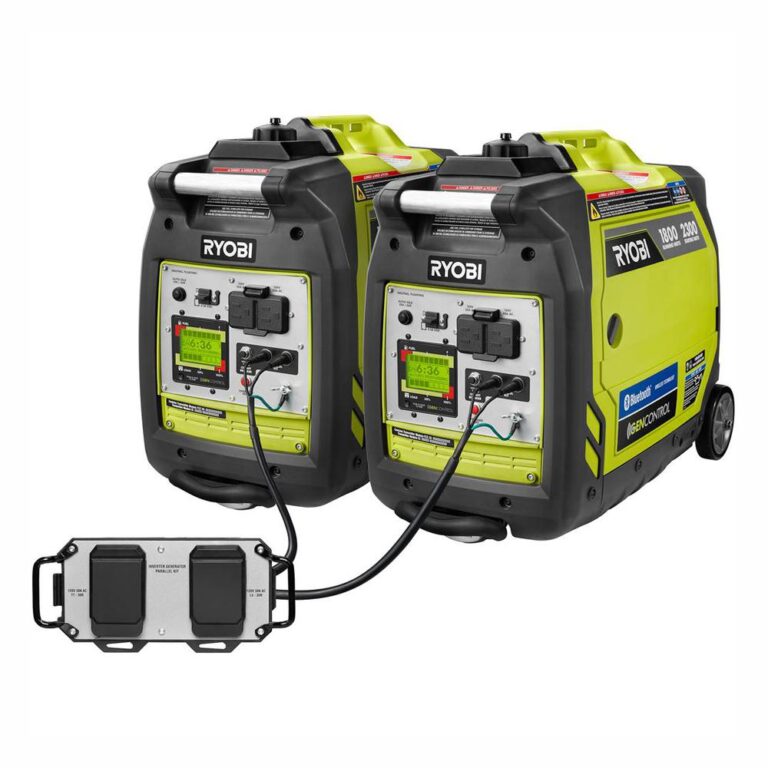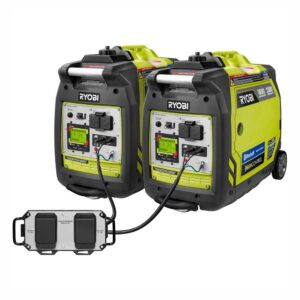 The biggest contribution to the Ryobi 2300's ease of use is the GENControl App, which we'll cover in more detail below. For now, we'll stick to the physical features on the generator that make it easier to use.
We really liked the LCD screen on the Ryobi 2300, which displays everything you need to know on a single screen at the same time. Unlike most other generators with small screens, you don't have to flip through multiple screens to get all the information you want. The Ryobi 2300 clearly shows your remaining runtime and power load.
Unfortunately, Ryobi doesn't seem to have put much thought into more ease of use features other than the app. The screen doesn't show your generator's total running hours or give you alerts about when it's time for basic maintenance tasks, for example. There also isn't even a light to indicate when the engine oil is running low, which presents safety concerns in addition to ease of use concerns.
We also didn't love that the generator lacks an electric start. It has Bluetooth built in, but not a push-button start? In our opinion, a push-button starter would be the more useful feature. However, we will say that the recoil starter functions reliably even when the generator is starting from cold.
Safety features
As we mentioned, the Ryobi 2300 doesn't have one of the most important safety features of any generator – a low engine oil indicator light. So, unless you keep close track of the hours you run your generator or replace the oil with excessive frequency, there's no way to tell that the generator is running low on oil until the shutoff function kicks in. This shutoff is an important safety feature, but it's hardly unique to the Ryobi 2300.
The generator does have an overload reset button, which was a nice feature. With this button, you don't have to worry about turning the generator off if you accidentally blow a breaker. Keep in mind, though, that you'll want to be careful about overloading any of the outlets since they are not backed by a full GFCI circuit.
The only other safety feature of note is a grounding port, to which you can connect a grounding rod to eliminate static discharge.
Noise level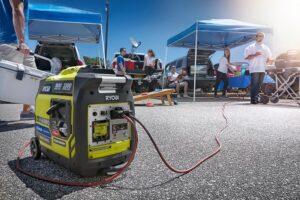 The Ryobi 2300 starts off relatively quiet, at 57 dB. This isn't a noise level to write home about, considering that the comparable Honda generator is almost an order of magnitude quieter. But, for half the price of that Honda generator, we were willing to accept 57 dB of noise.
What we didn't like was that as you move up towards running at a full 1,800 watts, the Ryobi generator gets really loud. At full power, the generator produces 68 dB of noise – it's more than 10 times as loud compared to running at 25% power. That's a huge difference, and it indicates some serious issues with noise control in Ryobi's engine.
Importantly, 68 dB of noise is simply too loud for a lot of situations. You wouldn't want to use it around a neighborhood or around a campsite. It's okay for a work site, but as we noted the generator's runtime becomes an issue in that situation.
Portability
At just 53 pounds, the Ryobi 2300 is on par with a lot of other compact generators in its size class. That's a good start for portability, and Ryobi goes a bit further by adding rear wheels to this generator – something you won't find on a lot of 2,000-watt generators. The never flat wheels are tight enough to the generator body that they can struggle on rough terrain, but they're perfect for rolling the generator around relatively smooth surfaces.
The generator also features a telescoping handle that comes out of the underside. This allows you to really take advantage of the wheels, and makes this one of the most portable 2,000-watt generators we've seen.
After all that, we weren't particularly impressed by the top carry handle on the Ryobi 2300. It's designed for a single person, and it doesn't feature any sort of padding or grip contours. If you did want to try to share the job of carrying the generator, you would have a hard time doing it with this handle.
Bluetooth capability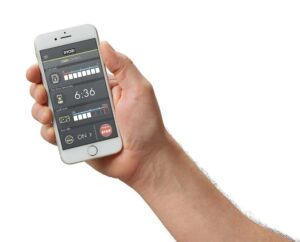 The fact that the Ryobi 2300 comes with Bluetooth connectivity is really unique among generators, well, actually no wonder that it is considered to be one of the best Ryobi generators. It's also one of the best things about this generator.
With the GENControl app, which is available for iOS and Android, you can control a surprising amount of the functionality of the generator. For example, you can remotely reset the outlet breakers or remotely shut off the generator (unfortunately, you can't turn the generator on through the app). You can also use the app to monitor power consumption, fuel levels, and remaining runtime, although all of this is available on the LCD screen on the generator itself.
What we really would have liked to see in the app is automatic tracking of run hours or features for logging maintenance. That would have gone a long way towards making up for some of the missing features in the LCD screen.
Maintenance and warranty
Ryobi offers one of the longer warranties we've seen – three years for consumers and commercial users alike. There's no maintenance plan after that point, but Ryobi does sell individual parts for the generator so that you can do your own maintenance work or take it into a shop.
We should also note that users who have used the Ryobi 2300 for a few years seem relatively happy with it. After standard maintenance, they haven't reported any issues with the generator's durability. Whether the Ryobi engine is able to hold up for decades, as more premium generator engines typically are, remains to be seen.
Key features
2,300-watt surge power, 1,800-watt continuous power
Idle-Down Technology minimizes fuel consumption
Bluetooth connectivity for remote monitoring and shutoff
Two USB outlets for charging portable electronics
Built-in LCD screen to monitor power draw and runtime
Portable, with built-in wheels and telescoping handle
Three-year warranty

PROS
CONS

Relatively fuel efficient thanks to Idle-Down Technology
LCD screen shows all metrics at once
Wheels and telescoping handle
Bluetooth connectivity for remote control
Three-year warranty
Very inexpensive

No 30-amp outlet for RV use
Noise ramps up significantly with power draw
Lacks features for tracking maintenance needs