The WEN 56180 is a very desirable little generator which is sure to suit a lot of people out there. Although this generator is light in weight, we'll discover in this WEN 56180 review that the machine packs a lot of power.
Maybe you're looking to buy a generator because the area where you live experiences multiple and regular power outages. Or you could be seeking to get one of these machines for leisure purposes. Either way, the WEN 56180 provides enough features and options to make it a generator well worth your consideration.
There are a lot of portable generators on the market, but not many of them can boast the value for money attributes of the WEN 56180 – and none of those generators can claim to be the lightest portable generator in the world, which is exactly what the WEN 56180 is.
For many buyers, that aspect of this machine will be enough to warrant an immediate purchase. Having a generator which is so capable and yet so light in weight will really seal the deal for the many of us who aren't physically strong. Products which offer the lightweight portability and power generation capabilities of the WEN 56180 really open up new activities and situations to people with physical infirmities too.
In this WEN 56180 review, we will be looking at some of the great features and options which make this generator a feasible choice for many activities and home power generation needs. We will examine what this machine has going for it, and any of the shortcomings we can find.
The purpose of this review is to give you the full and balanced lowdown on the WEN 56180, and hopefully to save you some precious time. Read on for a thorough examination of this generator and its attributes.
Specifications
Engine
4-stroke, 98cc, OHV
Fuel tank capacity
1.45 gal.
Run time at 50%
7.5 hours
Dimensions
19.9 x 15.9 x 17.1 inches
Warranty
2 years (residential) 90 days (commercial)
WEN 56180 Review
The WEN 56180 has been designed to be a practical alternative to some of the far more expensive generators out there. It's an antidote to units from manufacturers with brand names big enough to charge a lot more dollars for not many more features – and that shows.
WEN has put much thought into trying to make this a generator that is practical and does a job while being incredibly easy to move around and portable enough to take with you anywhere.
What you see when you look at the specifications of the WEN 56180 is a lot of quality and convenience. What you don't see is a high price tag or a lack of attention to the details which go into making a usable machine.
In the WEN 56180, WEN has managed to produce an option which sits at a very attractive price point and offers most of the stuff you want to see in a portable generator. So, let's look in a little more detail at what the WEN 56180 offers.
Overall performance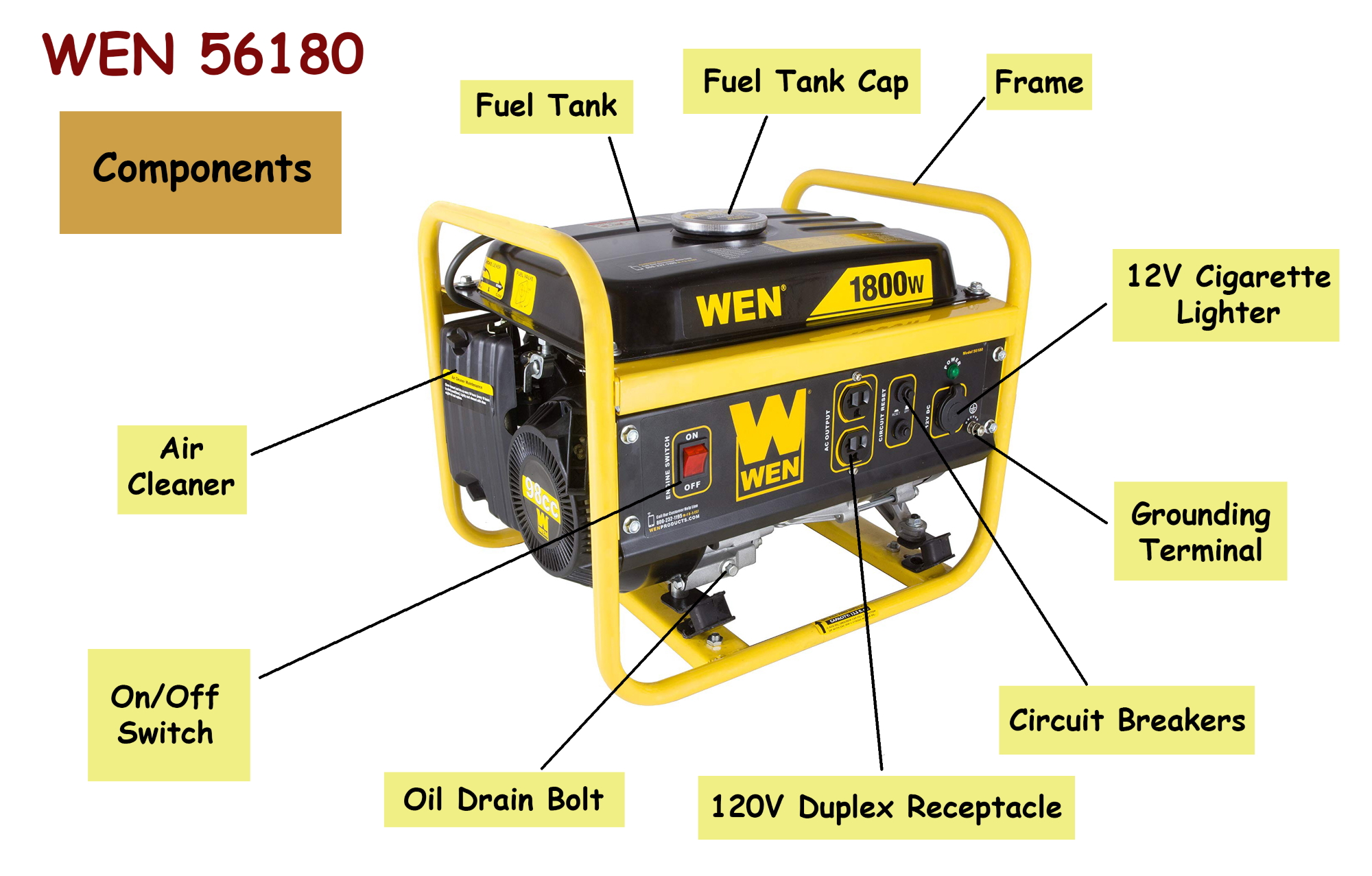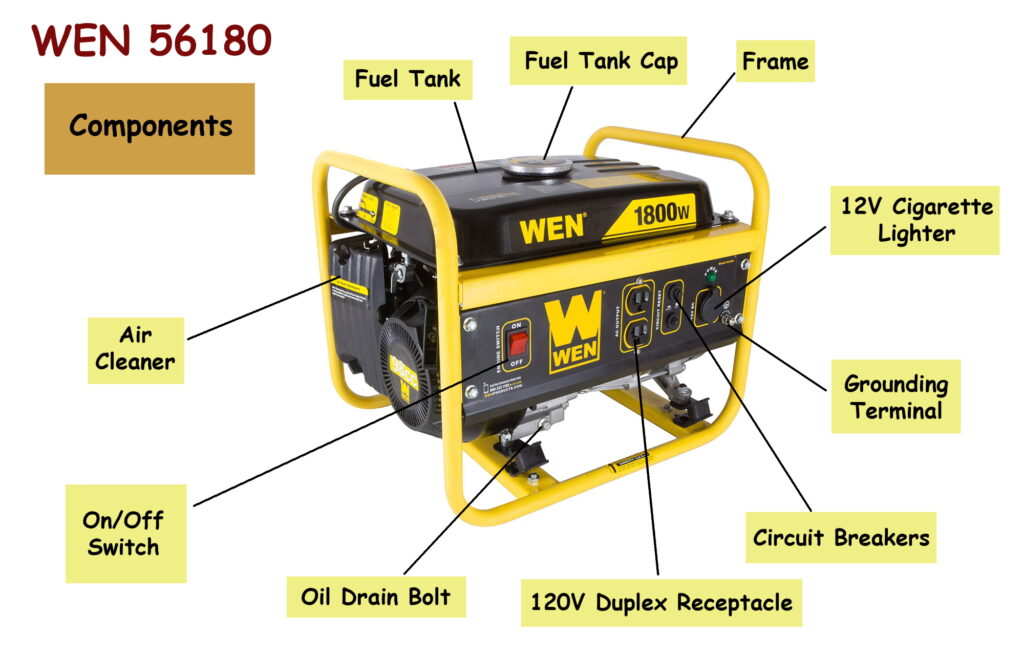 The WEN 56180 is small, but that doesn't mean for one minute that it's not capable of packing a mean punch when it comes to the business it was designed for – namely generation of power.
This machine can handle a surge level of 1800 Watts. That's not too bad for a generator that only weighs in at 50 Pounds! Continuous operation can be safely and efficiently maintained at 1500 Watts. That's more than enough grunt to power a whole load of portable appliances, lighting, heating, and other equipment. This machine will do a job in and around the home, or out and about on the move in any camping, work, or recreational situation.
The WEN 56180 produces 120 Volts, and that's going to suit most appliances and equipment in the United States. It will also be suitable for most laptop, tablet, and phone charging equipment – for when you need to be in contact, but you're away from the facilities of home.
The WEN 56180's engine comes in the form of a very capable 98 cubic centimeter overhead valve motor, which won't let you down when the going gets rough, tough, or cold. This is no puny two-stroke effort of an engine either.
The WEN 56180 comes fitted with a powerful yet economical four-stroke motor. This engine is more than capable of delivering enough power to keep you warm and well-lit on the road, when the power goes out at home, or even if you're camping out in the wilderness.
WEN's OHV engine incorporates a splash system of engine lubrication, which provides a longer engine life by reducing the period that moving parts remain unprotected under initial starting conditions. That is a great feature to have with an engine that is sure to get a relatively high number of cold starts, and it will ensure that this generator lasts more than long enough to justify the spend.
One of the disappointing aspects of the WEN 56180 is that it doesn't feature electronic start. You get a standard recoil starter on this model, and that will prove to be a burden for some users.
The last thing you will want to do on a cold and snowy night when your home power gets knocked out by a storm is run outside and start trying to spark up the generator from cold with a ripcord. Likewise, on a sub-zero camping trip, getting this generator going might prove to be an unwelcome workout and the last problem you need.
Fuel tank capacity and run time
The WEN 56180 offer a very decent fuel tank capacity. The capability on this unit measures in at a whopping 1.45 gallons and the fuel of choice for this model is gasoline. That fuel reserve results in an extremely useful total runtime of seven and a half hours.
However, remember that the maximum runtime stated is measured when the generator is running at median capacity. In other words, it will run continuously for seven and a half hours if the unit is running at 50 percent of its maximum capacity.
Seven and a half hours means that the WEN 56180 opens up all kinds of possibilities. You'll be able to let this generator run on through the night if you're camping out under winter conditions.
It also comes in very handy if you want to run lighting overnight for a multitude of outdoor purposes. If that's the case, then the WEN 56180 might just be a great model to consider. Not every generator in the portable class will hold enough fuel to run all night without an inconvenient (and probably a very sleepy) refuel.
Outlets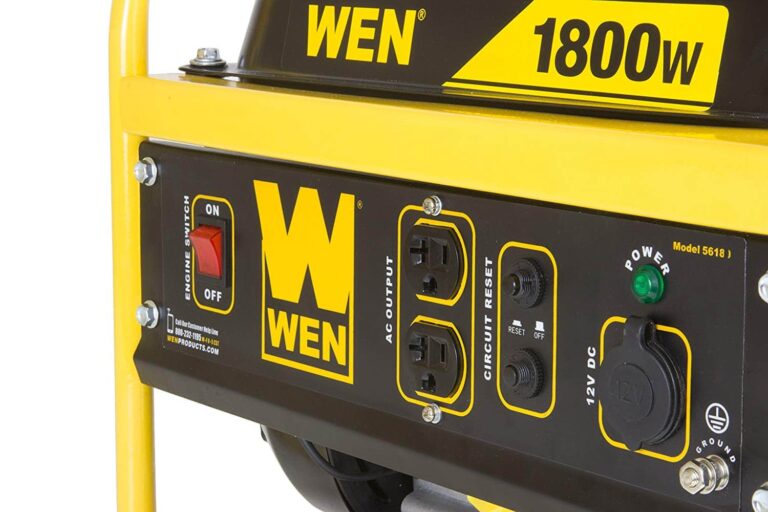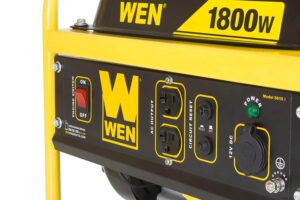 The WEN 56180 comes with enough power outlets to keep most campers, workers, or home users happy. When coupled with the very generous wattage capacity of this great little machine, a buyer is looking at an extremely useful generator package. You get two 3-prong 120V sockets and a single 12V DC socket on the WEN 56180.
Portability
The WEN 56180 is very hard to beat when it comes to finding a powerful generator that is also portable and extremely easy to move around. This model from WEN comes with convenient handles on the sides. That opens up the prospect of enhanced portability and makes it very practical in terms of getting the unit from one place to another. Handles like these will come in particularly handy when you're faced with setting up the generator on uneven, wet or slippery ground.
The most striking feature about the WEN 56180 is that it's just so darned light in weight. This model comes in at an incredibly lean 50 pounds – which is astonishing when you look at what the unit can do in terms of power production. Some people – who read about this generator when trying to find a unit of their own – will no doubt think that fifty pounds is either a misprint or a devious attempt on the part of the manufacturer to sell the machine.
However, the weight claims about the WEN 56180, although hard to believe, are absolutely true. This attribute puts the WEN 56180 in a class of its own when it comes to portability and weight. That's a fact. It is one of the lightest portable generators in the world. That will put it right at the very top of a heck of a lot of people's list when it comes to selecting the right generator for their own needs.
Ease of use
The WEN 56180 offers many positives. This machine ticks many boxes when you're looking for a smaller generator. This machine is easy and convenient to use, and it perfectly suits so many everyday practical situations and will be right at home in a high number of locations. The WEN 56180 is a low maintenance machine, and there isn't much to operating this generator either.
As we've said, the biggest asset of this great little generator is its portability and ease of movement. It offers so much more than that, however. The WEN 56180 offers a great balance between size and power. It takes minimal effort to maintain. Once it's running, you're pretty much set for several hours. However, one downside is that the manufacturer probably missed a trick when it failed to kit this machine out with an electronic starting system.
Ripcords simply don't suit all users. However, more to the point, if this generator had come fitted with a start button, we'd have been reviewing a pretty unbeatable little generator here. Nevertheless, it's worth saying that the manual starting issue is by no means a deal-breaker. As it is, the WEN 56180 remains a generator that ticks almost every single box for its class.
Key features
1800 Surge/Starting Watts, with 1500 Running Watts capacity
98cc 4-stroke OHV Engine
45 Gallon Fuel Tank
Two 3-prong 120V sockets
One 12V DC socket
Low-Oil shutdown feature
Spark Arrestor for safe and responsible outdoor use
Low-Oil Shutdown feature
Warranty
The duration and the terms of the warranty that comes with any product can be a relatively accurate indication of its quality. The WEN 56180 doesn't come out of a warranty examination in bad shape. When you take a look at this warranty, you'll immediately see that you're being offered a relatively long period – you get a whole two years from the original date of purchase. The policy covers you against defects in materials and workmanship. You'll need to retain your purchase receipt and fill out the product registration card included with the machine, in order to qualify for the warranty.
The manufacturer guarantees to repair or replace defective parts within the two years specified in the policy. There will be no charges for labor or for any new parts required to solve any issues with a mechanical breakdown or component failure when the unit is properly maintained. If your WEN 56180 develops a fault within the two-year warranty term, it's important that you do not return the generator to a retailer.
WEN advise that you immediately call their toll-free customer service number. They will then advise of the service center responsible for the repair, and you'll need to take the generator along to or ship the unit there. Please don't forget to bring along or send your proof of purchase.
Be advised that you will be liable to pay for the shipping charges incurred when returning the generator for repair under warranty. Additionally, you will be responsible for making sure that the machine is insured and that it is packaged sufficiently to protect it during transit.
Price tag
When examining machines, it is essential to have a realistic expectation when it comes to what you get for the price tag. After all, nobody expects to get a Ferrari for the price of a Toyota, and there is nothing different about buying a generator. Sure, you might not get all of the features and capacity of a Honda or Yamaha when you buy a WEN 56180, but you also get to keep a sizeable part of your personal wealth in your wallet. For the cost required to own one, the WEN 56180 represents excellent value for money and a wise choice.
PROS
CONS

Extremely lightweight
Very convenient carrying handles on the sides.
Long runtime at seven and a half hours
High fuel capacity at 1.45 gallons
Splash Engine lubrication for longer engine life

No electric start on this machine