The WEN 56380i is a 3,800-watt inverter generator offered for less than $1,000. It includes a wide variety of outlets and a digital multimeter, not to mention it's nearly as quiet as similar inverter generators that cost twice as much. To boot, the 56380i routinely receives rave reviews from users.
So, is this generator everything it's cracked up to be? In our WEN 56380i review, we'll take a closer look at all of the features this inverter generator has to offer. We'll also explore what this generator is best used for and whether it can stand up to your portable power needs.
This product's also been included into these rankings:
Specifications
Engine
212cc 4-stroke OHV single cylinder
Fuel tank capacity
2.2 gal.
Run time
8.5 hours (1/2 load)
Outlets
(2) 120V 15A (5-20R), (1) 120V 30A NEMA TT-30R Twist Lock, (1) 12V DC, (2) 5V USB ports
Dimensions
23.2 x 18 x 20.1 inches
Warranty
2-year limited (residential), 90-day limited (commercial)
WEN 56380i review
The WEN 56380i sports a huge variety of features that makes it, in our opinion, one of the top generators in its class. The 56380i comes with a fully featured outlet panel and plenty of run time for most users. Better yet, it's quiet enough to compete with more expensive offerings from Honda and Yamaha and to use in a wide variety of situations. We found very few issues of note with the WEN 56380i, which makes all of these features and the value price even more attractive.
Overall performance
The 56380i pushes the boundaries of how much power an inverter generator can provide. The generator is capable of producing 3,800 watts of surge power and 3,400 watts of continuous power, which is plenty of wattage for most home appliances, RVs, tailgates, work sites, and more.
The source of this power is a 212cc, four-stroke OHV inverter engine. Users found that the 56380i runs extremely reliably and quietly, with no issues or unusual sounds even after a few years of relatively frequent use. As we'll discuss in more detail below, it's also easy to keep your generator running like new thanks to the built-in ability to flush out the carburetor on this model.
Since it's an inverter generator, the 56380i also has quite a few possibilities. It's safe to run sensitive electronics on the generator, and there's a USB charging port included so that you can easily do so. On top of that, the generator is capable of running in parallel with a second model, so you can potentially get up to 6,800 watts of running power by running two 56380i models simultaneously.
Fuel tank capacity and run time
The fuel tank seems to be where many portable generator designs break down – it's simply not big enough to match the fuel demand of the generator. But, that's not the case on the WEN 56380i. This generator features a generous 2.2-gallon fuel tank, which provides for a very impressive 8.5-hour run time at 50% load.
That's a big deal because it means you can get a full day or work or a full night of power in with this generator without having to refuel. If you want to use the generator's full power supply, you'll still get close to five hours of power without interruption.
It's also worth noting that this generator has an eco-mode, which allows you to reduce fuel consumption when using less than the generator's full power capacity. This is controlled by a simple switch on the generator panel, so you can easily maximize your run time depending on your power needs.
The one downside to the large fuel tank is, of course, that the generator is slightly bulkier than it needs to be. But, in the opinion of many users, it's well worth having additional run time over saving an inch or two of space on the generator body.
Control panel and outlets
WEN equipped the 56830i with every outlet and control you could ever think to need. We should emphasize that the outlet panel is the reason why many users chose this generator over competitors. It's also one of the big reasons why we'd recommend it for such a wide variety of uses.
To start, the generator includes the basics: a 120-volt, 20-amp duplex, a 12-volt DC outlet, and a parallel output port set. On top of that, there's a USB charging port to allow you to easily power small electronics without using up one of the valuable 120-volt outlets.

The main draw to this generator, though, is the RV-ready 120-volt, 30-amp twist-lock outlet. This outlet allows you to plug your RV's main power grid directly into the generator, which is a massive advantage if you plan to use this generator for camping and road trips.
All of the outlets come with circuit breaker switches right on the outlet panel to make reset easy if you trip a fuse.
It's also worth taking a look at the digital multimeter included on the 56380i – this is another feature that separates this generator from the competition. The multimeter displays your power draw and remaining fuel levels at all times with simple LED lights. A separate LED display switches automatically between showing the generator's voltage, frequency, and remaining run time. Finally, two LED lights warn you when the engine oil is low or when the generator is overloaded, and a third indicates that the on-board battery is charging.
Ease of use
WEN paid a ton of attention to making the 56380i easy to use. A lot of the generator's ease of use is captured in the variety of outlets provided – WEN made it simple to connect an RV to your generator or to charge small electronics, for example.
However, there's another big feature that this generator offers: an electric starter. It couldn't be easier to start this generator using the push-button start and simple mode switch on the main panel. Better yet, there's still a recoil starter included on the 56380i so that you can start the generator manually in case you ever forget to charge the on-board battery.
Safety features
WEN included most of the standard safety features on the 56380i, with an automatic low-oil shutoff and low fuel shutoff to protect the generator engine from damage. The LED warning lights help to monitor when the generator is running in a less-than-optimal state as well.
Unfortunately, the 120-volt outlets, including the RV-ready outlet, don't come with weatherproof coverings, so you'll want to take care to keep this generator out of the rain. However, there is a grounding nut available so you can pair the generator with a grounding rod to prevent static discharge.
Noise level
Users rave about how quiet the 56380i is – many state that, at least subjectively, it's about as quiet as comparable generators from Honda and Yamaha that cost more than twice as much. In truth, it's a few decibels louder, but that's hardly anything at all considering the value and features of this generator.
The 56380i produces 57 dBA of noise at a 25% load and ramps up to around 69 dBA at full power. That's loud enough that you would need to yell to have a conversation over the generator, but it's still significantly quieter than many other generators producing upwards of 3,000 watts.
Portability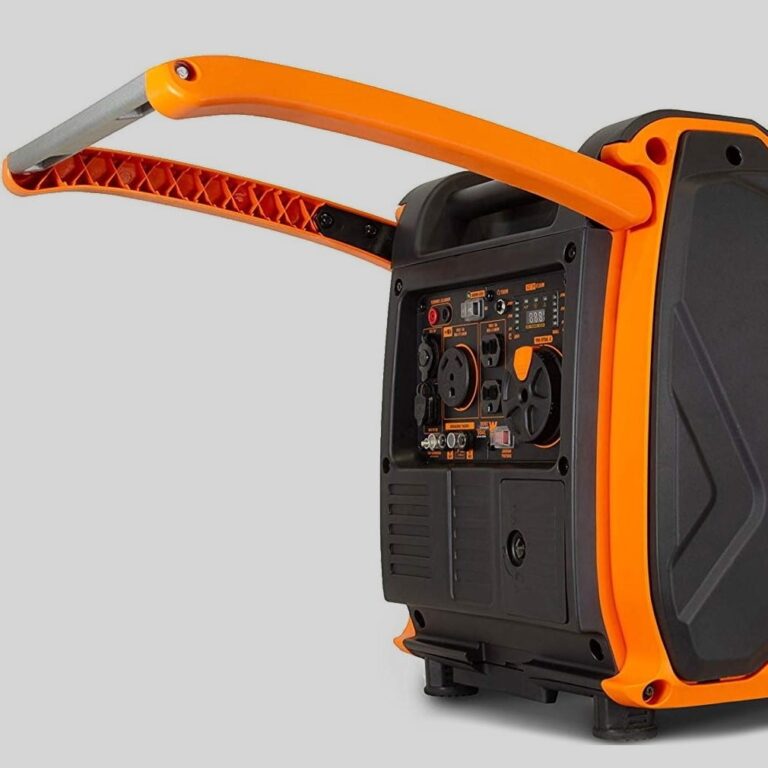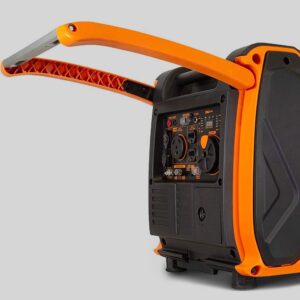 The 56380i is shaped almost like a cube, which presents some interesting challenges for portability. On the one hand, WEN did a nice job by outfitting the generator with wheels and providing a tow handle to roll it around. Some users liked this design, but others noted that the wheels are too small and close to the generator body to roll smoothly over loose dirt, mud, or gravel. Considering that the generator weighs just under 100 pounds, you'll need two people to get it into and out of a car or truck.
Maintenance and warranty
A relatively unique feature that we loved about the 56380i is the fact that it has an auto-shutoff mode. When set to that mode, the generator will run the carburetor completely dry of fuel and then automatically turn off. That's a huge benefit if you use the generator infrequently or need to store it for a season, since it helps ensure you don't end up with stale fuel leftover in the carburetor.
As for the warranty, WEN offers two-year coverage against defects for residential users. Unfortunately, the company drops this to just 90 days for commercial users. While this makes the 56380i somewhat riskier for contractors and other business owners, keep in mind that users rarely reported issues with the generator after more than a year of use.
Key features
Inverter generator with 3,800 watts of surge power and 3,400 watts of running power
RV-ready outlet and USB charging port
Data center with fuel gauge and power load display
Electric start and backup recoil starter
5-hour run time at 50% load
57 dBA noise production at 25% load
Auto-shutoff to run the carburetor dry
Mounted on wheels with built-in tow handle
Two-year residential warranty
PROS
CONS

Impressive power for an inverter generator
Extremely quiet at less than half the cost of competing models
Includes RV-ready outlet
LED data display to monitor performance and run time
Relatively long run time
Includes electric start and backup recoil starter
Auto-shutoff function for easy and safe storage

Only 90-day warranty for commercial users
Wheels are too small for off-road uses
No carry handles to help with lifting