Every home should have a backup generator, regardless of the consistency of electrical supply through the local grid. Emergency generators are what they are called; they come in handy in unexpected situations – during a hurricane season or following a rare power outage. They are also a must-have for campers, tailgaters, for use in a remote farmhouse, for construction workers, or for welding or repair work in the garden.
The WEN DF475T is one of the best for these purposes and in this WEN DF475T review, we'll see how valuable it is and how it compares to other models in the market.
This product's also been included into these rankings:
Specifications
Generator type
Conventional, dual-fuel
Fuel type
Gasoline, propane
Surge watts (gasoline)
4,750W
Surge watts (propane)
4,350W
Running watts (gasoline)
3,800W
Surge watts (propane)
3,500W
Engine
224cc 4-stroke OHV
Starting method
Recoil, electric
Fuel tank capacity
4 gal.
Run time
11 hours (at 50% load on gas); 7 hours (at 50% load on propane)
Outlets
(2) 120V GFCI (5-20R); 120V/240V NEMA 30A twist lock (L14-30R); 12V DC cigarette-lighter-style plug
Dimensions
23.2 x 17.5 x 18.5 inches
WEN DF475T Review
In this review, we are going to take a look at the Wendy DF475T dual fuel 120 volts generator. Let's get started.
Overall Performance on Gasoline
The Wen generator runs efficiently in terms of cost and power generation when you use gasoline. You'll be able to get the maximum from the generator as gasoline fuel when combusted by the engine, makes it put out up to 4,750 watts in surge power, almost 1,000 watts than when it's run on propane. Also, the generator burns for longer on gasoline. However, the downside is, you have to be careful with the fumes as gasoline emissions produce 60% more carbon monoxide (which is a silent killing gas) than propane.
Overall Performance on Propane
The generator works less efficiently on propane. It burns more fuel and puts out less wattage. However, when you run the generator on propane, you will be burning cleaner energy, which is good for the planet. Also, in some states, propane is cheaper than gasoline. But, overall, it's a great thing that the generator gives you two options of fueling.
Fuel Tank Capacity and Run Time
The fuel tank capacity of the generator is 4 gallons. This ensures a runtime of 11 hours on gasoline and at 50 percent of the load of the generator. That is, if the generator runs, powering less than 2,000 watts of load, you'll be able to use it for almost half of a whole day. The runtime on propane is shorter. This is 7 hours at 50 percent of the load.
Control Panel and Outlets

On the control panel of the generator, you'll find features and outlets such as two 120 voltage GFCIs that protect the users from getting electrocuted. There are also the 120V/240V NEMA 30-ampere twist lock, as well as a 12-volt DC cigarette-lighter plug. Note that the voltage can be quickly shifted from 120 volts to 240 volts. This makes it perfect for emergency backup.
Ease of Use
Using the generator is relatively easy. It has an electric starting feature which ensures you only need the push of a button to start the engine. The electric feature however works with a provided battery which must remain charged. Otherwise, you will have to use the recoil starter.
Note that the generator does not have a remote starter. The ease of use is however further increased by the portability of the generator (the carry handle, the wheels, and light weight).
Safety Features
Some of the safety features on the generator are the regulator and overload protection. This ensures that despite its high power output and a surge of around 4,750 watts, you will be able to charge and keep your small and sensitive household and personal electronics such as smartphones, tablets, laptops, and more, safer.
This generator also has two ground fault circuit interrupters. These protect the users from electric shock as they shut down the generator when they detect power flowing through an unintended route.
The low oil shutdown feature is also a safety feature that keeps the engine safe from oil-related problems.
So, we have to say the generator has safety features that keep the equipment safe for the user, the generator itself, and the devices that are being run or charged with the generator.
Noise Level
If you need a piece of quiet portable power equipment that will not strain the relationship between you and your neighbors or cause you sleepless nights, then the WEN DF475T may not be your ideal choice. This is a conventional generator with an open frame design. It's therefore not insulated to reduce noise. The lowest noise level on the generator is 69 decibels. Note that 55 decibels is the maximum acceptable noise level for residential areas. Any noise higher than that will affect human health and welfare.
Also, WEN DF475T is rated 3.9 out of 5 for noise level by users of the product. However, the generator's noise level is still lower compared to other generators within its range on the market. The Pulsar 5,250W produces 76 decibels of noise. Meanwhile, the Champion Power Equipment 100554 produces around the same noise level (68 dB) as the Wen product.
Portability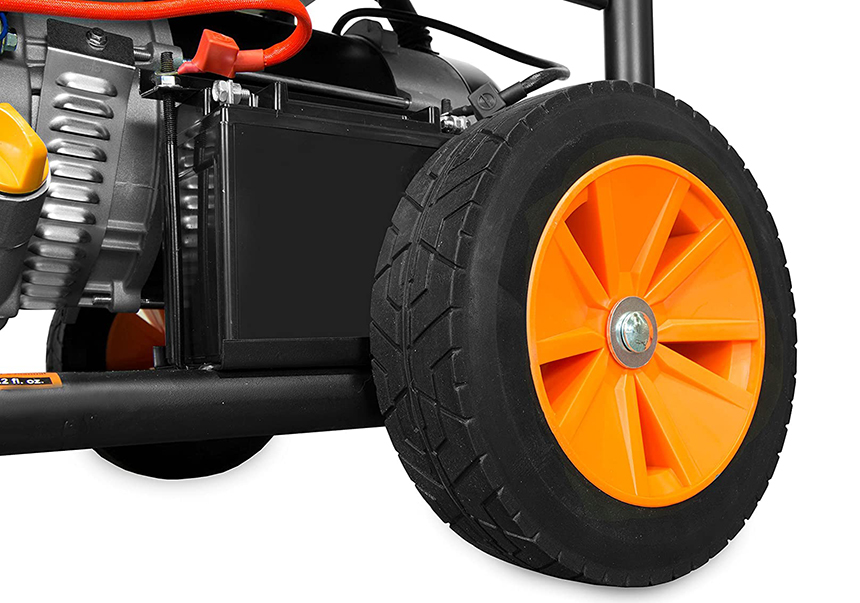 This is a good generator if you are looking for something portable and efficient. It weighs 105.8 pounds (less than 50 kilograms) and measures about 23.2 x 17.5 x 18.5 inches in dimensions.
Also, it is designed to have two large tires that will never run flat. This with the pull handle ensures that you can move the equipment from home to the vehicle and from the vehicle to the usage ground easily.
The pull handle has a very ergonomic arm and is wrapped in rubber for the comfort of the carrier. Also, when not needed, the handle will fold down to the side of the generator.
Maintenance and Warranty
Maintaining the generator is not so difficult. You just need to fill the gas tank with fuel. At full tank, you wouldn't have to refill the tank until the next 11 hours if the generator is run non-stop and the load capacity is maintained for around 50 percent.
You don't need to worry about running down the oil and giving it a constant check. The generator simply switches off as soon as it detects low oil. This is thanks to the low oil shutdown feature, present in most conventional generators.
About the warranty, the Wen product comes with two years for all users. Manufacturers like Generac offer up to three years, but Wen doesn't differentiate between commercial users and residential users. This means as a commercial person using the generator, the equipment is covered for up to two years. Generac offers just one year for most of its generators.
Price
One thing we have to admit here is that the generator is sold for a price which we see is a little bit stip. It's currently sold for more than $500 on Amazon and by the product manufacturer, Wen. We expected the product to be lesser considering it's a conventional generator and doesn't have the inverter technology. Within its price range, there are far more powerful power equipment than the Wen product. For example, the Westinghouse WGen9500DF is sold for just about $50 more than the Wen generator but the latter also has a dual fuel design but a much higher surge output of 12,500 watts.
However, note that the WEN DF475T has a regulator and overload protection and will be more suitable for powering small and sensitive household and personal electronics such as smartphones, tablets, laptops, and more.
Key Features
Some of the key features on the WEN DF475T are listed and explained below:
Up to 4,750 watts of power output: The generator produces surge watts of 4,750 watts on gasoline and 4,350 watts on propane. The running watts on gasoline is around 3,800 watts and the surge watts propane is around 3,500 watts.
Dual-fuel technology: Dual-fuel technology is a recent innovation in the power generation industry and the WEN DF475T offers this benefit.
Regulator and overload protection: With these features, you will be able to charge and keep your small and sensitive household and personal electronics such as smartphones, tablets, laptops, and more, safer.
GFCIs: This generator also has two ground fault circuit interrupters that protect the users from electric shock. These systems shut down the generator when they detect power flowing through an unintended route.
PROS
CONS

Can run on propane and gasoline
Transfer switch ready connection
Compliant with the standards of the CARB
Has a key start technology
Long fuel run-time
Perfect as an emergency backup power supplier
Wheels and other portability features

A bit more expensive
Could be quieter
Conclusion
The WEN dual-fuel 120 volts generator is admirable for users who need an emergency backup power generating unit or who are planning a camping trip. It's also a formidable solution for construction workers, i.e., welders looking for independent but portable power generating equipment. Our WEN DF475T review shows that this generator is definitely worth buying if you're in search of an average-power dual-fuel model.