Unless you have a powerful appliance at home, in the RV, or want a heavy-duty generator for tough jobs that last all day at the field, the WEN GN400i is among the best manufacturers on the market. But what makes the Wen GN400i such a great inverter generator? The answer is simple: the cost, quality, and power. There aren't many affordable 4000-watt inverter generators available on the power generation equipment market. As cheap appliances don't usually mean good quality, now the big question is: can a powerful and cheap inverter generator like this be any good? To find out, you'll have to read our WEN GN400i review.
This product's also been included into these rankings:
Specifications
Generator type
Open-frame inverter
Engine
212cc 4-stroke CARB-compliant OHV
Fuel tank capacity
1.85 gal.
Run time
7 hours (50% load)
Outlets
(2) 120V NEMA 5-20R, (2) 5V USB ports, (1) 120V RV-ready TT-30R
Dimensions
19.8 x 13.8 x 18.9 inches
WEN GN400i Review
Since 1951, WEN has been a proud American manufacturer of electrical equipment. From the beginning, the manufacturer has established a leading reputation for providing high-quality gears, generators, chainsaws, and more at affordable prices. WEN generators are popularly used for housework, camping, and mid-sized applications. Their success is attributable to some essential principles: convenience, reliability as well as great customer service.
In this section, we'll see in detail the overall performance, the fuel tank capacity and run-time, what you can find on the control panel, how easy to use and safe it is, the portability, price, manufacturing warranty, and durability of the machine.
Overall Performance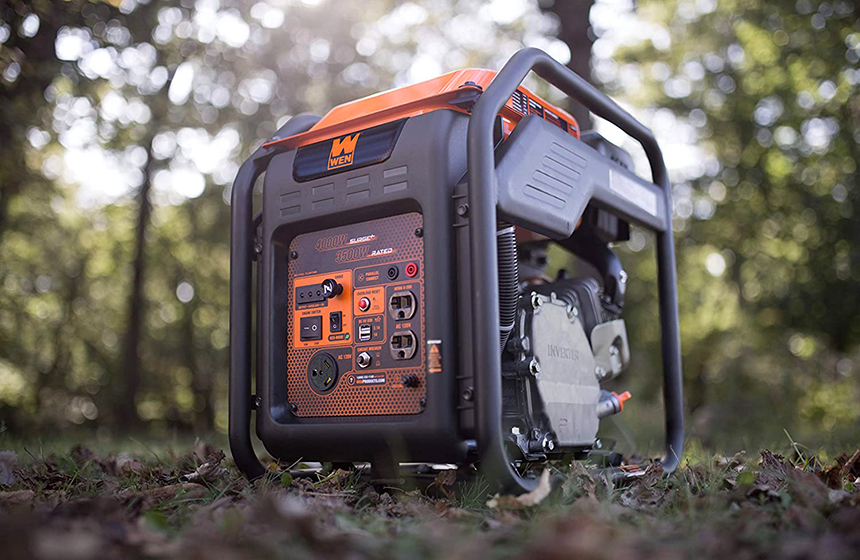 The WEN generator embodies everything that homeowners, RV owners, and construction workers have come to like about the American brand. This is just one of the most powerful inverter generators, delivering 4,000 watts of peak (surge) and 3,500 watts of operation (nominal). It has all the benefits of the inverter technology: reduced THD power, a low fuel/low noise efficiency mode, as well as a parallel kit. The latter lets you double the generated power with two similar WEN generators.
With WEN inverter generator models, you have a total harmonic distortion (THD) which is usually exceptionally low, less than 0.3 percent at 25 percent of the rated load. You'll also have less than 1.2 percent at full load. nominal. To the ordinary user of an inverter generator, this may not sound all that impressive.
Aside from the incredible inverter, the WEN GN400i shows an overall trend towards above-average specifications and performance. The 212cc 4-stroke OHV engine also challenges the low price.
This is a modern and low-emission power generator that meets the EPA as well as the CARB standards on emissions.
The engine is both durable and reliable. Although some users have experienced gas leaks. This was a rare phenomenon and the men at WEN were really helpful in dealing with this dilemma for a warranty repair. This can happen even with the best manufacturers.
Some years ago, Honda, arguably one of the best in the power generation equipment manufacturing business, had to recall 2000 inverter generators Trusted Source Honda Recalls Inverter Generators - Consumer Reports Honda has recalled inverter generators because a faulty fuel value can result in gasoline leaking and pose a danger of burns or fires. Consumer Reports has the details on the Honda generator recall. www.consumerreports.org for this same gas leak problem. In the aspect of fuel economy, it is not one of the best.
Fuel Tank Capacity and Run Time
The generator has a 1.8-gallon tank and uses gasoline. At 50 percent of the load capacity, it will run for up to 7 hours despite the small gas tank. The generator is a single fuel one. It has a fuel gauge on the top and quite a large muffler with a heatsink.
Filling of the oil is done on the lower bottom. It has a cube for oil drain as well as a funnel to fill the oil up.
Control Panel and Outlets
You have an assortment of practical power outlets: 2 AC 120V 20A outlets, one RV TT-30R 120V 30A socket, and two USB 5V interfaces. The AC outlets are equipped with switch overload protection but there is no ground fault circuit interrupter (GFCI).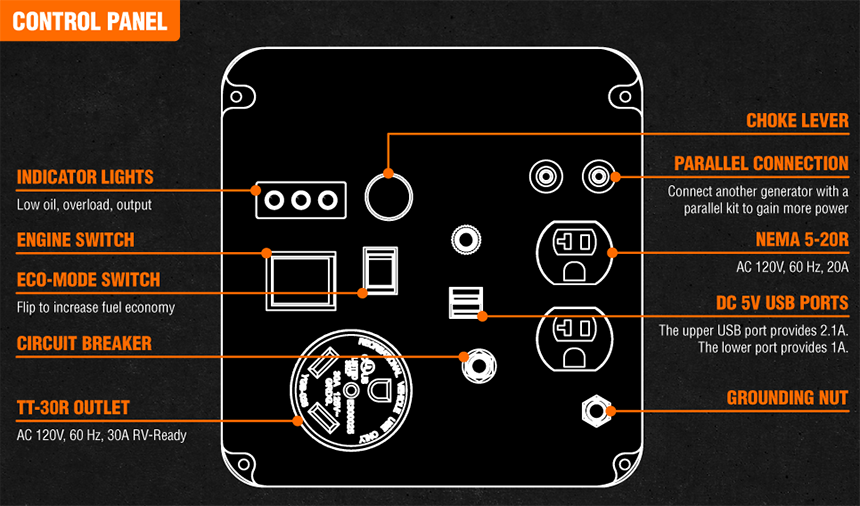 Ease of Use
This is an easy generator to use, although many would prefer that it has an electric starter. The GN400i machine only has the old recoil starter. However, this isn't a deal-breaker as the generator can be started quite easily. Also, a choke mounted on the panel makes usage in cold weather possible.
An advantage to not having an electric starter is a low weight, only 66.1 pounds. It also saves production costs, thus, making it among the least expensive inverter generators.
Safety Features
One of the most functional safety features on the machine is the automatic shutdown systems. The engine will not only shut down when it detects low oil but when it also senses low fuel. So, you don't have to keep monitoring the fuel and oil.
The generator also has overload protection as well as indicator lights that safeguard your electronic appliance and generator.
It generates clean electricity to safely use sensitive electronic devices such as smartphones, televisions, tablets, and computers. In addition, it produces low emissions, which makes it safer for the environment and compliant with the standards of the CARB and EPA.
Noise Level
Wen GN400i is also a remarkably quiet model for an open frame generator. While this is not a silent model such as closed inverter generators, the sound levels are much lower than expected for a 4,000W open panel generator. At 25% load, it will operate at 67dBA.
In addition, it provides clean power as it is CARB compliant. So, you have no problem making use of, purchasing, and selling it in California as well as other areas with strict regulations on air emissions.
Portability
Another reason to choose the WEN GN400i generator if you want one of the best choices on the market is the high power and low weight appearance of the machine. It weighs just 66 pounds and measures 20 x 14 x 19 inches approximately. The generator is both light and very portable, but, it's also excellent.
Maintenance and Warranty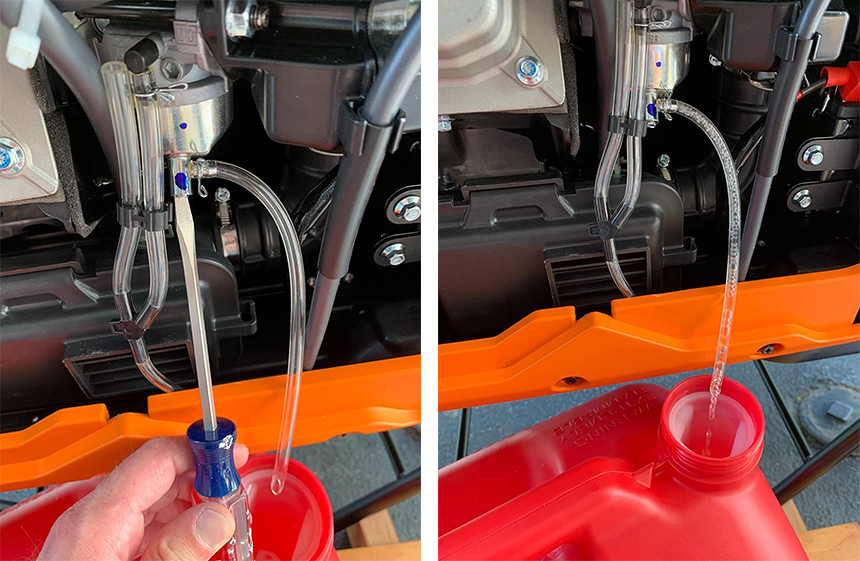 Maintaining the generator is quite easy. It has a standard 3 warning light system that indicates operation, overload, and no oil. However, it lacks a digital display for the voltage output, the run time, and any other digital gizmo that is often found on contemporary generators. There is also a rather compact fuel gauge on the metallic gas tank. The generator is mounted securely on a good sturdy structure, offering complete protection from injury when transporting it. The control panel has additional protection by an external impact-resistant structure.
Also, the generator comes with a 2-year limited warranty. It's not specified whether there is a reduced warranty period when the generator is deployed for commercial use.
Price
The generator is currently being sold for less than $400 by Wen Products. However, in the rest of the online market, it is still available for less than $450. Some even include an oil dipstick in the purchase which is incredible.
Take the Wen model to a price comparison table and you'll find out that it's about $100 cheaper than most of its peer products. For example, the Champion 100302, which is also a 4000-watt open frame inverter generator, is sold for more than $500; the same as the Champion 200953.
The incredibly low price of the Wen GN4000i is certainly tempting, we must admit. However, we will never recommend buying a generator simply because it is one of the cheapest within its range. Quite the contrary.
The modern engineering and the overall high quality are not something we generally expect from a budget-friendly generator and not in an inverter generator, which is usually more expensive than traditional open-frame gas generators. However, when considering cheaper portable generators, WEN has a lot of value to offer
The WEN GN400i is all about pure common sense. It has an excellent value for money. It offers an above-average quality at a below-average price and is certainly a model that is difficult to resist.
Key Features
Some of the most important features on this generator are listed below:
Produces up to 4,000 watts of power: The 4,000-watt peak power inverter generator is the perfect choice for an RV. It's also a great emergency generator to have as a backup for emergencies where you have power outages at home.
Parallel ready with another Wen inverter generator: The generator is Parallel ready. The panel lets you connect two WEN inverter models to increase the output power.
Transfer switch ready: The generator includes two 120V NEMA 5-20R sockets, two 5V USB ports, 1 NEMA L5-30R twist-lock socket 120V, and is transfer switch ready.
Well-packed and accessorized: It's packed in foam and comes with the following: wrenches, spark plug, a Phillips head screwdriver, and an instruction manual. It also comes with a high-altitude kit which is nice.
Comes with two years warranty: The warranty is very suitable for the cost of the generator. Some that are more expensive only offer a 1-year warranty.
PROS
CONS

50% quieter than most 4000-watt generators
Low-oil shutdown feature
Inverter technology
 30% lighter than most models in its range
Includes a 212cc 4-stroke OHV engine
Can generate 4000 peak watts and 3500 nominal watts

No wheels or carry handle
Open frame design makes it still noisy
Conclusion
The Wen GN400i is an open frame inverter generator that generates up to 4,000 watts in peak power and 3,500 watts of electrical current. As one of the least expensive 4000 watts inverter generators, our in-depth Wen GN4000i review has shown that the Wen generator is worth buying and not just another dreck. So, we recommend the generator for those who need to power up their RV or homeowners looking to have a small backup generator in case of emergencies or for maintenance works in the garden.
References
1.
Honda Recalls Inverter Generators - Consumer Reports
Honda has recalled inverter generators because a faulty fuel value can result in gasoline leaking and pose a danger of burns or fires. Consumer Reports has the details on the Honda generator recall.