Do you have a traveling mind, but find it difficult to do without certain tools when you are outdoors? It is always more pleasant to be able to take advantage of your computer, your barbecue, or even charge and use your smartphones, tablets, and iPads when out in remote areas. And since these are areas with no access to the electricity grid, a portable generator will come in handy for this situation. However, for this purpose, you want a generator that is as portable, light, and as quiet as possible. Then your answer to these is the Westinghouse iGen 2200 inverter generator! Check out all its specifications, main features, pros and cons in our Westinghouse iGen 2200 review.
This product's also been included into these rankings:
Specifications
Fuel tank capacity
1.2 gal.
Run time
12 hours (1/4 load)
Outlets
(1) Duplex 120V 20A (5-20R), (2) 5V USB ports
Dimensions
19.8 x 11.4 x 17.9 inches
Warranty
3-year limited (residential), 1-year limited (commercial)
Westinghouse iGen2200 review
In the rest of the article, we will be telling you everything about the features of the generator, from its performance to ease of use, safety features, noise level, portability, maintenance needs, warranty coverage, number and types of outlets, fuel type, fuel tank size, and runtime.
Overall performance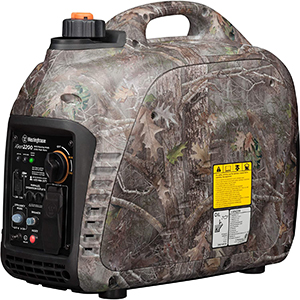 First, the iGen 2000 is a portable inverter generator with a closed insulated construction that makes it ultra-quiet during operation. It has a 79cc OHV 4-stroke engine that produces a surge power capacity of 2,200 watts and a continuous running power of 2,000 watts. Some equipment consume more energy at startup and then reduces energy intake with continuous operation. The iGen 2200 adapts to this pattern. After the generator is started, the inverter generator will produce around 2.2 kilowatts, which is its peak power, and then continues running while producing 2,000 watts. With the iGen 2200, we now have a slightly larger unit than the iGen 2000 in terms of power production. But these two units are designed to be paralleled together in case you have a slightly larger load than the power capacity of the model. This way, you'll be able to, for example, power a 15,000 BTU air conditioner.
Fuel type, tank capacity, and run time
First, the generator runs on gasoline fuel. You have to note that all generators made by Westinghouse are tested from the factory. So, they may discover they have residual fuel and oil as you unpack them. However, you'll need to fuel the generator before use. The generator needs to be fueled with oil or the engine will shut the unit down due to its lack thereof. The generator comes with the oil needed to be used so you only need to bother about gasoline fueling and refueling. The recommended type of oil recommended by the manufacturer for the oil is 10W-30 engine oil.
The generator requires the use of high octane 87 to 93 unleaded gasoline. The higher the octane grade, the more the engine will be resistant to knocks. The tank capacity is 1.2 gallons. It's not a large tank capacity, but it's large enough for inverter generators within its range. At a full tank (of 1.2 gallons), the generator can run up to 12 hours at 25% load. 25% load capacity equals 500 watts rated devices. At 25% load capacity, it will be able to power an incandescent light bulb, an electric blanket, and a fan.
The generator is eco-friendly, thanks to its economy mode, low noise, and carbon emissions. This is why it is approved by the Environmental Protection Agency (EPA). It is also compliant with the regulations of the California Air Resources Board (CARB). What this means is that you can use, sell, and buy the generator set not only in California, but also in Colorado, Delaware, Maine, Connecticut, Maryland, Massachusetts, New Mexico, New Jersey, New York, Pennsylvania, Oregon, Rhode Island, Washington, Vermont, and DC. It produces stable power at less than three percent of total harmonic distortion (THD).
Outlets
You have two 120-volt receptacles on the front. You also have two USB outlets on the front of this unit as well and both of these have plugs in them. So when they're not in use, you can keep them covered up and keep moisture out of there. You also have an Economy Mode on and off switch. When you run this thing in Economy Mode, just let it throttle up based on the need. It's quiet when you're running it in efficiency mode.
Ease of use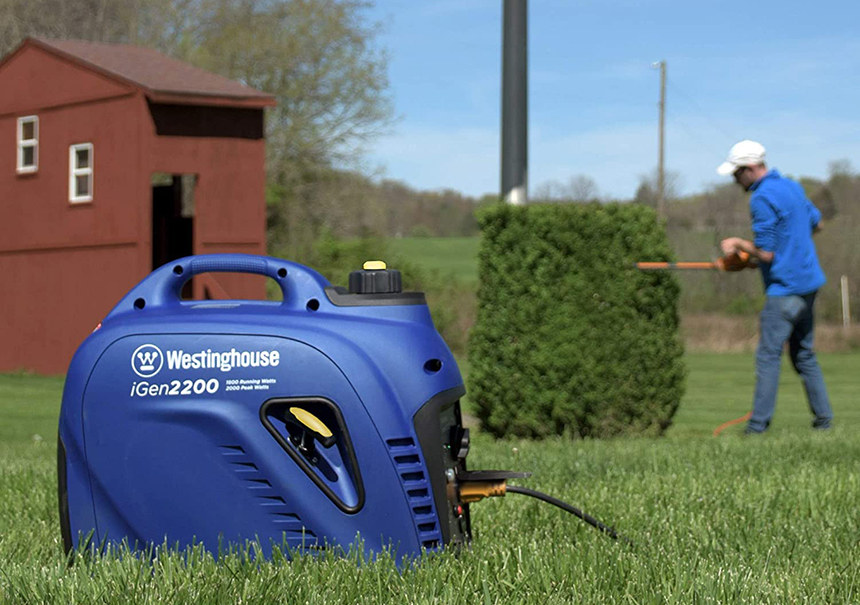 The unit is extremely easy to set up. All you had to do is remove the back panel, add the oil, which is already pre-measured out by Westinghouse. Then add some fuel and pull the recoil start. As you take a look on the front side, you'll see that this is very similar to the 2,000-watt generator. It has a simple on-off run choke switch to get this unit running. As we mentioned, the generator set is extremely easy to set up. You literally only need to pull it out of the box, add the oil, put in some fuel. Just give it a single pull and it will start right away. The light construction of the generator makes it easy to carry. It has a suitcase designed which makes it easy to carry.
However, the starting method of the generator is not the easiest or simplest. It doesn't feature the electric start, but the recoil method. This is a manual and traditional method of starting a generator by pulling the cord. However, a single pull is enough for bringing the engine roaring to life. You'll need to ensure you start the generator with no load connected to it, that is, at 0% load.
Safety features
The iGen 2200 is safe for powering sensitive electronics and devices such as smartphones, tablets, iPods, TVs, laptops, and more. Among its several safety features is overload protection. The overload protection protects the unit from running overcurrent which might cause the overheating of the generator. It monitors the current in the circuit of the generator. When this feature detects a phase failure or electrical overload for too long, the circuit breaks, hence, protecting the motor of the engine.
Asides from the overload protection, there is also the low oil shutdown. The generator comes with the needed oil. But when the oil in the oil tank goes below the required level, the generating set will shut down automatically, thanks to this feature. To know if low oil is the cause of the shutdown, all you need to do is try to start the engine by pulling the starter cord. If there is an oil shortage, then there will be a low oil light flashing on the panel side. The unit will not come up except you add oil.
Noise level
Being a portable generator with inverter technology, the iGen 2200 is an ultra-quiet model. Thanks to its insulated and closed construction, it's quieter than open frame conventional generators, as well as many inverter type generators. It produces as low as 52 decibels of noise while at a few meters away from the set during operation. Due to this environmentally-friendly design, it is approved both by the EPA and CSA and it's CARB compliant. While out in remote areas in the wild, its ultra-quiet operation may not be appreciated enough. However, this makes the generator ideal for use in residential areas. This makes the Westinghouse generator ideal for use as a backup generator during emergencies such as during the hurricane season. It meets the permissible noise level of 55 decibels set by the EPA for residential areas at night. It runs at a noise level equivalent to or lower than the average conversational noise level. This makes it ideal for neighborhoods and recreational activities.
Portability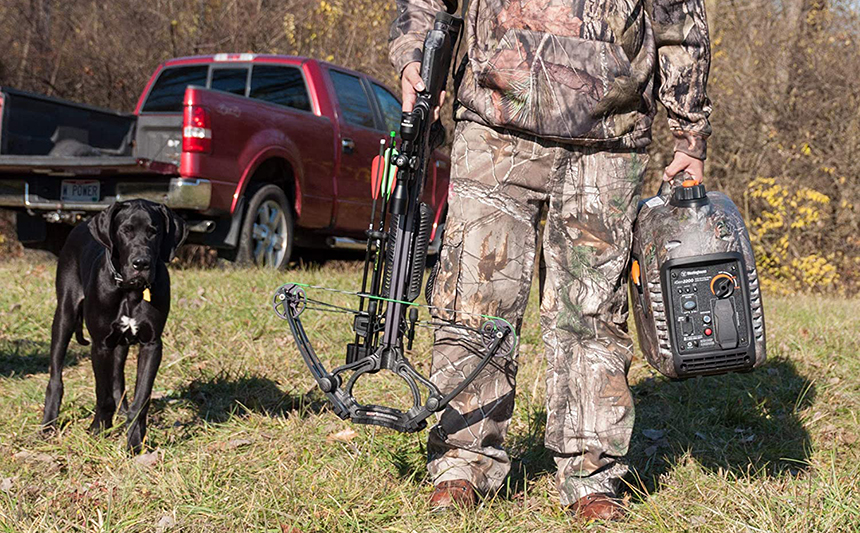 Combined with its lightweight construction, if you want something to move around and be able to operate out of the box relatively easily, the Westinghouse is the way to ghost 46 pounds. Most people can pick this up and move it around again with ease.
The product measures 19.8 x 11.4 x 17.9 inches in total dimensions and weighs 46 pounds. Its briefcase construction design, carry handle, and closed design, makes it a very portable model that is easily transported. The overall portability of the device makes it easy to store in a small space, whether at home, in your motorhome, or car trunk.
However, when compared with its peers, which are also inverter generators, the iGen 2200 is one of the most portable units. In the range of the popular Westinghouse inverter models, compared to the 46-pound weight of the iGen 2200 model, the iGen 2500 Camo and the iGen 2600 models weigh 48 pounds. In comparison, the iGen 4500 weighs 98 pounds, although with a much larger power output of around 4,500 watts. Meanwhile, the iGen 1200 is much more portable than the iGen 2200 as the former weighs just 33 pounds, but can only produce a surge power of 1,200 watts. You can however choose from one of these models if you need another generating set to be paralleled with the iGen 2200. For this purpose, you will need to get the Inverter Parallel Cord which is sold separately by Westinghouse and can be purchased also on Amazon.
Maintenance and warranty
The iGen 2200 doesn't require frequent or difficult maintenance. First, ensure you have fuel in the tank as well as sufficient oil.
As the manufacturer warns users and technicians, note that maintaining, operating, and servicing the power equipment can leave you exposed to chemicals sign as carbon monoxide, lead, phthalates, and engine exhaust. These can cause birth defects, reproductive problems, and cancer. So, it's advisable not to breathe in the exhaust fume. During maintenance or servicing, you're advised to wear gloves. After maintenance, you're advised to wash your hands.
The maintenance schedule involves checking the engine oil before using it. Then, after 25 hours of use or after the first month, you're required to change the engine oil. Next, after 50 hours of use or after the 6th month of use, you're required to change the engine oil again, clean the air filter, inspect and clean the spark arrestor, the spark plug, replace the fuel filter and inspect and adjust the valve clearance. One annually, it's advisable to replace the spark plug and the air filter.
When you buy the product on Amazon, it comes with a seller warranty of 90 months. However, it also comes with a manufacturer warranty of up to three years. You have three years of warranty if you will use the generator in residential places. For commercial use, you have one year.
Key features
Inverter generator producing stable and clean power
2,200 watts surge and 2,000 watts continuous power
Two 120-volt receptacles and two USB outlets
Portable and lightweight for residential and recreational use
Ultra-quiet with 52 dB noise level
Low-oil shutdown and overload protection safety features
Three-year warranty for residential users; one year for commercial users
PROS
CONS

Up to 12-hour runtime
Portable and lightweight
Inverter technology
Parallel capable
Low noise level
Low carbon emission
EPA, CSA, and CARB-compliant
For sensitive devices

No electric start
Problems with recoil
Customer service
Conclusion
The Westinghouse iGen2200 inverter generator is a powerful portable but reliable inverter generator. It produces a peak power of 2200 wattage and running power of 2000 wattage. It's ideal both for recreational use, such as pregame or camping, and residential use as a backup plan. The generator can be used to simultaneously power refrigerators as well as large appliances such as gas boilers, TV sets, computers, light fixtures, a BBQ grill, and more. It weighs just 46 pounds and is thus portable, also thanks to the handle. The unit is ultra-quiet, producing as low as 52dB. This makes it permissible for use in residential places in California and other states in the US. On a full tank (of 1.2 gallons), it can operate at 1/4 load for up to 12 hours. It uses gasoline for fuel and 10W-30 engine oil. Finally, the generator has safety features such as the auto shut off and the low oil shutdown.