The Westinghouse iGen2500 is a nicely outfitted 2,500-watt inverter generator, which in itself makes it worth a closer look. But when you see the modest price of this generator, it's hard not to consider it a serious contender in the 2,000-watt class of inverter generators. We'll be the first to point out that the iGen2500 has a few flaws, including short run time, limited outlets, and poor support from Westinghouse. But, for the majority of users, this generator offers an impressive amount of value.
So, is the Westinghouse iGen2500 the right generator for your needs? In our Westinghouse iGen2500 review, we'll take a closer look at the features of this generator, highlight where it outperforms the competition, and address some of its flaws.
This product's also been included into these rankings:
Specifications
Fuel tank capacity
1 gal.
Run time
10 hours (1/4 load)
Outlets
(1) Duplex 120V 20A (5-20R), (2) 5V USB ports
Dimensions
19.8 x 11.4 x 17.9 inches
Warranty
3-year limited (residential), 1-year limited (commercial)
Westinghouse iGen2500 review
The Westinghouse iGen2500 is a nicely equipped inverter generator. It offers slightly more power than most of its competitors in the 2,000-watt size category, without bringing extra weight or noise to its operation. However, there are some major drawbacks to the iGen2500. Westinghouse built this generator with a small fuel tank that really limits the run time, left out a 12-volt DC outlet for charging batteries, and makes it difficult for users to resolve issues even when the generator is under warranty.
There's a lot to explore about the iGen2500. Here, we'll take a look at the various features of this inverter generator and explain how they can impact how you'll use the generator.
Overall performance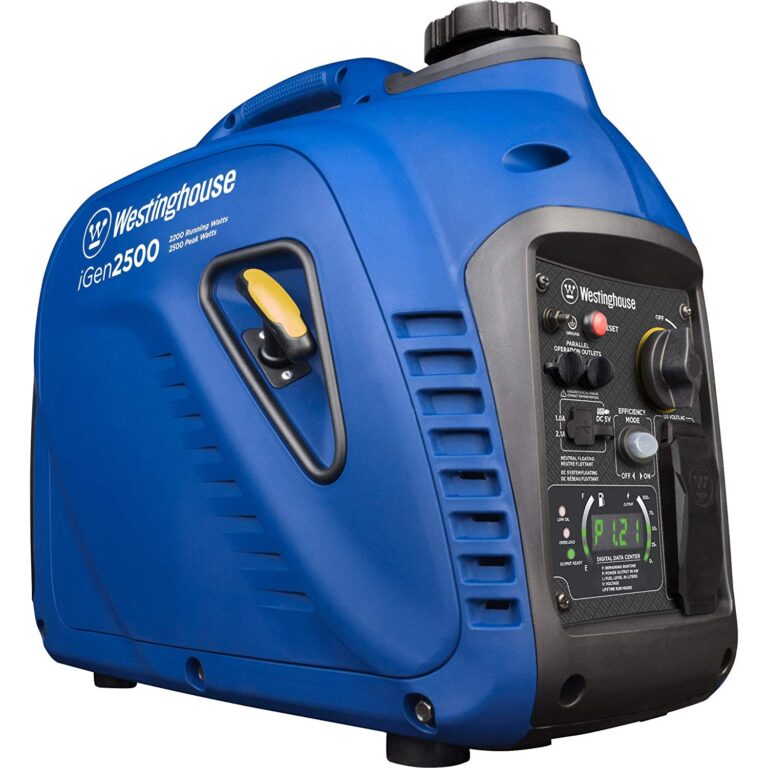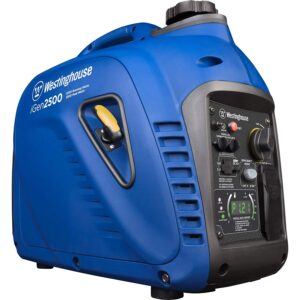 The iGen2500 is a great deal because of the performance you get for its price. The generator is an inverter model capable of putting out 2,500 watts of surge power or 2,200 watts of continuous power. That's significantly more than most other generators in the 2,000-watt size class, which is great when you consider that a few hundred watts is another appliance you can plug in. The high surge wattage is also a major plus if you plan to use this generator for running power tools or other motor-driven appliances around your home.
Users found that the iGen2500 is very reliable thanks to the 98cc OHV engine. The four-stroke motor is relatively fuel-efficient as well as quiet, and there's even an efficiency switch so you can prolong the generator's run time at low power draws. However, bear in mind that the generator won't work at altitudes above around 8,000 feet because the engine can't get enough oxygen. If you plan to use your generator for camping in the mountains, you may need to look at a different model.
It is also worth noting that some users experienced issues with some of the electronics inside the generator. Some users found that the low oil indicator malfunctioned after a few hours of use, and that starting the generator required disconnecting this indicator. While issues with the engine itself were rare, this is something to watch out for.
Those caveats aside, the iGen2500 performs pretty well. Since it's an inverter generator, it's simple to connect it in parallel to another Westinghouse inverter generator. In addition, the electricity it produces has less than 3% total harmonic distortion, so it's safe to use with sensitive electronics like your laptop and smartphone.
Fuel tank capacity and run time
One of the biggest issues we – and users – had with the iGen2500 is that the fuel tank is just one gallon in size. For a generator that's on the high end of 2,000 watts, one gallon of gas simply isn't enough.
That's reflected in the generator's short run time. This generator can only run 10 hours at a 25% load – and that's after activating the high-efficiency mode to run the engine at a lower RPM. If you want to run at half-load, you'll get just four to five hours of use. At a full 2,200 watts, users reported having to stop and cool down the engine as frequently as every two hours to refuel.
Depending on what you plan to use your generator for, that can be a significant drawback. Two hours of use may be okay if you're using this generator to tailgate or power a campsite for a few hours every evening. But if you want to power your home appliances during a blackout or run power tools at a work site, it's hard to justify getting a generator with such a short run time.
Control panel and outlets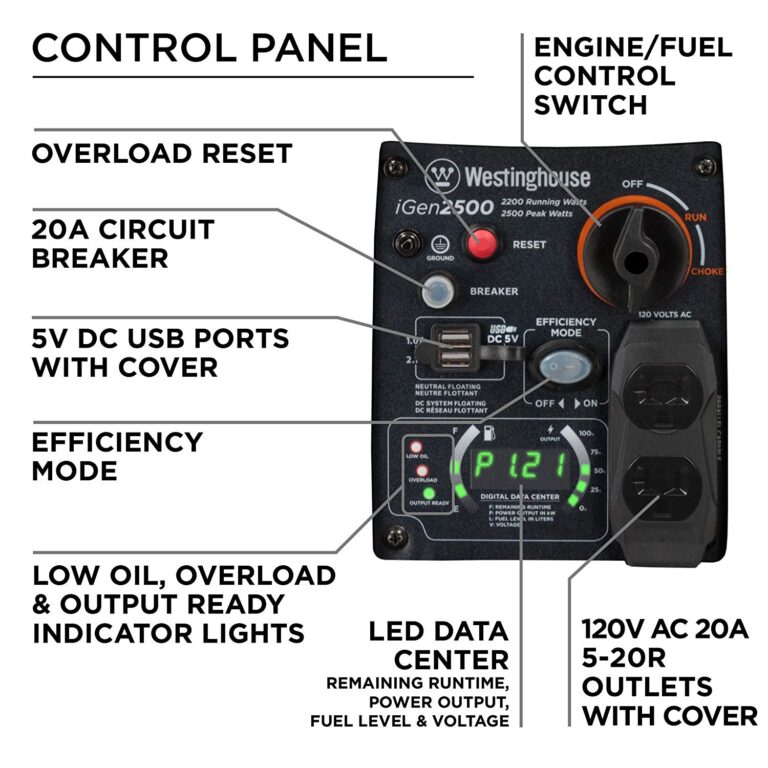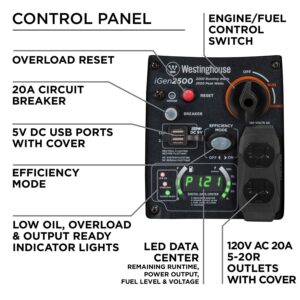 For the most part, the control panel on the iGen2500 is very nicely featured. It includes a 120-volt, 20-amp duplex outlet and a pair of USB charging ports. All of these outlets are covered with weatherproof rubber, which is a nice touch.
On top of that, the generator comes with an LED display screen that allows you to see how much wattage you're drawing and how much run time you have remaining based on current power consumption. That's a big help, especially since you know exactly how much power you have left to use before you run the risk of overloading the generator.
However, this generator is missing one important outlet – a 12-volt DC outlet. This outlet is typically used for charging batteries, such as your car, RV, or boat battery. It's not strictly essential, but it's very nice to have, especially if you keep this generator in your car during a big trip.
Ease of use
On the whole, the iGen2500 is pretty easy to use. It doesn't have a remote start, instead relying on a recoil starter. However, users found that the recoil mechanism is quick to start the generator, even when starting from cold, and this means that you don't have to worry about keeping an on-board battery charged.
The LED display is a huge plus for ease of use. It not only allows you to ensure that you're not going to overload the generator, but also helps you know how much fuel you have left if you're planning to walk away from the generator for a little while. Unfortunately, you can't manually switch between display metrics, but rather have to wait for the data center to cycle through all of the metrics it displays.
Safety features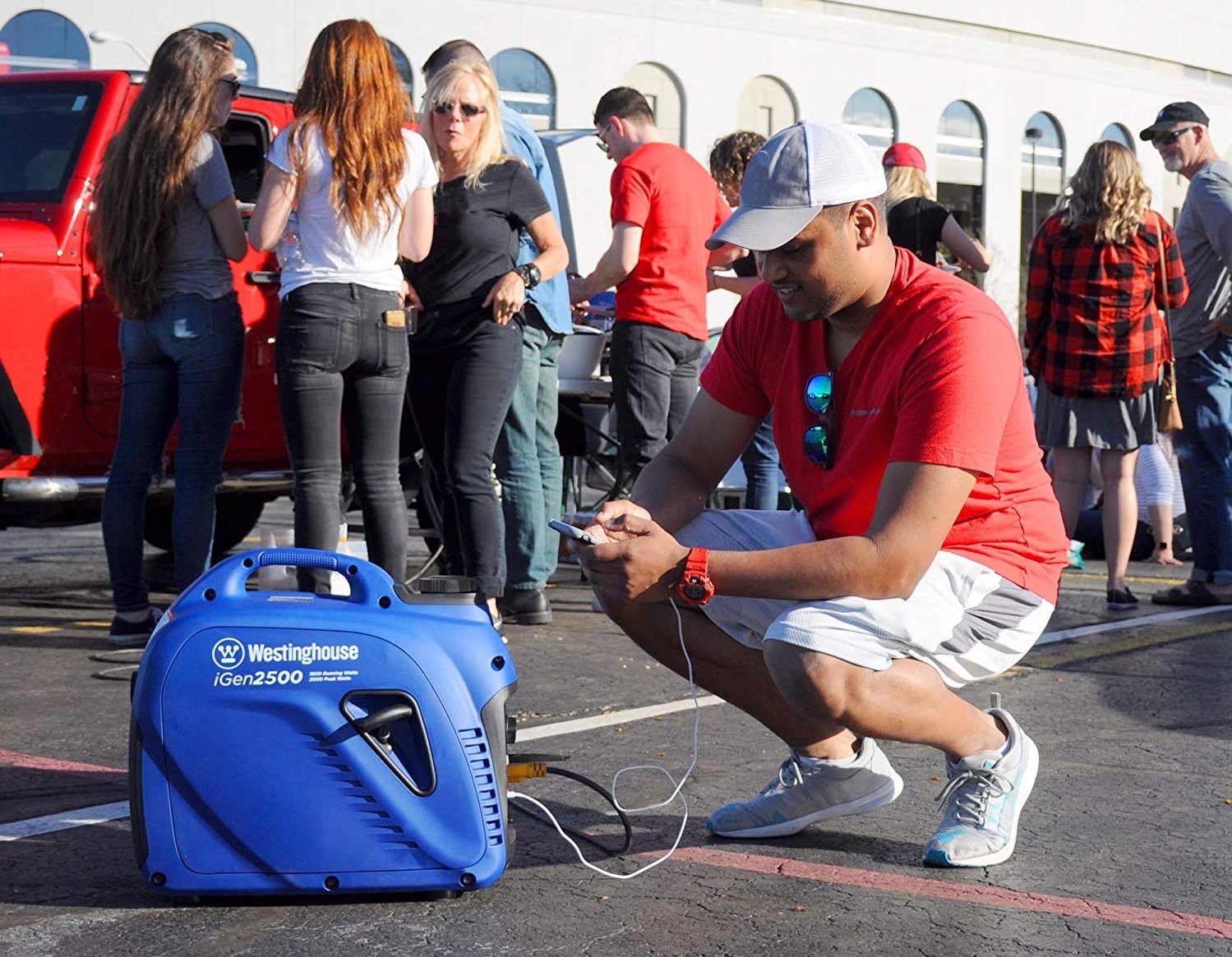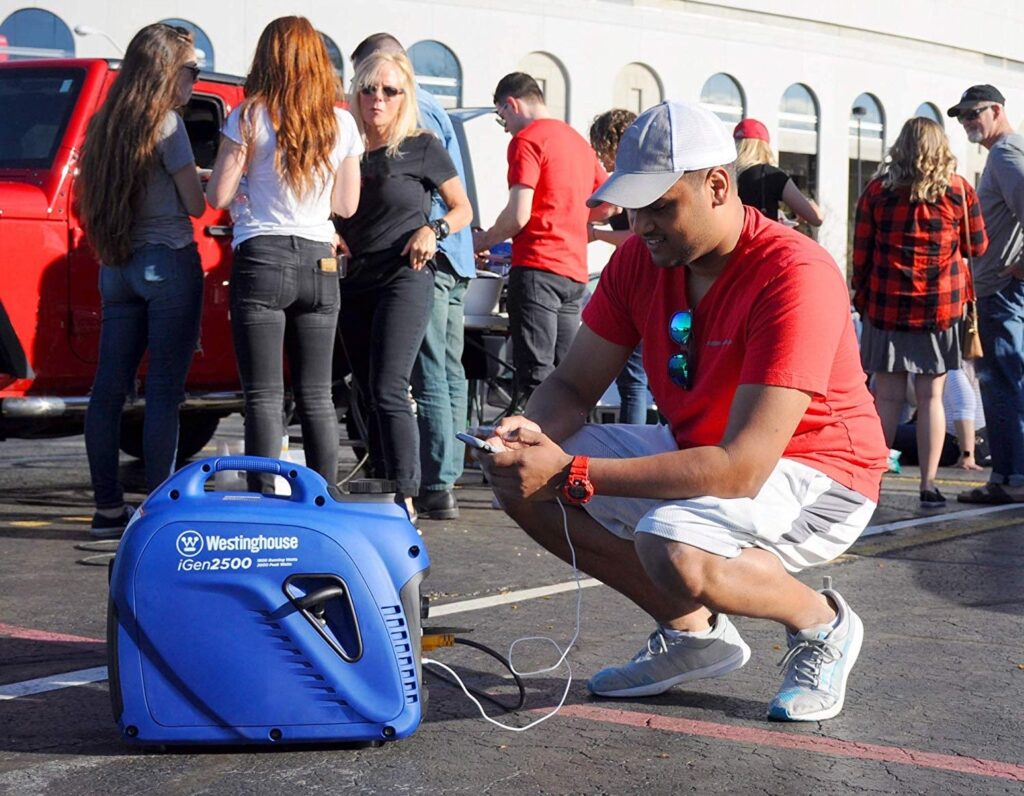 Westinghouse built a nice array of safety features directly into this generator. To start, it comes with automatic low-oil shutoff and overload shutoff controls to turn off the generator before any damage can come to the engine. There are also display lights to warn you when the oil is low and when you're nearing a power overload built into the LED data center.
The 120-volt duplex isn't backed by a GFCI circuit, but we did like that Westinghouse included rubber covers over all the outlets on this generator. That means you don't have to worry about water getting into the circuitry if you have to carry the generator through the rain. Also, it's easy to reset the outlets on this generator without restarting the engine thanks to a simple reset button on the control panel.
Of course, Westinghouse also included a grounding point on the generator's control panel. So, it's easy to add a grounding rod to this generator to control for static discharge.
Noise level
The iGen2500 is impressively quiet for its size. It produces just 52 dBA of noise when running at a 25% load, which is quiet enough that you can easily hold a conversation over the generator. It's about ten times louder than this when running at full power, but that's still relatively quiet for the amount of power this generator puts out.
Overall, we thought the low noise production is one of the best things about the iGen2500. Sure, it's louder than Honda's competing generator, but it also costs about 75% less – so we're okay with a few extra decibels.
Portability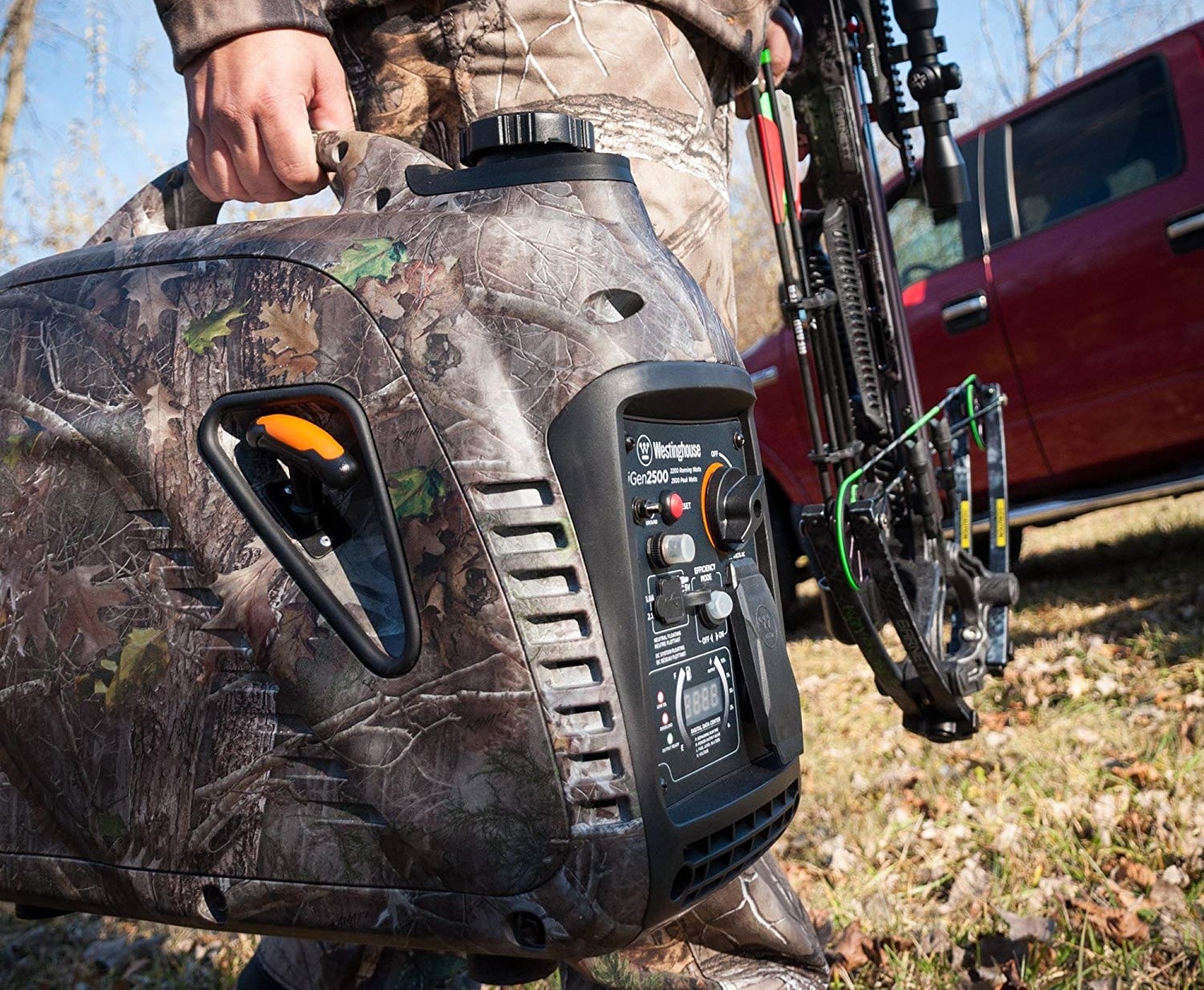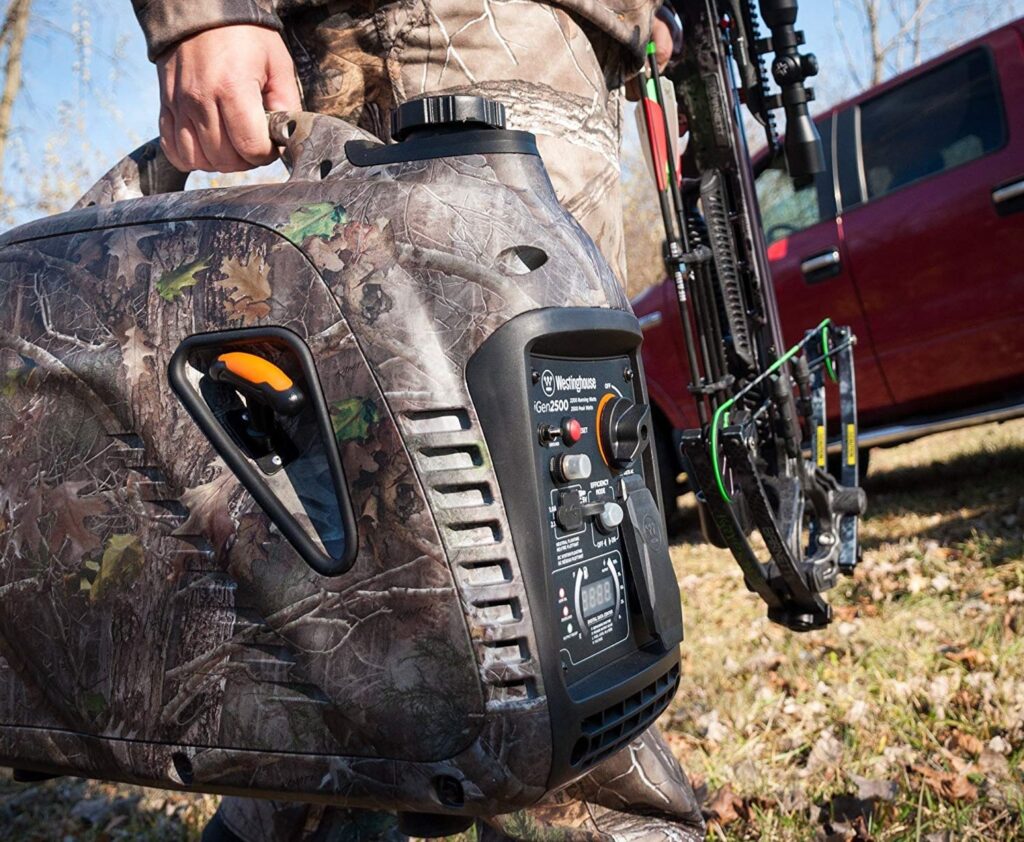 The iGen2500 is compact and relatively portable. It weighs just under 50 pounds, which is comparable to most other generators of the same size. Users found that the top handle, which is molded to enhance grip, is easy to grab onto, and the generator can be carried short distances by a single person.
While we'd like to see a second carry point, Westinghouse's design matches the industry standard for 2,000-watt generators, so you'll be hard-pressed to find something more portable.
Maintenance and warranty
Westinghouse provides a three-year warranty on the iGen2500 for residential users. However, that warranty drops to just a single year if you're using the generator for a commercial purpose, such as powering a work site. That's a big change and doesn't leave you with a lot of coverage if you're a commercial buyer.
It's also important to note that Westinghouse's customer service has received a low grade from owners of the iGen2500. Users who had issues with electrical circuitry such as the low oil indicator found that Westinghouse wouldn't answer emails or calls, or else refused to honor the warranty on defective units. Customers in Puerto Rico also found that Westinghouse dropped their warranty coverage to just 50 days in the wake of the 2017 hurricanes.
None of that is particularly encouraging, and it makes it feel as if you're rolling the dice to some extent with this generator. However, do keep in mind that the vast majority of customers reported no issues with the iGen2500 and found that it has worked for several years or more without any problems of note.
Price
The modest price of the iGen2500 is perhaps the biggest draw to this generator. Compared to competitors in the 2,000-watt size class, it's either similarly priced or cheaper. Notably, this generator costs less than half of what Yamaha's 2,000-watt generator costs and just one-fourth of what Honda's offering costs. Yet you still get a generator that's nearly as quiet, offers more running and surge power, and includes USB charging ports.
If you can live with the possibility that you might have to struggle to get warranty coverage from Westinghouse, this generator represents an impeccable value.
Key features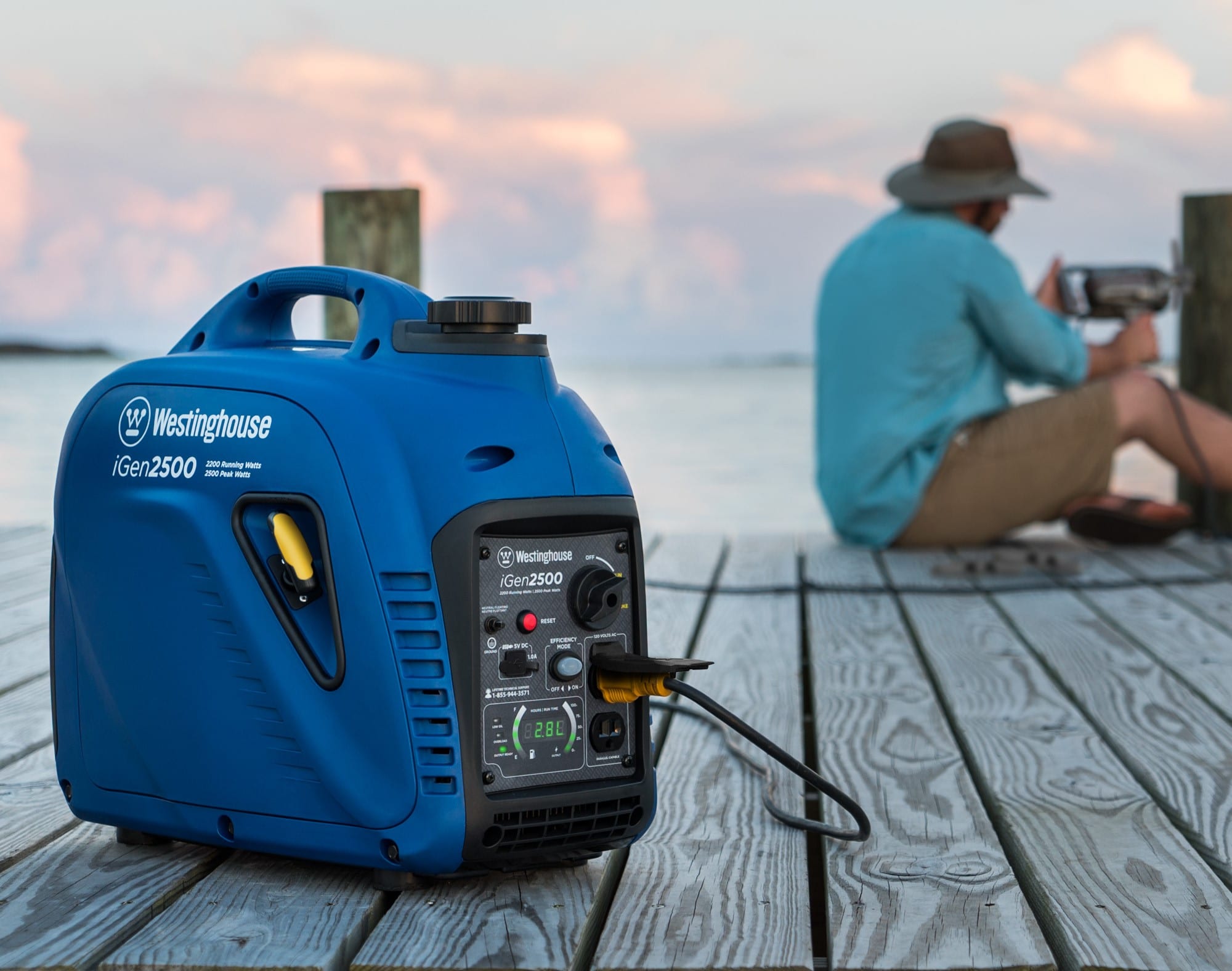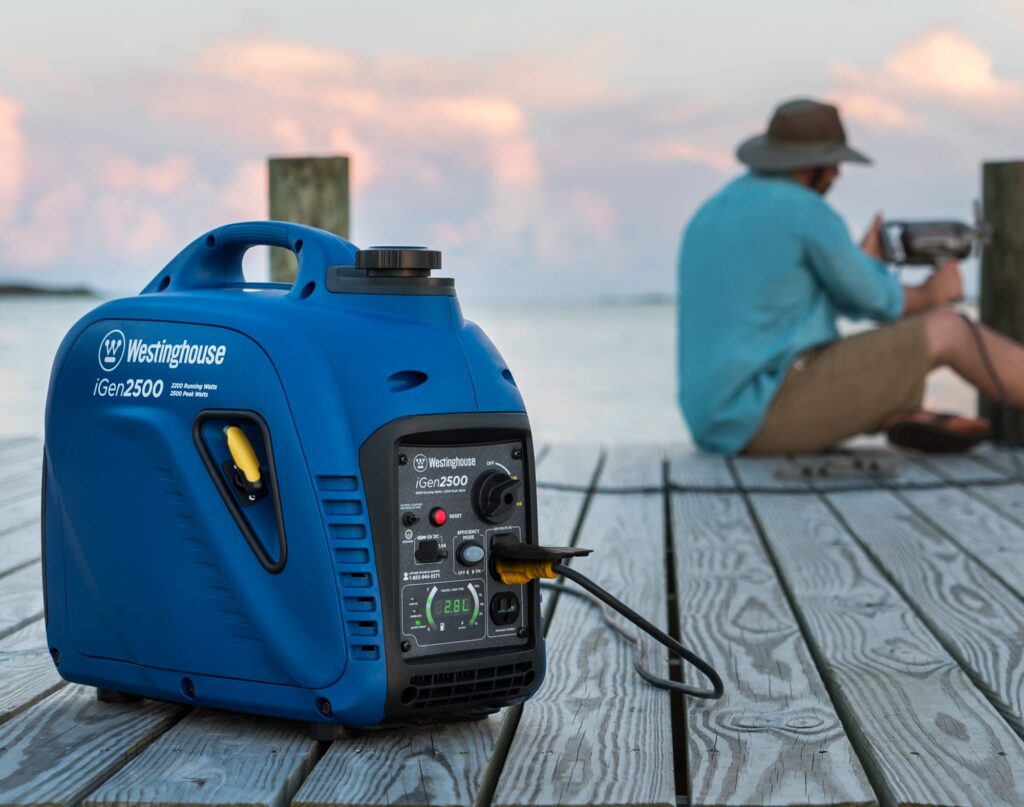 Inverter generator with 2,500 watts of surge power and 2,200 watts of running power
Four-stroke 98cc OHV engine
Includes weather-covered 120-volt duplex and two USB charging ports
LED data center with wattage and run time information
Produces just 52 dBA of noise at 25% load
Three-year limited residential warranty
PROS
CONS

Very inexpensive for the power and features
Offers more surge and running power than most comparable 2,000-watt generators
Rubber weather covers over outlets
Includes two USB charging ports
Very quiet operation
Data center displays wattage and run time remaining
Three-year residential warranty

Users report occasional issues with internal components
Very poor customer service from Westinghouse
Commercial warranty is just one year
Short 10-hour run time at 25% load (just two hours at full load)
No manual control over data center display