On paper, the Westinghouse iGen4500DF appears to be the end-all-be-all of generators. It's not only an affordably priced inverter generator capable of producing up to 4,500 watts of surge power. It's also a dual fuel generator capable of running on either gasoline or propane. Combine that with a low rated noise production, decently long run time, and well-equipped outlet panel, and it's hard to believe this generator hasn't pushed every other model out of the market.
Is the iGen4500DF as good as the technical specifications would have you believe? In our Westinghouse iGen4500DF review, we'll take a closer look at what this generator can offer and whether it has any pitfalls that you need to know about. In addition, we'll spotlight what customers who know this generator best have to say about its performance, reliability, and usability.
Specifications
Fuel type
Gasoline, propane
Surge watts
4,500 (gasoline), 4,050 (propane)
Running watts
3,700 (gasoline), 3,330 (propane)
Engine
224cc OHV 4-stroke
Starting method
Electric, remote, recoil
Fuel tank capacity
3.4 gal.
Run time
18 hours (gas, 1/4 load), 14 hours (propane, 1/4 load)
Outlets
(1) Duplex 120V 20A (5-20R), (1) 120V 30A (TT-30R), (2) 5V USB ports
Dimensions
24.5 x 17.5 x 20.5 inches
Warranty
3-year limited (residential), 1-year limited (commercial)
Westinghouse iGen4500DF review
The Westinghouse iGen4500DF lives up to the excitement its paper specifications create in many regards. Users found that the generator produces extremely clean power even under high loads. They loved the remote electric start and appreciated having a backup recoil starter. While the runtime could be longer, they also appreciated that the generator isn't so large that it's impossible to move around. The only downside that users highlighted was Westinghouse itself – while this generator is, for the most part, very reliable, Westinghouse is nowhere to be found when customers report an issue that should be covered under warranty.
Overall performance
The iGen4500DF is outstanding when it comes to not only its performance capabilities, but also its versatility. This generator is a dual-fuel model capable of producing 4,500 watts of surge power and 3,700 watts of running power on gasoline or 4,050 watts of surge power and 3,330 watts of running power on propane. That's a ton of surge power, especially for an inverter generator – these newer generators rarely exceed 4,000 watts no matter what the fuel source.
Better yet, users confirmed that this power is usable with sensitive electronics even when the generator is pushed to its limit. In comparison with a similarly powerful Honda generator, one user found that the total harmonic distortion produced at running power loads above 50% was actually lower on the iGen4500DF – even though this is a cheaper generator with dual-fuel capabilities.
Users also liked that you can take advantage of the dual-fuel engine on the fly. You can switch from gasoline to propane while the generator is running, without having to power down the engine. That's a big plus if you want to get the power of gasoline for a few hours, but then switch to propane for a longer run time without having to power down all the tools and appliances you're powering with the generator.
It's also worth noting that the generator has an efficiency mode that runs the engine at a lower speed when you're not using all of the available power. This is nice because it saves fuel and increases run time, without impacting the power or noise, or the distortion of the power produced.
Fuel tank capacity and run time
Westinghouse equipped the iGen4500DF with a sizable 3.4-gallon fuel tank that affords this generator an 18-hour run time at a 25% load. That compares very nicely to most other generators in the 4,000-watt power range and translates to nearly five hours of uninterrupted use at full power on gasoline.
Even better, your run time is virtually unlimited when you use propane. The generator is rated to burn through a 20-pound tank of propane in about 14 hours at 25% load, but if you need more run time, all you have to do is connect a larger tank. Alternatively, you can almost double your run time by starting the generator on gasoline and then switching to propane once the fuel tank runs low – as we mentioned, this doesn't even require powering down the motor.
Outlets
Westinghouse provided a wide range of outlets on the iGen4500DF so that this generator is ready for just about anything. To start, the generator comes with a 120-volt, 20-amp duplex and two USB charging ports. There's also a 120-volt, 30-amp twist-lock outlet – although this isn't an RV-ready outlet, it can easily be modified for use with an RV with an inexpensive adapter. Since it's an inverter generator, the iGen4500DF also includes a set of parallel operation ports so you can hook two units of this generator together to double your available power.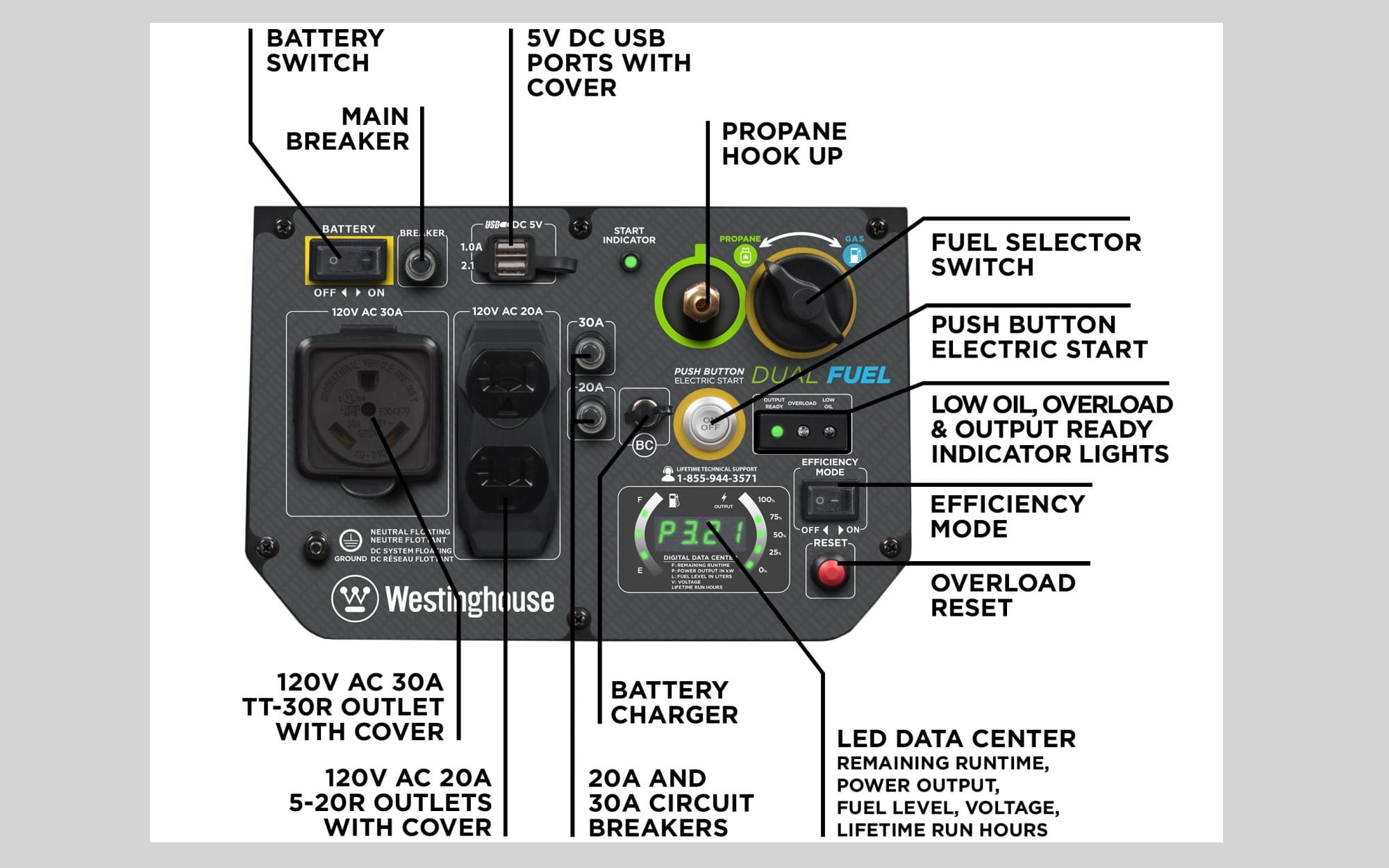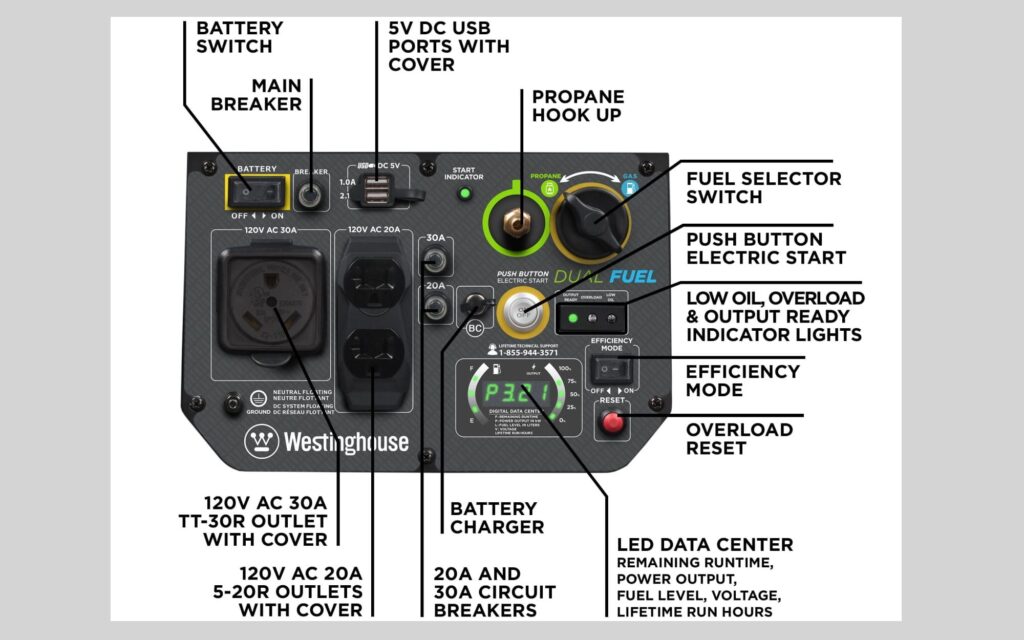 Notably, however, Westinghouse skipped the normally ubiquitous 12-volt DC outlet on this generator. There is a port that you can plug the generator's on-board battery into for charging. However, a DC outlet would be nice to have for anyone who plans to use this generator with a car, RV, or boat.
That said, Westinghouse did go the extra mile with the existing outlets. All of them are covered with waterproof rubber covers to keep them dry if you move your generator during a rainstorm. In addition, the 120-volt duplex outlet and the 30-amp twist-lock outlet each have their own breaker reset switches. There's also a main breaker switch so you can cycle power across the outlet panel if needed without turning off the generator.
Ease of use
Westinghouse went all out on ease of use features for the iGen4500DF. To start, this generator is equipped with every imaginable bell and whistle for startup. The generator not only has a push-button electric starter, but also comes with a key fob that allows you to start up the motor remotely (keep in mind that the fuel lever must be set to the correct fuel source before remote starting). In addition, we were glad to find a recoil starter that you can use as a backup if you ever forget to charge the on-board battery that powers the electric start feature.
The next big attraction to this generator is the LED control panel. The LED display cycles between showing your total power draw in watts, the voltage being output, the remaining fuel in the gas tank, and the estimated run time remaining. In addition, light-up meters give an estimate of your remaining gas and your power draw as a fraction of the total available wattage. Altogether, these displays make it extremely simple to ensure that you never overload the generator and always know how much fuel you have left.
Many of the features that we've already mentioned also contribute to how simple users found this generator was to run. The breaker switches are a big help when you overdraw a single outlet, while the USB charging ports make it simple to power a smartphone without requiring a complex multi-outlet adapter. Even the fuel switch is designed to be simple and is illustrated so you can't ever get confused.
Safety features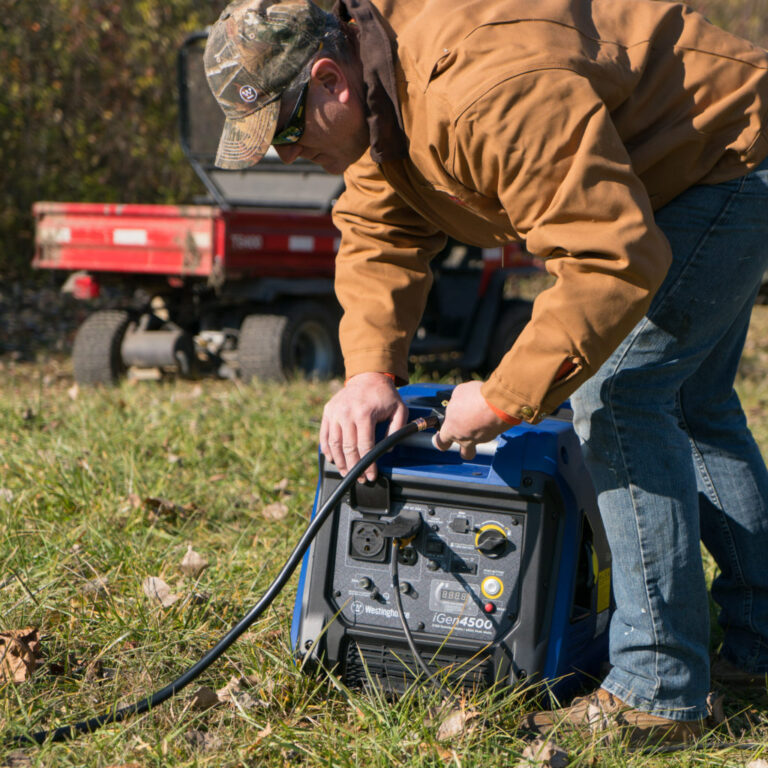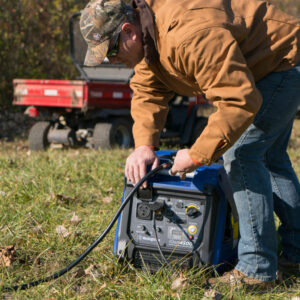 The iGen4500DF is outfitted with a number of standard safety features. There are warning lights just above the control panel that display when you are close to overloading the generator or when the engine oil is running low. Additionally, there are automatic shutoffs to protect the generator and prevent an electrical surge if you do overload the engine or run critically low on engine oil.
In addition, the generator offers a grounding nut so you can connect a grounding rod to prevent static discharge. The weatherproof caps over the outlets also helps to prevent moisture from getting inside the electrical wiring, which can reduce the chances of static discharge when operating the generator.
Noise level
For its power and size, the Westinghouse iGen4500DF is impressively quiet. The generator produces just 52 dBA of noise at a 25% load, which is on par with many much smaller 2,000-watt generators. This is so quiet, in fact, that you can hold a conversation over the generator and not even notice it's there. It's also worth noting that many users found that, at least subjectively, the iGen4500DF sounded quieter at moderate loads than the more expensive and nominally quieter Honda offering.
That's not to say the generator never gets loud – it approaches 65 dBA at full power. However, this is still a pretty reasonable volume, even for residential settings and RV use. Plus, given the amount of wattage you're getting for that volume, we were pretty impressed with this unit.
Portability
Portability isn't the iGen4500DF's strong suit. This generator weighs in at over 100 pounds, which isn't surprising. However, users found that the two carry handles that Westinghouse included aren't always easy to grab, especially when you're lifting the generator out of something like a high truck bed.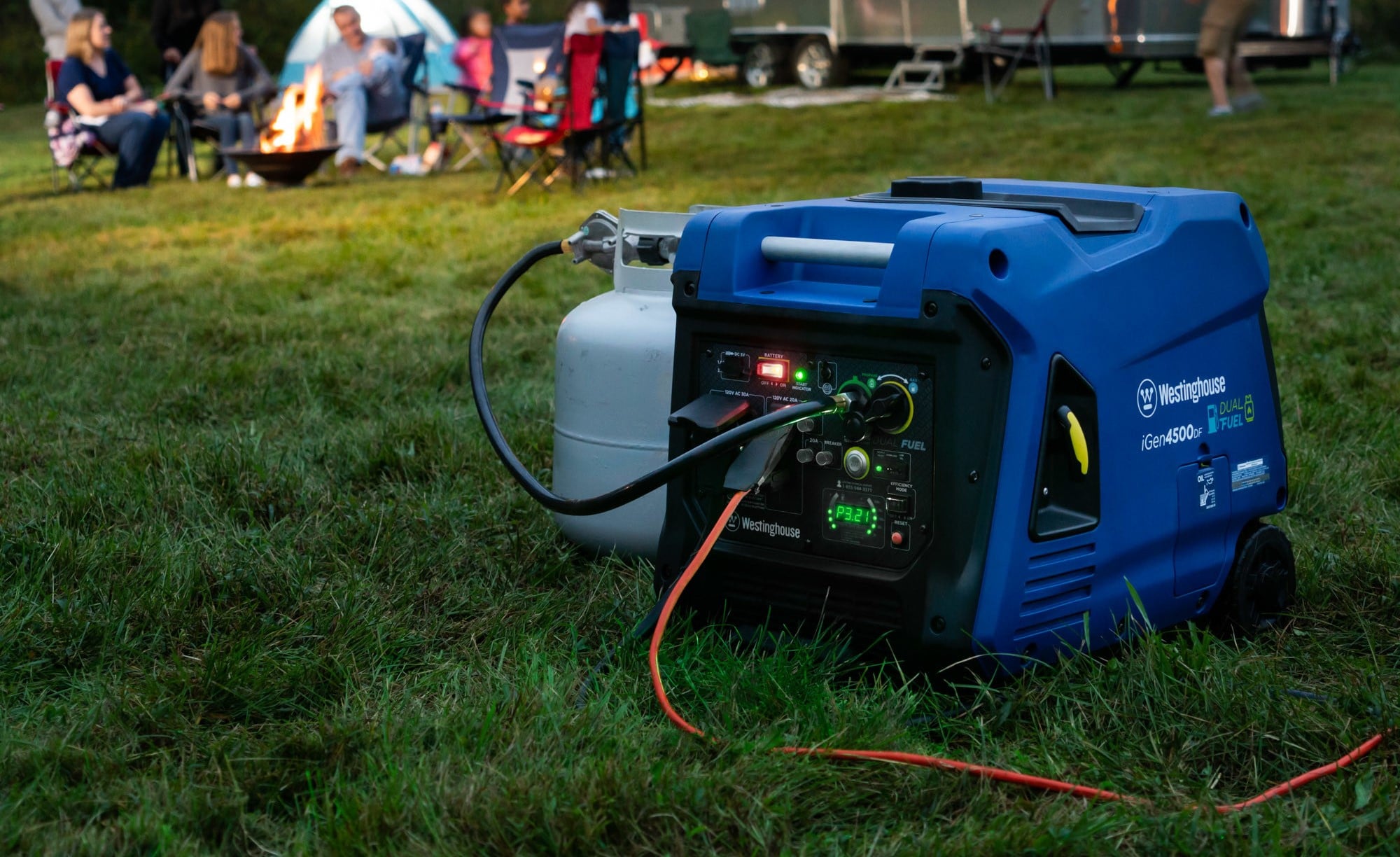 In addition, while the generator is mounted on a set of plastic wheels, they are very close to the body of the generator itself. That means that if you pull this generator through gravel, mud, or even wet grass, it's relatively easy for the wheels to get stuck. Still, users were relatively happy with the extendable tow handle stowed in the bottom of the generator, which allows you to roll the unit around on paved roads and packed dirt with no issues.
Maintenance and warranty
Westinghouse offers a three-year warranty on the iGen4500DF, which is pretty nice. However, be forewarned that the number one complaint that users have about this generator is Westinghouse's customer service. There are numerous examples, both for this generator and other Westinghouse models, of Westinghouse refusing to honor warranty claims or failing to answer their customer support calls.
In addition, commercial users will want to note that the warranty drops to just one year for them. Although this generator is a great value for everything it offers, it's still a pricey investment with only one year of protection.
Still, you can rest assured knowing that there are very few complaints about the iGen4500DF. Defects appear to be few and far between, and most users report using this generator for years without issue as long as it is properly maintained.
Key features
Dual-fuel inverter generator
4,500 watts of surge power and 3,700 watts of running power on gasoline
Remote electric start with recoil backup
LED control panel display
120-volt, 30-amp twist-lock outlet and two USB ports
Switch between propane and gasoline without turning off the engine
52 dBA noise production at 25% load
Three-year residential warranty
PROS
CONS

Dual-fuel inverter generator capable of producing 4,500 surge watts
Remote electric starter with on-board battery
Very quiet even at full power
Seamless fuel switching for extended run time
LED control display
Main breaker and covered outlets
Three-year residential warranty

Wheels could be better designed
Only one-year warranty for commercial users
Issues with Westinghouse customer support
No 12-volt DC outlet
About DuroMax
The Duramax company has been around for years and is dedicated to offering power options to those who need it. Whether you are looking for an air-conditioning unit or generator for your home, table saws and sanders for your construction job site, or you are looking for outdoor camping gear, you can find all you need on the DuraMax website.
The mission of the DuraMax brand is to provide power option products that focus on reliability, quality, and durability so that you and your family, or co-workers, have what you need to power through the job at hand. They believe that providing dependable power whenever you need it can help give you peace of mind and allow you to feel safe and secure even in a power outage.
DuraMax offers generators focus on high-quality portable power so that they are easy to transport and position so you can get back to what you were doing even with the power going off.
The DuraMax brand has also been one of the company's who has taken the lead on working to create cleaner-burning products that have less of a negative impact on the environment. Many Duramax products aim to be eco-friendly and help to reduce your ecological footprint while using power. With generators that offer a choice of gasoline, or cleaner burning propane, the impact is smaller even when you need extra power.
All DuraMax products are up to the highest ecological standards by meeting the EPA (Environmental Protection Agency) and CARB (California Air Resources Board) standards, which makes their products better and safer for the environment. This means that you can use their products knowing that you are not causing a large impact.