For cases when you need an extremely powerful and portable generator, such as powering a house, cabin, or even a large worksite, the Westinghouse WGen7500 is able to deliver. In our Westinghouse WGen7500 review, we'll cover everything you need to know about this generator in order to decide if the features it offers are right for your needs.
What sets the Westinghouse WGen7500 apart from its competitors? First, it boasts a massive 9,500-watt surge capacity – something that you won't find on most other portable generators. Second, it offers convenience thanks to an electric start and extremely long run time. Finally, the WGen7500 is reliable and comes with a long three-year warranty for residential users.
This product's also been included into these rankings:
Specifications
Engine
420cc Westinghouse OHV 4-stroke
Starting method
Electric, remote, recoil
Fuel tank capacity
6.6 gal.
Run time
11 hours (50% load), 16 hours (25% load)
Dimensions
27.2 x 26.5 x 26 inches
Warranty
3-year limited (residential), 1-year limited (commercial)
Westinghouse WGen7500 Review
We've spent several days diving into specific features of this generator to find out the main advantages and disadvantages to it. Here is what we have found.
Overall performance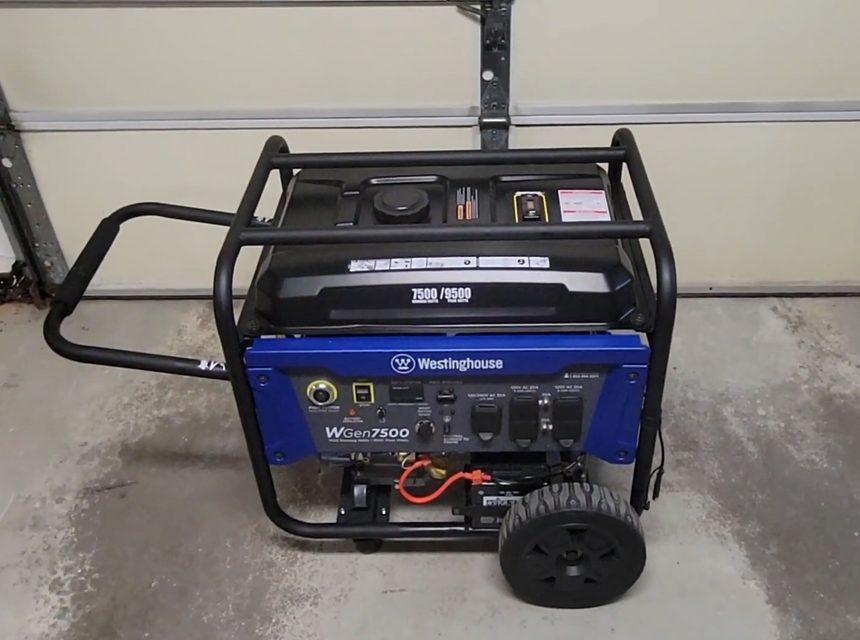 The performance of the WGen7500 is impressive, to say the least and that is the reason why it is considered to be the top best among 7,500-Watt geneators. The generator offers 7,500 watts of continuous power – more than enough to power any work site or home during an outage – with the ability to rev up to 9,500 watts of surge power to get your motorized appliances and tools started. This power is thanks to the highly fuel-efficient 420cc Westinghouse OHV four-stroke engine, which is protected by a cast-iron sleeve for durability.
The engine is also reliable, with users reporting back after several years of use that it runs as well as new. The only problem area with this generator is the battery for the electric start, which is inexpensive to replace and non-essential as the generator also has a recoil start. The three-year warranty for residential users is a nice added protection, although one year for commercial users is short compared to the competition.
Fuel tank capacity and run time
Almost more exciting than the raw power output is the runtime on this generator. While the fuel tank is somewhat large at 6.6 gallons – meaning you should expect to run through fuel quickly – the generator can last up to 11 hours at half-load or a whopping 16 hours at 25% load. That means that even when pushing the generator, you can expect to get a full day of work out of it before needing a refueling break.
Outlets
The outlets on the WGen7500 are minimal but cover the bases of everything you need in a generator. To start, there are four 120V/20A three-prong outlets like you would find around your house that can be used for a wide variety of electronics. These outlets are grounded with circuit breakers that can be easily flipped if you need to reset them. In addition, the generator has one 120V/240V 30A twist-lock outlet, which can be used for powering more heavy-duty appliances or tools or can be outfitted with an RV adapter.
Note that the WGen7500 is not an inverter generator, so you will want to avoid plugging any sensitive electronics such as a computer or smartphone into the 120V/20A outlets.
Portability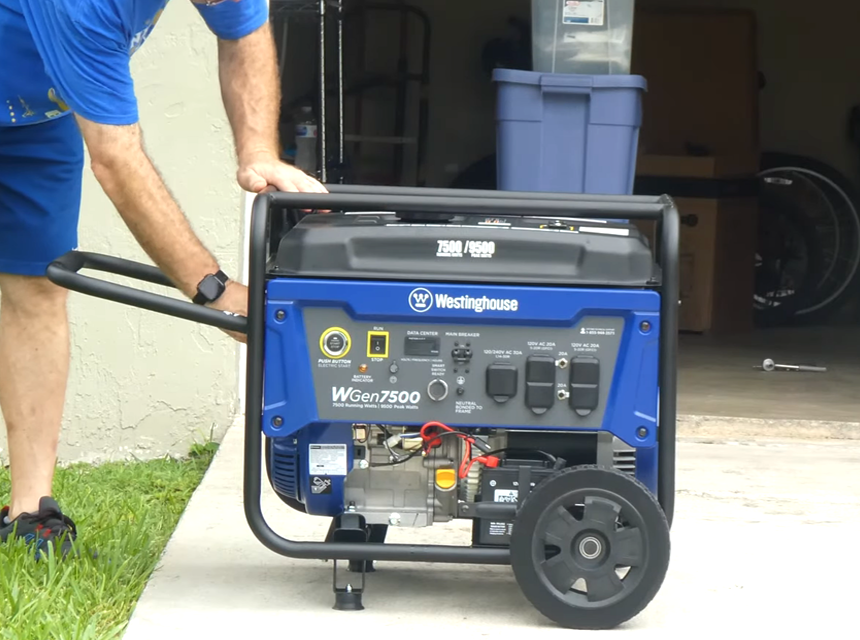 As you might expect given its power output and the size of the fuel tank, the WGen7500 is not easily portable. While it does have a set of large, never-flat wheels and a flip-up handle built into the steel protective cage to allow it to be towed around, the generator weighs in at a whopping 192 pounds and is by no measure a compact generator. That means that you'll want to have at least two people to lift this generator in and out of a truck bed, and will need a significant amount of garage space to store it.
Ease of use
One of the nicest features of the WGen7500 is how easy it is to start. The generator includes an electric push-start (and the battery to go with it) so that you don't have to worry about fighting with a traditional pull-cord starter. Even better, the generator comes with a remote starting fob so that you can turn the engine on and off from inside your home or from across the field at a work site, and therefore belongs among best remote start generators. However, Westinghouse also included a traditional recoil starter so that you won't find yourself without power if the generator's battery dies.
Another feature that drastically improves the ease of use of this generator is the built-in LED display, which can be toggled to show you the number of watts that you are drawing from the generator or the number of hours of run time you have remaining based on your fuel levels.
Key features
Electric and remote start – The WGen7500 features a one-touch electric push-starter that can be activated remotely with a key fob to avoid the hassle of a traditional recoil start.
Circuit-protected outlets – All outlets on the WGen7500 are protected by a main circuit breaker and by sub-breakers, reducing the chances of a dangerous surge and making it easy to reset outlets.
Low-oil shutoff – The generator will automatically shut off when the engine oil runs low in order to protect the engine from costly damage.
Digital hour meter – The LED display on the generator panel shows you the amount of power draw and the remaining run time so you're never left unaware.
EPA, CSA, and CARB compliant – The WGen7500 is approved for use in California and puts out lower emissions than comparable non-CARB compliant generators.
PROS
CONS

Impressive 7,500 watts of continuous power and 9,500 watts of surge power
Electric and remote start with backup recoil starter
11-hour run time at half-load
Digital hour meter and circuit-protected outlets
Three-year warranty for residential users

No 12V DC outlet for battery charging
Heavy and difficult to transport
Commercial warranty limited to one year