For anyone looking to purchase an affordable portable generator, the WGen9500 is worth considering. This portable generator provides an extraordinarily versatile balance of power output and reliability. With a minimum power output of 9,500 watts, the WGen produces the power to meet most of our home, outdoor, RV, and construction site electricity needs.
A generator that produces up to 12,500 watts of operation is often quite expensive. The WGEN 9500 from Westinghouse is however surprisingly inexpensive. This, alongside its amazing features, are what inspired us to come up with this Westinghouse WGen9500 review. In this article, you'll find out everything about the portable generator, from its overall performance to the fuel tank capacity and runtime, ease of use, among others.
This product's also been included into these rankings:
Specifications
Generator type
Conventional
Engine
457cc OHV 4 Stroke
Starting method
Electric, remote, recoil
Fuel tank capacity
6.6 gal.
Run time
12 hours (50% load)
Outlets
2) Duplex 120V 5-20R, (1) 120/240V L14-30R, (1) 120/240V 14-50R, (2) USB ports, ST Switch
Dimensions
27.2(L) x 26.1(W) x 26.5(H) in.
Warranty
3-year limited (residential), 1-year limited (commercial)
Westinghouse WGen9500 Review
The Westinghouse WGen 9500 is a powerful and portable generator with the latest features required of a modern conventional generator. Below are what it offers.
Overall Performance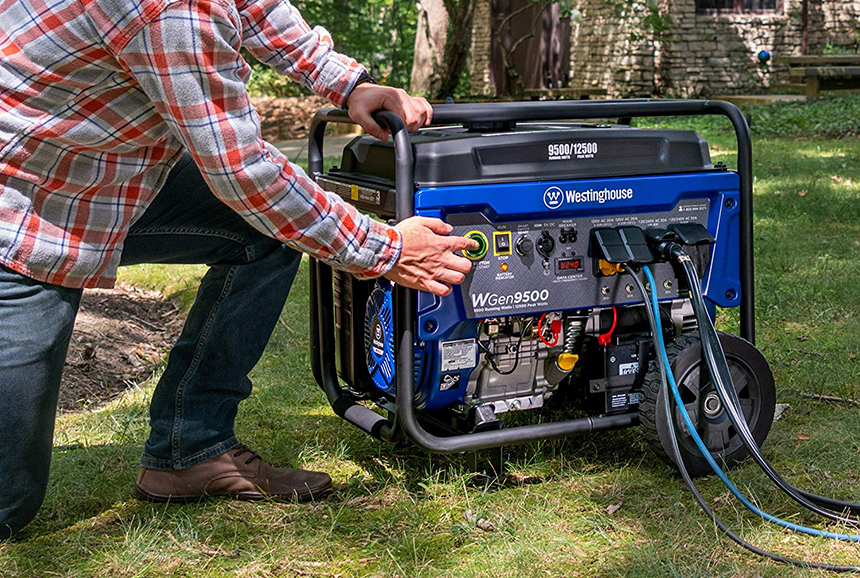 First and foremost, looking at the power capacity, this is a whole-house generator. It can generate a peak power do 12,500 watts, especially during the first seconds after you put it on or during peak demands from your appliances. Then, it continues on a running power that will not go below 9,500 watts.
However, the Westinghouse generator is a conventional type and is dissimilar to an inverter generator in comparison. It only produces AC electricity and doesn't produce electricity in three phases.
The only concerning fact about conventional generators like this, especially for those who have been using inverter models, is that they produce power at full tilt Trusted Source Pros and Cons of Inverter Generators - Consumer Reports Consumer Reports shares what you need to know about inverter generators. These machines come at a premium price, but they run longer, quieter, and more efficiently. www.consumerreports.org . So, take, for example, you are running devices whose power amount to a total of 5,000 peak watts, the generator keeps producing 9,500 watts minimum. So, what this means is you'll be using more gas than the power consumed by your device. Inverter models will however only produce according to the demand from the respective appliances.
The WGen 9500 has a powerful four-stage 457cc motor. And what will it power? The generator is powerful enough as a whole-house power supplier without seriously limiting your power use.
You can also use it to power your travel trailer or your job site machines. The included grip handle and wheels make it a portable generator that you can easily convey from the worksite to the store, and from the store to the home, and vice versa.
Fuel Tank Capacity and Run time
The Westinghouse Engine is a dual fuel motor that uses gasoline and propane. The generator has a 25 liter (6.6 gallons) fuel tank. This fuel tank capacity will deliver up to 12 hours at an average load capacity. Not many construction works require 12-hour power demand on a stretch except for emergencies in residential places. However, the capacity of the generator's fuel tank is sufficient.
Control Panel and Outlets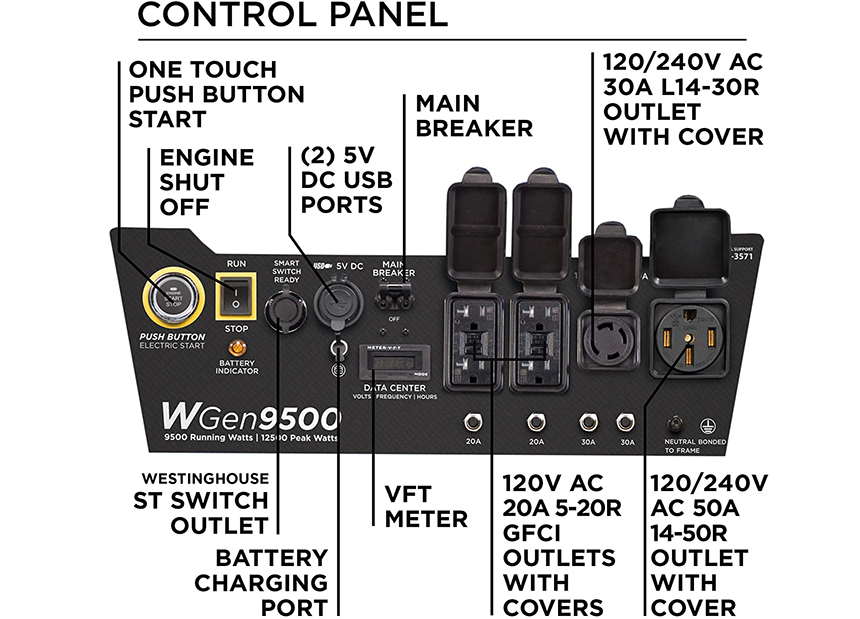 On the panel, you have some USBs, the main breaker, and it has a digital data center called the VFT Data Center. This will display the volt output, the frequency, the lifetime hours, as well as the maintenance information. The generator control panel has a 120/240 volt 30 amp and a 50 amp.
Ease of Use
Generally, the generator is easy to use, thanks to the onboard features. You don't have to use the recoil starter which can be tasking with most generators. The generator has a remote control and key start features which make the generator easy to use. Also, with the fuel gauge and low-oil shutdown, operating it is as easy as possible.
Safety Features
As you would expect, the generator has an automatic low oil shut-off that protects the engine from a lack of sufficient lubrication when the engine oil is low.
In addition, all the outlets on the control panel have rubber covers. These ensure additional safety and protection.
Again, this generator is compliant with the standards of the California Air Resources Board. What this means is it produces less harmful fumes, toxins, as well as participates and is safer to the air we breathe in the immediate environment. Therefore, it can be used in residential areas. However, you have to know that only CARB-compliant generators can be used, sold, or purchased in California. So, if you live or work in California, this is one of the best options for you.
Noise Level
When you compare the Westinghouse generator to other conventional models in its class, it performs far better!
The WGen7500 from Westinghouse operates at about 73 dBA. This noise level can be compared to a moderately loud conversation between two people. However, in reality, the generator runs at about 80 decibels when the noise level is measured at about 20 feet away with a noise rate meter or decibel calculation app.
However, as confirmed by many users, the noise level is low, considering that this is an open frame and conventional generator.
Portability
This is a super light generator for its capacity. It weighs around 200 pounds and it's something you can move around. When compared to other models in the Westinghouse WGen's lineup, you'll find out that this is quite portable. For example, the WGen12000 and the WGen12000DF weigh 352 pounds each. So, the WGen 9500 is a lot portable.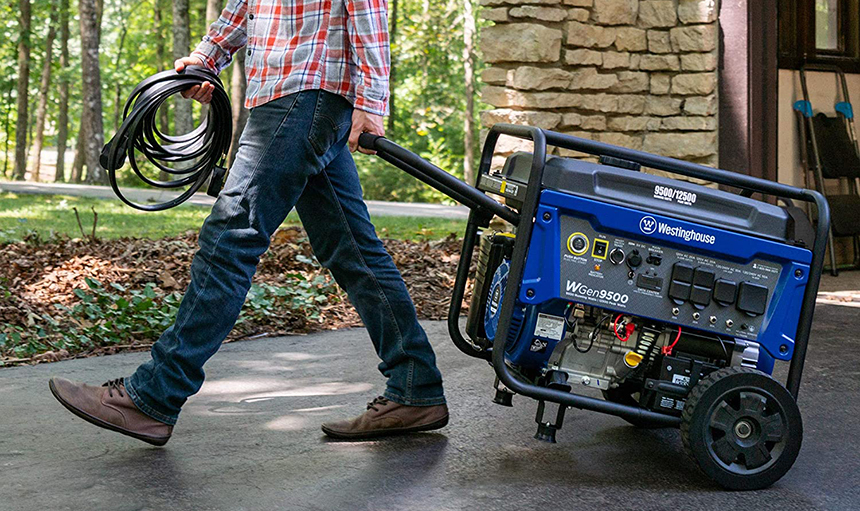 However, what really makes this a portable generator is actually not its size nor weight. Of course, there are far smaller and lighter portable generators on the market that produce almost the same power output or even better. However, the reasons the generator is so portable is that it has a set of wheels and a foam grip handle that ensures you can easily transport it from point A to B. What we liked most about this aspect is that the tires uses are heavy-duty and never go flat. It's why they are called Never-Flat wheels.
Maintenance and Warranty
The ease of use and maintenance of the generator is facilitated by the VFT Data Center which displays the volt output, the frequency, the lifetime hours, and the maintenance information. This ensures you have all the details on what to do and when to carry out certain maintenances. In general, there is not a lot of maintenance to carry out. Asides from the regular need for refueling, the low-oil shutdown shuts the engine down when you need an oil change or top-up and this can always be monitored with the data center.
As for the warranty coverage, the generator comes with a three-year limited warranty package for residential users and one year for commercial uses.
Price
What you pay for depends on how or where you choose to purchase the generator. Currently, the WGen 9500 watts generator is currently sold by Westinghouse itself for a bit more than $1,000. However, you can purchase the generator for less than $1000 on the market in outlets such as Amazon.
Key Features
The WGen generator comes with a lot of features, the most important of which are the:
9,500 to 12,500 watts power generation: What makes this generator so special is the high power output. It runs continuously at 9,500 watts but can get as high as 12,500 watts. This means it's a good fit for whole-house use during an emergency and can also be used in the garden to run some lawn equipment, in the construction site to run the appliances needed for work, among others.
Low-oil shutdown: The generator will shut down automatically when it detects low oil. So, you don't have to keep monitoring the gauge of the oil nor will you end up with a damaged engine as a result of low oil.
Remote and electric start: Asides from the recoil starter kit integrated with, the generator can be conveniently fired by using the remote controller or the electric starting feature.
Plug and play: The generator is a plug-and-play one because it comes with almost everything to run it immediately. The generator comes with oil, an oil funnel, a remote starter, a 12-volt battery charger, and a user manual to help you get started quickly with no major assembly required.
PROS
CONS

Produces up to 12,500 watts of power
Comes with oil
Has a data center for monitoring and maintenance
Has a set of wheels and an ergonomic handle for transportation
Long-running time
Large fuel tank capacity
Low noise level
CARB compliant

Can barely be moved without the wheels
Conclusion
Like we mentioned in the Westinghouse WGen9500 Review, the generator is a portable, powerful, affordable, and standards-compliant model that runs on 9500 watts while running and 12,500 watts at peak performance. It has a remote start, a push-button start, and is smart switch ready. In addition, the generator has some built-in safety features, low oil shutoff and protection, built-in circuit breakers, and is transfer switch ready. It will therefore be a great but for whole-house use, RV use, and even for use on a construction site.
References
1.
Pros and Cons of Inverter Generators - Consumer Reports
Consumer Reports shares what you need to know about inverter generators. These machines come at a premium price, but they run longer, quieter, and more efficiently.