Do you need a portable generator that you can rely on during emergencies? Do you need a whole-house generator that can power the well pump, heater, pool pump, central air conditioner, among other powerful home appliances? Also, are you looking for a power equipment that can be taken with your RV for camping? One of the most powerful and portable power generating sets is the Westinghouse WGen9500DF.
This is a dual-fuel generator that runs on either gasoline or propane. In this Westinghouse WGen9500DF review, we will talk about the features of the equipment and what makes it worth buying – or otherwise, if there are any reasons you should consider looking for another type of generator.
This product's also been included into these rankings:
Specifications
Generator type
Conventional, dual-fuel
Fuel type
Gasoline, propane
Surge watts (gasoline)
12,500W
Surge watts (propane)
11,200W
Running watts (gasoline)
9,500W
Surge watts (propane)
8,500W
Engine
457cc 3,600 RPM Westinghouse 4-Stroke OHV
Starting method
Recoil, electric, remote
Fuel tank capacity
6.6 gal.
Run time
Up to 12 hours on gas tank; Up to 7 hours on 20 lb. propane tank
Outlets
(2) GFCI 120V 5–20R; transfer switch ready 120V L14-30R; RV ready 120/240V 14–50R
Dimensions
27.2 x 26.1 x 26.5 inches
Westinghouse WGen9500DF Review
The Westinghouse WGen9500DF is perhaps the best 9,500-watt generator on the market. And this comes with a lot of reasons. In this review, we'll see every key feature and technology that makes up the generator.
Overall Performance on Gasoline
The Westinghouse 9500W generator is a dual-fuel model that is simply distinguished by its large dial which you can find on its front panel. This lets you switch to the type of fuel you want: whether gas, gasoline, or propane.
You'll get the best fuel efficiency to performance ratio with the generator when you're using gasoline. When on petrol, the generator makes the surge wattage of 12,500 and turns out running watts of 9,500, 1,000 watts more than when on propane.
In case you were wondering how cheap it is to use propane instead of gasoline for your generator, then you are not alone.
You can compare a few generator versions regarding consumption versus working hours for both types of fuel. The cost of regular consumption of gasoline compared to propane changes a bit in various states of the US.
So you need to assess your regional gasoline and propane costs and choose accordingly. But a basic calculation showed that it would cost more to use propane. The price difference might be minimal in some states but propane can cost twice compared to gasoline when you do the math based on kilowatts hour generated per dollar. But again, this depends on your location.
Overall Performance on Propane
Always remember that a generator is not as efficient when using propane. Yes, you will be able to do your part in environmental friendliness as propane generators emit 60% less of carbon monoxide than petrol generators. However, you won't get a lot of energy from the generator while using propane. You always get a weaker output than the original rating of the generator. On propane, you'll get a maximum capacity of 11,200 watts and a running capacity of 8,500 watts max. This decrease in efficiency will without a doubt affect your running cost when using propane. Nonetheless, note that propane is a little bit cheaper than gasoline. So, that may balance things out a bit for you.

Fuel Tank Capacity and Run Time
The solid steel gas tank of the Westinghouse WGen9500DF holds 6.6 gallons (which is 25 liters). It will offer an astonishing run-time of 12 hours at 50% load on gasoline. It produces up to 8.6 kilowatts of power per gallon. On 20 pounds of propane, it can deliver an operation of up to 7 hours. We can't think of a log of generators that can match this fuel efficiency.
Control Panel and Outlets
A complete power generator for the contemporary era, we were delighted to observe that the 50A 120V / 240V (L4-50R) socket makes it easy to connect this generator to a 50A displacement switch. These let you connect your main house wiring directly into the generator, conveniently and safely. In addition, it includes 2 duplex 120V 20A (5-20R) sockets, as well as a 120V / 240V 30A (L14-30R) socket.
All circuits are protected by circuit breakers and 120V sockets are equipped with GFCI protection, making it an OSHA Compliant Jobsite Generator.
A circuit breaker protects the generator from overload and contains the scheduled low oil shutdown. In addition, it includes 2 USB X ports as well as a 12V battery charging socket. A VFT electronic data center displays frequency, voltage, and operating time. The control panel is a user-friendly panel that accommodates the on / off button and push-button starter. Meanwhile, the generator's fuel gauge can be found on the tank.
Ease of Use
Also, when it comes to convenience and ease of use, we would say the Westinghouse WGen9500 is the complete package. Starting it is a breeze. This process is made easier with the electric and remote start methods. And if you have a battery failure, there is the recoil starting feature to fall back on.
The remote control device allows starting and stopping the generator from up to 358 feet out, which is quite incredible.
This user-friendly and large but portable generator is designed with metal that can be grounded to ensure safety. In addition, it has safety outlets that come with plastic covers. These variables are indications of this generator being a very rugged, reliable, and safe-to-use machine.
Safety Features
It's a big generator with a lot of power output, but that doesn't mean small and sensitive gadgets cannot be powered or charged with it. It has a good harmonic rating which means your electronics are safer with it, although not as effective as an inverter-type generator. Also, it has a high THD level which may cause issues with some sensitive gadgets.
However, it features two ground fault circuit interrupters. All the outlets on the control panel have safety rubber covers for safe use.
It also has a low oil shutdown technology that ensures the engine is not damaged in the event of low oil. When the engine senses low oil, it simply shuts down and indicates on the control panel.
Noise Level
Another key problem that a few have mentioned is the sound. However, we think this is one of the quietest open frame generators using high power output signal. Ordinarily, any generator of this size roars quite loudly. But it has a built-in muffler called the Pulse-Flo. This is installed inside the Westinghouse WGen9500 and does a good job of dampening the engine noise.
The Westinghouse maintains noise levels as low as 74 dBA. You can be sure that this sound level reading was taken at reduced power, probably around 25% of the rated load. At a high output signal, you should expect a little more sound.
Portability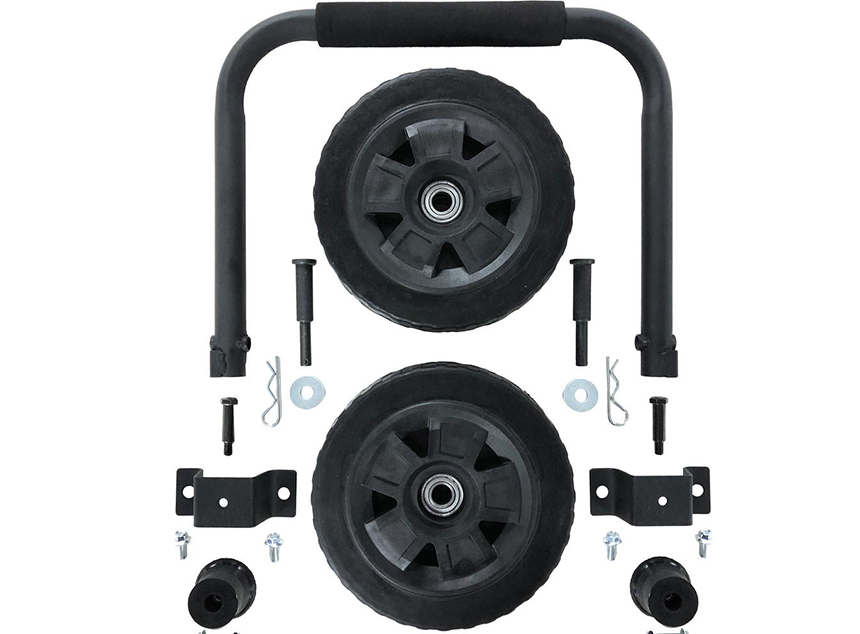 Some customers have complained that it is a bulky generator. We guess no one can call it a lightweight system. It weighs 211 pounds, which is quite heavy. However, in the case of a large, powerful generator having a sturdy metal frame (3 cm or 1.2 inches) that extends the entire length of the gas tank, this weight is to be expected. The extra weight is the downside to good build quality. Portability is simplified by the single foam handle and the large wheel kit (25cm x 6cm, or 9.8 x 2.4 inches).
Maintenance and Warranty
There's nothing much to do maintenance-wise on the generator than refilling the fuel and keeping the oil gauged. As a full tank of fuel can last for 12 hours, it's a low-maintenance generator. Also, its open frame design means you will be able to carry out cleaning maintenance of the inner parts easily.
We have weighed our opinion against the many user testimonials we have read, and the vast majority of users agree that this is truly an exceptional generator. Having a 3 year residential and one-year commercial warranty is a cut above many budget generators. Westinghouse currently has hundreds of service centers across the United States. This is great news. Before now, getting a Certified Service Broker for Westinghouse generators was usually the concern when thinking of buying their products. Today, this is not a problem, fortunately.
Price
Westinghouse generators appear to be long lasting and powerful than many more expensive generators. Although it's not quite there yet with Honda and Cat power generators, this Westinghouse WGen9500 far outperforms many other generators that are sold for $1,000 or less.
We made our point very clear; this is a wonderful 9,500W / 12,500W generator. Even though it's one of the cheapest options within its range, the WGen9500 stands up to various heavy-duty and more expensive generators. It's an unbeatable dual fuel conventional generator, which is something you will enjoy for many years to come as you use the WGen9500.
The engine is also certified by the CARB and EPA, which means it is a 50 state portable generator in the USA. In a market where 2,200-watt generators are sold for around $500 to $600, this is one of the most affordable to use generators, considering its power capacity for price ratio.
The Brand
We love the Westinghouse brand; you should too if you care about how you invest your money. So, why should you buy Westinghouse? For starters, they have been on the market since the 19th century! That says a lot about their reputation. Beyond that, their goal is to meet the demands of consumers, as shown by their list of features in their merchandise and their total industrial layout.
A lot of people are unaware of this long history of innovation at Westinghouse. Established in 1888, George Westinghouse, the creator of Westinghouse (the company) worked closely with Nicola Tesla, integrating the patents of Teslas AC motors and relevant power distribution systems to create a power grid for streetcars in Pittsburgh.
Westinghouse's background is long and rich in stories, described in depth in the publication: Empires of Light. It's a fun read for those interested in history with a tinge of fascination. Electric energy will always be at the center of our society.
Great products don't just happen by accident. Much thought is needed to design this. Planning the design requires an immense amount of thought and development, which is expertise and time. A brand like Westinghouse has been making its design and conducting its manufacturing processes for quite a long time – well, since 1886.
The way the components are incorporated, and the standard of the parts is the distinction between a trusted generator, which can last for many years – and on the other hand – the cheap generator that breaks down when you need it most, leaving you stranded, angry, and abandoned.
Quality is worth the money – consistently. How much does it cost when your generator breaks down when you need it the most, following a hurricane, when your life depends on it? Are you going to regret spending the extra?
In life, there are things you can skimp on and help you save money together, but for a few more important things that we rely on (for example, automobile brakes, the emergency generator, and more) – invest the money.
Electricity is at the center of our society, without it, we are literally in the dark. Generators don't come cheap, but when you are looking for yourself it means that you have a need for yourself, whether for work or your home. You might not need it now, but you might need it later, which means you have to consider the cost of not having a great power supply once the lights go out at 3 a.m. and all the food in your fridge goes bad around 4 a.m. hours in case the power does not return.
In conclusion, Westinghouse is a great brand, which has quite a lot of history behind it. Many manufacturers come and go. However, only the big, quality-consistent ones stay. The manufacturer is 135 years old! They understand what they are doing.
Key Features
The Westinghouse is not lacking in innovative and functional features. Some of the most essential features you can find on the generator are explained below:
Cranks up to 12,500 watts: The generator is equipped with a high-capacity 457cc OHV engine. This turns out up to 12,500 watts with a minimum of 8,500 watts depending on the fuel used. It can handle heavy loads: lights, refrigerator, home air conditioner, and higher amperage power equipment.
Dual-fuel technology: The generator can run on gas or propane, depending on which is available in your area and which is most cost-effective.
Idle Control: This feature reduces the speeds of this generator when not in use to save fuel and reduce noise. Ideal in situations such as on construction sites where electricity is used intermittently.
Features two GFCI and many outlets: The generator has two ground fault circuit interrupters. You will be able to get the most power from each of these 120-volt outlets. Choose between working the generator at 120V and 240V simultaneously, or just 120 with full power. There is also a voltmeter and 12V DC outlet for charging external batteries.
Low oil level shutdown: The low oil shutdown technology ensures the engine is not damaged in the event of low oil. When the engine senses low oil, it simply shuts down and indicates on the control panel.
Environmentally friendly: Thanks to its ecologically friendly features (fume and noise emissions), the generator is approved by the EPA (Environmental Protection Agency) and the CARB (California Air Resources Board). It's therefore available for use, purchase, and sale in all 50 states of America.
PROS
CONS

Push-button start and remote start (key fob included)
Low noise level compared to its power output
Dual-fuel generator
Battery life of 17.5 hours (6.6 gals)
Powered by a powerful Westinghouse 457cc OHV engine with cast iron sleeve
High fuel runtime
3-year warranty/lifetime technical support
Complies with EPA, CSA, CARB standards

Not ideal for sensitive electronics
It's slightly heavy
Conclusion
Not only is the Westinghouse WGen9500DF considered a heavy-duty generator, but it also has some of the best levels of specs for almost any generator, regardless of the cost. It's a challenge to beat this type of value for money, tough generator. It delivers a rated power of 9,500 watts with a peak capacity of 12,500 watts. It is quite amazing and we were very impressed with the Westinghouse 457cc (13.5 HP) overhead valve engine. It is a good workhorse using a cast iron sleeve. It does not only have a rugged and reliable engine, it can be started easily and runs so smooth even in extremely cold weather. We, therefore, recommend it for use as a whole-house backup generator, as a model for powering your motorhome while camping, as well as for commercial or for construction use. We hope that this WGen9500DF review has helped you make up your mind!