It's not every day you find an extraordinarily quiet portable generator with a genuine Yamaha motor for under $1,000. But that's exactly what the Yamaha EF1000iS is. If you've been looking for portable power that's reliable and won't break the bank, this small but mighty generator is worth a closer look. In our Yamaha EF1000iS review, we'll cover everything you need to know about this 1,000-watt generator.
This product's also been included into these rankings:
Specifications
Engine
50cc OHV, air-cooled, single cylinder, 4-stroke
Fuel tank capacity
0.66 gal.
Run time
12 hours (1/4 load)
Noise level
47 dBA (1/4 load), 57 dBA (full load)
Outlets
(1) 120V Duplex; (1) 12V DC
Dimensions
17.7 x 9.4 x 14.9 inches
Warranty
3-year limited (residential), 2-year limited (commercial)
Yamaha EF1000iS review
The Yamaha EF1000iS is a surprisingly small generator, with a 1,000-watt maximum power rating and 900 watts of continuous power. That makes it an ideal choice for homeowners, contractors, campers, and tailgaters who need just enough power to cover the bare essentials. The EF1000iS won't keep a whole house running, but it's a huge step up from having no power at all.
That said, you'll hardly notice you're carrying this generator around with you. It weighs just 28 pounds, which is almost unbelievably lightweight for a generator. On top of that, it's less than 1.5 feet on its longest side, so it's easy to stash this generator in your car to take it anywhere.
In terms of performance, this generator is true to the Yamaha brand. It offers an impressive 12-hour runtime at a 25% load while putting out just 47 dBA at the same power load. Even when running at the full 900-watt running power, the generator is quiet enough to hold a conversation over.
The sub-$1,000 price point for a Yamaha generator is also attractive. However, it's worth pointing out that this is still pricey compared to many of the competing 1,000-watt generators on the market. Beyond that, we have almost no serious complaints about the EF1000iS.
Overall performance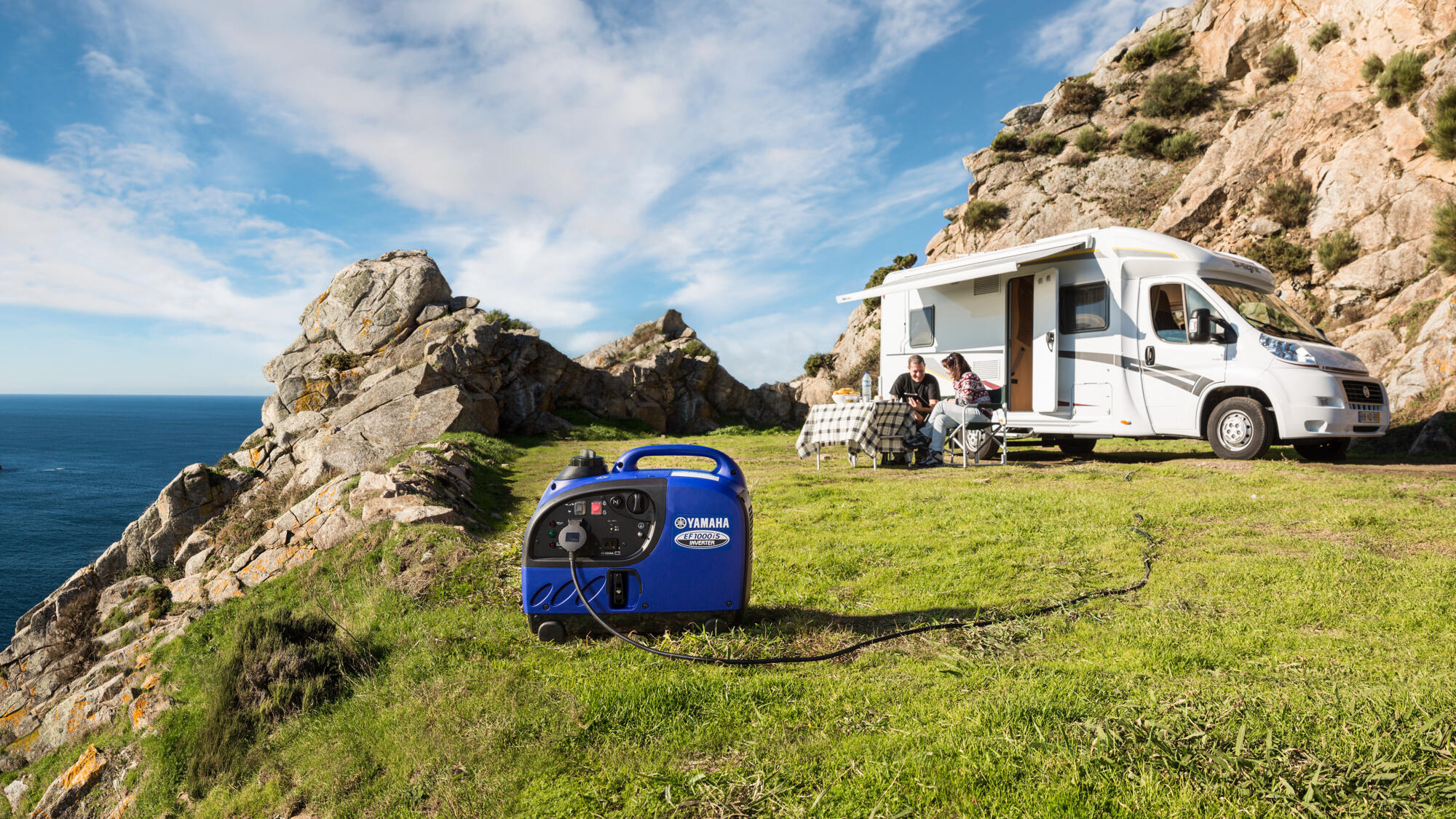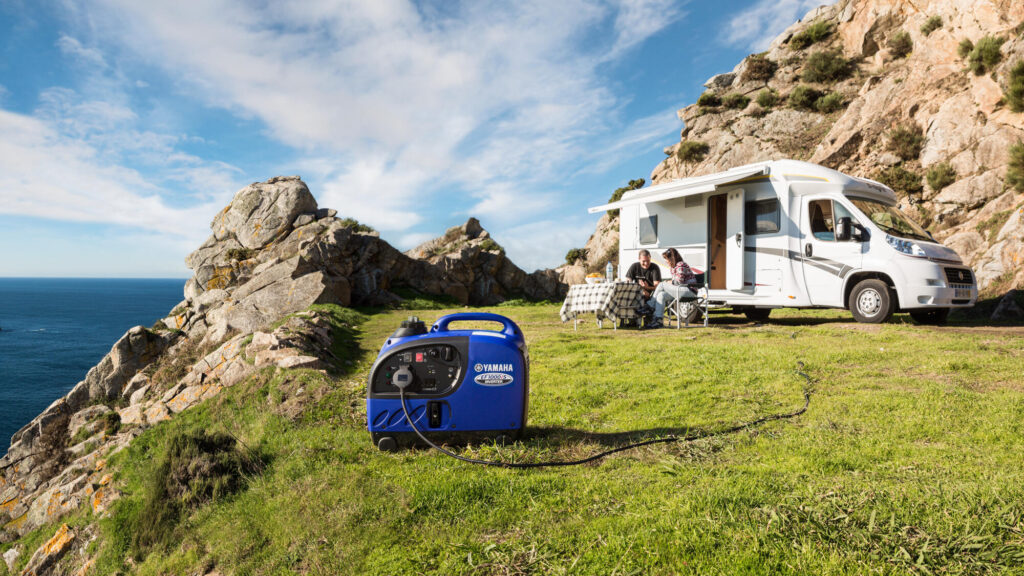 It's hard to argue with the performance of any Yamaha generator, and the EF1000iS is no exception. This generator is built with a four-stroke, 50cc OHV engine, and you can expect that it will last for years to come. Users found that the recoil start is extremely responsive, even when starting the generator from cold.
The generator is capable of producing 1,000 watts of surge power and 900 watts of continuous power. That's not a ton of surge power, so you'll have to think carefully about whether this generator is right for you if you need to run motor-driven appliances. But, producing 900 watts of continuous power in a generator, this compact model is a pretty impressive feat of engineering on Yamaha's part.
On top of that, it's important to remember that this is an inverter generator. So, you can use it to power laptops and smartphones, and the small amount of power makes it perfectly suited for use with relatively low-wattage electronics. Unfortunately, Yamaha didn't help you out in this respect since there are no USB ports on the generator's outlet panel.
Fuel tank capacity and run time
Not surprisingly, the fuel tank on this generator is quite small – it holds just 0.66 gallons of fuel. But, the four-stroke engine is efficient enough that the EF1000iS can run at a 25% load for as long as 12 hours. If you need to use the generator's full available power, you can get about a half-day of juice out of your fuel tank before needing to cool down and refuel.
Users would have liked to see a slightly longer runtime since the generator will be running near capacity most of the time. However, this is a minor price to pay for the compactness of the unit.
Outlets
Yamaha didn't go crazy outfitting this small generator with outlets. It features a single 120-volt duplex as well as a 12-volt DC outlet for battery charging, and that's it. We would have liked to see one or two USB ports, since this generator is screaming to be used for charging phones and other small electronics. But, it's easy enough to use one of the two 120-volt outlets to power a whole strip of USB outlets.
Ease of use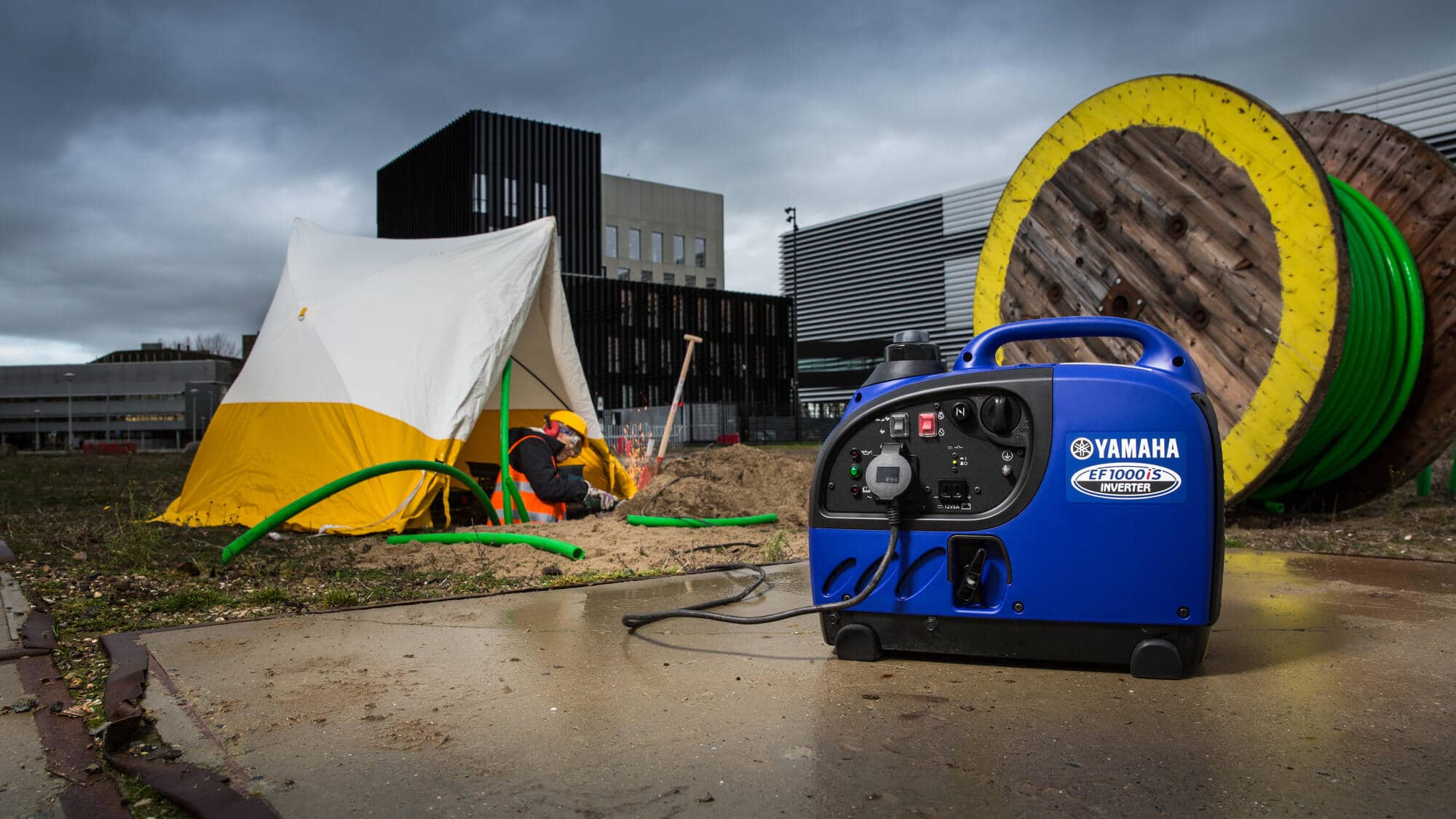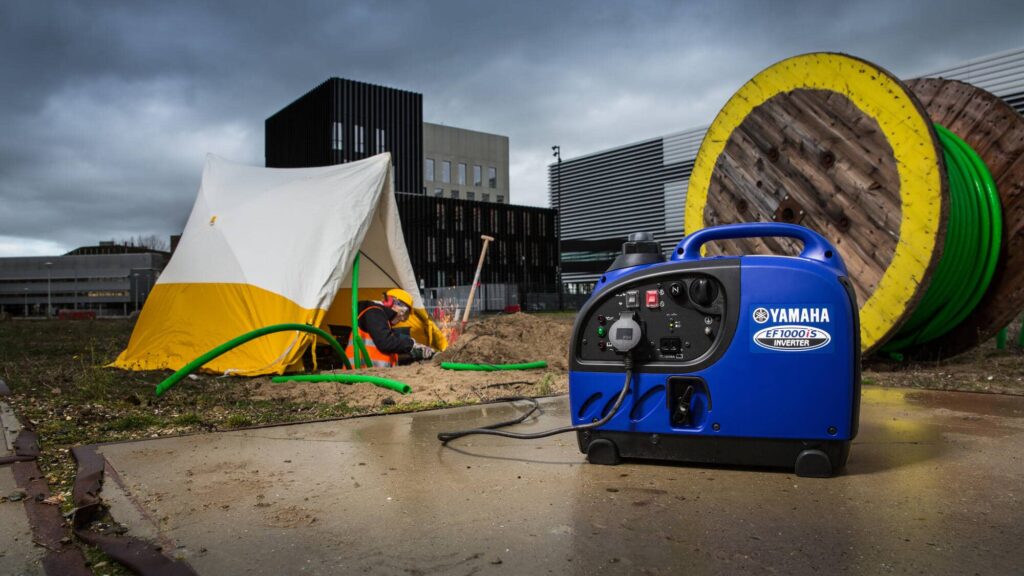 The simplicity of this generator means that it's very easy to use. Although it lacks an electric start, which would have been a nice added feature, users found that the recoil start is consistently responsive on the first pull. On top of that, the switches controlling the generator's power and economy mode are simple and prominent on the outlet panel.
Some users wished for a small wattage display. Instead, there's an overload warning light that activates as you push close to or above 900 watts of power. This isn't quite as helpful, but it does the job of showing you immediately that you're in danger of overloading the machine when you plug in something new to the outlets.
Safety features
The EF1000iS includes a few basic safety features. The most important of these are the automatic low-oil shutoff and low-oil indicator light, which together ensure that the engine always has oil and won't be damaged if you neglect to change the oil on schedule. As we mentioned, the generator also has an overload warning light, and there's a grounding point on the outlet panel.
Noise level
One of the best things about the EF1000iS is how quiet this generator is. At a 25% load, it puts out just 47 dBA of noise – in other words, it's roughly equivalent to the quiet hum of the refrigerator in your kitchen. At full power, the EF1000iS produces just 57 dBA of noise, which is still quiet enough that you can easily hold a conversation around the generator. The impressively low noise production of this generator makes it a great candidate for camping, RVing, and powering your home in the early mornings and evenings during a blackout.
Portability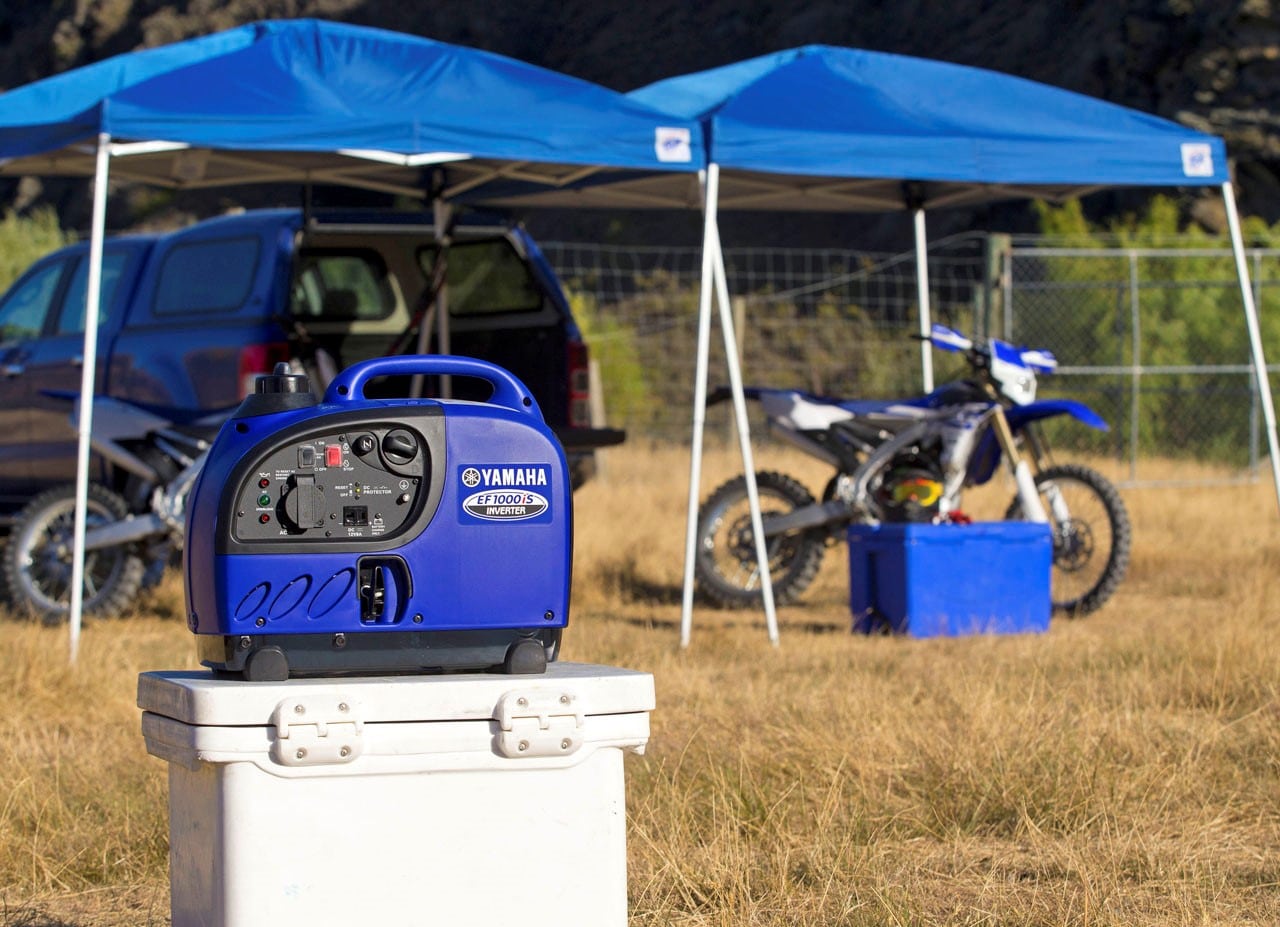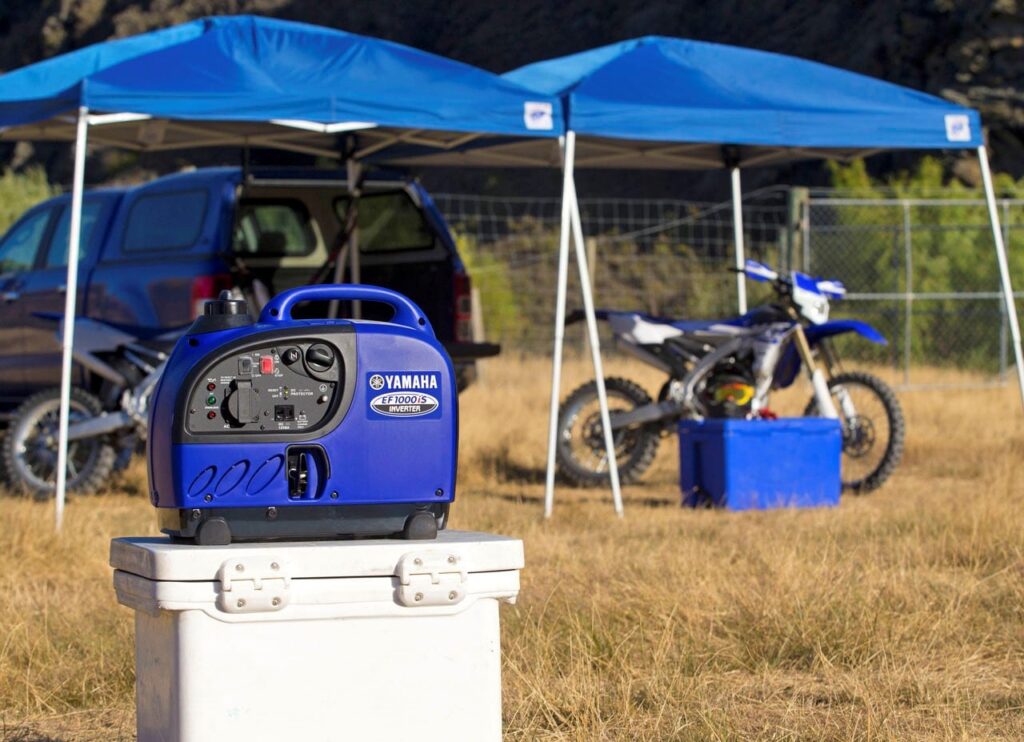 The EF1000iS is also stunningly small and lightweight. It weighs in at just 28 pounds, which is almost unheard of among generators. The top handle isn't molded, but it does have a slightly grippy surface to make it easier to carry the generator. It's also important to note that the generator doesn't have wheels. However, this wasn't something that users saw as a problem, and in our opinion, they'd be more likely to get in the way than help given how small and light the machine is.
We also loved that the generator is just 1.5 feet on its longest dimension. That's much smaller than even a travel-sized cooler, so it's easy to fit this generator into your car or stow it away inside your RV. All in all, you won't have any problems finding a place to put this generator or carrying it around.
Maintenance and warranty
This generator comes with a three-year limited warranty from Yamaha for residential users and a two-year warranty for commercial users. Given that it's a Yamaha, though, it should come as little surprise that user reports of issues with this model are almost nonexistent. The generator is designed to make maintenance like routine oil changes pain-free, and most owners can expect to get a decade or more of use out of this generator.
Key features
Inverter generator with 900 watts of continuous power and 1,000 watts of surge power
50cc, four-stroke genuine Yamaha engine
Extremely compact and lightweight design
12-hour runtime at 25% load
Produces a maximum of just 57 dBA of noise
Two 120-volt outlets and one 12-volt DC outlet
Three-year limited warranty for residential users
PROS
CONS

Yamaha generator for under $1,000
Extremely quiet, especially at 25% load
Up to 12-hour runtime
Compact and weighs just 28 pounds
Three-year warranty

Could use USB charging ports
No wattage display
1,000-watt maximum power can be limiting for motor-driven appliances
Pricey compared to other 1,000-watt generators