When you need power that is both reliable and portable, it's hard to beat the class of 2,000-watt generators currently available. Of those, the Yamaha EF2000iSv2 is one of the best thanks to its impressive engine and user-friendly design. In our Yamaha EF2000iSv2 review, we'll cover everything you need to know about this generator in order to help you decide whether it's the right fit for your power needs.
But first, what sets the EF2000iSv2 apart from the competition? The 1,600 watts of running power and 2,000 watts of surge power isn't particularly high, even within this size class of generators, but the smart throttling system on the Yamaha engine helps to set this generator above and beyond what other manufacturers offer. On top of that, the generator is moderately priced, comes with a three-year warranty and is lightweight and portable, which makes it also the number one model among portable generators.
Specifications
Engine
79cc, OHV, air-cooled, single cylinder, 4-stroke
Fuel tank capacity
1.1 gal
Run time at 25% rated load
10.5 hours
Dimensions
19.3 x 11 x 17.9 in
Yamaha EF2000iSv2 Review
The Yamaha EF2000iSv2 has a wide array of features packed into its small frame, many of which play a big role in how this generator will perform and meet your portable power needs. Our review will break the generator down into a variety of categories so we can cover all of the features in detail and highlight what works better than expected and what could be improved.
Overall performance
The first thing you need to know about the Yamaha EF2000iSv2 is how much power it can provide. The generator is rated for 1,600 watts of continuous power output, with a maximum of 2,000 watts for starting up engine-powered appliances and tools. This isn't a ton of power by any means, but it's enough for a wide variety of uses including powering the essential appliances in your home during an outage, your power tools in the field, or your RV or campsite on the road, or even a boat as it is top rated as one of the best generators to take on a boat.
The EF2000iSv2 is an inverter generator, which offers the distinct advantage of parallel capability. That way, if you find yourself needing more than 1,600 watts of continuous power, you can effectively double the power available through a single outlet by connecting this generator to another EF2000iSv2 unit or to an older Yamaha EF2000iS generator model. Although the parallel connection kit is sold separately by Yamaha, it is not an expensive addition to this generator and hooking up two generators together is fast and easy.
The other advantage to the inverter function of this generator is that it is capable of safely powering sensitive electronics like smartphones and computers. That's an advantage for nearly everyone using a generator these days, since contractors, homeowners, and campers alike need to be able to charge all of the devices they have with them in addition to heavy-duty tools and appliances. Yamaha built this generator with Pulse Width Modification (PWM) control, which forces the output AC current into a pure sine wave so that it can be used with any devices that have a built-in microcomputer, including chip-controlled tools.
The Yamaha engine that this generator is built around stands up to Yamaha's reputation for quality. The 79cc, four-stroke OHV engine is certified for low emissions by the California Air Resources Board as well as the EPA, and in fact has received the best engine durability rating issued by those two emissions control organizations. The engine is wrapped in a cast iron liner for heat dissipation, which increases the performance of the engine when you are running it for the entire run time as well as protects the engine from damage over years of use.
Fuel tank capacity and run time
What really sets the Yamaha apart from its competitors in the class of 2,000-watt portable inverter generators is its incredible long run time. The generator is rated for 10.5 hours of use at one-quarter load (400 watts), and users report getting close to four hours of run time out of the EF2000iSv2 when running at 1600 watts continuously. Few other generators in this size class can offer such a long runtime, which provides a major advantage when you need power for a long workday in the field, for an extended outdoor event, or for powering your house overnight.
The secret behind this long run time is not the fuel tank – which is just 1.1 gallons, on par or smaller than similar portable generators – but rather the fuel economy. Yamaha built this generator with a smart throttle, which senses the power load being drawn from the engine and adjusts the engine's RPM accordingly. The result is that the engine is always working only as hard – and drawing as much fuel – as needed to match your power draw at any given time rather than working at a single effort no matter what.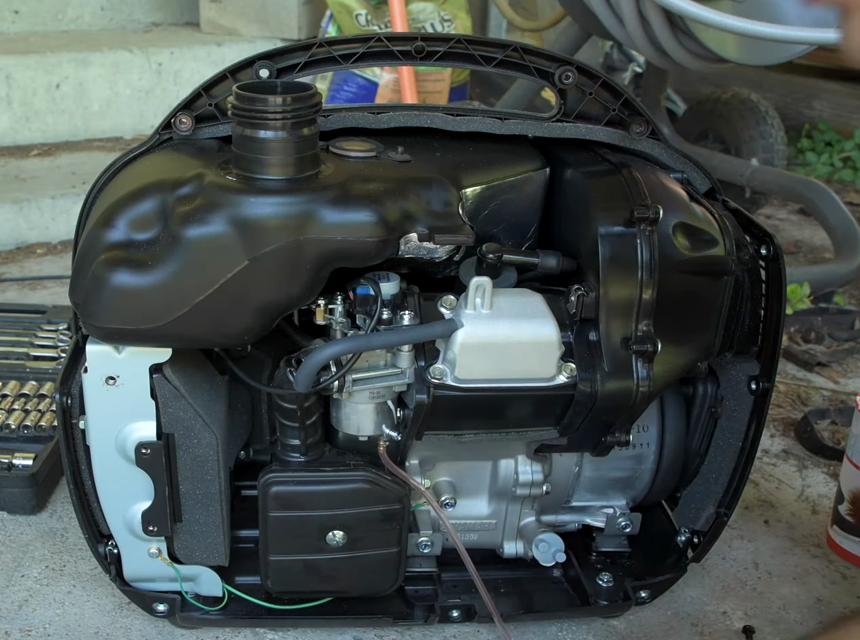 Outlets
The outlets available on this generator are relatively minimal – there are two three-pronged 120-volt AC outlets and one 12-volt DC outlet for battery charging. Yamaha includes a set of cables for charging a battery with the generator, which is a small but nice addition.
However, given the portability of this generator, the lack of outlets for more varied uses is somewhat disappointing. Without an RV-ready outlet, it can be somewhat difficult to use this generator to power a small RV or camper van. At the same time, the lack of a USB charging port means that you would need to use of the two available outlets for charging a smartphone or computer. Contractors will also want to take note that there is no 240-volt capability on this generator, which can be problematic when trying to run heavy-duty shop tools at a field site.
Ease of use
This generator is designed to be extremely easy to use, although some users might be wary of the lack of an electrical push-to-start button. However, there is no need to fear, as users report that the recoil starter routinely catches the Yamaha motor within the first one to two pulls with minimal force, even when starting in cold conditions. The secret to this simple start is the auto-decompression system, which is designed to reduce the pressure on the motor as the recoil is pulled to make starting easier.
Another important consideration that Yamaha paid attention to on this generator is simple access to controls. There is a fuel gauge built into the generator's display panel so that you always know how much gas you have remaining in the tank. Plus, all of the starting and operating controls for the EF2000iSv2 are contained within a single panel, so you never need to go looking around for a hidden switch.
Safety features
The EF2000iSv2 has several now-standard safety features to prevent an electrical surge and damage to the engine, the most important of which is a low-oil safety shutoff. This feature automatically powers down the engine when the generator runs low on engine oil, and the panel of the EF2000iSv2 also features a warning light so you can see when the oil is running low and address it before it becomes an issue.
Yamaha also built a gasoline petcock into the carburetor on this generator, which allows you to run the carburetor dry ahead of storage. While this is a small feature, it means you won't face problems with stale gas ruining your engine when you take the generator back out of the garage after going months without using it. As a result, this small feature can end up saving you a fair amount of time and money.
Finally, Yamaha built all of the outlets in the EF2000iSv2 on top of an electrical overload breaker switch. This automatically kills power to the outlets when more than 2,000 watts of power is drawn from the engine, or when more than 1,600 watts is drawn after the surge power becomes unavailable. This protects both the engine and any appliances you have plugged in from being damaged by a surge. The outlets can be quickly and easily reset from a button on the generator's panel.
Noise level
A secondary advantage to the fuel-saving smart throttle on this generator is that the level of noise produced by the engine adjusts according to how much power you are drawing at any given time. At low power outputs, the generator produces just 51.5 dB of noise – about the same amount of noise as a standard background conversation. That means you won't be shouting over the engine to be heard or disturbing your neighbors, which can be a major advantage in almost every situation in which you might use this generator. At higher power draws, the EF2000iSv2 will produce a maximum of 61 dB of power – still quiet enough to fade into the background in most outdoor applications.
Yamaha also added other features that play a role in minimizing the noise from this engine. The EF2000iSv2 is outfitted with one of Yamaha's most advanced mufflers, which helps to prevent noise from the engine from escaping outside the generator's frame. At the same time, rubber feet help to reduce vibrations, so you won't get extra noise from the generator scraping against the ground or from the engine rattling around.
Portability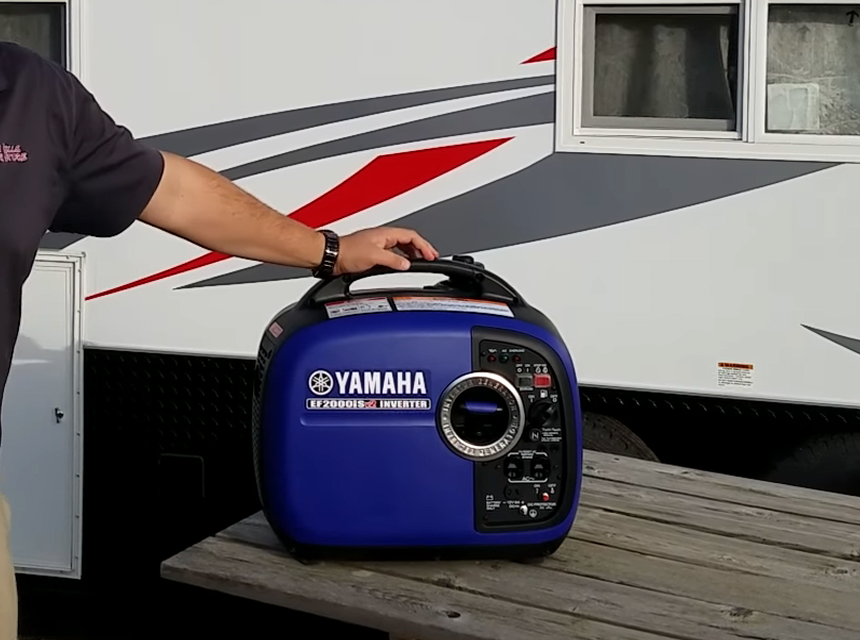 The EF2000iSv2 is highly portable thanks to its small size and light weight. The generator weighs just 44 pounds and features a comfortable grip handle to carry it from place to place. On top of that, the generator takes up just 2.2 cubic feet of space, making it one of the most compact generators on the market today. This is a major advantage both for transportation and for storage. While you won't want to hike for miles with the generator, the weight is low enough and the frame compact enough that it can be easily transported over moderate distances or even carried in a large backpack.
Maintenance and warranty
Yamaha is renowned for the quality of their engines, and the EF2000iSv2 is no exception to that reputation. Users rave about the longevity of their Yamaha generators and feel that the durability of this generator – many users get more than five years out of their model without an issue – is well worth the added cost compared to less expensive generators made by lesser-known companies. On top of that, Yamaha offers a three-year warranty for both residential and commercial users. The latter in particular is a good sign that Yamaha fully expects this generator to stand up to frequent use over many years.
The primary maintenance required on this generator is changing the oil, which take a roughly equivalent amount of work to most other comparable generators. Thankfully, maintaining the generator ahead of storage is made easier by the gasoline petcock that allows you to run the carburetor dry.
Key features
1,600 watts of continuous power and 2,000 watts of surge power
Inverter generator with Pulse Width Modification (PWM) for powering sensitive electronics
Smart throttle enables best-in-class run time and high fuel efficiency
Extremely low noise production thanks to the advanced muffler and smart throttle
Simple recoil start enabled by the auto-decompression system
Lightweight and portable at just 44 pounds and 2.2 cubic feet
Three-year warranty and highly durable Yamaha engine
PROS
CONS

Inverter generator with Pulse Width Modification to handle sensitive electronics
Smart throttle enables excellent run time and low noise production
Simple and easy recoil starter
Lightweight and compact
Three-year warranty

Very few outlets and no RV-ready outlet
Cannot produce 240-volt power
Run time at full power can be relatively short