Propaneva is reader-supported. We may earn a commission through products purchased using links on this page. Learn more about our process
here
Honda is widely known as a high-end generator brand that produces dependable, long-lasting units. On the other hand, Firman is an unpopular and a more affordable brand. This Firman vs Honda generator comparison guide will reveal what makes Firman a worthy competitor of the famous Honda brand. We will be comparing two popular models; the Firman W01784 vs. the Honda EU2200i.
Generally, Honda generators are famous for high-power and superior engines packed in conveniently compact and portable bodies. Firman generators are known for the perfect balance of high power and compactness at more reasonable price points. They are the perfect demonstration of affordable superior quality.
Brands Comparison
Here is an in-depth side-by-side comparison of the Firman W01784 and Honda EU2200i.
Quick Overview Table
Firman W01784
Honda EU2200i
Type
inverter
inverter
Peak Watts
2100
2200
Rated Watts
1700
1800
Engine
Firman, 80cc
Honda GXR120, 121сс
Fuel Tank Capacity
0.9 gal. – BE CAREFUL, there's a mistake on the Amazon page
0.95 gal.
Runtime
9 hrs @ 1/4 load
8.1 hrs @ 1/4 load
Outlets
(1) L5-30R, (1) TT-30R RV Ready Adapter, (1) 5-20R 120V – 20A, 12V (W/Battery Charging Cables), (1) USB (5V, 2. 1 amps).
(1) 15A 120V Duplex
Start Type
recoil
recoil
Noise Level
54dB @ 1/4 load
48 dB(A) @ 1/4 load
Dimensions
20×12.1×16.7 in.
21 x 12.24 x 19.72 in.
Weight
45.9 lbs.
47.4 lbs.
Warranty
3 years
3 years
VIEW ON AMAZON
VIEW ON AMAZON
Firman W01784 vs. Honda EU2200i: Overview
Firman W01784 and Honda EU2200i are both top-quality inverter generators. They are each other's worthy competitors because their features and performance are almost similar. However, each generator has one or two things that set it apart and place it a notch higher than the other. Here are more details about how the two generators' features and performance compare.
Power Output
The generators fall within the same range when it comes to power output. The Honda EU2200i is slightly more powerful, with a peak power of 2200 watts and a running power of 2100 watts. It can power one extra appliance or tool than the Firman W01784, which has a peak power of 2100 watts and running power of 1700 watts. If power is your priority, then the Honda should be your prime option.
Fuel Type and Tank Capacity
Both generators use regular unleaded gasoline with an octane rating of 87. According to The  US Department of Energy, Trusted Source Selecting the Right Octane Fuel Questions and answers about octane ratings. www.fueleconomy.gov octane rating is a fuel's ability to withstand improper combustion in an engine. The Firman W01784 has a fuel tank capacity of 0.9 gallons, while the Honda EU2200i has a tank capacity of 0.95 gallons. You would need more fuel to operate the Honda EU2200i
Fuel Efficiency
The Honda EU2200i has an exclusive eco-throttle system that offers great fuel efficiency. It can run for 8.1 hours on 25% load, which compares unfavorably with the Firman W01784, which can run for a whopping 9 hours on 25% load. The Firman W01784 offers better fuel efficiency than the Honda EU2200i because it uses less fuel to give you power for longer.
Safety Features
The Honda EU220i is a safer option as it comes with Honda's famous CO-Minder carbon monoxide detection system. It monitors carbon monoxide levels continuously and shuts off the generator automatically when the ambient levels become dangerously high.
The Firman W01784 features a digital automatic voltage regulator that protects your appliance and electronic tools from surge power.
Control Panel and Outlets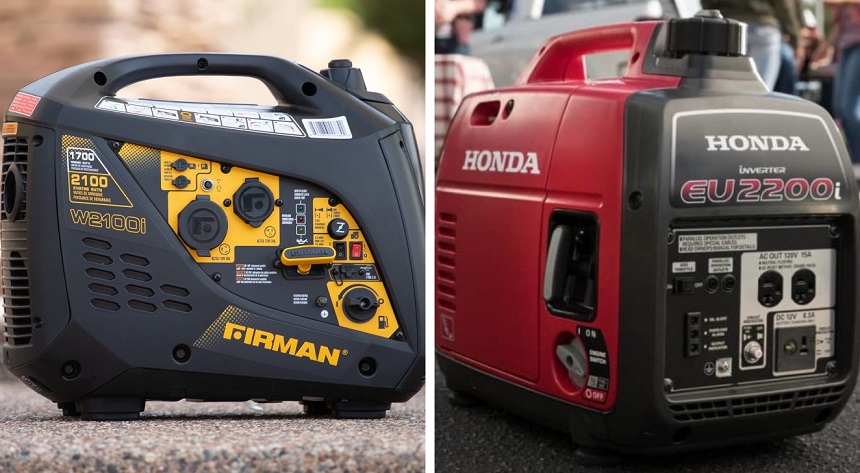 Both generators come with 3 AC outlets. Firman W01784's control panel has all the switches and outlets, and you can easily check the generator's status from it. The Honda EU2200i takes control a notch higher with the 'My generator app' and Bluetooth capability. You can operate and monitor the generator remotely with the app.
Ease of Use
The Honda EU2200i is relatively easy to use because of the 'My generator' app. It offers the luxury of operating and monitoring the generator remotely from your smartphone, which the Firman W01784 doesn't have.
Noise Level
The Honda EU2200i wins in the noise level category. It produces a mere 48dBA which is significantly less noisy than the Firman W01784's, which produces 54dBA. 48 decibels is as quiet as a refrigerator, which is typical of inverter generators. If you hate generators because of how noisy they are, the Honda EU2200i is an ideal option for you. If you need to check out more inverter generators before making a final decision, read our article on the best inverter generators for high-end options and a detailed buying guide.
Portability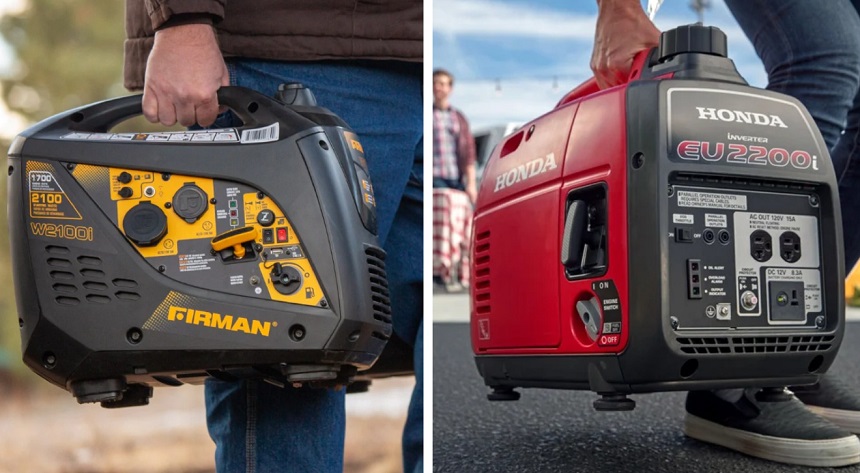 The generators are almost similar in size. They are both compact and lightweight and wouldn't take up much storage space. Although the Honda EU200i is slightly larger and heavier than the Firman W01784, it would take up the same amount of space. Also, although it is heavier by two pounds, it wouldn't weigh you down more than the Firman W01784 when moving it from one point to another.
Durability and Warranty
Both generators are built to last and have three years warranty backing. Although Honda is renowned for unmatched reliability, the Firman W01784 is just as rugged as the Honda EU2200i.
Price
The Firman W01784 is more affordable than the Honda EU2200i. It costs $600 less, yet it offers virtually similar features, build-quality, and performance level. If value for money is your top priority, the Firman W01784 is your bet.
Final Thoughts
Many people get confused when it comes to choosing between Firman generators and Honda generators. Both brands have lines of high-power generators, but Firman raises eyebrows with its super-affordable price points. Our side-by-side comparison of the brands' most popular portable generators clearly shows that quality and reliability don't have to be expensive.
Further, from our Firman W01784 vs. Honda EU2200i comparison, the latter is a better option if power and noise level are your main concerns. It has more peak and running power and a more powerful engine that can run various high-power appliances and tools. Firman W01784 is a better option if you want top value for money because it is more affordable and fuel efficient. You will pay less to take it home and run it.
References
1.
Selecting the Right Octane Fuel
Questions and answers about octane ratings.