Propaneva is reader-supported. We may earn a commission through products purchased using links on this page. Learn more about our process
here
Whether it is a hurricane or bad weather; whether you went camping or RVing; whether there's a power outage in your area or a zombie apocalypse, you need a standby generator. Every home or R.V. needs a generator that best suits its needs. Choosing the best generator can be hard, but look no further. This article will compare the best generator models out there, so you can save yourself the stress of thinking of what to buy.
Two of the best generator brands in the market are Westinghouse and Predator. The Westinghouse vs Predator generator have been around for years and have built themselves to be the best generators in the business. This article will compare some of their best models so you can grasp what to buy.
Brands Comparison
Harbor Freight company produces the Predator brand. The company has risen over the years due to its discounted generator prices. The reason this is possible is that the company is family owned. They have been a family-owned business for 49 years.
Their generators are not only discounted but affordable. Harbor Freight sells affordable generators with high levels of performance. They boast of quiet-performance generators because their inverters produce up to 3,500W and are still cheap. So, the predator brand is common everywhere. As people may wonder which predator generator to use, we made a list of the best Predator generators on the market.
Westinghouse has been around for 100+ years. They started in 1886 as an electric company. They produce high-class electrical and mechanical equipment. Their brand sells power stations, generators, pressure water, lawn equipment, and more. Westinghouse produces small 1,200 watts generators to large 15,000 watts ones. Here's a compilation of the best Westinghouse generators we made for interested readers.
Westinghouse generators are also affordable. As Westinghouse has a wide range of products, it's a more successful business company than Harbour Freight.
Westinghouse vs. Predator: Comparing popular models
Westinghouse generators are some of the more effective generators in the market. They are very dependable and versatile. Westinghouse makes their generators from the best materials, making them high-quality. They are EPA Trusted Source U.S. Environmental Protection Agency | US EPA www.epa.gov and CARB-compliant, so you are sure of their durability.
Predator generators are popular for a reason. They are affordable and effective. Harbour Freight has grown over the years to produce what the customers want. They are very user-friendly, and that's why you see them in most homes.
Both brands are worth comparison because it helps you to know what you're looking for in a generator. You are going to meet any of these brands in the market. You need to know which one is good for your needs.
Other brands are also popular in the market, like the Honda generators. We also have a review on the Predator vs. Honda generator brand you can read. So, check it out if you're interested. But in this article, let's compare some of the popular models of the Westinghouse and Predator generators.
Westinghouse iGen2500 vs. Predator 2000
Westinghouse iGen2500
Predator 2000
Type
inverter
inverter
Peak watts
2500W
2000W
Rated watts
2200W
1600W
Fuel consumption
12-hour run time at 1/4 load
12-hour run time at 1/4 load
Engine
OHV 4-Stroke
PREDATOR engine
Displacement
98cc
79cc
Dimensions
19.8 x 11.4 x 17.9 in.
22.6 x 12.61 x 18.52 in.
Weight
46.3 lbs.
55 lbs.
Warranty
residential – 3-year; commercial – 1-year
residential – 2-year limited
VIEW ON AMAZON
VIEW ON HARBORFREIGHT
Power
The Westinghouse iGen 2500 model comes with a 98cc OHV 4-stroke engine. Predator 2000 comes with a 79cc PREDATOR engine.
Looking at the power output, Westinghouse iGen 2500 manufacturers boast a 2500W starting wattage and a 2200W running wattage. The description is in normal situations, but we want to know how it will perform with home appliances. An air conditioner needs about 1900 watts, an average microwave about 500-1000 watts, and a fridge about 400-500 wattage. So, the Westinghouse iGen 2500 model can power an A.C. alongside a domestic fridge and a very small microwave. Any more than that will be beyond the generator's capacity.
On the other hand, Predator 2000 has a running 1600W with a starting 2000W. On field testing, the Predator 2000 produced power of up to 1600W before the warning sensors went up. The generator overloaded at 1750W, below the manufacturer's description.
The fuel capacity is another feature to check out. The Westinghouse iGen 2500 model has around 1.8 gallons. If we look at the fact that the runtime is 18 hours at 25% load, the fuel consumption rate would be around 0.1 Gallons per hour. That's great. The fuel capacity and consumption rate of Predator 2000 are almost the same as its counterpart. With a runtime of six and a half hours, you can say that it is ultra-gas efficient.
The THD is an important parameter you consider when buying a generator. THD stands for Total Harmonic Distortion. Not to bore you with the concept, the principle is that the lower the THD of a generator, the higher the chances for your electronic appliances to last long. Higher THDs intercept communication transmission lines. The interference can shorten the lifespan of power systems.
Normal generators produce high THDs, which are bad for your laptops, phones, and electric appliances. That's why people go for inverter generators. The acceptable value of THD is 5%, and inverter generators produce acceptable levels of THD. Westinghouse iGen 2500 and Predator 2000 are inverter generators. So, they have low THDs, making them suitable for your electronic appliances at home.
Noise
Noise is what everyone watches out for when buying a generator. The unit of noise is decibels, and everyone wants to buy generators with low decibel values. That's why people sought-after Inverter generators because of their low noise. Analyzing the noise can be a daunting task. Because different loads give off different decibels, you have to check the noise levels at each level.
The Predator 2000 model produces decibels of up to 64db from 23 feet away. The result is for when you turn on the eco mode. If you turn off the eco mode, the noise goes up to 70db. At 1500W, the noise is at 74db.
Westinghouse iGen 2500 generators are quieter. They produce lower noise levels, around 52db eco mode, and with no load. So, the Westinghouse is winning the comparison of noise.
Although Westinghouse iGen 2500 is quieter, both are quiet enough to take camping or have on during leisure activities.
Design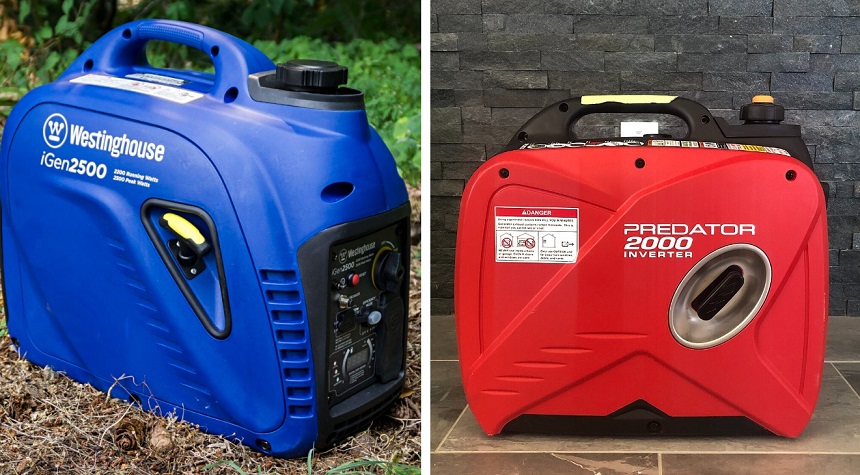 Regarding overall aesthetics, the Westinghouse iGen 2500 takes the lead. It is easy to hand and aesthetically pleasing to the eyes.
Westinghouse iGen 2500 is lighter with a weight of 49 lbs, while Predator 3000 is 55 lbs.
The Westinghouse iGen 2500 model is more compact than Predator 2000. The dimensions for the Westinghouse model are 19.8 x 11.4 x 17.9 inches. The dimensions make it super compact, and its weight adds to make it super portable.
The Predator 2000 model is also compact with a light weight and dimensions of 22.6 x 12.61 x 18.52 inches. But compared to the Westinghouse competition, it fails in being more portable.
The verdict is that both are nice and portable, and you can use them for light work like your portable lawn mower. As they both have handles, it is easy to carry them around. An energetic man should be able to carry both from the handle with no problems.
Features
They both have a pull start that is easy to use. You only need to pull it out, and your generator kicks on.
They both have D.C. voltage outlets for charging batteries. Westinghouse iGen 2500 has two, while Predator 2000 has one.
The Westinghouse model has a feature the predator model doesn't have. The Westinghouse iGen 2500 has two 5V USB ports to charge your phones.
Also, the plastic covers of both models are amazing. They aid durability in a way, and they prevent you from electric shock.
Pricing
Predator 2000 pricing is a winner in this category. Most prices in the market are less than $500.
Westinghouse iGen 2500 is more expensive, costing about $550 on Amazon.
Westinghouse iGen 2500 Pros
It has a convenient design.
It can run parallel.
It is quiet.
It has increased wattage.
Westinghouse iGen 2500 Cons
Has a mall fuel capacity.
There is no GFCI outlet.
Predator 2000 Pros
Easy to fill with oil.
Quick start with a single pull.
Parallel capacity.
Hassle-free maintenance.
Lightweight design for increased portability.
Predator 2000 Cons
It does not have an LED display.
Has a very low power outage.
Westinghouse iGen4500 vs. Predator 3500
Westinghouse iGen4500 
Predator 3500 
Type
inverter
inverter
Peak watts
3700W
3500W
Rated watts
4500W
3000W
Fuel consumption
18-hour run time at 1/4 load
11-hour run time at 1/4 load
Engine
OHV 4-Stroke
PREDATOR engine
Displacement
224cc
212cc
Dimensions
24.5 x 17.5 x 20 in.
22.75 x 17.3 x 20 in.
Weight
104.7 lbs.
120 lbs.
Warranty
residential – 3-year; commercial – 1-year
residential – 2-year limited
VIEW ON AMAZON
VIEW ON AMAZON
Power
The Westinghouse iGen 4500 has a 224cc OHV 4-stroke engine. The Predator 3500 comes a little below it with a 212cc Predator engine.
According to the manufacturers, the Westinghouse iGen 4500 generator produces peak watts of 4500 with a running watt of 3700. But on field testing, the results reveal different readings. While field testing, the generator did not produce beyond 4100W output. The generator turned off when it got to the 4100W power output mark.
The same is the Predator 3500 generator. The manufacturers boast peak watts of 3500W and a running power output of 3000W, but the field result showed a different reading. The Predator 3500 produces up to 3579W, above its branded power output.
The fuel capacity of Westinghouse iGen 4500 is 3.4 gallons. With a 25% load, the generator could stay for almost 18 hours. This feat gives a fuel consumption rate of 0.19 Gallons per hour. Predator 3500, though, loses out in this fight. With a fuel capacity of 26 gallons, it can last up to 11 hours on a 25% load. So, it has a fuel consumption rate of 0.24 gallons per hour. So, the Predator 3500 consumes more fuel.
Inverter generators have a low total harmonic distortion rate (THD), which makes them compatible with sensitive electronics. Laptops, phones, and LCD televisions are safe with both models due to their low THD. Westinghouse iGen 4500 boasts 0.3% THD, while the Predator  3000 boasts 0.5% THD. These values are within the safe range for sensitive electric appliances. Therefore, you can be sure that your appliances and electronics can last long with those generators.
Noise Comparison
Manufacturers boast 52db for the Westinghouse iGen 3500 generators, but we have our concerns. Under certain conditions, how much noise would the generator produce? At 23ft, on eco mode, and with no load, Westinghouse iGen 4500 produced a noise of 61 decibels. On 750W, the noise was 61.5 decibels. At 1500W, the noise was around 63 decibels. On full load, it produced noise that rose to 74.5 decibels. The Westinghouse iGen 4500 generator was able to pull off such a feat.
In looking at the noise production of the Predator 3000, the equipment performed similarly to how its competition performed. The manufacturer boasts of 57dbA, but field testing shows otherwise. Field testing proved that it produces 62 decibels in normal mode and 63db in eco mode, 23 feet away. If you face the exhaust away from the house, you will get 59 decibels.
So, when it comes to noise, Predator 3000 wins by being quieter than the Westinghouse iGen 4500 model.
Design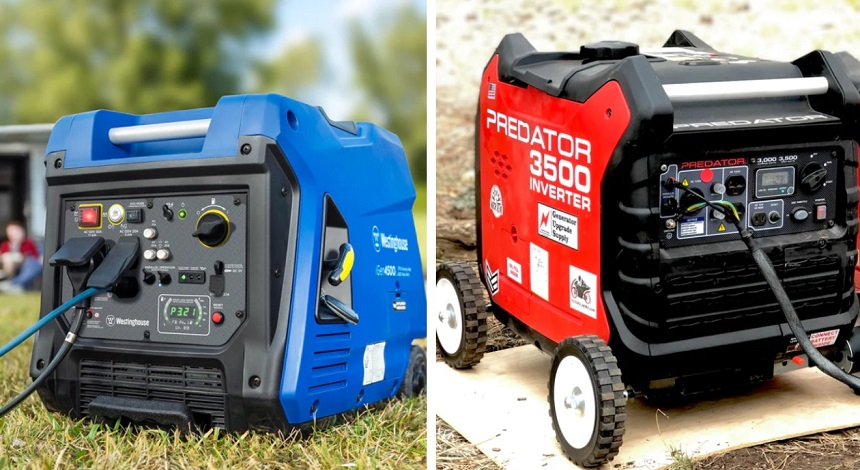 Right off the bat, you see that Westinghouse iGen 4500 is lighter. The Westinghouse iGen 4500 weighs about 1 pound, while the Predator 3000 weighs around 120 pounds. The amazing thing about the weight is that the Westinghouse iGen 4500 model has a larger dimension than its competitor. Westinghouse iGen 4500 model has dimensions 24.5 x 17.5 x 20 inches. In contrast, Predator 3000 has a dimension of 22.75 x 17.3 x 20 inches.
They both look similar to each other. The Predator 3000, though, has a sturdier and well-arranged design. On the other hand, Westinghouse looks more aesthetically pleasing, but complaints from reviews say that the generators often come with rust.
The Westinghouse iGen 4500 design comes with two top carrying handles and wheels making it very easy to move around. These features make them easy to use if you're looking for a backup plan or camping purposes. Also, Predator 3000 comes with four wheels. So, it is a matter of your choice regarding portability.
Features
The Westinghouse comes with a push starter, a recoil start, and a remote starter. The remote starter starts the generator from 150 feet away but cannot turn off the generator until you reach 70-80 feet. This analysis is not to downplay the efficiency of the remote but to praise it. The remote being effective from such a range is a commendable feat for the Westinghouse iGen 4500.
The Predator 3000 does not have the features that Westinghouse iGen 4500 has. It has a manual recoil start that can be frustrating after using the generator for a while.
They both have a smart LED display that provides wattage output, fuel level, remaining run time, and low oil warnings.
Another feature of the Westinghouse iGen 4500 model is its dual fuel tank capacity. A tank can accommodate gasoline, while the other is for propane. So, it is great for emergencies and gas scarcity.
Pricing
The Westinghouse iGen 4500 is very expensive in comparison to Predator 3500. The Westinghouse model costs over $1000 on Amazon. Some platforms sell it for $949, so the pricing depends on where you are.
The Predator 3500 costs about $100-200 less than the Westinghouse competition. So, it is your choice if you're looking for cheap things. And it's worth the price.
Westinghouse iGen 4500 Pros
Remote start features are available.
Good, strong, and tidy R.V. power.
Powerful enough to easily run air conditioners with a 15000 BTU capacity.
It's simple to set up and use.
Westinghouse iGen 4500 Cons
Predator 3000 Pros
An effortless electric starting system.
It creates clean energy (THD > 3%).
Wheels are convenient and increase portability.
Very quiet and economical.
Predator 3000 Cons
Final Thoughts
Choosing the best generators for any occasion can be daunting. You may be on a budget. You may have an open bank but a specific need you're trying to address. Either way, your choices may seem trivial, but it's very important for you and your money.
You've probably read through this article comparing the Westinghouse vs Predator generator brand with clarity or a bit of doubt. If you're clear about what you need; kudos to you. If you're still in doubt, know that whichever you pick is not a bad decision.
Westinghouse is the obvious winner in both categories if the basis is performance. You can use Westinghouse generators for outdoor activities, but Predator is valuable and cheap. In the end, both are still worth your money.
References
1.
U.S. Environmental Protection Agency | US EPA